One of the hottest topics in the Learning and Development space is the epic clash between formal and informal learning.
If you subscribe to the 70:20:10 framework, then you'll know that informal learning can equate to up to 90% of all learning that takes place!
But even if you agree with this, surely you shouldn't simply throw out that valuable 10%! That's why we're going to take a look at what formal learning is, and some of the advantages it has over its informal brethren.
Formal learning
Formal learning is what immediately comes to mind when most of us think about learning in general. It's carefully controlled and structured training which is organised and delivered by a dedicated institution or department.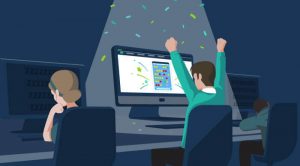 It's familiar to us because we all spend the formative years of our lives within the schooling system. During these years, we have to attend classrooms at set times, and work our way through the curriculum as it's mapped out for us, to meet the goals which have been set by the institution.
This style of learning follows us throughout life, even once we start working. L&D departments will set learning objectives for their employees, create content and curricula for them, and then deliver it in a structured way.
It's worth noting that formal learning doesn't have to have to take place in a classroom with an instructor present. Delivering eLearning content through an LMS is just the same since your learners will following the path you've set out for them.
Advantages of formal learning
Formal and informal learning are very different beasts, and each has its strengths in certain situations. Let's look at a few of the advantages of formal learning:
More Desirable (for some topics)
There are certain things which you absolutely need to ensure are being taught properly, such as compliance training. For example, when you step onto a plane, you would hope that your pilot has undergone a fair amount of formal training, rather than picking things up through word of mouth!
More Consistent
Because formal learning is carefully structured and delivered, every learner receives the same standard of training. You can be confident that what they're learning is exactly as you've planned it out, and that they're ending up with all of the skills and knowledge they need.
Easier to Capture
Again, because formal learning happens in a structured manner, you can keep track of it as it happens. Whether that's through tests or data captured by your LMS, you're left in the perfect position to see how your learners are progressing, and whether your training programme is meeting its goals.
Want to find out more about formal learning?
Why not download our infographic on the difference between formal and informal learning?