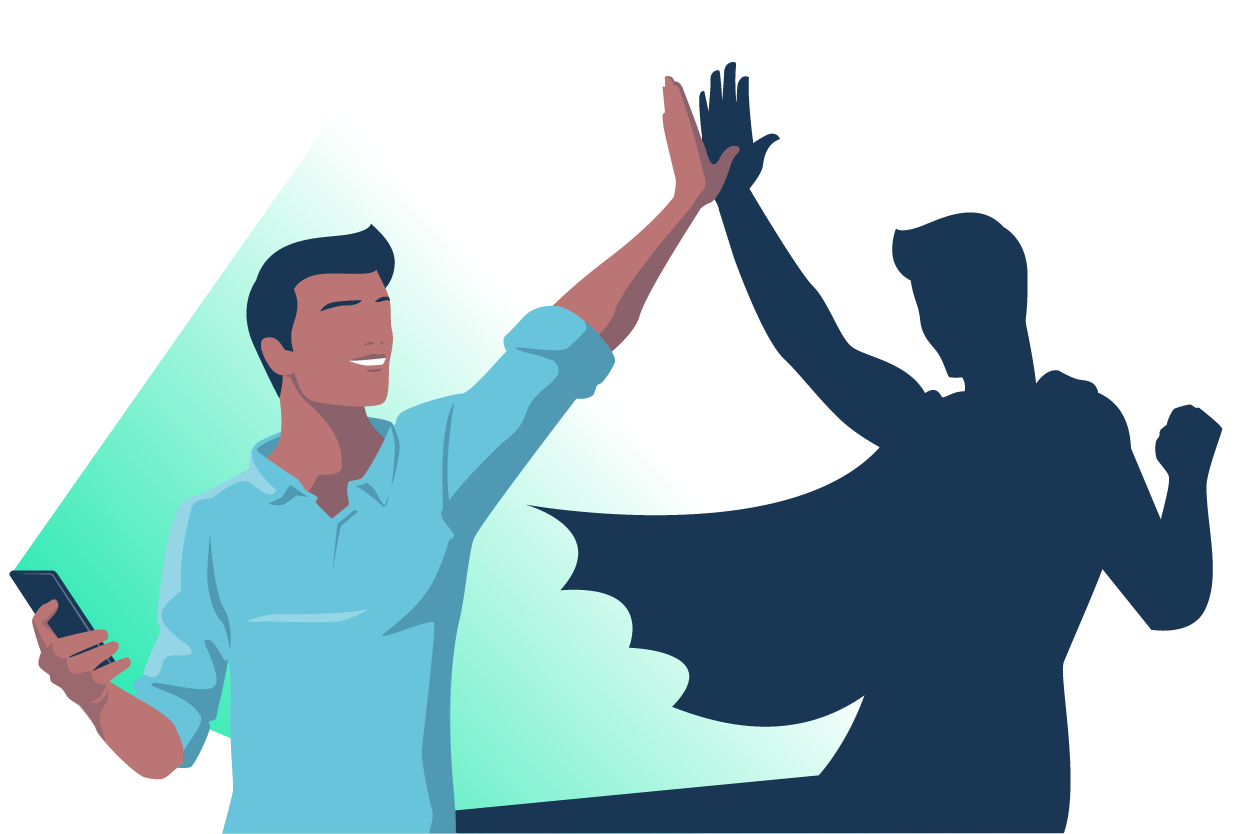 Product knowledge is power. Without adequate product training, your personnel cannot convey the value of your product or service effectively to your customers. But keeping employees up-to-date about the latest product updates or new releases tends to be a time-consuming and costly endeavour. 
It can feel like a herculean task to provide your teams with all the product information they need in a timely fashion. Luckily, with the help of online learning, you can put all these challenges behind you. 
In this article, we identify how online learning can help organisations provide effective training intervention for all members of their extended teams. So, let's jump in and explore product training more closely!
What is Product Training?
Product knowledge is crucial for providing high-quality service. If your employees don't know your offerings inside out, they won't be able to answer any burning questions your potential or existing customers may have. And that's where product training comes in! 
Product training ensures your employees are equipped with all the essential skills and information they need to cater to your customers' diverse needs. To provide excellent customer service, employees must be able to determine which products or features best meet your customers' requirements and find an effective way to communicate this.
The main focus of product training is to increase the depth and breadth of knowledge. However, training should also touch on aspects like talking points and selling techniques depending on the targeted audience. 
In essence, efficient product training ensures your company can fulfil customer needs. After all, it empowers your personnel to better convey the value that your solutions provide to your customers.
But to create an effective product training strategy, you need to understand why it's necessary for your organisational success. Let's have a look!
What Makes Product Training So Important?
Product training is a vital part of an organisation's success, as it's one of the key skills for closing sales. In fact, 46% of consumers state that they will abandon a brand if the employees are not knowledgeable. 
Developing product knowledge will help you to create stronger customer relationships, a positive brand reputation and will enable you to outperform your competitors.
1. Improve Customer Experience
Product training will help you to deliver an unforgettable customer experience. It can lead to enhanced consumer satisfaction throughout the customer journey. 
Before making a purchase, customers need to trust the product, brand and sales personnel. In fact, trust is one of the most important aspects of customer experience. Most customers come to make a purchase armed with some basic information about the product. If the sales representative gives outdated information, consumers' trust in your company suffers. 
With adequate and ongoing product training, your employees will have the knowledge they need to provide maximum value for customers and build trust throughout the process. 
The majority of customers think that the key to an improved sales experience is listening to customer needs (69%) and providing relevant (61%) and timely (51%) information. Providing service with these features demonstrates that the customer is your top priority. This will help you to create long-lasting relationships and drive loyalty throughout your customer-base.
Product training should also extend to customers themselves. It can help consumers learn about your products, which supports customer retention. Previous customer data will help you to create interactive and engaging product training that addresses customer pain points.
Trained customers typically embrace new features and functionalities quickly. This training also helps to keep them in the loop for new product releases and updates. As such, it's clear that product training can increase the value of your solutions, improve customer satisfaction and enhance customer retention.
2. Supercharge Your Teams

Product training helps your team to improve and strengthen their communication skills. A thorough understanding of a product helps employees identify diverse techniques to present the product to different audiences. Better communication skills also empower them to adapt sales or marketing pitches quickly when needed.
The more they know about the product, the more confident your team will be. And credible sales personnel may make or break a sale. They will also be able to answer any difficult questions, which will cement the credibility of your organisation. Lack of training, on the other hand, can lead to lower productivity if the employee feels overburdened but under-supported. 
Training should also be extended to partners, resellers and other members of your organisation's extended enterprise. This shows that you value your channel partners and ensures that all channel partners present the product in the right light from a brand perspective. Providing training for your channel partners also gives you a better chance of capturing a greater market share.
3. Outperform Your Competition
Customers are more and more educated each day. Thanks to the world wide web, they have easy access to product information, benefits and reviews. So, well-trained employees are the key to providing that last set of information that lies between a successful deal and a failed sale. The better satisfaction you provide, the better reputation your brand will have. 
Product training also helps you create a learning culture that helps your employees keep their skills at the forefront of your industry. And did you know, two-thirds of companies compete on customer experience? As such, excellent customer service, based on extensive product knowledge, is an asset that will allow your team to stay ahead of the competition.
Common Product Training Mistakes
Effective product training begins with measuring the current knowledge and performance gaps. But just like training in general, product training has its own unique set of challenges. Therefore, taking note of any barriers that could prevent employees from learning and improving their knowledge will further supercharge your product training.
1. One-off Product Training
It's easy to believe that product training only needs to cover the fundamental features of a product. And providing a one-off training session covering all those aspects often seems easier than organising ongoing training. 
Short-term training, however, is not helpful when it comes to product updates, new releases or even in-depth knowledge. According to The Forgetting Curve, we forget 90% of the information we learn within a week if it's not reinforced. As such, without ongoing training, your employees may forget how to effectively communicate the benefits of your products in no time.
Lack of continuous training can also make it difficult for your teams to handle tricky questions. If customers cannot get answers to their questions, they are likely to go to your competitor, who can provide better information. Therefore, product training cannot be brushed off as a one-off activity.
2. One-Size-Fits-All Product Training
Every individual within your organisation should have a baseline knowledge of your products or services regardless of their role. Standardised training often requires less thought and planning, and for that reason, it may sound like an attractive option. Using the same training materials and methods across all your diverse teams and locations is rarely the best approach.
One-size-fits-all training tends to reduce training effectiveness as some information may be irrelevant to specific roles. Likewise, some important training content may be left out, if it's only relevant to certain departments or groups of employees. Similarly, standardised training won't work with multinational companies with globally dispersed teams.
3. Non-Collaborative Product Training
Traditional classroom training, including product training, doesn't typically allow learners to interact or learn from each other. Instead, communication happens between the instructor and learner. But the importance and benefits of social learning should not be overlooked. After all, according to the 70:20:10 model, we obtain 20% of knowledge from interactions with others. 
By learning together, you can get a tremendous amount of knowledge, even if each individual contributes with just one piece of information. Learning in isolation, on the other hand, can result in missed learning opportunities. 
Unlimited Engagement on Growth Engineering's LMS
Improve your team's performance by as much as 75% year-on-year, with Growth Engineering's LMS. Use the power of engagement, behavioural science and learning best practice to drive real results.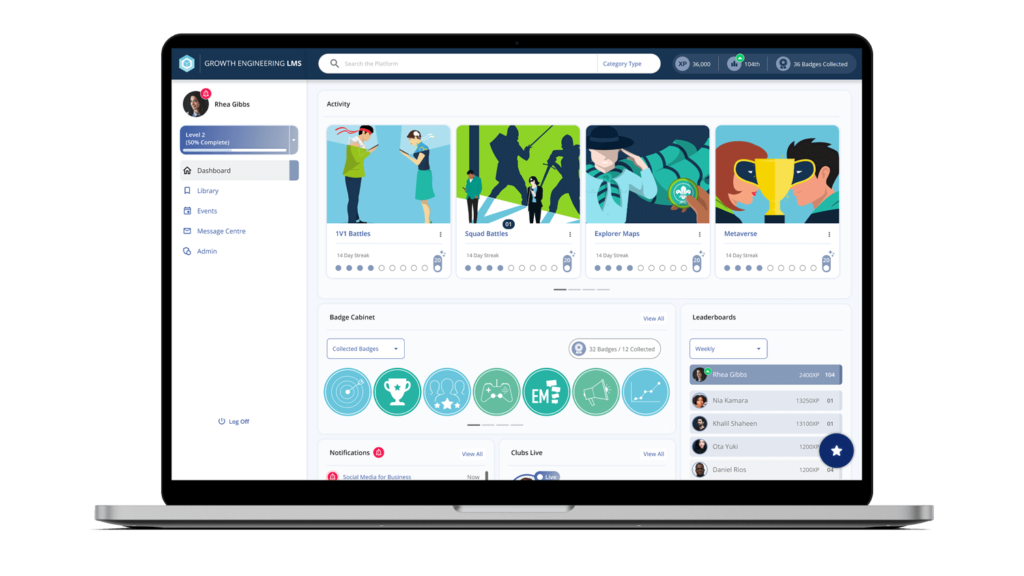 Features That Make Online Product Training Effective
New launches and product updates are an exciting time for any company, but traditional product training methods can stretch your organisation's time, costs and resources to the limits. Traditional classroom-based learning interventions can quickly become problematic to operate, especially on a larger scale. Luckily, you can transform your product training by utilising online learning technology!
Online training helps your organisation provide more effective and streamlined product training. Not only will it become more scalable, accessible and easier to administer, but you can also save some valuable funds, time and resources along the way! 
'How?' I hear you ask! Let's explore what features make online product training so effective!
1. Microlearning
To ensure your product training is as powerful as possible, it should consist of brief and targeted learning interventions. Microlearning enables you to do exactly that! It utilises bite-sized learning modules that typically take less than 10 minutes to complete. 
Microlearning is a great fit for product training as the content can be completed in a matter of minutes and is easily accessible at the point of need. Employees can now fit learning into their busy schedules, as microlearning eliminates the need for full-day training seminars in a set location. 
By exploring each feature or product as a separate microunit, you can prevent cognitive overload. Smaller pieces of information are also easier to process and retain, which results in reduced training time. 
Shorter learning interventions help to guarantee that learners stay engaged throughout the process. And the more engaged they are, the more they will learn. So, it comes as no surprise that microlearning can improve information retention by 20%.
Microlearning also reduces the time gap between product launch and training as microunits are quick to build or adapt. And microlearning approaches partner well with mobile learning. This brings us to the next feature.
2. Mobile learning

Another useful product training approach is mobile learning. With mobile learning, learners can access training on an any time and anywhere basis. Learning interventions are no longer tied to a traditional classroom setting or desktop learning. Instead, your teams can use the device that suits them the best and have a valuable learning experience.
Mobile learning is especially beneficial when training 'deskless' employees, who can't easily fit on-site training into their schedules. However, training at employees' own pace and convenience should be an option for every employee, regardless of their position. 
With a mobile-first approach, you can overcome obstacles commonly encountered in more traditional classroom-based product training. As products get updated, it can be too time- or resource-consuming to draw employees from their daily responsibilities to polish their knowledge. 
Luckily, mobile learning interventions can save the situation, as you can offer product training that is flexible, quick and convenient. And as over 3.6 billion people in the world have a smartphone, it's time to think mobile-first!
Mobile learning also enables larger organisations with dispersed teams to come together and learn in a social setting. Without a mobile approach, this may not be feasible. For instance, our mobile app solution, The Knowledge Arcade, is full of social features that promote a knowledge-sharing culture. For example, you can chat on the Social Feed or join Clubs with like-minded people. 
3. Gamification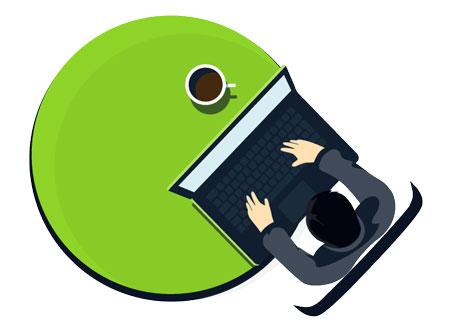 Gamification is about taking elements from games and applying them to other contexts to increase engagement, happiness and loyalty. Gamifying your product training is the best way to spark healthy competition between your employees. Competition can result in improved performance as gamification gives the team the impetus to be better at what they are doing. 
Using gamification for product training can speed up time-to-value, as gamified learning paths can be set up to achieve specific learning goals. Learning paths also allow employees to clearly see where they are on their product training journey. 
Seeing the next learning level just around the corner often helps motivate learners to push a bit harder to achieve their next goal. In fact, gamification can increase engagement by 60%! And engagement is precisely what you need if you strive to have product training with long-lasting outcomes.
Most employees, especially within younger generations, are already familiar with gaming elements. Including these features in your product training will make your courses feel second nature to them. 
When learning feels natural and fun, your employees can embrace topics more quickly and effectively. They are also more likely to remember key pieces of information. And having this knowledge stored in your employees' long term memory can help to boost on-the-job performance.
Here at Growth Engineering, we consider ourselves as gamification experts. Our robust learning management system, The Academy LMS, offers various gamification features that make product training engaging and fun. Learners get Experience Points and Badges for completing courses, scoring well on assessments and interacting with the learning platform. These scores contribute to learners' position on the Leaderboard, where your team can see how they stack up against each other!
4. Customisation
As previously explored, a one-size-fits-all approach can be a barrier to efficient product training. After all, diverse teams, departments, or units may benefit from different information. Luckily, one of the principal benefits of having product training online is that it can be fully customised to your specific needs. And customisation is an important aspect of organisational growth. In fact, 94% of businesses consider it's critical to their success.  
With the right learning technology solution, both your content and your platform can be customised. This makes it easy to create product training that is relevant and useful to a particular target audience. For instance, you can customise which individuals or teams can access certain sets of information. 
Customising learning pathways helps you to identify any product knowledge gaps individuals or teams may have. As a result, you can create supplementary product knowledge training. 
Customisation also makes it quick and easy to adapt your learning interventions cross-culturally. Languages or translations, for instance, are no longer an issue as courses can be adapted with a minimum of fuss. As a result, you can deliver content consistently across borders, as cultural learning differences can be accounted for.
5. Tracking and Reporting
Tracking is an essential part of successful product training. Without being able to evaluate the training process, you won't know how good or beneficial your strategy actually is. And what's the point of spending funds on product training if you cannot see the outcomes? 
Moving your product training online allows you to benefit from simple and straightforward administrating, tracking and reporting capabilities. And even better, all that information is in one place, just a few clicks away. 
You can analyse employee performance within minutes, take action straight away and provide both positive and constructive feedback in real-time. And did you know that 28% of employees think that they don't get feedback frequently enough to improve their work?
Our learning management system, The Academy LMS, offers extensive tracking and reporting features to ensure a low maintenance administration process. You can even automate the reporting process so that the LMS will push the right reports to the right people.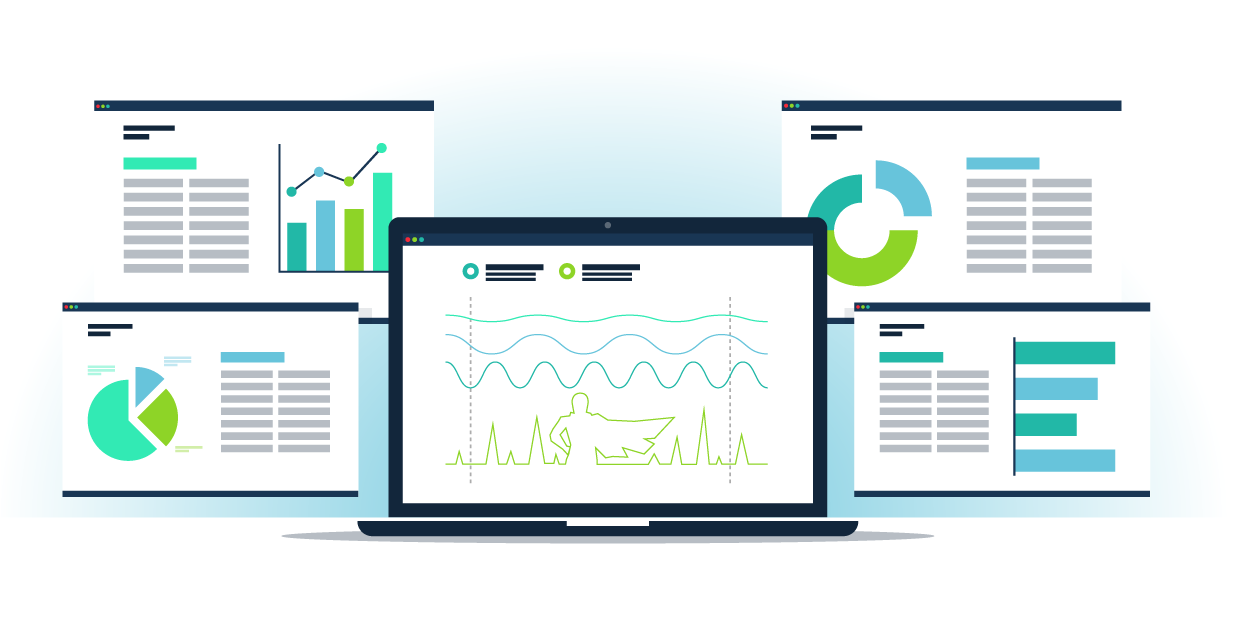 There you have it. With online product training, you can always stay in the loop of how your employees are performing and where they might need some extra assistance. Giving timely feedback is no longer an issue. And by providing content to bridge those knowledge gaps, you can make sure your employees have all the tools they need to be as productive as they can be.
6. Varied Product Training Content
We all know how daunting it is to read slide after slide of an eLearning unit or trawl through countless PDFs. Therefore, to keep your learners engaged, you need to provide content in various formats. And moving your product training online allows you to do exactly that! 
By keeping your content varied, you ensure your learners will stay engaged and learn effectively. So, you should take advantage of videos, audio, presentations, case studies, games and quizzes, to name a few. Where possible you should incorporate interactive elements within your learning to encourage active learning. Soon you will have a library full of engaging and helpful product training content that you can push and pull depending on your employee's needs. 
Employees can explore the library of your learning technology solution at their own convenience or find material at the point-of-need for an instant knowledge boost. Offering a wide variety of content also means that all users will find learning assets they enjoy completing. 
As explored, when organisations update or bring out new products, employees must stay on top of this information. As such, employees must be trained before the new or updated products hit the market, which is traditionally a time-consuming effort. 
By implementing online product training, creating content or updating and relaunching existing eLearning modules becomes quick and easy. Once developed, online training modules can be used or updated many times with minimal costs. It's also easier to maintain and manage training material when it's in one location. 
7. Scenario-Based Learning
Online learning tools can make training more interactive. This is especially beneficial in product training as you can simulate scenarios where employees can practise and demonstrate their product knowledge. It can transform complex product feature training into a fun, engaging and memorable learning experience. 

While learning about product features may feel straightforward, translating the knowledge into the real world may be slightly trickier. As such, product training should not be limited solely to theoretical knowledge. And that's where scenario-based learning, examples and stories come in handy! 
By helping to contextualise your training, your employees get the chance to practice new skills in a safe environment. Scenarios are a great assessment tool to understand how much of the training individuals have internalised. Scenario-based training also allows employees to evaluate the product from a consumer's point of view, which in turn helps them to create more effective sales or support strategies.
8. Assessments
Assessments allow you to ensure that your product training is sufficient. Conducting targeted assessments from time to time helps you measure online training progress directly after employees or channel partners complete a product training module. 
You can make sure your learners keep completing content by repeating the test after a few months. Based on the results, you can then assign additional refresher training if needed. Assessments also allow employees to track their performance and explore the product training content library if they feel the need for extra coaching. 
Back in the day, creating assessments used to involve a lot of administrative work. Fortunately, your online learning technology is equipped with all that you need to easily evaluate employee performance and your overall strategy. Built-in assessment tools also enable you to cater to different needs and personal preferences, as they come with a variety of testing formats.
Assessments on The Academy LMS are quick and easy to set up. They are a great way to see how much your employees have learnt about your products or recent updates. You can even add game-based elements to the test to make it more fun and engaging. 
Final Words
Product training requires a delicate balance. Packing too much information into one module can confuse your employees and hinder productivity. However, in-depth knowledge is the only way to ensure efficient training and optimal business outcomes. 
Fortunately, online learning technology offers various features that help you to structure and create efficient product training. Features like microlearning, mobile learning and gamification help you create short and snappy product training interventions that engage your employees!
Are you ready to supercharge your product training? Book a tour of our award-winning learning management system, The Academy LMS, now!