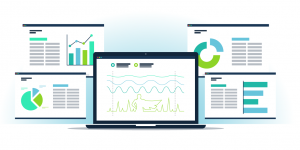 Tracking KPIs is an important business. This is because… 'If you always do what you've always done, you'll always get what you've always got.'
So goes the famous quote by car manufacturing virtuoso Henry Ford.
If there's anything Ford understood, it's businesses and cars.
In some ways, the two can be very similar. For a car to do its job well, hundreds of different parts need to work together in perfect tandem. This is true of businesses as well!
But your car will only be able to get you where you want to go if everything is working properly. Likewise, your organisation will only be able to achieve its goals if every department is working as it should. This where KPIs come in!
What Are KPIs?
A Key Performance Indicator is how you know you're on track to achieve your business mission. They are the stepping stones that bridge employee training to your organisation's objectives.
They allow you to see that things are running smoothly, and if they aren't you can use KPIs like levers you pull to generate change. If you want to drive behaviour change to help your organisation work towards its mission, then KPIs are a powerful tool to help you get there!
Why Do KPIs Matter?
KPIs are crucial for every business, large or small. They're the dashboard warning lights that let you know if something's gone wrong.
Without them, it would be like driving at night with no headlights, no GPS, no road signs, no map, no petrol, a flat tire, no breakdown recovery and no secret car snacks. Here are two reasons KPIs are essential to every business:
They Measure Objectives
KPIs let you know if you are doing a good job or not. By having KPIs as a guide, you'll know if you're on track to achieving your mission. Without them, there's no direction and no means to measure your progress. This can be powerfully effective on both an individual and an organisational scale.
You can use KPIs to help individual employees know what they need to work towards, but you can also use them for whole teams and departments to make sure everyone is working towards the same goals.
They Help You Grow
KPIs are a fantastic way to get feedback on your business operations. If something didn't work, you can analyse your KPIs to find out what needs changing. In the long run, this will save your business making costly mistakes again and again.
You can use your KPIs like signposts to help your organisation and its employees know where they're headed. If you have organisational objectives to work towards, you can choose KPIs which reflect that.
How To Determine Your KPIs
Maybe you've heard of SMART goals? If you're setting KPIs they're something you need to know about. SMART is an acronym for a set of criteria that should inform your goals and objectives. With all goals, it's essential to write them down. 
This is just as true with SMART goals. A Harvard Business study found that 3% of their graduates who had written down their goals, ended up earning ten times the amount of the other 97% put together! Why was this? It gives you a clear pathway of how to best tackle your goal (or maybe it's just plain sorcery!).
Before you wheedle out the best KPIs to use for behaviour change, take a look at the SMART model:
Specific – Is your goal specific?
Measurable – Can you measure the improvement of that goal?
Attainable – Is the goal really attainable?
Relevant – Is the goal relevant to your business?
Time-bound – Does the goal have a deadline?
To design KPIs related to behaviour change, first review your organisation's mission. This will help you understand what steps you need to take to get there.
You can use this knowledge to set your KPIs. Just think, what behaviours are needed to help your organisation achieve its goals? Then work out the best way for you to measure them in a SMART way.
What Are The Best KPIs To Help Change Behaviour?
Generally speaking, KPIs are different for every department. For example, a sales KPI may be based on the number of activities completed or net sales. Marketing KPIs may be based on monthly website traffic, or the number of leads generated.
They're also different for every industry. Here are some examples of behaviour change KPIs that could be used in three different industries:
KPIs For Behaviour Change In Retail
Business Mission:
To be the goalpost by which all great customer service is measured
KPIs to Meet Objective:
Increase average basket size by 20% within six months
KPIs For Behaviour Change In Social Media
Business Mission:
To develop brand awareness
KPIs to Meet Objective:
Increase social engagement so that the average post over the following quarter receives 100 interactions or more.
KPIs For Behaviour Change In Education
Business Mission:
To give pupils the best education possible
KPIs to Meet Objective:
Improve the number of students attaining grades above their predicted level by 10% over the next year.
How To Use A Learning App To Set And Measure KPIs
Get Buy-In
The first thing to do is to make sure learners have bought into the vision and purpose of your organisation. You can communicate the reason for your behaviour change campaign on your learning app's social feed.
Once they understand why behaviour change is needed, they'll understand the significance of their KPIs. It's much easier to get employees to track KPIs when they understand how they relate to the organisation's mission.
How To Set KPIs
If you're able to involve your learners in the process of determining their KPIs, you'll not only help them feel invested, but you're likely to end up with KPIs which are a better fit for their job role. One way to do this would be asking them open-ended qualitative questions.
You could do this using open-ended questions asking learners to think about the best way to measure their progress. They can then submit their suggestions to their line manager.
Tracking KPIs for Your Learners
Use Social Functionality
Set up dedicated social groups on your learning app and your learners will be able to share weekly updates on their progress.
Use Gamification Functionality
You could assign badges or points to certain behaviours. As your employees start to apply them in the workplace they'll earn more badges and points. The more they earn, the better they're doing!
Use Performance Management Features
Growth Engineering's performance centre not only allows managers to set KPIs, but makes it very easy to track them as well.
Using KPIs To Establish Behaviour Change
Carefully thought out KPIs will help smash organisational goals in no time! They're the perfect tool to help your training make the drive towards behaviour change. In turn, they can help make the new behaviour part of your organisation's culture.
BJ Fogg's Behaviour Model addresses the most significant question in L&D – How can you change behaviour? Here's Juliette discussing it in more detail:
Final Words
KPIs are a fundamental part of growth for every business. You can use them to make sure that behaviour change campaigns have a long-lasting impact. Once you deliver your training, establish your KPIs and you can track your organisation's path to success!
This is essential if you want a bigger training budget and provable business impact.
Want to find out how you can deliver training that's so effective it helps you transform learner behaviour? Download our eBook: Behaviour Change in the Workplace Using a Microlearning App.
Unlimited Learner Engagement on
The Impact Suite
Tired of learning technology that doesn't make a difference? Fret no more! Our Impact Suite combines three multi-award-winning learning solutions with expertise from the Growth Engineering team.