The Ultimate
Learning Experience —
Anywhere & Anytime
Introducing Growth Engineering Learning App, the world's most advanced mobile application for organisational learning. It places unlimited potential right where your learners need it — their pockets! 🔥
This isn't just a responsive LMS in an app wrapper. Oh no. This is a fully customisable native app, designed to engage and delight, change behaviour and ultimately — impact your business. Sounds app-etising, right?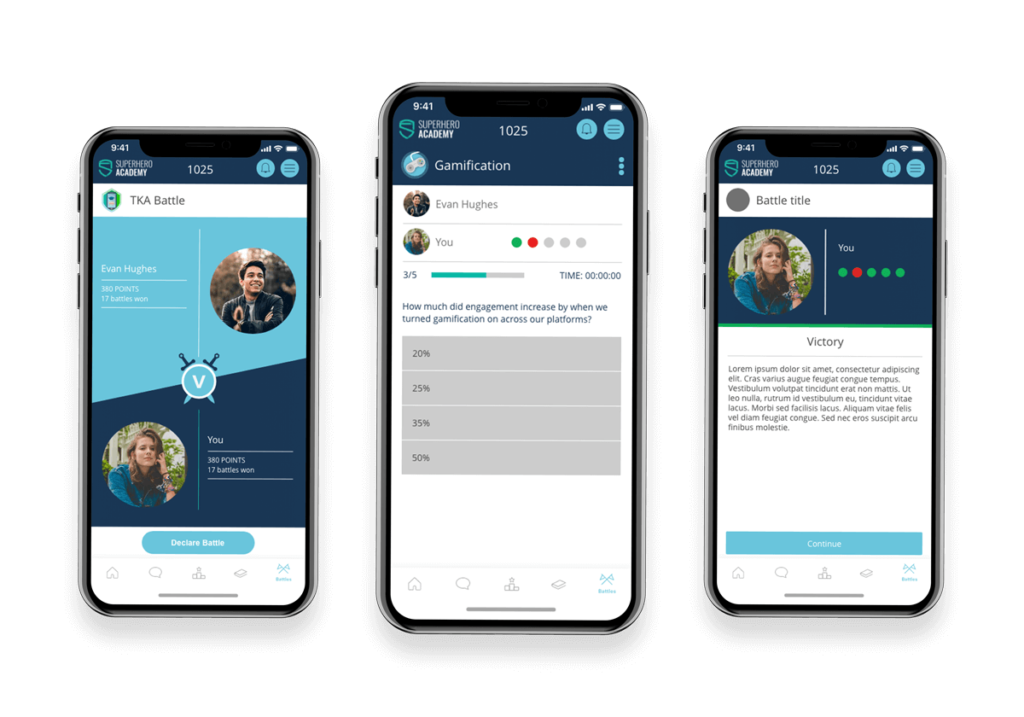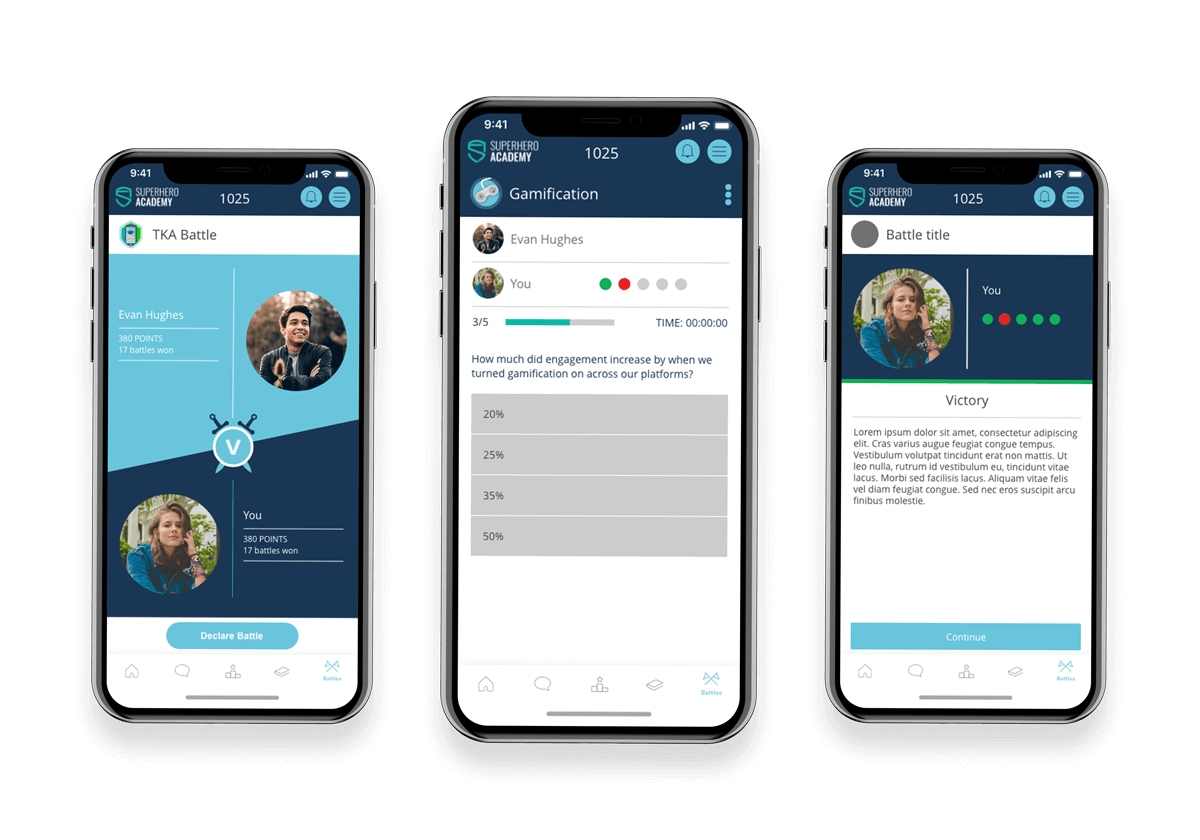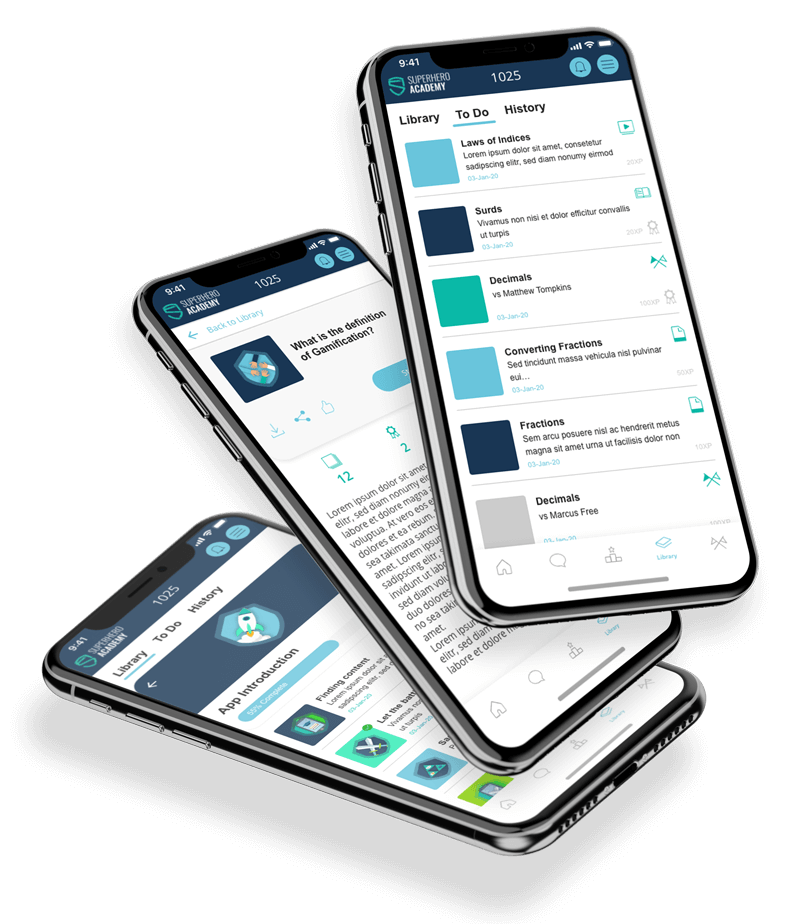 Trying to create real business impact through learning technology can sometimes feel like a fool's errand. It's like trying to cook chicken with a hair dryer. To get the job done, you need the right tools. 
Growth Engineering Learning App is special. It uses our not-so-secret engagement formula to build thriving learning communities, change behaviour and improve performance.
A fortune 500 tech company used Growth Engineering LMS to raise sales performance by 75% year-on-year.
We've embarked on a project to improve
3 billion
lives with the World Health Organization by 2030.
Hendrick Automotive Group created 8.4x more engagement through Growth Engineering LMS (vs their previous solution).
L'Oréal Travel Retail found that territories using our technology outperform those who don't by 20% (in terms of sales growth).
iMarketsLive added $253m+ in revenue via sales of their instance of our mobile app solution.
GAME Digital's sales training programme led to a 94.3% increase in average basket size.
Growth Engineering Learning App
Key Features
Your very own custom app solution, built around your specifications. Tailor the design, terminology, logo, description and more.
Unleash the power of engagement and turbocharge your training campaigns with XP, Badges and Leaderboards. Game on!
Microunits:
Design and share high-impact microunits bursting with interactive elements like videos, audio, downloadables, quizzes and more.
Admin Tools:
Exercise careful control over your learners, content and permission settings. Managing a mobile learning initiative has never been easier.
Knowledge Battles:
Build and share peer-to-peer and team-vs-team quiz Battles that help learners to demonstrate subject matter mastery.
Streaks & Scorecards:
Drive behaviour change with Streaks that help learners to form new habits and Scorecards that track their progress.
Reporting Suite:
Embrace analytical awesomeness through our full-scale Reporting Suite. All the data you crave, available at the point of need.
Online / Offline Sync:
Download and view training content offline. Then sync up the results when you're next connected to the web.
Live Streams:
The learning revolution won't be televised — it will be streamed! Users can go 'live', share insights and broadcast training events.
Push Notifications:
Spur your learners into action with custom push notifications. This is the ultimate communication and engagement tool.
Seamless Integrations:
Integrate Growth Engineering Learning App with the software solutions you already use to automate tedious tasks.
Create discussion groups based on the topics that matter most to your organisation and forge a learning community.
Mobile Magic
Solving Real Challenges
Growth Engineering Learning App is the final boss of organisational learning applications. It uses brain science backed approaches to crush all your training challenges. Hold the app-lause! Here's how we can help.
Onboarding
Support your new starters with introductory microunits, dedicated social communities, expert guidance and more. Talk about a flying start!
Sales Enablement
Facilitate friendly competition and improve sales outcomes with learning games, quiz battles, leaderboards and more.
Customer Training
Create customer communities and share content that fuels long-lasting relationships. Unending loyalty awaits.
Brand Communications
Make yourself heard with dedicated discussion groups, live streams, bespoke push notifications and learning campaigns.
Employee Training
Reinforce knowledge through gamified microunits and quiz Battles. Then track the results and fine-tune your initiative as necessary.
Product Training
Effortlessly boost product knowledge through focused microunits, communities of best practice and user-generated content.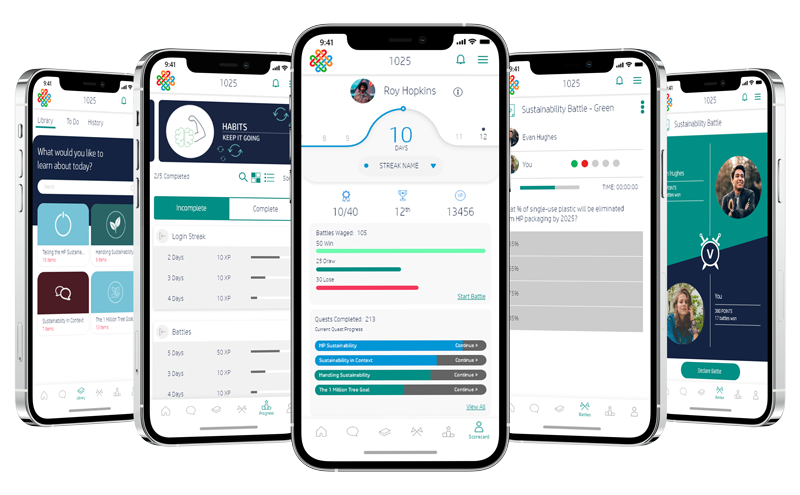 BOOSTING CYBERSECURITY
KNOWLEDGE AT HP
HP is one of the world's biggest tech brands. Together we created the HP Uni App. Built on the Growth Engineering Learning App framework, it helped HP sales staff to improve their cybersecurity knowledge and close more deals. 
Engagement levels across the HP Uni App were unprecedented.
Growth Engineering Learning App is part of the Impact Suite. The Impact Suite combines three multi-award-winning software solutions to create the ultimate end-to-end learning solution.
Growth Engineering Learning App FAQs
Growth Engineering Learning App is typically used to facilitate organisational learning (although it can also be used by professional bodies, educational institutes, government agencies and more).
It's built to help resolve your learning challenges. Whether you're trying to adapt to our new digital world, roll out a best-in-class onboarding programme, drive sales or product knowledge or create a high-performance learning culture — we're here for you.
Learning technology has become increasingly diverse and complex. So let's break it down. Typically, learning ecosystems are made up of a learning management system (LMS), an authoring tool and other supporting software (mobile apps, learning record stores, analytic tools and so on). 
That's where Growth Engineering Learning App fits in. It's a mobile application that is used to share microlearning experiences, drive knowledge retention and build learning communities. You can use it as the central hub of your learning experience or have it play second fiddle to your LMS. The choice is yours!
The Hub: Your version of the Growth Engineering Learning App acts as the primary training environment for your end-users. Microunits are used to build knowledge (rather than just reinforce it). Social communities facilitate further knowledge sharing. And quiz Battles aid the retention process.
The Support Player: Growth Engineering Learning App is used to support and reinforce information shared through your LMS. Long-form activities (lengthy eLearning units, assessments, classroom events, etc.) are completed through the LMS. Support activities (such as microunits, quizzes, learning games and social posts) are handled via the app. 

Whatever you choose, we can help. We can also help you to complete your learning technology ecosystem. We provide a mobile app, a learning management system and an authoring tool. Alternatively, you can integrate Growth Engineering Learning App with other solutions in your software stack. See below for more details.
Yes. Growth Engineering Learning App is built on the framework of Growth Engineering LMS. This allows us to use our open API and webhooks to connect with other software solutions. 
For instance, you could integrate with an HR System to automate user provisioning, push data to your Business Intelligence System, or integrate with Salesforce to show sales data alongside training data. The possibilities are endless.
As a leading player in the Impact Suite, Growth Engineering Learning App automatically integrates with Growth Engineering LMS. However, you can also choose to integrate with other learning management systems to push data back and forth as required.
Please note: All integrations require a Statement of Work and may generate additional costs.
Yes. Most of our clients' learners use their own devices to access Growth Engineering Learning App. That said, please note that the rules and regulations around personal device usage (or BYOD) at work vary from territory to territory.
To avoid confusion, we recommend positioning your app as a voluntary or optional value-add solution for your learners. If you promote the benefits, you'll soon develop a self-sustaining learning community. A sense of FOMO can go a long way.
We work hard to ensure that your learners want to spend their time within Growth Engineering Learning App. We use game mechanics, social communities, push notifications and other habit-forming techniques to encourage learners to return to the app again and again. 
And this approach works. Just look at our engagement statistics for proof!
Growth Engineering Learning App is a mobile application. As such, your users will need a mobile device to access it. A smartphone or tablet will do the trick.
They can then search for the app via the App Store or Google Play Store. Remember — this is your app. That means you can give it a custom name, app icon, app store description and so on. The world is your oyster!
As with other software, we regularly update the Growth Engineering Learning App to improve performance, security and functionality. We handle all the technical details and ensure you're informed about any upcoming changes. 
Following this, we push out the update. Most users won't even notice an update has occurred, as automatic app updates are enabled on iOS and Android devices as standard.
You made it to the bottom of the page. This must be love! Let's get engaged… ❤️
Use Case Mapping:

Tailored demonstrations in line with your requirements.

Flexible Payment Terms:

Payment options and pricing plans to suit your needs.

Rapid Implementation Plans:

Start making a real impact in weeks, not months.

Build a Business Case:

Achieving stakeholder buy-in is tough, but we can help.