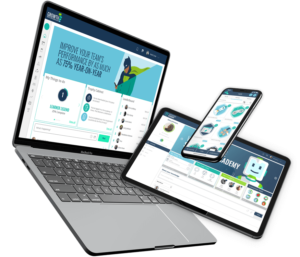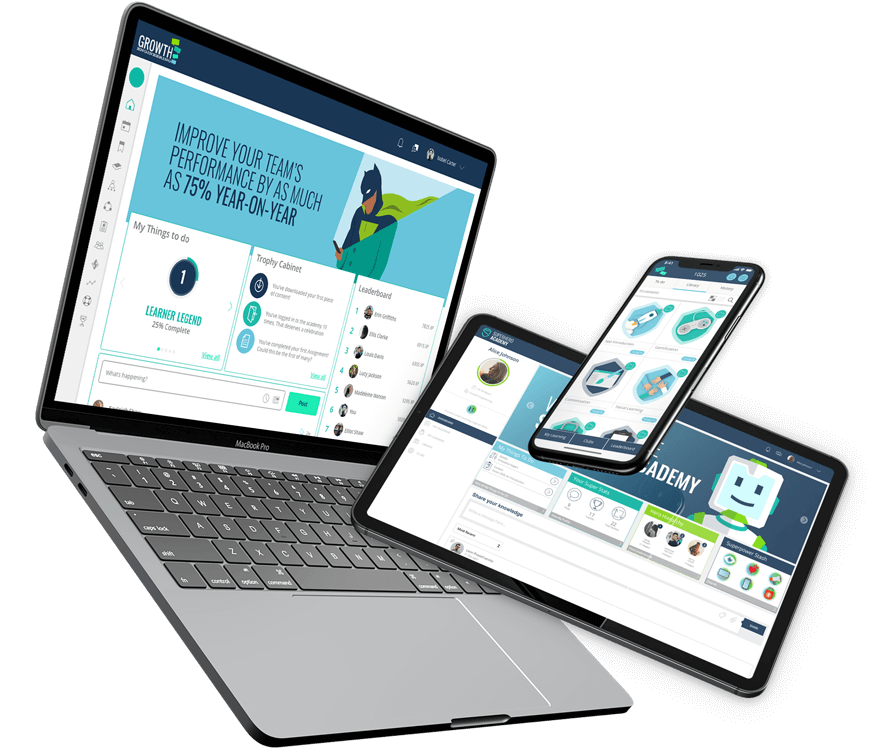 There is a reason why Doctor Who never travels alone. And why Sherlock Holmes still relies on John Watson for support regardless of his super-powered intellect. As an online learning superhero, you will also need help to get your training programme going.
Being in charge of your organisation's training initiatives and learning roll-outs can be a lonely job. But luckily, you're not alone. You have an army of helpers ready to do some heavy lifting. 'Who?' I hear you ask. Your learners, of course!
In an increasingly digital world, your intellectual capital is one of the most valuable assets of your organisation. And if you want to invest in your intellectual capital, you need to invest in social learning. 
Social features are becoming the default for today's most successful apps and platforms. In fact, the four out of five most downloaded apps have a strong social focus. Learning management systems are the perfect place to introduce social features since they encourage informal learning.
In this article, we share seven must-have social features. But first, let's explore the benefits of adding social features to your learning platform!
What is Social Learning?
Humans are social animals by nature. As such, it's no surprise that we learn from other people. According to the 70:20:10 Model, 20% of all information we learn comes from others. While the framework has faced some criticism, it does highlight the prominence of social learning. 
Social learning is the process of learning new knowledge and skills by observing and interacting with others. With an informal training approach, your learners take in information, share knowledge and collaborate with others. As such, informal learning is caught rather than taught.
In fact, social learning often takes place in our daily lives without us even realising it! By providing easy access to social interactions, social media is part of this advance. Networking sites like LinkedIn give us the opportunity to pick up knowledge more effortlessly than ever before.
But why do more than half of L&D professionals use some form of social learning in their training programmes? And why do organisations increasingly implement it in their training? Because social learning comes loaded with benefits! 
The Benefits of Adding Social Learning Features to Your LMS
It's now widely accepted that learning is much more efficient in a social environment. This enables learners to naturally gain and retain knowledge through interaction and collaboration, without a structured approach.
Similarly, social functionality has become integral to learning management systems (LMS) and other learning technology solutions. After all, social learning helps you to invest in your intellectual capital. In addition, it can serve many strategic business functions. 
These benefits include (but are not limited to):
Community development

On-demand support

Increased ability to attract and retain employees

Accelerated content curation

Increased knowledge sharing

Enhanced productivity

Stronger collaboration

And reduced training costs
With these benefits in mind, it's easy to understand why 73% of organisations expect to increase their focus on social learning. This is extremely important as 88% of employees prefer a collaborative working environment rather than a competitive one.
Social Features in Learning Management Systems

Digital disruption and social media have undoubtedly become an integral part of our daily lives. Millions of people can connect, stay informed, share experiences and discover new things every day. After all, 53.6% of the world's total population now uses social media.
Similarly, a learning management system with built-in social learning functionalities can improve the quality and efficiency of any digital training programme by making online training highly engaging and collaborative for learners. 
As a result, social features are increasingly becoming standard within learning platforms. If you don't enable informal learning, you risk missing out on the vast benefits that this approach can have on your entire organisation. 
But what tools do you need to make this success happen? We have drawn up a list of eight absolutely essential social features that any LMS needs.
Let's get social!
1. Live Chat
Live Chat is the communication method of choice for learners who long for instant gratification. If your learners have a burning question and need help right away, they can see who is online and get in touch immediately via instant message.
As such, this feature enables easy and immediate connection between your learners. It gives them a safe and private space to discuss issues or interests one-to-one or in groups. 
Live Chat can improve peer-to-peer and peer-to-instructor communication. After all, your learners can also talk directly to people who can help them by sharing expertise, giving content recommendations, providing encouragement and solving learning challenges together. This is an excellent way to bring your learners and instructors together to resolve communication gaps and squash any niggly issues.
Proactively communicating with your learners will help you to enhance engagement through immediate support. There's no sitting around waiting for somebody to see your post or email and then respond. Everything is instant. This is extremely important as research shows that effective communication can lead to a 25-35% improvement in productivity. 
In a nutshell, Live Chats offer so much more than eerily human chatbots. They can be an excellent tool for feedback, real-time knowledge exchanges, group and peer-to-peer interactions and immediate support. Or they can just be a great way to share GIFs and cat pictures with your colleagues!
2. Social Feeds
A Social Feed is essential to any informal learning strategy. A Social Feed is also known as a timeline. This feature is familiar to most social media users, which will make it easy for your audience to adopt in a learning context. A similar social feed can be found, for instance, on Facebook. And in the UK alone, 51.15 million individuals use that social media site.
Learners can express their views, achievements and questions by posting to their Social Feed. Other learners can then 'like', comment and reply to the posts. And the most liked posts rise to the top of the social feed. Features like instant translation helps you to break barriers when learners can still share their knowledge regardless of the language they speak. 
Social Feeds gives every user on the system an overview of all the activity happening in the learning environment. In a learning platform, this feature has a near-endless range of applications.
For instance, on top of learner updates, you could share department or company-wide news and announcements. After all, the Social Feed is visible to all learners, which makes it a great place to share organisation-wide information.
This also makes it an excellent platform for sharing some of your learner's key achievements. For example, Growth Engineering LMS automatically shares public updates every time a learner gets awarded a new Badge.
Our clients have seen great engagement across their social feeds. For instance, a Fortune 500 cosmetics company uses our mobile application, Growth Engineering Learning App, for their social learning initiative.
Their 3,000+ end-users have been extremely active:
Learners have left over

12 million

comments on their social feed

In addition, they have liked posts nearly

50 million

times. 

And, on average, there are

90,000+

social engagements on the platform every day.
3. Clubs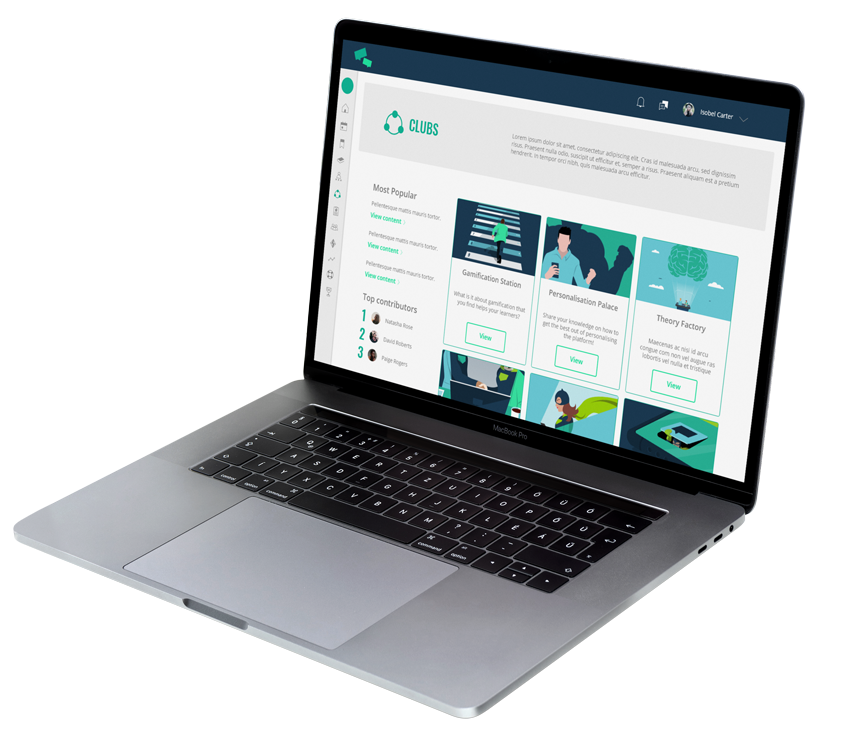 Live Chats are good because they are instantaneous. Social Streams are good because of their visibility. Clubs, on the other hand, are powerful because they focus on specific topics.
In the real world, clubs are places where people gather with other like-minded individuals to share their passion, exchange knowledge and promote their ideas. You can find clubs for pretty much anything, ranging from baking and gardening to mountain climbing and cliff jumping. 
Because these individuals have a shared passion, they all have something to contribute, whether they're simply a beginner or world-renowned experts.
Here at Growth Engineering, we've taken this principle and moved it to the world of online learning. We determined what makes clubs so much fun and built them into the heart of our learning technology solutions.
You can create Clubs that span your entire company or smaller groups and teams. Each of these discussion groups should focus on a specific topic. For instance, you could have a Club for sales staff to share successful strategies and another for marketing to share content ideas. 
You could also set up Clubs for different territories or levels of expertise. The possibilities are endless. And with features like Push Notifications, you can ensure your learners are alerted when someone interacts in the Club.
As such, instead of trying to create discussion areas covering the length and breadth of your training programme, you should create distinct Clubs around the main topics that matter to your organisation.
As learners add their own contributions, each Club becomes a library of relevant user-generated content. When your learners can partake in the creation of your company knowledge it gives them a sense of ownership and makes them feel valued. Simultaneously, user-generated content contributes to your company's intellectual capital and helps it grow. 
You can then add this cost-effective content into your formal training programme to build out your training courses. Clubs also give your learners the chance to demonstrate their knowledge, making it easier for you to identify subject matter experts. This lets you keep an online record of your company knowledge.
4. Experts Area

Organisations increasingly realise the possibilities of knowledge transfer in improving performance. But successful knowledge transfer is difficult to achieve regardless of the shape and size of your organisation. Barriers include, for instance, knowledge hoarding, misaligned measures, lack of trust or a corporate culture that does not value knowledge-sharing. 
Throughout your business, you have a variety of subject matter experts (SMEs). These are the individuals in your organisation who are experts in their field. As such, you need a solution that allows your learners to tap into what your SMEs know. And the Experts Area will help you do exactly that!
You can use this social learning feature to help your learners find answers to topic-specific issues or queries. You can highlight your subject matter experts by granting them Expert status. This enables other users to find them in the Experts Area, where they'll be listed by their expertise. This means that when team members have a question, they know exactly who to ask. 
If your learner is trying to improve their sales skills, there is no better person to go to than your organisation's best and brightest sales guru. It would be foolish not to provide this connection through your online learning solution. With the Experts Area, you are essentially giving your learners an opportunity to learn from the very best. 
When your learners ask an Expert a question, you can choose to store it (and the associated answer) in the platform's FAQs section. Learners encountering similar issues can then browse this area and find answers to their queries in just a few clicks. This makes your knowledge transfer more efficient than ever before.
5. Rating & Commenting on Content
With Deliveroo, you can choose a tasty dinner from hundreds of restaurants in your local area. And Netflix provides over 10,000 movies or TV shows you can choose from. But how can you make the right decision? 
This uncontrolled amount of choice can lead to option paralysis. Option paralysis refers to the inability to make a decision when you are presented with a wide range of choices. And the same applies to learning! Your best content can easily get lost in a jungle of online learning content.
Both Deliveroo and Netflix have taken a stab at solving this problem. For example, Netflix recommends films based on your previous ratings. Deliveroo relies on a rating system, which helps you to choose from the best-rated restaurants. 
By offering your learners a similar experience, you can make sure your training is binge-worthy! A rating system helps learners determine which pieces of content were useful to others before tackling the training units themselves.
Learners can also comment on the training content and leave reviews. This will help you engage your end-users as they feel like they are shaping the learning platform and helping their peers with their insights. 
6. Team-Based Learning and Leaderboards
Encouraging teamwork is a great way to drive learner engagement and improve the ROI of your training regime. After all, collaboration drives content completion, and teamwork can produce impressive results.
To make this work on your LMS, you'll need to build a team structure into your platform. You'll also need a Leaderboard system in place that's capable of tracking team activity. 
A Leaderboard helps your teams to track their progress and ensures they stay focused on your desired learning outcomes. You can also create a Club for each team, so that they can communicate with each and urge each other on!
Once that's all set up, you can take things to the next level by offering group rewards to the best performing teams. Team-based rewards can be anything from vouchers or charitable donations to a team day out. Your team will work harder together when they know there is an exciting team-based reward up for grabs!
7. Squad Battles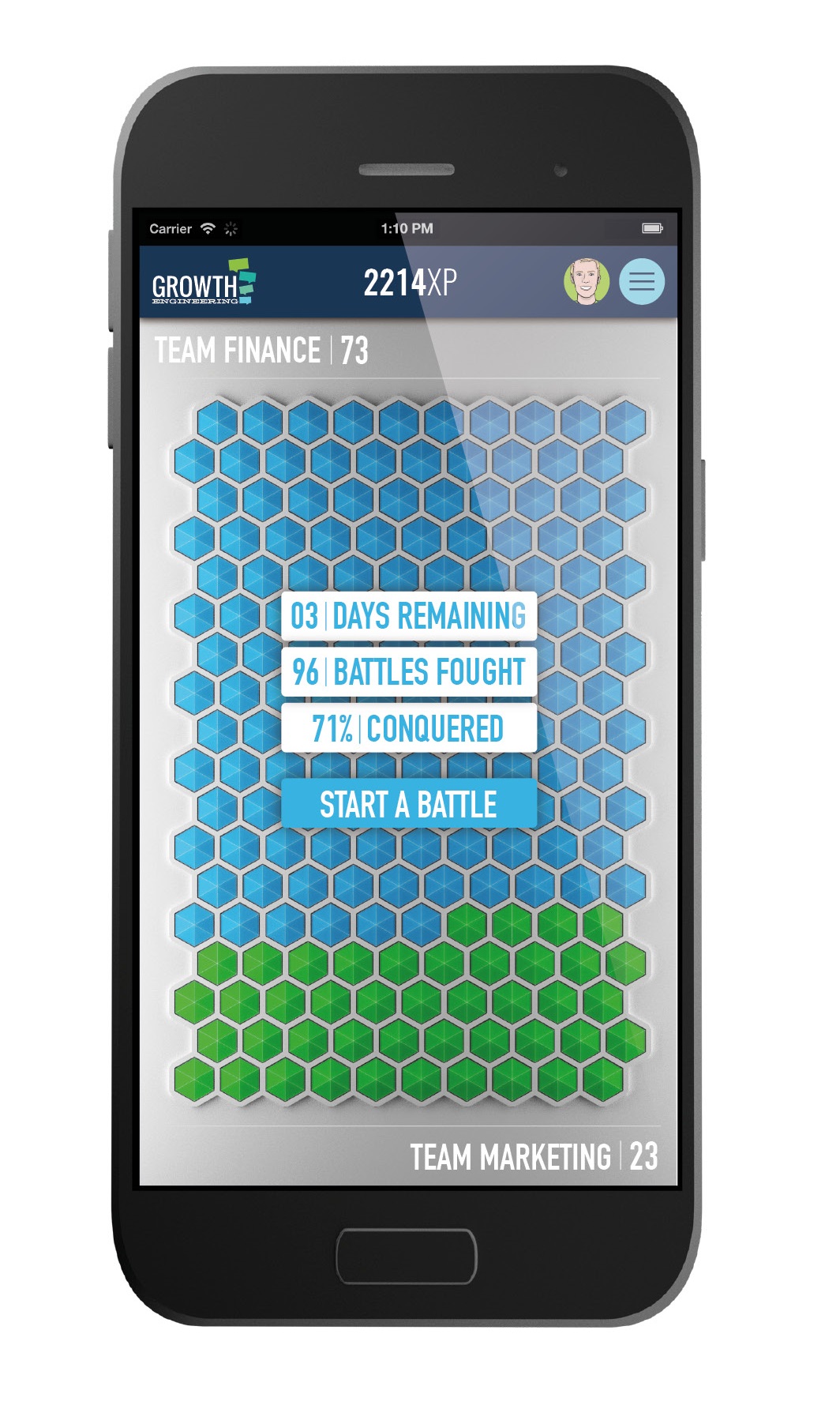 You might be familiar with our knowledge Battles. These learning assets are unique to Growth Engineering. They are peer-to-peer quizzes that help to drive healthy competition. And the competition drives learner activity as learners fight to seal their place on the Battles Leaderboard and demonstrate their mastery. 
While we have seen amazing levels of engagement, we wanted to take things to the next level. Enter, Squad Battles! 
You can now create Squads who will battle it out to see who can conquer most territory in the battlefield. The team that emerges victorious will earn Experience Points alongside a shiny new Badge and bragging rights. 
Battles drive knowledge retention by engaging the learner. The more engaged the learner is, the more likely they are to dispel the curse of the Forgetting Curve! According to the curve, we forget 90% of what we learn within a week without repetition. 
Competition is engaging. And so are scenario-based questions and social learning. As such, the very nature of Squad Battles is engaging.
Let Squad Battles commence!
8. Surveys
Unless you are a powerful mind-reader, it is not always easy to figure out what your learners want. After all, every learner is unique and may have different needs and preferences when it comes to content, features and course structures.
But thanks to Surveys, you can leave the guesswork behind and rely on some hard facts and stats. By using Survey-features on your LMS you can generate insights that help you to fine tune your social learning programme and improve user engagement.
The functionality allows you to reach your learning audience with targeted surveys. In turn you can collect valuable feedback and data that can be crucial for positioning your learning strategy for success. 
In fact, Surveys can be the key to evaluating and measuring the success of your learning interventions. They help you to strategically engage with your learners and identify gaps or problem areas within your training programme. Surveys can help you to determine:
What type of content your learners enjoy the most. 

What content you should release next.

If there are any barriers to retaining knowledge.

What features your learners feel are missing from their platform.

If your training programme is accessible and relevant to learners.
In addition, you can identify whether your learners have enjoyed their learning experiences. After all, fun in learning works much better than dull online training! And you can use this opportunity to find programme advocates who you can use to encourage further buy-in throughout your audience.
Final Words
Social learning is a big deal. The more you get your learners thinking about your training content in a variety of different contexts, the more information they'll embed in their long-term memory.
And social learning will only continue to grow in importance in the online learning world. As such, learning technology providers need to embrace social learning and stay on top of the features that help to facilitate it. With engaging social features, you can create sustainable learning communities and keep your learners engaged on your LMS.
Growth Engineering LMS is the world's best social gamified learning platform. Our social features include Live Chat, Social Streams, Clubs, Leaderboards, The Experts Area, Surveys and much, much more. In other words, it's the perfect home for your social learning strategy.
Are you ready to hear how it can help you to turbocharge your social learning approach? Book a demo today!
Unlimited Engagement on Growth Engineering LMS
Growth Engineering LMS harnesses the power of learner engagement to help you improve your team's performance by as much as 75% year-on-year.