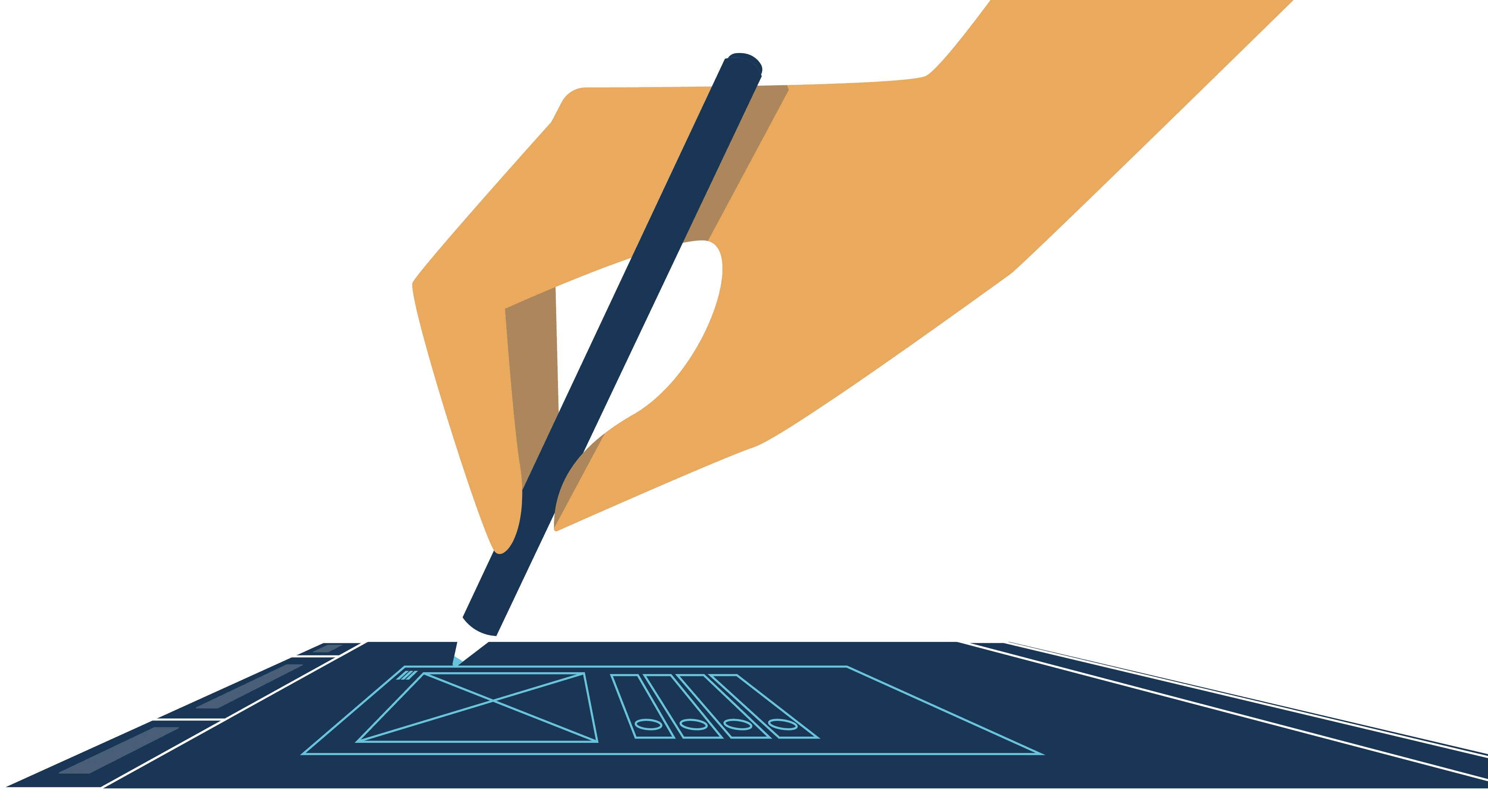 Authoring tools play a vital role in the learning technology ecosystem. Without them, our learning management systems would be barren wastelands and producing new training content would be an expensive and painstaking process.
Thankfully, we do not live in this digital learning dystopia. Authoring tools have expanded our ability to produce high-impact eLearning courses at a lower cost without any technical expertise.
But what exactly do authoring tools do, what are the main features and capabilities and what are the benefits of using one? You'll find all the answers in this article!
Let's get going!
What Is An Authoring Tool?
The word 'author' typically draws our minds to novelists, poets or playwrights. But the term has a broader meaning. 
In fact, in his 1958 book, 'Cyclopedia of World Authors,' Frank Magill defined authors as individuals 'who originated or gave existence to anything.' Going with his definition, we are all authors in our own right. 
Based on this, it comes as no surprise that the term 'authoring tool' also has a broad definition and purpose, often depending on the industry.
Within the online learning, or overall learning and development (L&D) landscape, authoring tools enable us to create a variety of training material using text, media and interactive elements. In a nutshell, an authoring tool is an eLearning course creation tool.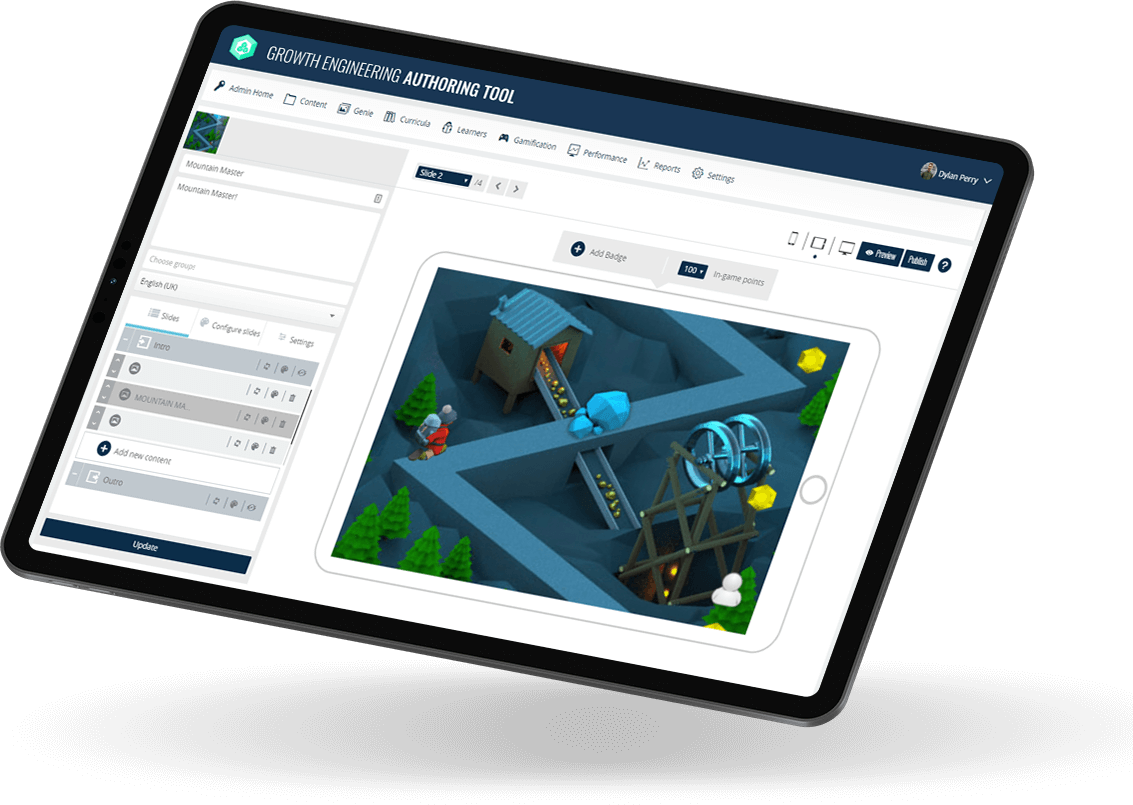 This software allows anyone, regardless of their technological know-how, to create and package engaging pieces of learning content and deliver it to their end-users via a learning management system (LMS) or another digital learning platform.
As such, while these tools are most commonly used by instructional designers, you don't have to be a programmer or tech wizard to create effective content.
In addition to making course creation a breeze, authoring tools enable you to customise and update courses yourself in just a few clicks. You can even collaborate on learning design and review it with the other creative minds in your team!
But this only gives us a high level understanding of what an authoring tool is. A good authoring tool is so much more than just a content creator. Let's dig a bit deeper and start by exploring the different types!
Types of Authoring Tools
Authoring tools come in many shapes and sizes. Your individual needs will define which is the right one for you. After all, all of these tools offer unique capabilities. Let's take a look at some of the different options available to you:
Built-in authoring tools

are an integrated part of your learning platform. As such, you no longer have to worry about compatibility issues when exporting and importing your content. Instead, you can focus on effective content authoring without ever leaving your platform.

Stand-alone authoring tools

are a separate entity. With a stand-alone tool, you create your content and then export or import it to your learning platform. As such, the content format needs to match one that your learning tech supports for it to be compatible.

Cloud-based authoring tools

are hosted in the cloud. In other words, they are stored on internet servers and will run in your web browser. This provides added flexibility, as you don't need to install anything to access the software.

Locally-hosted authoring tools

need to be installed onto your computer's hard drive. While locally-hosted solutions often provide more advanced features and security, they are hampered by poorer accessibility and flexibility than cloud-based solutions.
Authoring Tool Market
In 2019, the global authoring tool market was valued at over $700 million. And the market is only expected to continue to grow! In fact, it's predicted to reach nearly two billion dollars by 2027, at a CAGR of 16.2% from 2020 to 2027. 
COVID-19 boosted the demand for online learning solutions. As such, it only makes sense that this market growth is partially driven by the escalating digitalisation of the global education sector. 
Cloud-based solutions are in the greatest demand compared to other authoring tool types. Cloud-based software provides better accessibility and flexibility than other solutions. In addition, artificial intelligence is one of the biggest rising trends in the market.
Features and Capabilities
Authoring tools have come a long way, and they keep advancing as technology improves. Without further ado, let's have a look at some of the key features and capabilities of today's best authoring tools.
1. Content Authoring
As we know by now, content authoring is a core feature of any authoring tool. This typically involves creating and editing content slides, images, text, video and audio. 
All authoring tools provide unique features, but typically you can:
Edit the text and style of your slides

Add, import and edit imagery

Import, export or record audio files

Add webcam or screen recordings

Link to external video sources or import and export videos

Animate on-screen images or text

Create master slides, themes and templates
You can then organise, store and coordinate all your assets in an Asset Library. This allows for quick and easy production of units. 
In addition, solutions like Growth Engineering Authoring Tool provide responsive previews. You can preview your unit on a range of different devices to ensure a fully responsive eLearning design. 
2. Themes & Templates
Aligning your learning content with your organisation's brand and objectives helps make it more effective. That's why themes and templates play a big role in authoring content that's just right for your audience.
As such, an authoring tool will help you establish the right design for your courses. These tools allow you to create a consistent look and feel throughout your training content. This is essential, especially if you have a big content authoring team. 
Applying templates to your courses ensures your learners' attention is on the content itself, instead of being distracted by inconsistencies or different designs.
3. Variety of Content

Today's modern authoring tools come loaded with different question types and content possibilities. This helps you provide an effective and engaging learning experience for all your learners, as you can cater to different learning styles and preferences.
As expected, you can input, edit and upload text easily as typically authoring tools have all the functionality word processing tools have. In addition, most authoring software supports documents, images, video and audio files that allow you to enrich your text-based content and make it sit in line with your brand.
What's more, you can also include interactive question formats like scenarios. Using this kind of dialogue format is an excellent way to put your learners in real-life situations to assess their responses in a safe environment. 
4. Assessments
Assessing your learners' performance is an essential part of successful training interventions. It helps you determine what your learners have retained in the course and ultimately helps you comprehend the effectiveness of your training content.
Your authoring tool has various features that allow you to assess your learners. These include, for instance, quizzes and course assessments that focus on identifying if learners have bridged their prevailing knowledge gaps.
On top of pass marks, the number of correct answers and the Badges and Experience Points your learners have earnt, you can analyse learner performance through your Reporting Suite. This helps you to identify what kind of content and assessments suit your learners best.
5. Mobile-Ready
According to a Brandon Hall Group survey, only 50% of training content is optimised for mobile learning. But today's L&D landscape is more digital than ever, and smartphones play a big part in learning. After all, they have become an essential part of our lives. It only makes sense to extend the use cases of these familiar devices.
To cater for the mobile revolution, good authoring tools are becoming either mobile-ready or mobile-first solutions. This means that you can create content that automatically works well and looks great on all mobile devices.
The responsive design ensures that your content automatically adapts itself to fit within the available resolution. This ensures your learners get the ultimate learning experience regardless of their device.
Similarly, most authoring tools nowadays focus on producing microlearning content that is easy to create and consume. These short bursts of learning keep your learners engaged for longer and are the perfect match with mobile learning!
6. Gamified Learning Content

Adding game mechanics to your training content is an excellent way to boost learner engagement. As a result, most of today's advanced authoring tools offer gamification elements such as Experience Points (XP), Badges and Leaderboards. 
Here at Growth Engineering, we have taken gamified training content up a notch! Our peer-to-peer or squad-vs-squad quiz-based Knowledge Battles are built from a giant pool of questions. The competitive element makes training fun while driving activity as everybody seeks recognition amongst their peers.
Similarly, why create boring, text-heavy content when you can spice up your training programme with some fun game templates? After all, who wouldn't love a round of Bubble Blaster or Whack A Mole every now and then!
Alternatively, you can even create custom learning games that do exactly what you need them to, whether that's increasing learner engagement or building team spirit.
7. Support
While authoring tools were created to make content curation processes quicker and easier, it's only natural that you might sometimes require support or assistance. As such, both novice and expert content creators can benefit from help.
While your authoring tool may be easy to use, it may also differ from your previous solution. As such, to ensure smooth sailing, we provide video tutorials that demonstrate all Growth Engineering Authoring Tool's main features and best use cases.
Similarly, our quick setup wizard will help you get started by guiding you through the application on your first visit. These kinds of tutorials, video guides and demos are examples of the typical support options often available.
And, of course, here at Growth Engineering, we have a Support Centre that ensures any bugs or technical issues get resolved as soon as possible.
Benefits of Authoring Tools
While all authoring tools bring something different to the table, these tools originated to save you time, money and resources. After all, they give you full control of your content creation, hosting and distribution.
As such, let's have a look at some of the top benefits authoring software can bring!
1. Simple Course Creation
One of the biggest benefits of authoring tools is that they simplify the course creation process. Their main purpose is to make creating high impact eLearning content easy — or at least easier than it's traditionally been. 

As such, for users to find benefit from them, authoring tools need to make the course creation process more effective. For instance, with Growth Engineering Authoring Tool, you can use our content and game-templates to quickly and easily create effective eLearning content. 
Similarly, our comprehensive asset management system makes it effortless to manage your media assets and forge consistency.
2. Rapid Authoring
According to a Brandon Hall Group survey, 31% of companies are worried they won't be able to create learning content fast enough. That's why authoring tool providers focus on making the process as quick and effective as possible.
After all, creating content from scratch is much faster with an authoring tool. For instance, our tool makes it up to 10x quicker to create high-impact content.
According to the Chapman Alliance it takes 184 hours to create an hour's worth of eLearning content with an average level of interactivity. Reducing this time helps you to cut costs and reach your learners at the speed of need.
Similarly, updating and repurposing content is easier when all content creation and management happens in one software. This means you can take a truly agile approach to your content crafting processes.
3. Collaboration
Instead of all your instructional designers working separately, an authoring tool helps your team to work together seamlessly. Regardless of your team's size, they can work collaboratively no matter where in the world they happen to be.
Typically, content authoring solutions come with full project management capabilities. As such, you can add additional administrators and creators to ensure your team has all the help and resources they need. You can also set up roles and permissions to help establish boundaries and safeguard your content. 
As a result, these kinds of collaboration opportunities remove any research, analysis and review process delays while effortlessly tapping into your team's talent and expertise. 
4. Multilingual Course Creation
Typically, creating multilingual content takes vast resources. Either you need to hire a translator to translate your existing content or multilingual content creators who can create your courses from scratch in various languages.
However, utilising an authoring tool is an excellent way to provide content to your global audience in just a few clicks. For instance, Growth Engineering Authoring Tool comes with a vast language library that allows you to duplicate, edit and translate your online courses in no time.
5. Analytics

An authoring tool means that all your content creation can happen on one platform. But that's not all! Many of these tools also enable you to take advantage of built-in reporting and analytics.
With built-in measuring and analytics features, you can measure your learning data in real-time. For instance, we provide extensive reporting options that range from user and content reports to specific question drill-downs.
Being able to filter your results down to the level of individual questions gives you greater flexibility. You can even build your own custom reports to keep an eye on specific questions or content formats!
6. Content Scalability
As your company grows, your learning and development needs are likely to change and evolve. Luckily, your content authoring tool helps you to meet that growing demand with ease. 
They help you to effortlessly scale your content according to your needs. This means you no longer need to hire outside help and can keep up with any required content changes using existing resources.
While we have already discussed the ease of creating new content with an authoring tool, this software also makes it easy to build upon your old content. You can duplicate your course and add additional information to bring more value to a wider audience. 
This won't only save your precious time, but also helps you to reduce costs related to your content creation. What's not to love?
What's The Process?
Whilst authoring tools all serve the same purpose, they often do so in different ways. No two authoring tools are exactly alike. They offer different feature sets and unique focuses. 
For instance, some authoring tools focus on rapid content development, whilst others look to deepen the level of interactivity you can provide through your eLearning courses.
To help you understand how authoring tools typically work, let's have a look at our simple step-by-step guide to creating eLearning courses using our solution, Growth Engineering Authoring Tool.
Its intuitive builder and template system empowers you to create gamified and game-based content in no time. And the best part? You don't need to be a tech wizard to do so!
Step 1:

Gather and upload all your instructional assets (videos, images, audio, questions, etc.) to your Growth Engineering Authoring Tool instance.

Step 2:

Use these assets to populate your content slides. You will see a preview of your content as you start building.

Step 3:

Start to layer

game mechanics

into your content to drive engagement. You can add

Experience Points

,

Badges

,

Leaderboards

and timers.

Step 4:

Select a

game template

or use a standard training template. This helps to define the look and feel of your course.

Step 5:

Review and export your content. You can select from a variety of different formats, including SCORM 1.2, SCORM 2004, xAPI and cmi5.
Sharing Your Courses
As we know, an authoring tool is your best friend when it comes to creating online learning courses. But that is where their utility ends. Most authoring tools are not designed to help you share newly crafted learning content with your audience. 
Instead, they enable you to export your content so that you can upload it to other compliant systems. You can then use these systems to distribute the content to your learners. In most cases, this will be a learning management system, such as Growth Engineering LMS.
To do this, you need to export your course in a format that you know is compatible with your learning system. Your export should create a .ZIP file that you can upload to your LMS. 
By meeting compatibility standards, you ensure that your course will run smoothly on your platform and produce any reporting data that you may require.
eLearning Outputs
There are a variety of standards and specifications for eLearning courses. These specifications define the communication between your course and the host system.
Your authoring tool should enable you to export your content to meet a variety of specifications. We have detailed the key standards below:

Before selecting your output, you should check which file formats your learning management system is compatible with. Select the most appropriate format, and you are good to go!
Signs You Need An Authoring Tool
The right authoring tool can provide you with endless convenience. However, this software is more essential for some than it is for others. There are various factors that determine whether you need an authoring tool or not. For instance:
You are currently unable to offer personalised and/or gamified training content.

Your content authoring team needs to be able to collaborate in real-time.

You typically struggle to deliver training on time due to lengthy and slow content creation processes.

Your team is growing rapidly and you are going to have an increase in training needs.
How To Choose The Right Authoring Tool For You
So, you have determined you need an authoring tool to boost your content creation processes and are eager to get started. But how do you go about choosing the right tool for your specific needs? 
Selecting the best-suited authoring tool can have a vast impact on your organisational effectiveness. After all, too advanced a solution might overwhelm your instructional designers, while too basic a tool might not provide all the features you need. 
As such, you should complete the following steps when selecting an authoring tool for your organisation:
Step 1: Determine your content needs and requirements for your training programme. You can start by identifying your learning objectives, as they give you direction when it comes to your training content and delivery.
Step 2: Identify your content creators' digital expertise levels. Knowing if they are novice developers who are using an authoring tool for the first time or if they have years of experience will help you choose a solution in line with their capability.
Step 3: Think about what kind of eLearning content you wish to create. This can range from quick, template-based courses with just text and imagery to videos, scenarios, gamified content and more. With a clear picture of your needs, you can easily identify what kind of features and capabilities your software needs to have. 
Step 4: Last, but not least, research different tools and trial them. Don't settle with the first authoring tool you come across and hope for the best. Similarly, ask for a development road map to identify if the tool will suit your needs in the future too. After all, these tools change as quickly as technology advances.
Final Words
Authoring tools democratise the eLearning production process. Before they were introduced, creating eLearning courses was an expensive and time-consuming process. 
As a result, very few organisations could afford to make this kind of investment. Thankfully, authoring tools soon arrived to level the playing field and put control back in the hands of professionals, instructors, teachers and subject matter experts everywhere.
Whilst many organisations may choose to rely on third-party courses, or bespoke eLearning development services, those who wish to cut costs and remain truly agile should consider purchasing an authoring tool. 
It could be the best decision your learning and development department ever makes.
Growth Engineering Authoring Tool helps you create high-impact, super engaging learning content quicker than ever before. Start your 21-day free trial today!
CREATE HIGH-IMPACT
LEARNING CONTENT IN MINUTES
Growth Engineering Authoring Tool produces high-impact gamified and game-based training content 10x faster than competing tools. Get started today!