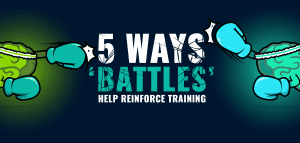 Give your training a competitive edge, and your learners will morph into bloodthirsty knowledge-wolves, all battling for the next slice of juicy info! The reason? The principle of survival of the fittest means that competition is rooted in our DNA.
So, how do we fuse training with competition? We do so via the power of Battles!
Battles are a new type of learning asset unique to Growth Engineering.
Join us as we go through the top ways that Battles strengthens training! Let Battles commence!
1. Reinforce Training with Repetition
The Ebbinghaus Forgetting Curve informs us that information is mostly forgotten within a couple of days of learning. In a training context, we forget 90% of what we learn within a month.
How do we battle this? By reinforcing content again, and again, and again with spaced repetitions. When a battle is created, a question bank is set up. You can add unlimited questions which then generate a random handful of questions every time you play. This keeps it fresh. This means that the same questions will eventually be repeated. Over time, the info will start to sink in. Now read this section again so you don't forget it!
2. It Encourages Learners to Engage with Training Content
'I hear and I forget. I see and I learn. I do and I understand' as said the ancient Chinese philosopher, Confucius.
The bearded sage had a point. Quiz-based training is an interactive process, in other words, learners take part in the training. This is especially the case with our awesome Battles feature. Learners battle against each other for points. Quiz-based training allows the learner to be a part of the learning process. Participating in the learning journey gives learners a sense of autonomy and control that is inherently rewarding, helping drive long-term engagement. .
3. Innate Competitiveness will Help you Reinforce
We all know those competitive types. They always take the parking space just before you, and they're always in front of you in the work canteen! If you don't know a person like this, then… could it be you..?
As mentioned earlier, competition is a part of human nature. You can tap into that inner urge and engage your staff by delivering training in Battle format. How does the competitiveness present itself? Let's take a look:
Did you know, 83% of companies suffer from a deficit in recognition?! Reward your employees for learning with an assortment of digital badges and achievements.
You can earn badges and achievements as you work your way through the Battles questions (as long as you win!) You may want to mark a successful battle by…
-Awarding a badge/achievement for winning a specific battle.
-Awarding a badge/achievement for winning 5 games in a row
-Awarding a badge/achievement for reaching the top of the leaderboard.
-Awarding a badge/achievement for moving up on the leaderboard.
A streak is awarded when a collection of achievements have been won. This can be set by the admin, so it can be personalised to suit your team. An example could be rewarding a streak for winning 5 battles in a row. A streak taps into that competitive side of us all. It keeps us coming back for more until a streak has been accomplished. Therefore, this ensures that knowledge is reinforced.
Promoting the Leaderboard
A big part of Battles is the leaderboard. Making this visible to every battler is key. Not wanting to slide down the board will encourage learners to battle even more. A byproduct of this is that learning will naturally be reinforced.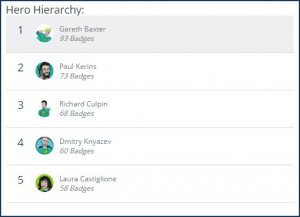 4. They are a Perfect Match for Mobile Learning
Mobile phone traffic officially overtook all other forms of web traffic in 2015, when 52% of all web traffic originated from mobiles. It's been growing ever since.
As people don't spend too long on a mobile phone at any one time, the rapid nature of battling is perfectly suited to mobile tech. Battles are a form of microlearning that can be accessed anywhere, any time.
5. Encourages Scenario-Based Training
When creating a battle, you can construct questions in any way you like. A great way to do this may be via scenario-based questions. Scenario-based training allows the learner to picture themselves in a real-life situation. This not only engages the learner on a deeper level, but it will also encourage critical thinking. The storytelling aspect will naturally improve retention too.
Final Note
Battles drive knowledge retention by engaging the learner. The more engaged the learner is, the more likely they are to dispel the curse of the forgetting curve! Competition is engaging. Scenario-based questions are engaging. And the very nature of Battles is engaging. Training no longer needs to be an uphill battle.