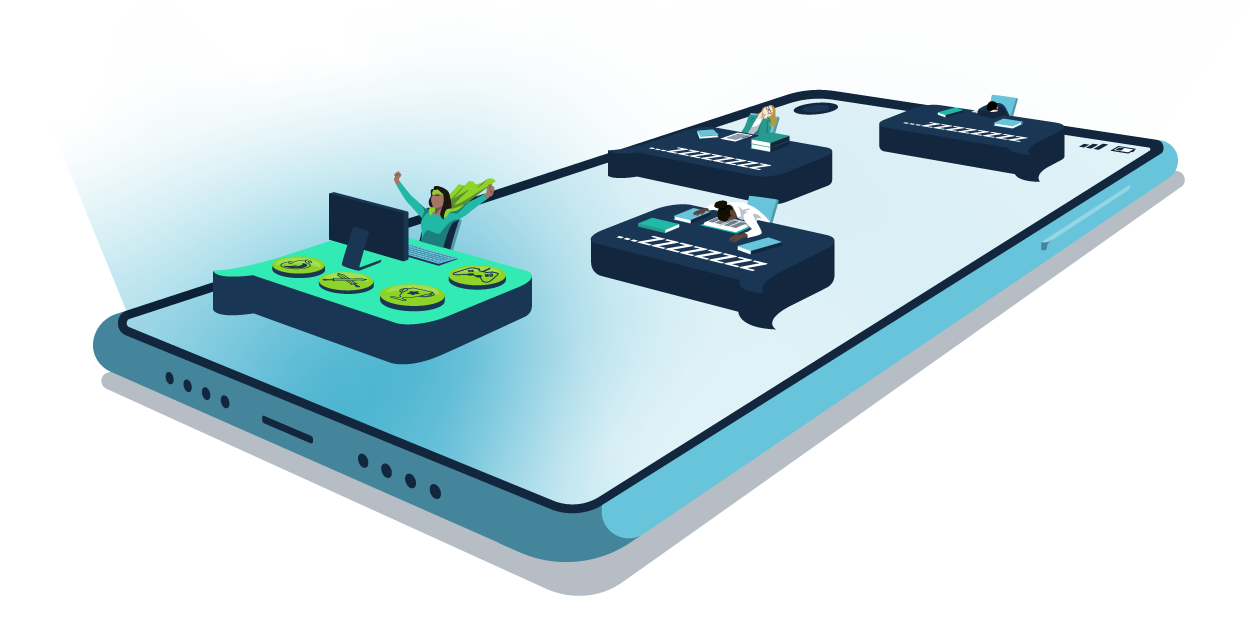 If you're looking for the best examples of gamification within a business context, you've come to the right place. 
Did you know that 83% of employees are much more motivated when their training is gamified? On top of that, gamification has helped 60% of workers to become more productive. 
When gamification is done right, it can work wonders for your company's training and L&D goals.
As such, it is no wonder why many of the world's largest and most successful organisations have gamified their business operations. In turn, many of them have been blown away with the results. 
So who are these powerhouse companies? What were their business challenges? And more importantly, how did they use gamification to solve them?
 Without further ado, here are 12 of the best current examples of gamification in the business world!
PS: If you want to learn more about the fundamentals of gamified training, check out this article: How Gamified Training Works: Beginner's Guide 2021. 
12 Powerful Examples of Gamification in the Business World for 2021
Omnicare is America's largest provider of pharmacy services for long-term care facilities. 
In 2013, the company's help desk struggled with long-wait times and high abandonment rates. For this reason, the company needed a way to improve their service team's performance. They then sought to gamify their customer service procedures. 
Game-based elements such as points and rewards were implemented to motivate their employees. A leaderboard was used to track and highlight top performers. Achievements were recognized with Amazon gift cards and movie tickets. 
Omnicare also tapped into what motivated their employees. One example was to ride on the hype of certain events which excited their team. Inspired by the 2016 Major League Baseball All-Star Game season, they built their game mechanics around this theme. 
To illustrate, each member of their tech team had "nine innings" (days) to complete a mountain of tickets. For every closed ticket, they would then score a "homerun". 
As a result, Omnicare saw a 100% participation from its employees. In just nine days, the team achieved 19 home runs, with another "nine bases" loaded and waiting for deployment. Customer wait times were also reduced by 50%. 
Without a doubt, Omnicare has truly succeeded in knocking their gamification strategy "out of the park".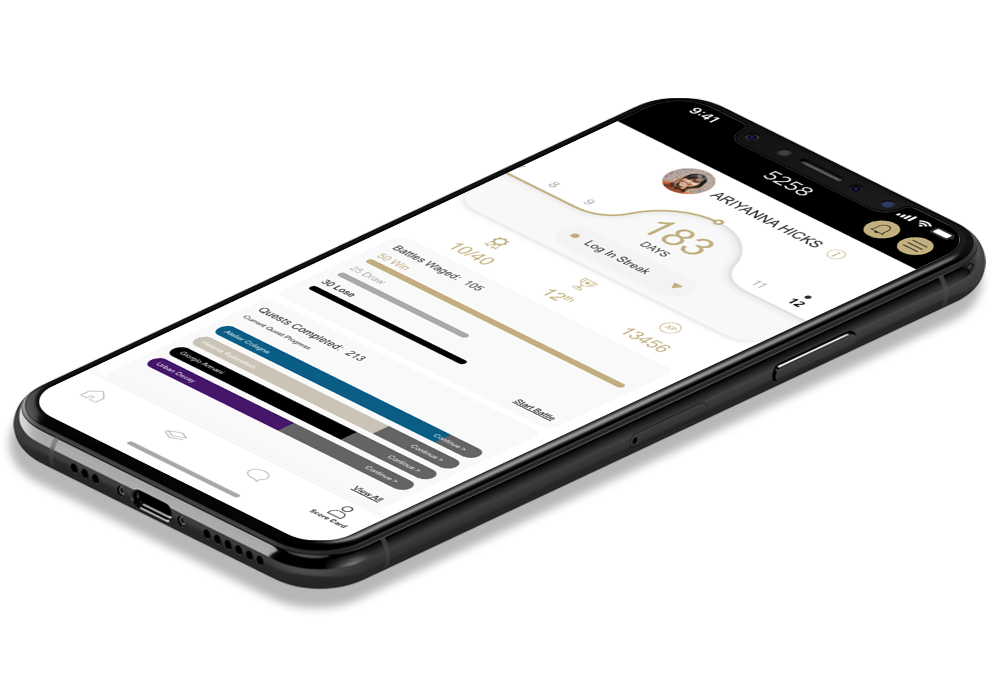 L'Oréal is the world's largest cosmetics company. They needed a better solution to train and communicate with their Beauty Advisors. This was a challenge as these BAs were scattered across 18 countries in Asia Pacific. They also spoke more than six different languages.
The company partnered up with Growth Engineering to build a gamified mobile application. The app would serve as a training and knowledge-sharing platform. In other words, it would enable their BAs worldwide to to learn, connect and engage with each other.
The platform was customized to reflect L'Oréal's signature brand identity. Features included a newsroom, social community, and a library full of microlearning content. The system also incorporated blended learning, which facilitated both online and offline training.
L'Oréal created bite-sized gamified modules through Growth Engineering Authoring Tool. As such, at any time of the day, users could log in and complete a micro-module using their hand-held devices. In turn, they accumulated experience points and badges at the end of each course.
Streak notifications reinforced learning behaviours. For example, users earned streaks for logging in to the app at least once everyday. Scorecards on the other hand offered real-time snapshots of their progress. What's more, the use of Battles stirred up further excitement. These are knowledge based, peer-vs-peer quizzes that help to reinforce key learning points.
As a result, L'Oréal surpassed its initial training and ROI targets within the first ten months of launch. And these numbers continue to climb! Thanks to gamification, the company continues to exceed its engagement and learning targets up 'til this very day. 
FreshDesk is a cloud-based customer support software by Freshworks. Their leadership team wanted to increase the productivity of their customer service agents.
As such, they launched the FreshDesk Arcade within the FreshDesk platform in 2012. It employed gamification elements designed to bring the fun back into customer support. Their clients now had a tool to help boost their staff's enthusiasm and engagement on the job.
Mundane tasks were turned into exciting quests with the help of points, badges and awards. The leaderboard recognized top performing sales agents. It also identified those that needed a bit more guidance.
Through gamification, the company saw a clear transformation in employee attitudes. Their customer service agents also displayed higher levels of engagement. Altogether, managers saw their customer service teams become more efficient and effective.
The result? FreshDesk successfully saw an increase in staff productivity and happier customers. In fact, FreshDesk Arcade had received rave reviews from approximately 2,500 clients. 
Interest has also spread quickly to the rest of their 17,000 customers. By the end of the year, Freshdesk tripled its client base to over 3,000 businesses in 77 countries. It also generated an astounding 1,000% increase in revenue. 
Hendrick Automotive Group is an automotive dealership with over 10,000 employees throughout the United States.
They needed a way to effectively manage and deliver a blended learning initiative. It was clear that an online solution was needed to stand any chance of success.
The company launched Hendrick Automotive Learning Online, or H.A.L.O in 2015. It was a fully branded, online learning management system, jam-packed with gamification features. These included elements such as badges, levels, leaderboards and a social news feed.
Users progressed through levels and earned badges after completing a learning module. They also earned badges when they shared or suggested articles to their colleagues. Themed competitions also stirred up excitement and helped keep engagement levels up.
Since H.A.L.O's launch, engagement on the platform has increased many fold. In fact, it had been used 8 times more by employees than their previous online learning solution.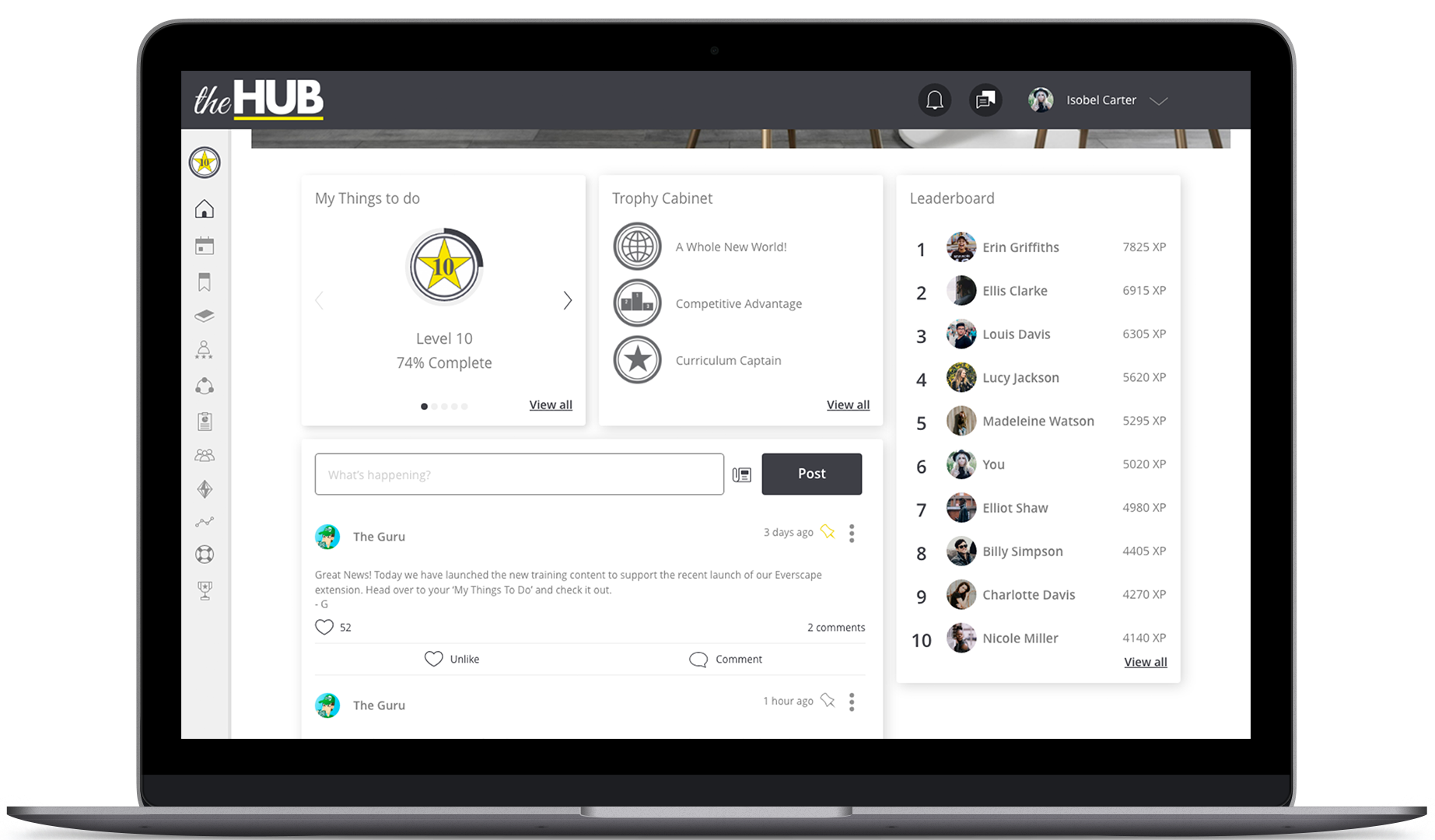 Topps Tiles is the UK's leading tile specialist with over 370 stores nationwide. 
Their L&D team needed a highly engaging LMS to replace their old-fashioned learning platform that was starting to show signs of wear and tear. 
They partnered with Growth Engineering to create Topps Tiles Academy. This gamified learning management system utilised badges, levels and leaderboards to produce some impressive results.
The platform also utilised a bounty of social features to help cultivate a genuine learning community. Learners across the platform even interacted with an admin-controlled character called 'The Guru'. This character provided learners with useful information, tips and best practice advice.
Within the first week of the platform's launch, more than half of their total number of employees have logged on and engaged with the LMS. In the six months following its launch, users averaged 4 and a half pieces of voluntary training content. 
This showed that employees were logging in, engaging with content and coming back to learn more! 
T-Mobile is one of the largest telco companies in Europe and in the United States.
As their products and services grew more complex, managing customers became more challenging. It was clear that they needed to ramp up their customer service in order to keep their consumers happy.
To solve this problem, they created T-Community in 2011. This was a social business platform that aimed to help customer care representatives to learn and collaborate with each other.
Gamified elements were added to the platform to increase participation. As such, members earned points and badges for certain activities. These included reviewing training materials, answering questions or liking content. A leaderboard allowed them to compare their performance and rankings with other colleagues.
Within a span of six weeks, T-Mobile awarded 187,000 achievement badges within the platform. They also saw a staggering 1,000% increase in learner participation. In fact, more than 15,000 frontline employees completed missions in the first two weeks.
This increased engagement from participants also reflected in their customer satisfaction scores. On top of that, resolution rates improved month-on-month since gamification was introduced.
EE is the UK's largest mobile network operator in the UK. It services 30 million customers and is the largest operator of 4G services in Europe. 
They needed a training platform that would improve their staff's digital skills and compliance performance. To do this, they wanted a highly engaging and accessible solution for their 25,000+ staff.
Enter gamification. They teamed up with Growth Engineering to create 'The Digital Academy', a social and gamified learning portal. It provided learners with micro-courses that they could complete in their own time. 
Learners could also access game-based quizzes to test their knowledge. The use of badges, levels and leaderboards further increased their staff's engagement levels. 
As a result, knowledge assessment scores averaged an incredible 99%. What's more, 92% of EE staff have said that the gamified platform has increased their digital skills.
Through the 'The Digital Academy', EE has achieved their training objectives with flying colours.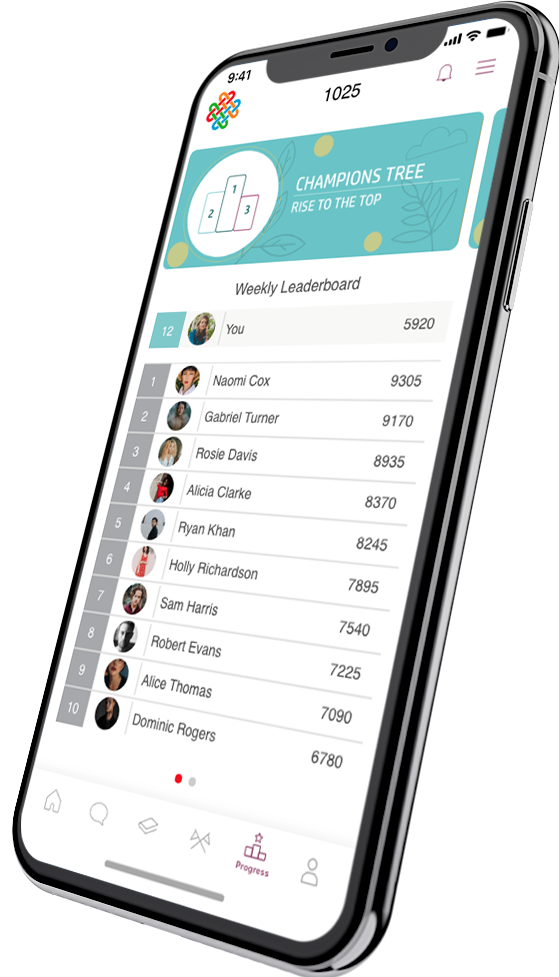 HP is one of the world's biggest tech brands. They serve more than one billion customers in more than 170 countries on six continents.
Given their size and tech leadership, the company needed their sales teams to be on top of their game. They therefore partnered with Growth Engineering to create a mobile app called The HP Uni App. This was built on Growth Engineering Learning App, Growth Engineering's mobile app framework.
The purpose of the app was to train sales teams on cybersecurity topics. To help achieve this, the app used gamification to maximise learner engagement. Its aim was to maximize learner engagement through gamification.
The team built the game mechanics around the chance to win 'The HP Security Cup'. They delivered the learning campaign in a league format. It had three rounds and two divisions.
Sales members engaged in knowledge battles and winners rose up the leaderboard. Users also earned points by completing microlearning modules. These were custom-made to fit with their busy sales schedules.
As a result, learner engagement skyrocketed to never before seen levels. The app received a remarkable average of 84 logins per user, and 6.1 microunits completed. This has surpassed learning targets, much to the delight of the HP leadership team.
The Deloitte Leadership Academy (DLA) is an online executive training programme for more than 50,000 Deloitte employees, based in more than 150 countries worldwide.
The DLA platform utilizes powerful gamification mechanics to drive engagement and user behaviour. Users earn badges and rewards after completing missions and other desired behaviours. Learners' rankings are also showcased on the Leaderboard.
This reinforced healthy competition with other colleagues. Users were also given autonomy to customize their own learning goals. As a result, DLA content was completed 75% faster than it had been with their previous solution. The platform also saw a 47% increase in return visitors on a daily basis.
Thanks to their gamified training approach, Deloitte were able to deliver engaging learning experiences for thousands of employees across the world. Mission accomplished!
10. Blue Wolf
BlueWolf is a global consulting arm of IBM for Salesforce. The company needed new ways of raising customer satisfaction. One way they found was to promote social learning among their employees. 
As such, they sent out a company-wide survey to gauge the current state of collaboration within their organisation. They also wanted to learn what motivated their staff members. 
From the feedback, they launched the #GoingSocial initiative in 2012. It aimed to incentivize and promote a culture of social learning and knowledge-sharing. 
At the heart of this particular campaign was a social platform for employees to connect and learn from each other. Points, badges, and tangible rewards were used as incentives to encourage members to collaborate. 
Employees earned points for replying to a chatter post or by sharing BlueWolf content on their social media platforms. In exchange, these were converted into real-world rewards.
Through this gamified approach, online collaboration and social sharing increased among their employees. Blue Wolf's online brand engagement also shot up ever since the launch. More importantly, Bluewolf saw a notable improvement in internal communication by 14%. In turn, productivity soared by 25-35%.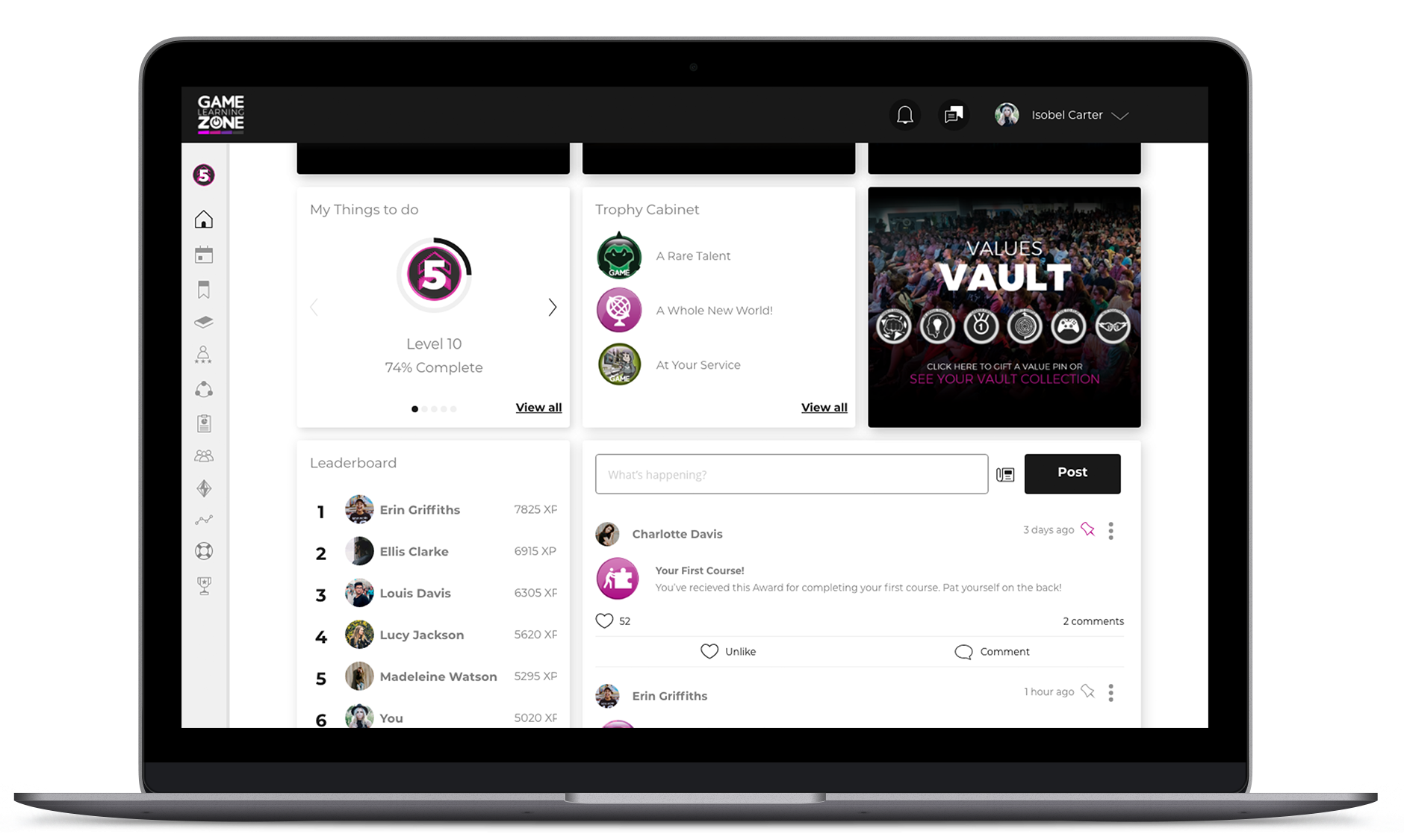 GAME is the UK's leading high-street video games retailer. They also hold a considerable foothold in Spain.
In 2012, intense competition had forced the company to close half of its 600 UK stores. Given this, it was clear that the company had to make some serious improvements if it were to survive and thrive in the new retail landscape.
Before working with Growth Engineering, GAME had an eLearning training platform that wasn't producing the goods. Learners didn't engage with their training environment and therefore didn't change their behaviour.
After researching, they knew they had to get an engaging training solution for their retail sales teams. As many of these individuals were gamers themselves, they felt that a gamified solution would be the best possible approach.
As such, GAME worked with Growth Engineering LMS to launch GAME Learning Zone. This was an online learning management system packed with game mechanics like experience points, badges, levels and leaderboards. Moreover, social features were also added to the mix such as a live feed and chat groups. This is where learners can share updates, knowledge or discuss important topics and issues.
Since its launch, completion rates have soared, with an 89% completion rate on their sales scenario training alone. This led to a 94.3% uplift in the average customer basket, all because of the increased engagement displayed by GAME's learners.
Microsoft is the largest software company in the world. Similar to the previous examples of gamification, they too saw the value of gamifying their business operations.
A few years back, their Testing Division faced a specific business challenge. The team needed to conduct routine tests which required employees to hand over their machines overnight. However, this proved to be a difficult task as employees hesitated to cooperate.
As such, the division saw gamification as the perfect tool to help their members overcome this hurdle. Their broader aim was also to promote corporate citizenship for the company's entire workforce.
Their initial use of gamification was simple. They created a hangman style game linked to one machine tested each night. A competitive leaderboard tracked the progress of each team member. As a result, the division saw an increase in engagement among its members. With the help of gamification, this led to a 4x boost in system checks.
Similarly, leaderboards encouraged Microsoft's users to give regular feedback. This capitalized on their users' desire for acknowledgement and competitive nature. For example, players rose on the leaderboard each time they reported a bug on the system. 
The organisation also sought to create Epic Meaning for their users. Microsoft linked players' game scores to real-world donations to their five partner charities. This gave users a sense of purpose, linked to the chance to contribute for a greater good. 
As a result, the company saw user feedback increase by 16x. What's more, charities received thousands of dollars from Microsoft. Thanks to gamification, Microsoft was able to achieve its business goals.
The Final Words:
The examples we've seen show that gamification is a powerful tool to have in your business arsenal. When done right, it can effectively engage your employees, and drive behavioural change. In turn, this can create serious business returns for your organisation.
But before you proceed, make sure that your gamification strategies align with your business goals. Consider the right game elements that will suit the needs of your company and your employees. Only then will you be able to create the best gamified environment for your organisation.
Learn more tips on how you can craft an award-winning gamified learning approach for your business. Download our essential cheat sheet: 43 Cheat Codes for Using Gamification in Online Learning, to get started now!
Drive Unlimited Learner Engagement Create Serious Business Impact
Improve your teams performance by as much as 75% year-on-year. Use the power of gamification, social learning, and behavioral science to drive real results.