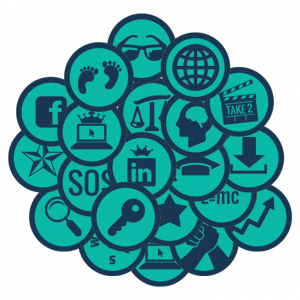 If you've played any kind of video game, you've probably received a badge for completing a level, killing a baddie, getting a high score or creating the perfect town. Badges have long been used to represent achievements in the video game world – and they're also now a key ingredient in 'gamifying' online social media and, as we use badges, online learning experiences too.
As far as social media goes, you may already be familiar with the badges awarded on Foursquare (though this is sadly no longer gamified) and Wikipedia. These badges motivate and engage users to continue interacting with the platform, in the same way as badges, achievements and points motivate learners to interact with their Learning Management System.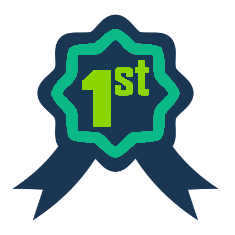 But what is it about badges – little virtual artefacts that do nothing more than represent a completed action – that causes users and learners to react in these ways? In other words, what is the psychology of badges? We came across a really great research paper on this topic: Badges in Social Media: A Psychological Perspective by Judd Antin and Elizabeth Churchill. We thought it would be a good idea to adapt this research paper from the social media realm to the online learning environment to see why badges motivate learners!
1. Badges are fun and interesting
Could it be that badges break up the monotony of everyday actions enough to motivate us to strive for more? No – we don't think so, and neither do Antin and Churchill. Instead, they suggest it's because of the following points:
2. Goal-setting
Antin and Churchill argue that perhaps the most obvious function of badges is as a goal-setting device: goals keep us focused on what we need to achieve and badges challenge us – i.e. give us the extra motivation – to complete the actions. There's plenty of research to show that setting goals motivates us to achieve them, and in fact it is often thought that the fun and interest of goal seeking is the reward, rather than the badge. In this case, the badge merely directs the user or the learner in the correct direction – the goal gets them there.
One important point that Antin and Churchill note, and which we tackle on our Academy Learning Management System, is that goal setting is most effective when learners can see their progress towards the goal. Therefore we make sure to award learners points alongside badges, which accumulate to push learners over the threshold of their current 'level' of achievement and 'level up'.
3. Instruction
Sometimes, particularly on a Learning Management System if learners are not familiar with the learning environment, badges are helpful to show people which direction to take. For instance, learners on the Academy LMS are able to check out the badge cabinet, which shows not only all the badges they've already achieved, but those available to them. If they didn't already realise they could share their progress on Twitter, they do now – and they can get a badge for it!
4. Reputation, status and affirmation
Everyone likes to be thought of as an expert, and what better way to prove this than by showing off your trophy cabinet full of badges!? In this way, badges can be motivating as status symbols – they advertise learners' achievements and accomplishments without the learner shouting, "Hey! Look at me! Check out what I can do, I'm the best!" Because, let's face it, they wouldn't have any friends if they did that.