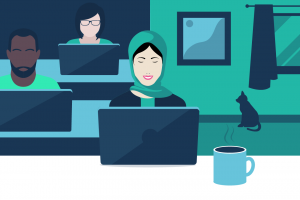 Ah, the last year has seen its fair share of ups and downs. But in 2021, we're focusing on the positives: vaccines (finally!) for COVID-19, a renewed focus on community and the social issues that matter, flexible working arrangements and a deeper appreciation for our collective mental wellbeing.
Even before the pandemic struck, the amount of people working remotely was gradually rising. But changes in the world over the past year have meant that we've all had to embrace remote working with open arms. Our new remote working environments often come with many benefits.
For instance, more flexibility, better work / life balance and no more troublesome commutes. However, remote working has its challenges too. It can increase feelings of isolation and cause employees to feel disconnected from their work environment.
It's not only our work environments that are changing. Our working hours are also getting longer. Most notably, the average working day has increased to 10.5 hours in the UK, US and Canada.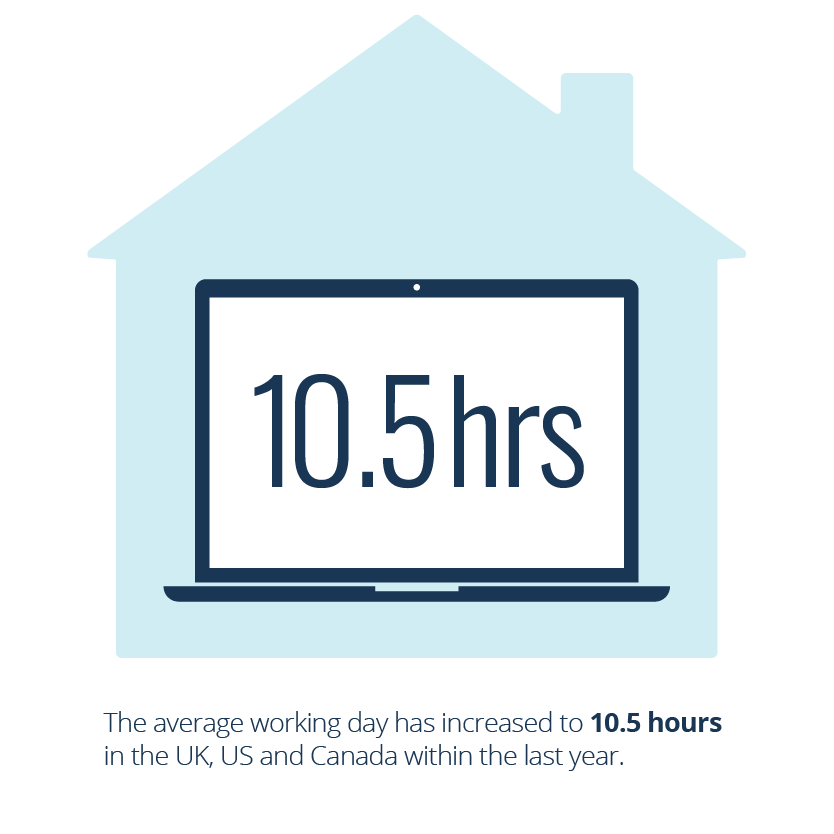 Given that your workforce is likely working longer, harder and more remotely than ever before, it's important to ensure that they are properly supported. 
To help navigate this brave new world, we must find new ways to connect with one another. Luckily, there are a variety of tools that allow your teams to reconnect. Some of them are even capable of fuelling social learning experiences. These are experiences where your employees learn from one another (rather than from formal training experiences). 
In this article, we'll show you how embedding social learning approaches throughout your organisation can support your remote workers. You'll also see the benefits of this approach, and how effective it can be when it's done properly. Let's get started.
What is Remote Working?
According to the Cambridge dictionary, remote working is 'the practice of an employee working at their home, or in some other place that is not an organization's usual place of business'. Simple, right? Remote working allows room for flexibility and minimises the stress of commuting. It has been shown to benefit both the employee and the employer. As a result, remote working has been growing steadily in popularity over the last decade. The COVID-19 pandemic only served to accelerate this growth. 
The Pros of Remote Working:
The flexible lifestyle for employers and employees is an often mentioned benefit. 40% of remote workers say that this is the biggest advantage of remote working.
Remote working often drives higher productivity due to minimised travel and a comfortable working environment. In a recent study, being able to work from home increased productivity by 13%! 
Remote workers are generally happier which leads to higher retention rates. Workers are 74% less likely to leave when given remote working options.
The Cons of Remote Working:
The lack of a community feeling amongst remote workers. 19% of workers reported feeling lonely whilst remote working.
A negative impact on communication and workplace socialising. 27% of employees reported communication being the biggest issue while remote working. Not good!
And, of course, limitations for social learning. But with 57% of L&D pros expected to spend more on online learning in 2021, change is on the horizon.
It's important to understand the pros and cons, because remote working is here to stay. In the United States, the number of people working remotely has grown by nearly 400% in the last decade! Meanwhile in the UK, the number of people working from home jumped to nearly half of the workforce (49.2%) last April due to the pandemic. 
If we believe the 70:20:10 model, this means that 20% of workplace learning opportunities have now been removed from play for almost half the population. Thankfully, learning technology solutions and the push towards digital transformation can help to fill this void. 
What is Social Learning?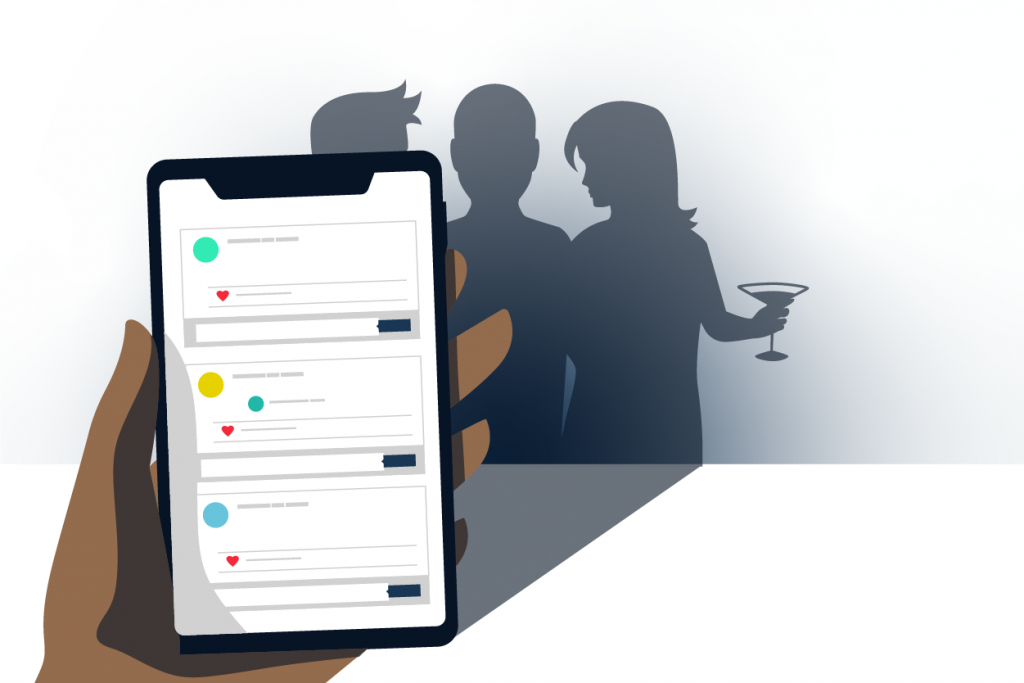 Social learning can be linked back to experiments by Albert Bandura. He was able to demonstrate that our behaviour is often an imitation of others. We learn from others, but also learn with others. 
Humans are social animals by nature. This is why it makes sense that 20% of everything that we learn is facilitated through social interaction. We enjoy it too. Out of a survey of over 9,000 employees, 91% thought that sharing knowledge with their team was crucial.
By passing knowledge amongst each other, collaborating or even observing each others' behaviour, we learn quicker!
Using Learning Technology to Support Social Learning
Many learning technology solutions (including Growth Engineering LMS and Growth Engineering Learning App) incorporate social features that help to cultivate social learning experiences. Social learning features include:
Social Streams: Social feeds, where learners can come together to share their knowledge and communicate with each other.
Rating & Ranking: Learners are able to rate and comment on eLearning modules / videos. This helps other learners to understand which content is relevant to them.
Chat Functionality: Learners can use Live Chat functionality to communicate with each other (individually or in groups) about the training topics that matter to them.
Experts: Got a question? Learners are able to find the most knowledgeable people about a topic and ask them directly. 
Battles: Learners can go head-to-head in quiz-based Battles to demonstrate their mastery over specific topics. This helps to reinforce training content. 
Notifications: Just like a regular social platform, learners get notified about new interactions. These include 'Likes' or comments on their posts.
How to Use Social Learning to Support Your Remote Workers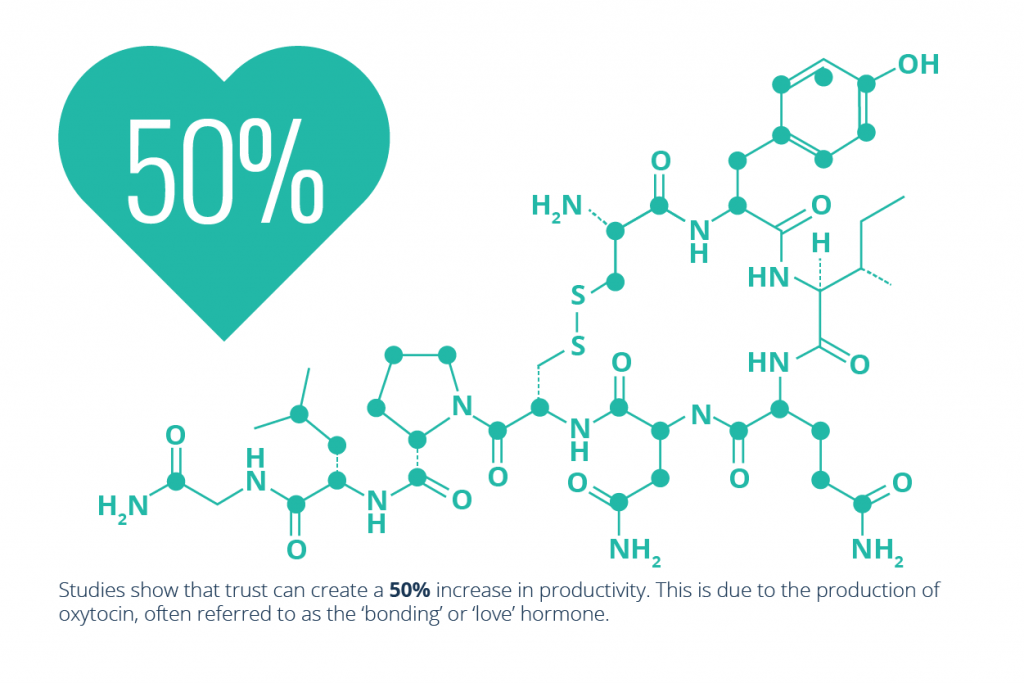 Social learning and remote working go hand-in-hand, because it means learners are provided support anywhere, anytime. Through social learning (as facilitated by learning technology solutions), remote workers can remain connected and simultaneously stay up to date with their learning. 
Social learning can also be used to combat the feeling of isolation that many remote workers feel. Studies show that good quality social relationships positively impact your mental wellbeing. This is more important than ever right now. What better way to connect with others, than to learn together? 
Sharing things and interacting with colleagues builds trust. Studies show that trust can create a 50% increase in productivity. This is due to the production of oxytocin, often referred to as the 'bonding' or 'love' hormone. It stimulates further trust and reinforces positive feelings, which naturally plays a big role in social companionship.
Social learning is also powerful because it drives user generated content. Learners' posts, comments and feedback combine to form a hub of useful training materials. Popular pieces of user generated content can even be included in future formal learning initiatives. 
This kind of social learning contributes to your organisation's bank of intellectual capital. It also helps you to maintain a consistent flow of content for your learners, even if your instructional design resource is tied up.
Learning on the Go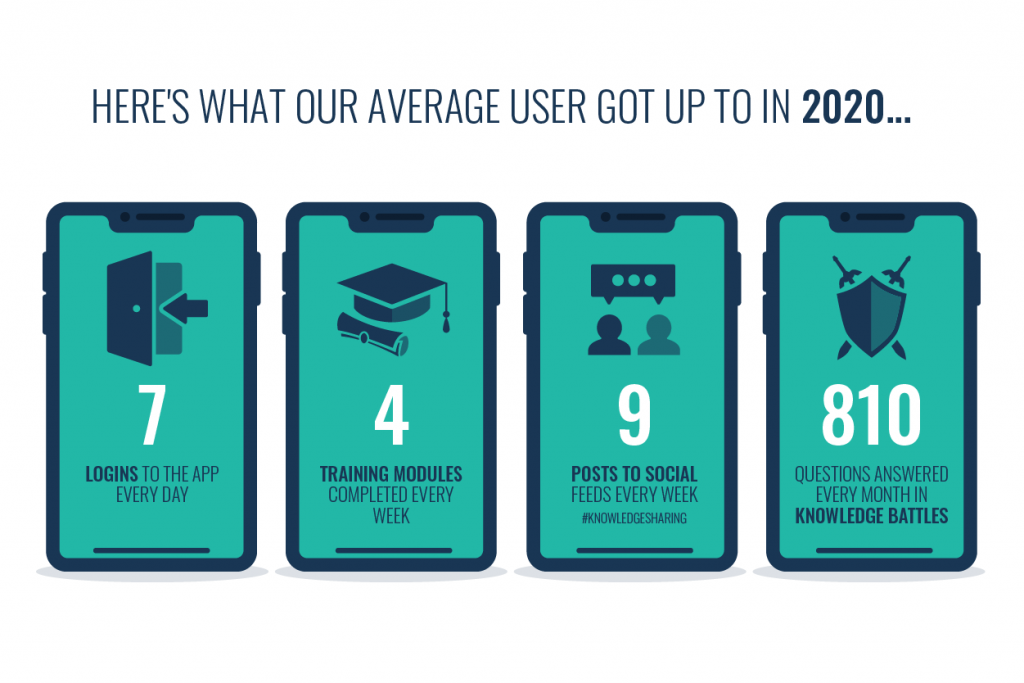 If you want a solution that combines mobile learning and social learning for your employees, then look no further than Growth Engineering Learning App. 
Our mobile learning app solution is loved by its users. This is probably because our learning technology gives them the time to learn at their own pace and schedule. Flexibility is something that learners really value in a remote context. Expecting things to happen in a fixed location is slowly becoming a mindset of the past.
Don't believe us? Take a look at these mind-blowing stats from Growth Engineering Learning App generated during 2020 (per learner / on average): 
7 Logins to the app per day
4 Training modules completed per week
9 Posts to Social Feeds per week
810 Questions answered in Knowledge Battles per month
Who's Actually Been Using It?
It's time for a concrete example. One of our clients, BT, saw 30,000 pieces of content completed in April 2020. The link here is obvious. That's when the first lockdowns were introduced and all stores and offices were closed. The move to remote working removed face-to-face training opportunities and fuelled a hunger for more learning experiences.
To support their learners in adapting to remote working, the BT team created content designed to promote mental wellbeing. A few weeks later, BT introduced their 'Retail Reboot' series. This walked employees through what their new working world would look like when stores reopened. Both types of content caused a great spike in engagement. This showcases that an effective learning technology solution can help to support your remote workers, even in trying times.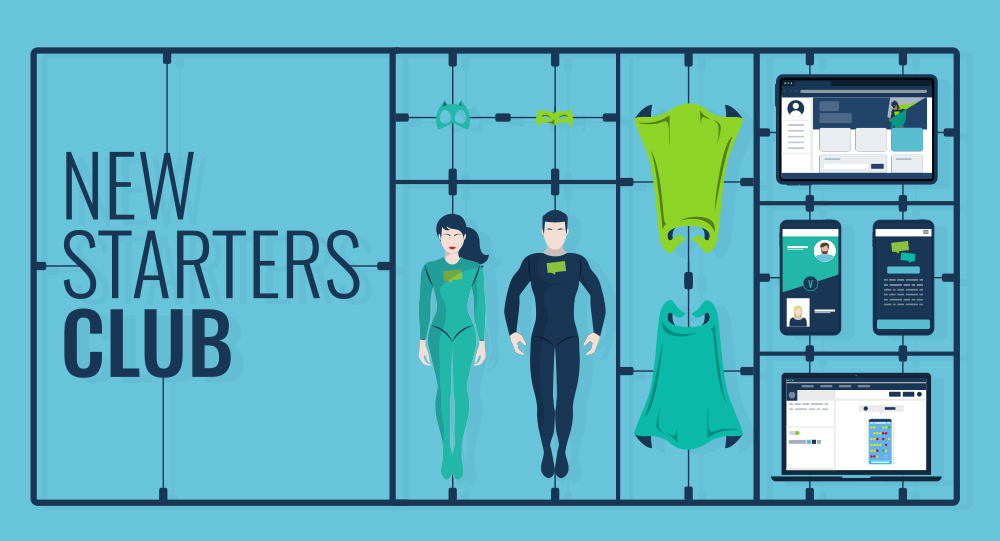 Clubs and You
The social side of office-based working is key. Water cooler moments, special clubs, coffee catch-ups… you name it. These social interactions provide relief from workplace pressures and a way to feel closer to your colleagues. Luckily, this functionality can be replicated on learning technology solutions by using social Clubs! We give your organisation the ability to create virtual 'Clubs' based on the topics that matter to you.
For instance, you could create a 'New Starters' Club to help welcome newcomers and support the onboarding process. Around 70% of companies report using some sort of online onboarding process and this number is only set to keep growing. Great onboarding can improve employee retention by 82%. Unfortunately, a shocking 88% of companies fail to onboard well. 
Need some more inspiration?  Perhaps a 'Product Club' to ensure your employees have the knowledge they need to deliver excellent sales and marketing experiences. You may even want to create a dedicated social Club to encourage after work networking and workplace comradery. Even better, Clubs give employees from all over the world a chance to connect over important topics and provide a forum for social learning experiences.
Final Words
Social learning works to promote shared knowledge and an online community. This community in turn minimises isolation and improves productivity. 
Social learning experiences should also strive to make learning more fun and engaging. This is true regardless of whether these experiences are happening in person or remotely.
We've all had to adapt to a new way of living. Thankfully, learning technology can act as an anchor to prevent us all from sinking. If you're a part of the Working from Home Club, it's vital that you keep learning and remain in touch with your work circle. And if you're an organisation looking to support your remote workers, then you need a deeply social solution.

Want to find out how our award-winning learning tech can benefit your learners? Then sign up for a demo of Growth Engineering Learning App!
Drive Unlimited Learner Engagement Create Serious Business Impact
Engage your learners and drive real behavior change. Deliver the most effective online learning solution and improve team performance by as much as 75% year-on-year.