Social features are becoming the default for today's most successful apps and platforms. Learning management systems are the perfect place to introduce social features since they encourage informal learning (and as we know, that's where most work-based learning happens). But what social features should your learning platform have? 
---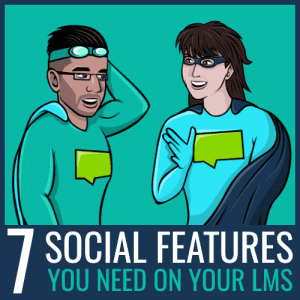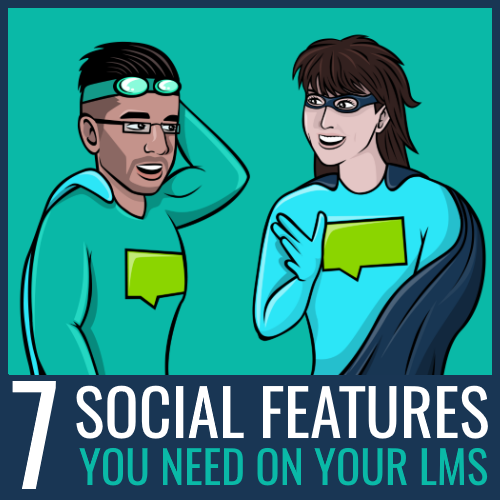 Being in charge of your organisation's training initiatives and learning roll-outs can be a lonely job. Even if your chums call you, 'Miss Filo-Fax', because of your organisational genius, there's still only so much you can do. The very nature of your job means that you have a task-list as long as a football pitch and that deadlines are approaching thick and fast.
Before long, even the world's most astute learning & development professionals start blasting ABBA's 'SOS' and sending makeshift Batman signals into the sky.
There's a reason why Doctor Who never travels alone. Sherlock Holmes has a super-powered intellect, but he still relies on John Watson for support. As an online learning superhero, you need a Chewbacca to provide support for your Han Solo.
Luckily, you're not alone. You have an army of helpers ready to do some heavy-lifting – your learners of course! In a formal training course, your learners turn up, absorb information and check-out. It's a one-way relationship.
[hs_action id="13503″]
But with an informal learning strategy, your learners don't just take in information – they share information and collaborate with other learners. In fact, they drive the entire learning experience. Still not convinced that a social learning solution is right for you? Here are three stats that should have the lone wolf within you running in fear:
Trainees increased their performance by 22% through 'deliberate reflection and sharing lessons with others'. (Source: A Harvard study)
88% of employees prefer a collaborative work-culture than a competitive one. (Source: an Intelligence Group study)
80% of those surveyed said 'working with people they like is highly motivating' (Source: a Glassdoor study)
Social learning really is super learning! Now you just need the right tools to make it happen. With that in mind, we've drawn up a list of seven absolutely essential social features that any learning platform needs. Let's get social!
[us_separator type="default" icon="fas|star"]
Social Features
in Learning Management Systems

1. Live Chat
Live Chat is the communication method of choice for learners longing for instant gratification. If they have a question, or need help right away, they can view a directory of 'available' learners and get in touch immediately.
There's no sitting around waiting for somebody to see your post and get back to you. Your learners are talking directly to people who can help them by sharing content recommendations, solving learning challenges together and providing encouragement whenever it is needed.
[us_separator type="default" icon="fas|star"]
2. Social Stream
A social stream, or 'timeline' is crucial to any informal learning strategy. This stream should display news, announcements and updates from learners. Because it's visible to all learners, it's a great place to share some of your learner's key achievements.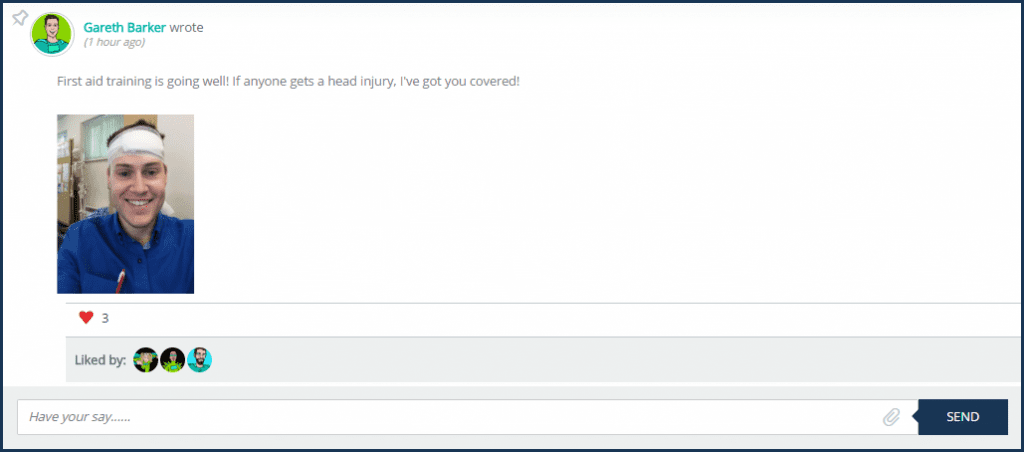 [us_separator type="default" icon="fas|star"]
3. Groups
Live Chats are good because they're instantaneous. Social Streams are good because of their visibility. Groups, on the other hand, are effective because they focus on a specific topic.

Instead of trying to create discussion areas covering the length and breadth of your training programme, we recommend that you create distinct groups, each focused on a specific subject. This provides your learners with an opportunity to have more constructive discussions with like-minded people.
[us_separator type="default" icon="fas|star"]
4. Team-based Learning & Leaderboards
Encouraging team-work is a great way to drive learner engagement and improve the ROI of your training regime. Collaboration drives completion and team-work can produce impressive results.
To make this work on your LMS, you'll need to build a team structure into your platform. You'll also need a leaderboard system in place that's capable of tracking team activity. Once that's all set-up, you can take things to the next level by offering group rewards to the best performing teams. Days out or team lunches are a good fit here.
[us_separator type="default" icon="fas|star"]
5. Experts Area
Knowledge transfer is a major issue within organisations of all shapes and sizes. Throughout your business, you'll have a variety of different subject matter experts acting as knowledge silos. You need a solution that allows your learners to tap into what your SMEs know.
If you're trying to improve your team's sales skills, then there's no reason not to unleash your secret weapon: your organisation's best and brightest sales guru.

If Simon is a lauded sales veteran with more than 30 years of experience to his name, then he deserves a suitable knowledge-sharing platform. He knows your business, the problems your team are likely to face and the best possible solutions. It would be foolish not to provide him with visibility on your online learning solution.
You're essentially giving your learners an opportunity to learn from the very best.
[us_separator type="default" icon="fas|star"]
6. Social Q&A
Throughout the course of a learning initiative, the same questions are likely to arise again and again. That's why FAQs are a common part of any training programme. They provide a repository for all the important stuff that your learners need to know.
A Social Q&A area takes things to the next level, by actively encouraging learners to participate in the question and answer process. They're rewarded (with points and badges) for asking good questions and offering good answers. The up-voting system also allows the very best answers to rise to the top of the thread. This is crowdsourcing at its most effective.
The more you get your learners thinking about the training content in a variety of different contexts, the more information they'll embed in their long-term memory.
[us_separator type="default" icon="fas|star"]
7. Surveys
Unless you're a powerful mind-reader, it's not always easy to figure out what your learners want. But there's no need to do any guesswork. A good survey tool can help you get answers to important questions.
Want to know which type of content your learners enjoy the most? What content you should release next? What features your learners feel are missing from their Academy? Ask away and get meaningful data to help you make important decisions.
[us_separator type="default" icon="fas|star"]
Our Academy LMS is the world's best social gamified learning platform. The feature set includes Live Chat, Social Streams, Insight Groups, Leaderboards, Expert Zones, Surveys, Social Q&A and much, much more. In other words, it's the perfect home for your social learning strategy. Just click the button to find out more.