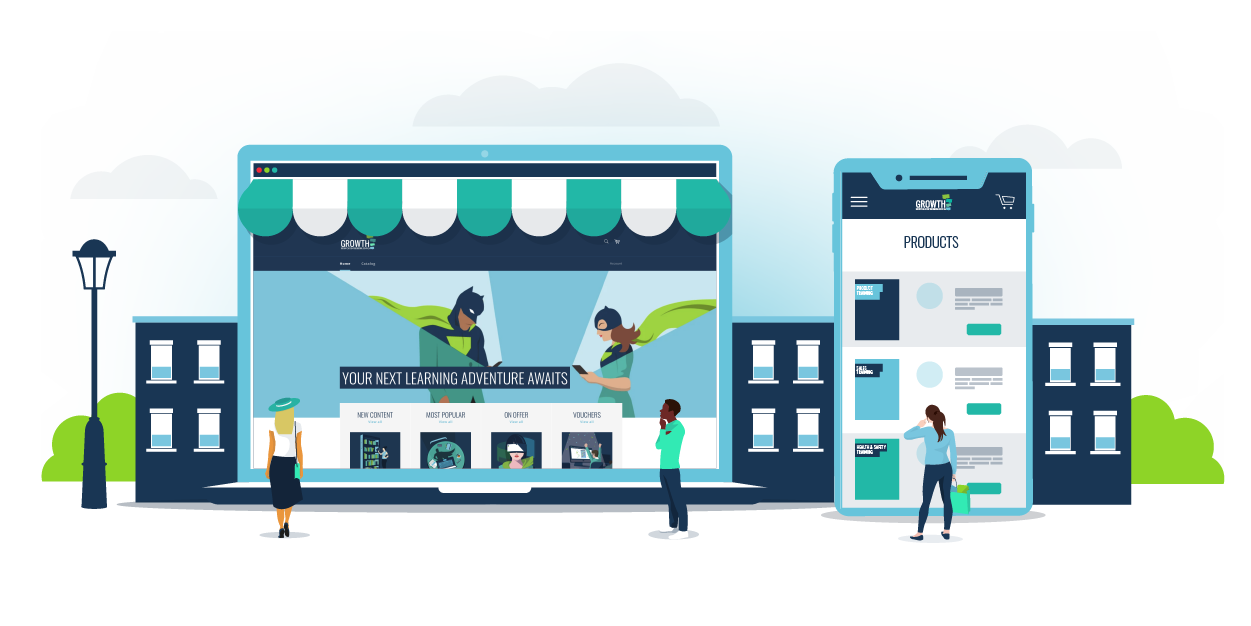 Retail businesses of all shapes and sizes are used to dealing with challenges. However, unforeseen events and lifestyle changes have accelerated these challenges at a staggering speed. 
Last year, the COVID-19 pandemic upended the retail industry. In 2020, a record 12,200 brick-and-mortar storefronts fell in the US alone. And in 2021, 8,700 chain stores disappeared from British high streets. 
But don't despair! In the wake of this carnage are retailers who have achieved success by embracing online technologies. They have also equipped their team with the right skills to meet rapidly evolving customer demands. 
As we approach the new year, retailers will charge on to face many new hurdles. Here at Growth Engineering, our mission is to help you get ahead of the pack.
In this article, we'll outline the nine biggest retail challenges in 2022. As learning technology experts, we've also added in some heroic tips for good measure! After all, knowing what kind of challenges await is only half the battle. So without further ado, let's begin! 
1. Evolving Customer Demands
Customers change their preferences faster than Clark Kent in a telephone box. Just ask your Walkman, shell suits and the mullet. In order for retail to thrive, it must quickly adapt to evolving consumer shopping habits.
Around 85% of today's shoppers have said that the COVID-19 pandemic has impacted their shopping habits in some way. Suddenly, they are making more purchases online and using delivery services more often. 
In the US alone, online sales grew by a whopping 44%, as more than 76% of shoppers have shifted their buying habits online. But it's not all doom and gloom for brick and mortar stores! 
Although customers have fully embraced online shopping, a retail study reveals that half of post-2020 shoppers still prefer in-person retail experiences. In fact, around 81% of adult shoppers will continue to shop in-store. 
Heroic Help: Study consumer habits and adapt and evolve as necessary. Ensure you capture feedback and share it throughout your team. Learning technology can help support any resulting major business changes.
We also recommend nurturing a social learning community where each member can provide examples of great customer service. Encourage your staff to participate by letting them share advice and anecdotes within your social learning platform. 
2. Maintaining Brand Loyalty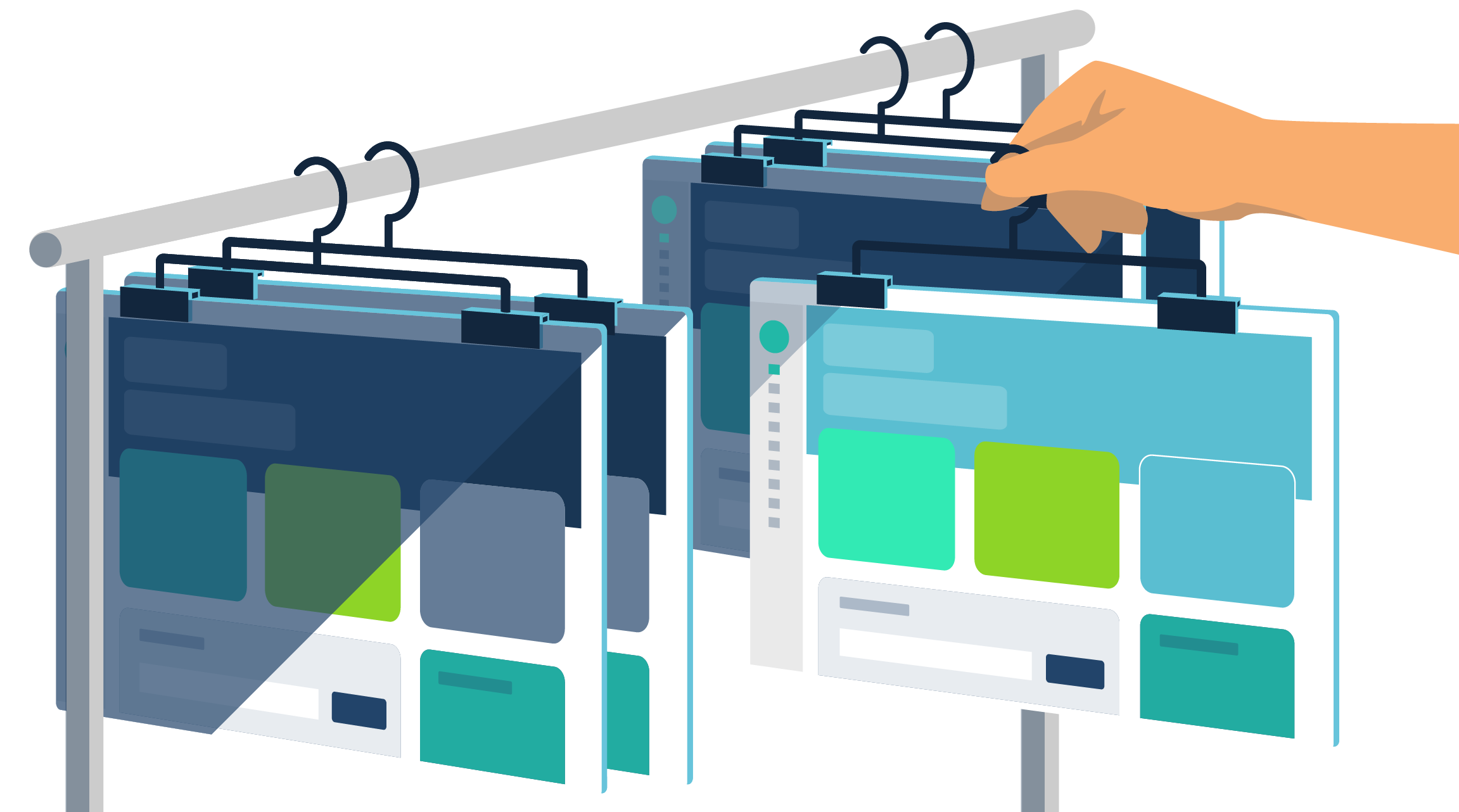 COVID-19 has tested people's patience, faith and resilience. What's more, it is also testing shoppers' brand loyalty. 
The pandemic has pushed customers out of their comfort zones. In some cases, this led to panic buying. In turn, this led to limited supplies and a further scramble to seek out hard to find products.
As a result of this and other pandemic-led trends, shoppers have had to shift their buying patterns at a rapid pace. This made them more open to discovering new channels and brands. 
Indeed, a McKinsey report shows that 75% of consumers have tried new brands, places to shop and shopping methods since the onset of the pandemic. 
This is both a blessing and a curse for retailers. After all, brand loyalty is now up for grabs, especially for newcomers. On the downside, bigger and more established retailers are now finding it more difficult to capture and retain new customers.
Heroic Help: Now is the perfect time to turn your staff into your brand advocate heroes! The first step is to get them to fall in love with your brand values. 
However, did you know that 77% of retail employees are disengaged with their brand's values? Perhaps this is unsurprising, as 63% of them have not been trained on these values. Ouch!
Beat this statistic by enlisting the help of an engaging LMS. This will help your staff to get up to speed on your brand values. The sooner you share this information, the sooner you'll create an army of advocates ready to live your brand values!
3. Improving Staff Efficiency
Behind every storefront is a legion of retail warriors. These staff are adept at capturing and disarming customers with a boatload of charm and persuasion skills.
Just as in any other profession, regular training is needed to keep them at the top of their game. Unfortunately, traditional retail training methods are a bit like watching a Transformers movie — time-consuming, dull and disappointing. 
Instructor-led training, instructional videos and outdated employee handbooks are not an efficient way of getting the most from your retail staff. You also have to contend with the opportunity cost and hassle of having managers leave their stores to attend these bore-a-thons! 
Furthermore, you also have to consider your staff's busy and on-the-go lifestyles. With so many distractions vying for our attention, it can be difficult to set aside time to learn. As a result, delivering effective training and improving staff efficiency is a prominent challenge facing the retail industry.
Heroic Help: Cater to the needs of your modern employees by deploying microlearning through a mobile learning solution! This makes learning quicker and easier to digest. The mobile approach also helps to make learning more convenient and accessible.
Bulky employee handbooks will soon become a thing of the past, as mobile learning is ideal for just-in-time training. This is perfect for the 92% of employees who say that having the technology to do their job efficiently affects their work satisfaction for the better!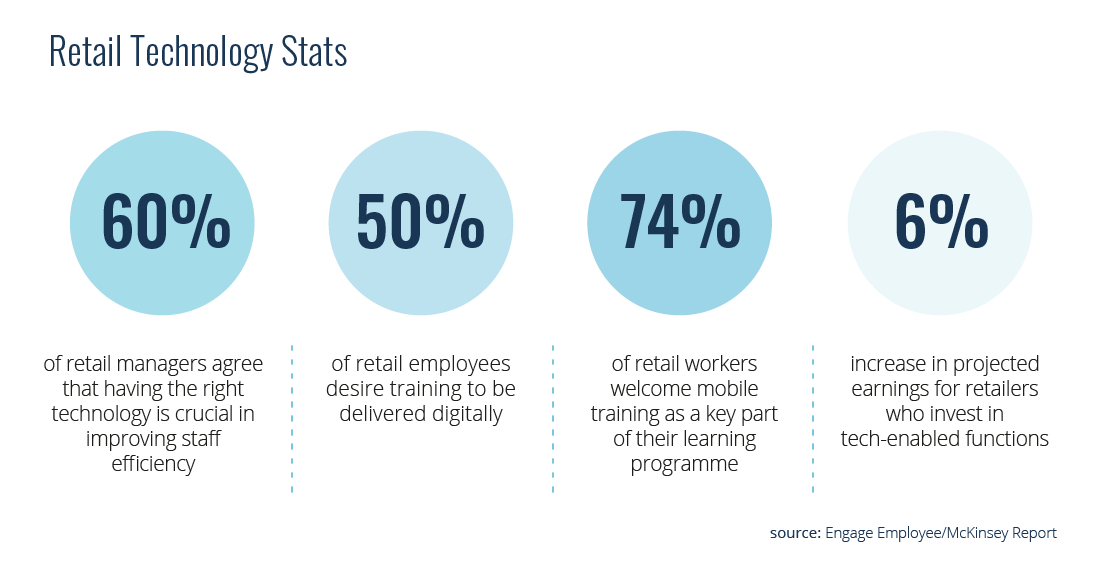 4. Attracting & Retaining the Right Hires
Retail has always dealt with the challenge of high turnover rates. But attrition has become an even bigger concern over the last two years. 
Resignation rates among sales staff are at an all time high. In April 2021, turnover rates set a new record, with a staggering 640,000 retail workers quitting within a month! As a result, this has left many retailers with a large number of jobs to fill. 
At the same time, these businesses are also finding it tough to find hires with the right skill sets. A report by McKinsey shows that whilst technological skills will increase dramatically, physical, manual and basic cognitive skills will decrease by 24% by 2030. 
This makes the recruiting process even tougher. Indeed, another McKinsey report shows us that 83% of retailers are struggling with recruiting the right hires. 
And the pressure mounts up as the holiday season comes around. After all, most retail companies make more than half of their sales in the three months before Christmas. 
Heroic Help: Candidates, especially the younger ones, are seeking roles that resonate with their values. At the onset, communicate what your brand is all about, and how it aligns with their career progression. 
Use Levels on your LMS to highlight a clear career pathway, brimming with opportunity. Then ensure that you can attract high potential recruits with the training materials they need to shape their own destiny. 
Act now or doom your retail business to failure, as 45% of millennials would quit a job if they don't see a clear career pathway. Finally, make development a KPI (key performance indicator) to ensure your managers take a keen interest in their employees' future! 
5. Upskilling Staff
New technologies are changing the world of retail at a breakneck speed. Even DC's quickest superhero, The Flash, would be impressed! 
Today's shopping experiences now include automated checkout lanes, AI-powered recommendations and customer service chatbots, among many others. Unfortunately, many retail workers fall short of the digital skills required to support and deliver these innovations. 
According to a new McKinsey Global Survey, nine out of ten executives say that their front line teams suffer a digital skills gap. Similarly, the World Economic Forum anticipates that 54% of retailers will require significant upskilling by 2022.
Heroic Help: Bridge your skill gaps with a learning management system that provides employees with continuous learning on demand. The traditional training methods deployed by most retail outlets are too slow in reacting to the pace of our modern world.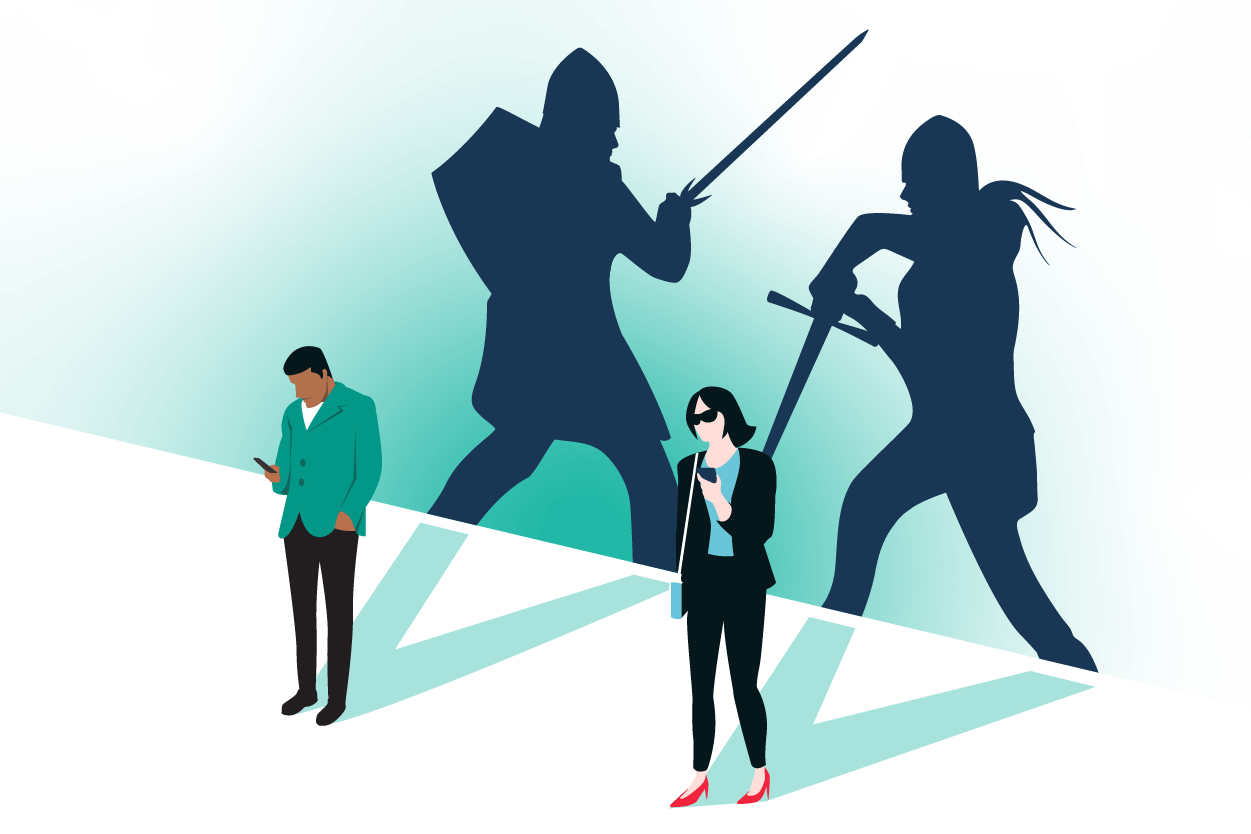 In some cases, new eLearning units can take as long as 3-6 months to develop. Do you really want to be known for recommending trainers, when everyone else is flying around in rocket boots? 
Here's where bite-sized learning comes to the rescue! With these types of training interventions, development time is greatly reduced. This empowers you to equip your learners with required knowledge at the point of need. Soon enough, they'll have the skills they need to keep on top of their game! 
6. Engaging & Onboarding Talent
Retail is in the grips of an engagement crisis. Only 17% of retail managers feel that their employees are "very motivated and engaged". This lack of engagement is responsible for the high rates of staff turnover within retail. In fact, the average turnover rate to date is at a staggering 60% according to the National Retail Federation. 
Employees that stick around are often subjected to an uninspiring work environment. This breeds low engagement levels which leaves you unable to nurture talent and unleash their true potential.
What's more, given challenging retail conditions, it has also become more important than ever to be able to retain your high-performers. But how do we overcome this engagement crisis?
Heroic Help: Don't just give your people a welcome pack. Find exciting ways of communicating your culture, values and goals from the very beginning. It's also time to deploy gamification in your engagement strategy! Gamifying your training content is a great way to encourage your learners to keep coming back for more. 
63% of retail managers believe that reducing turnover by as little as one employee per month, would lift monthly revenues by at least 6%! The retail industry is crying out for an engagement hero! Will you answer the call?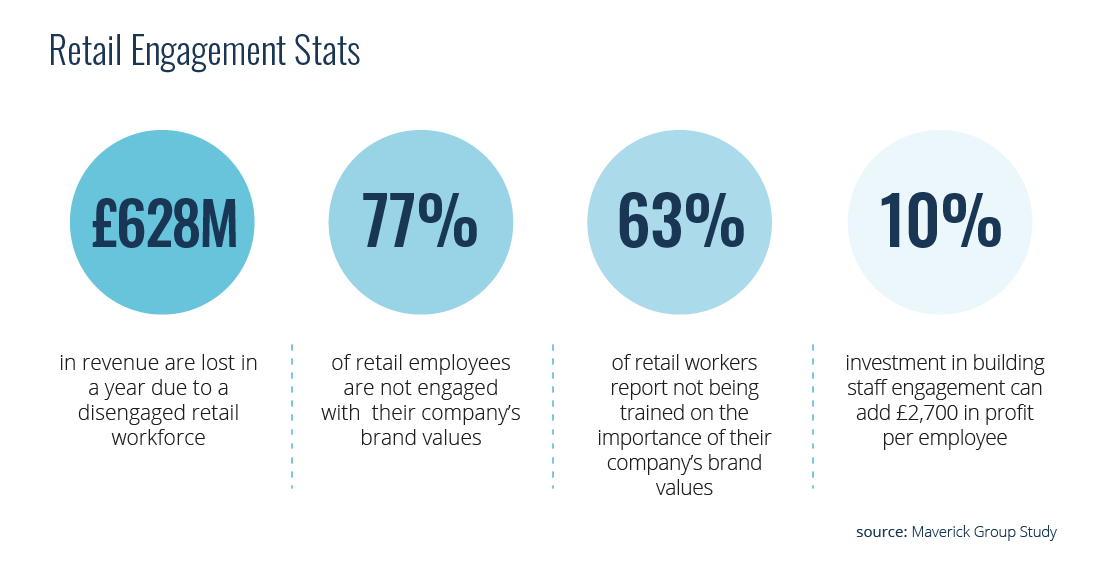 7. Staff Health & Mental Wellbeing
The pandemic had an unsettling effect on just about everybody. We'll be dealing with the ramifications for our mental health for years to come.
A recent survey finds that the wellbeing of retail workers continues to deteriorate. The report also shows that retail workers' average wellbeing levels are lower than workers in other industries. 
A similar study also finds that 91% of line managers have seen an increase in mental health issues among staff since the start of the pandemic. This is a staggering number! 
However, many retail businesses are still failing to address this problem. 28% of retail staff say that they do not get enough mental health support from their employers.
From all these dismal stats, one thing is clear. Retail leaders will need to step up when it comes to improving their staffs' wellbeing. In turn, they will be rewarded with happier workers, which will ultimately result in business growth. 
Heroic Help: Foster a compassionate and positive work culture to help boost your employees' wellbeing. Neuroscience shows how social learning activities can help build empathy and trust in a workplace. 
Social learning tools such as Clubs can help you build these positive emotions. Also, don't forget to point your team members in the direction of your LMS's vibrant social feed! This is where they can ask for help if they need it. 
8. Providing a Next Level Customer Experience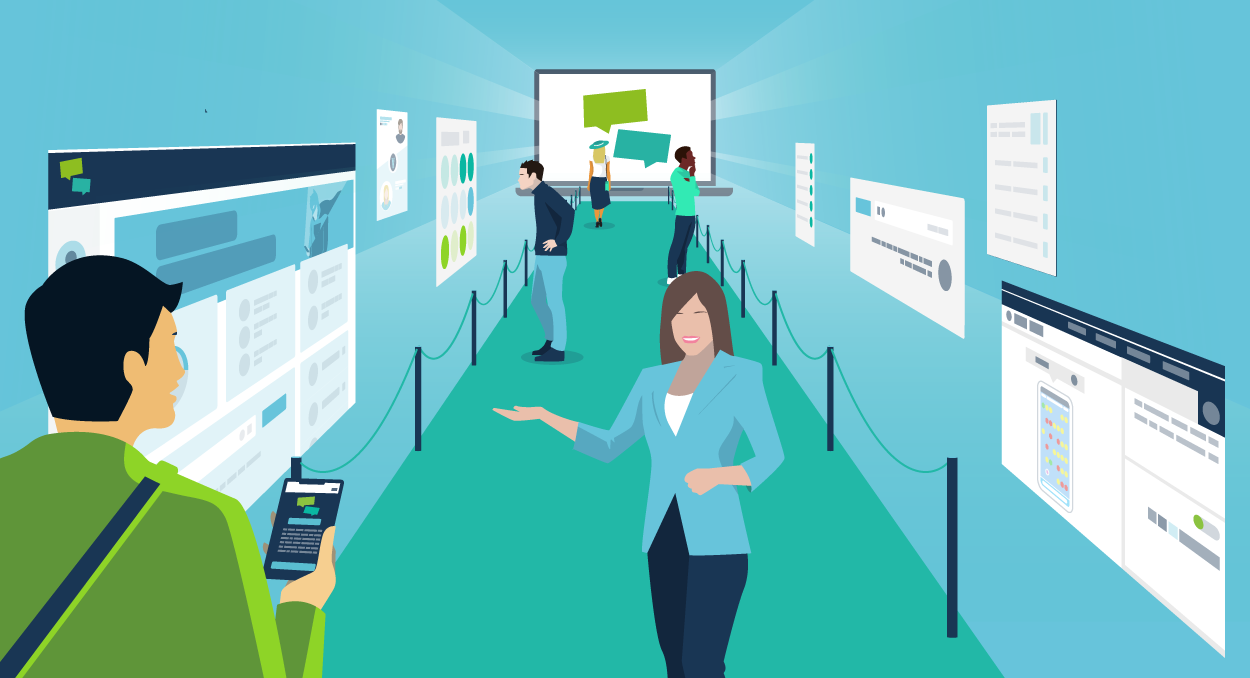 Way back when, people had to travel for days just to get to the nearest town centre. Similarly, deliveries would take weeks if not months to arrive! 
When it comes to the shopping experience, we have come a long way. Nowadays, everything is just one click away. In fact, by the time you get to the end of this sentence, about three hundred Amazon orders and deliveries will have been fulfilled! 
However, there are some who are less than happy about these changes.
The ease and convenience of online shopping has had a huge impact on the high street. Several time-honoured brands like Disney and Macy's have had to close many of their stores. 
But brick and mortar stores shouldn't despair just yet. A recent report shows that shoppers' preference for in-person shopping remains undiminished in the face of e-commerce competition. Customers still love an in-store experience, as this lets them interact with products before purchasing them. 
More importantly, shoppers today expect a seamless customer experience across all touchpoints. Whether in-store or online, customers expect to feel connected to a brand. In fact, 86% of customers say they're willing to pay more money for a better customer experience. 
Heroic Help: Now is the time to train your staff on how to engage with customers across all store touchpoints. If you are to offer a better consumer experience than online stores, employees need to draw upon their own experiences. 
To help achieve this, you should unleash personalisation to create a tailored training experience. This allows employees to find that human voice for the good of your organisation! 
9. Preparing for the Future
Even as the future remains uncertain, there is something we can all agree on. The retail industry will continue to evolve. 
Just look at the way online shopping has come to dominate consumer shopping habits. In the US alone, online sales are anticipated to surpass $1 trillion dollars by 2022! 
As such, it comes as no surprise that top performers in 2021 are those who have fully embraced their digital potential. And they show no signs of stopping any time soon. 
Retailers left and right are in an innovation frenzy. They are now in a race to see who can push the fastest or most unique shopping experiences. For instance, Amazon is poised to bring its automated checkout technology to even bigger supermarkets. They are also investing a lot of funds in expanding their delivery fleets. 
Unfortunately, this leaves many retailers without an opportunity to catch their breath. As competition gets tougher and customers get pickier, retailers will need to work harder than ever before to stay ahead of the game. 
Heroic Help: Constant innovation is required to remain competitive in this fast-paced and dynamic industry. To enable this, you will need to unleash your team's creative superpowers. 
A study by Aston University concluded that creative employees make customers happier! As such, it's high time to set up a work environment where ideas are encouraged and developed. How else are you going to come up with the next best thing since that sliced bread idiom? 
Let your learning solution become a place where ideas are encouraged, rewarded and put into action! Run monthly competitions on your social feed, asking for creative input from your retail superheroes. Use proven gamification techniques to reinforce innovative behaviour and soon your organisation will become a hub of creativity!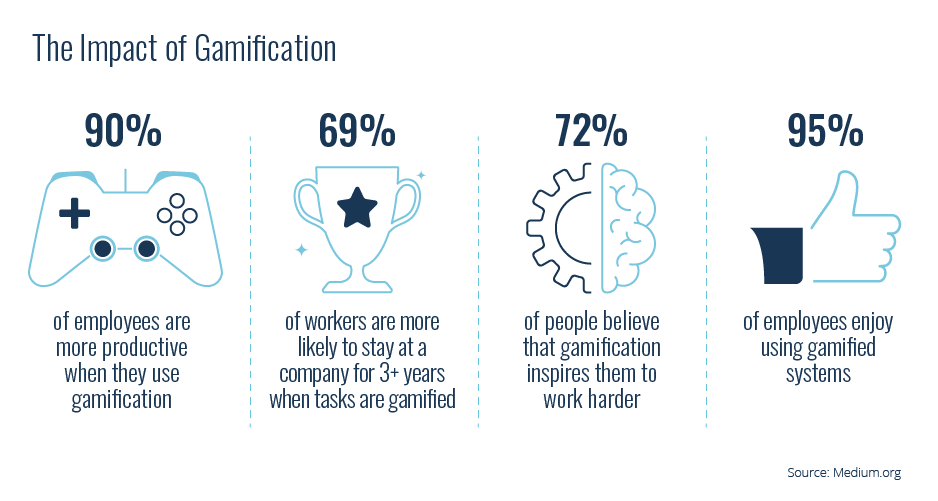 Final Words
The challenges we've discussed aren't unique to the world of retail, but that doesn't mean you can't overcome them. To reduce turnover and unleash the potential of retail workers, you need to implement an effective engagement strategy. After all, an engaged workforce is key to a successful retail business model. 
Growth Engineering's high impact solutions offer a seamless learning experience across all platforms. This includes an LMS, mobile app and authoring tool. What's more, our award-winning expertise in neuroscience, gamification, and social learning will keep your learners engaged through and through! 
Just ask GAME, the UK's biggest high-street video game retailer. Since implementing our learning solution, they saw 98% of learners complete training within the first two weeks of release! 
Want to see similar results in your own organization? Consult with our team of engagement experts here! 
Need more training inspiration? Download our 150 Learner Engagement Tips now!