The upskilling and reskilling revolution has been a long time coming. 
Advances in technology and innovation, alongside changes to the way we work (facilitated in some part by the pandemic), have caused us to reassess the skills we need to thrive in the workplace. As a result, we now place a stronger emphasis on skills development.
In fact, for the second year in a row, the L&D Global Sentiment Survey was topped by reskilling and upskilling. What's more, according to PwC, 79% of CEOs regularly worry about the skills their workforce possesses. 
We need to rethink learning and development (L&D) in the workplace. Training should no longer be limited only to the early years of one's career. That's where upskilling and reskilling come in!
Upskilling and Reskilling: What's the Difference?
We hear both 'upskilling' and 'reskilling' regularly in today's working environment. But while they may sound similar, these terms are actually vastly different.
While both words imply learning new skills, the difference between upskilling and reskilling lies in the objective of the training. As such, knowing which is which makes all the difference as both are critical parts of the modern workplace.
In a nutshell, reskilling aims to teach your employees new skills, while upskilling focuses on developing your employees' existing skills. You could even say that reskilling and upskilling are different sides of the same learning and development coin.
Let's take a closer look!
Upskilling
Upskilling focuses on improving your learners' existing skill sets by teaching them additional skills or strengthening their previous knowledge. As a result, they can feel more confident in their roles and take on additional responsibilities and tasks.
By ensuring your employees have the necessary skills and knowledge to perform in their roles, upskilling addresses the rapid speed of transformation that many businesses have been subject to. By growing in their current positions, your employees can bring added value to your organisation.
Similarly, upskilling helps your employees to enhance their career paths. After all, expanding your employees' skill sets helps them to discover new talents and unleash their full potential.
Reskilling
Reskilling, on the other hand, is the process of teaching your employees new skills. Typically, individuals seek to reskill in order to change their occupation, industry or job role. 
As reskilling involves a shift in career trajectory, it's an attractive option for employees looking for new opportunities. After all, these activities equip them with new skills that can benefit them greatly.
However, this doesn't mean that organisations don't or shouldn't offer training initiatives that focus on reskilling. 
For example, your employee may be better suited to another role in your team but lack a specific skill. As such, reskilling is highly useful in repurposing employees.
Current Upskilling and Reskilling Revolution
Upskilling and reskilling are a hot topic in the L&D industry. In fact, the LinkedIn Workplace Learning Report reveals that 25% of LinkedIn members' skills for the same job role changed by 25% in just six years. 
But what's behind the current popularity of skills development? 
Tech vs Talent Crisis
In recent years, we have all become familiar with words like 'talent crisis', 'skills shortages' and 'skills gaps'. This is because there is a very evident deficiency in the global talent pool. And the most unfortunate part? It's only getting worse.
The rapid pace of digital transformation helps to meet changing business needs. But technological advances, like automation, AI and VR, create a massive shortage of adequate digital knowledge. 
McKinsey goes as far as stating that by 2030, two thirds of the UK workforce will lack basic digital skills. Organisations are already struggling to attract and retain talent that matches the speed of technological advancements.
With organisations unable to hire their way out of the talent crisis, they must grow their own future workforce from within. That's where upskilling and reskilling becomes invaluable.
Technology is now replacing traditionally human-operated roles, such as manufacturing, retail and administration. This means that your employees have to reskill to find other roles. However, digitalisation is also creating new jobs that didn't even exist five or ten years ago. 

These new roles are typically associated with using or developing technology. These roles include, for instance, app developers, cloud computing specialists, social media managers and UX designers.
As these roles are currently in high demand, more people are looking to gain skills to find work in the tech sector. In fact, there is now a global shortage of skills connected to new technology-based jobs.
By 2030, more than 85 million jobs could go unfilled because there aren't enough skilled workers to fill those roles. This equates to a whopping 8.5 trillion dollar talent shortage.
Pandemic Panic
Covid-19 brought a new and unfortunate reality to many as the pandemic resulted in skyrocketing unemployment rates. In fact, unemployment rates rose higher in the first three months of Covid-19 than they did in two years of the Great Recession.
Unfortunately, the Degreed State of Skills Report 2021 found that 46% of employees said their organisation has reduced upskilling and reskilling opportunities during the pandemic. As a result, 38% of respondents feel less confident that they have the skills to do their jobs effectively.
This caused individuals to seek roles outside their previous industries. And the volatile marketplace meant that individuals felt the pressure to stay employable. And guess how they do so? By upgrading and developing their skill sets.
The Great Resignation
Widespread job losses in the early months of the pandemic eventually gave way to the 'Great Resignation'. This term refers to the prevailing wave of people quitting their jobs globally.
While the Great Resignation started as a result of Covid-19, things haven't slowed down too much since. Low pay, a lack of opportunities for advancement and feeling disrespected at work are the top reasons why people are quitting their jobs.
Nearly 50 million workers in the U.S. left their jobs voluntarily in 2021, while 4.4. million people resigned in February 2022 alone. In fact, the nation reached the highest 'quit rate' in 20 years last November.
The Great Resignation has made the role of L&D departments even more important. After all, organisations are being driven to provide upskilling or reskilling opportunities to try and keep their employees happy. 
Similarly, employees are updating their skill sets to seek new opportunities in different organisations or industries.
Skills In Demand

We have seen immense changes in the global job market over the last decade. As a result, some roles have lost popularity, while others have gained an edge.
However, regardless of the industry you are in, having certain skills can make or break your success story. As such, knowing which skills are most in-demand is essential when it comes to planning your upskilling and reskilling activities.
Even though digital skills are gaining prominence, soft skills are still in high demand in 2022. For instance, according to McKinsey, the most important skills today and in the future are heavily soft skills-based. Top skills include:
Critical thinking

Communication

Mental flexibility

Leadership

Teamwork

Digital fluency
HRForecast, on the other hand, researched some of the hottest tech skills for this decade. These include:
Basic programming

UI and UX design

Data engineering

Data visualisation

Video editing
Benefits of Upskilling and Reskilling
While upskilling and reskilling are often a necessity, there are many benefits that come with this kind of training. 
Based on the following benefits, it comes as no surprise that 46% of organisations say that upskilling and reskilling their employees will be the primary focus area of their L&D programmes this year.
Let's take a look!
1. Competitive Advantage
Upskilling and reskilling your employees is an excellent opportunity to prepare your organisation for the future while generating a competitive advantage in otherwise stagnant industries.
For instance, reskilling and upskilling means that your employees will develop the capability to use cutting-edge technology or the latest software. The ability to leverage technology helps your organisation to stay relevant in the market.
In a nutshell, it's much harder for your company to compete in the marketplace without knowledgeable workers.
2. Employee Retention
Upskilling and reskilling allow you to retain your top talent. After all, providing more opportunities for your employees to learn and develop will enhance their job satisfaction.
In fact, did you know that 94% of employees would stay at a company longer if it invested in their careers? As such, clear progression within a company is critical to overcoming employee attrition.
Opportunities to learn and grow are now seen as the number one driver of a great workplace culture. And as we know, workplace culture has a direct link to employee retention! 
Furthermore, 72% of employees say that corporate culture influences their decision to work at a given organisation.
3. Cutting Unnecessary Costs

Covid-19 has shaken the foundations of businesses around the world. It created an ongoing instability that forced many organisations to look for ways to cut their costs.
Upskilling and reskilling will equip your employees with highly sought-after skills that are necessary in today's hybrid work economy. As a result, you can avoid expensive hiring processes. 
In fact, did you know that hiring a new employee can cost six times more than reskilling a current employee? 79% of L&D professionals agree that it's more cost-effective to reskill a current employee than to hire a new one.
Similarly, keeping on top of your training needs ensures you can instil a continuous development culture, spiced with collaborative learning, throughout your organisation. This helps you to keep your training costs low.
4. Employee Engagement
Did you know that disengaged employees cost you money? After all, disengaged employees have 37% higher absenteeism rates, 18% lower productivity and a worrying 15% lower profitability.
A good learning provision can demonstrate to your employees that you value them. This can increase engagement significantly. Similarly, constructive collaboration can supercharge this engagement.
It's likely that you have lots of hidden talent within your organisation. Upskilling and reskilling training initiatives will ensure that your employees have the opportunity to share their knowledge while being able to collaborate with their peers.
Ultimately, reskilling and upskilling allow your employees to shine. They will feel valued, encouraged and supported.
5. Overcoming (Digital) Skills Gaps
Last, but not least, let's talk about the obvious! Upskilling and reskilling is your golden ticket when it comes to overcoming any of your prevailing skills gaps.
74% of hiring managers see skill gaps in their workforce. This lack of skills is one of the biggest hiring challenges. Upskilling and reskilling help you to bridge these talent shortages.
As explored, the world has gone digital. Unsurprisingly, younger generations are particularly tech-savvy. But the same cannot necessarily be said for older generations. Reskilling or upskilling them to use digital platforms is essential for them to feel supported in the workplace.
How To Offer Effective Training For Upskilling and Reskilling
Organisations are spending more time and budget on learning and are more ready to commit to upskilling and reskilling initiatives that enable future success. But while the above benefits are desirable for most, upskilling and reskilling often present a delicate challenge. 
After all, the world is changing, and it's changing fast. So, how can you ensure your upskilling and reskilling initiatives match this speed? 
Online learning helps you to stay one step ahead at all times. After all, online learning improves accessibility, reduces costs and helps to future-proof your learning programmes.. This means you are well prepared to provide upskilling and reskilling training rapidly and continually.
1. Build a Knowledge-Sharing Community
When it comes to upgrading your employees' skills, knowledge-sharing goes a long way. After all, every organisation is full of subject matter experts (SMEs) bursting with knowledge.
As such, building a knowledge-sharing community ensures your employees can learn from each other effectively. Well-designed social learning experiences can provide additional context and support within the learning environment. 

Advances in technology and learning theory can help you drive collaboration and knowledge-sharing across the learning experience. As a result, modern online learning can be social and collaborative, even if it's asynchronous and self-paced.
For instance, Growth Engineering LMS provides various social learning features that enable effective communication among employees and a platform for user-generated content. 
In fact, creating Clubs for specific training topics ensures employees have a safe space to share knowledge, ask questions or provide examples. Similarly, tools like the Live Chat, Social Feed and the Experts Area allow your employees to strengthen their skills by tapping into their peers' expertise.
2. Make Your Content Relevant
Your reskilling and upskilling training content matters. To make sure it's effective, it needs to be relevant and engaging to your learners.
As such, regardless of whether you are providing upskilling or reskilling content, make sure it's easy to consume and access. Microlearning, for instance, is an excellent way to ensure your employees can learn effectively.
These bite-sized content units are not only easier to consume but also faster and cheaper to produce. By utilising microlearning, you can focus on, for instance, one particular skill within a microunit.
Similarly, microlearning utilises spaced out adaptive learning, which helps with knowledge retention. As a result, microlearning is 17% more effective in transferring knowledge compared to traditional classroom training!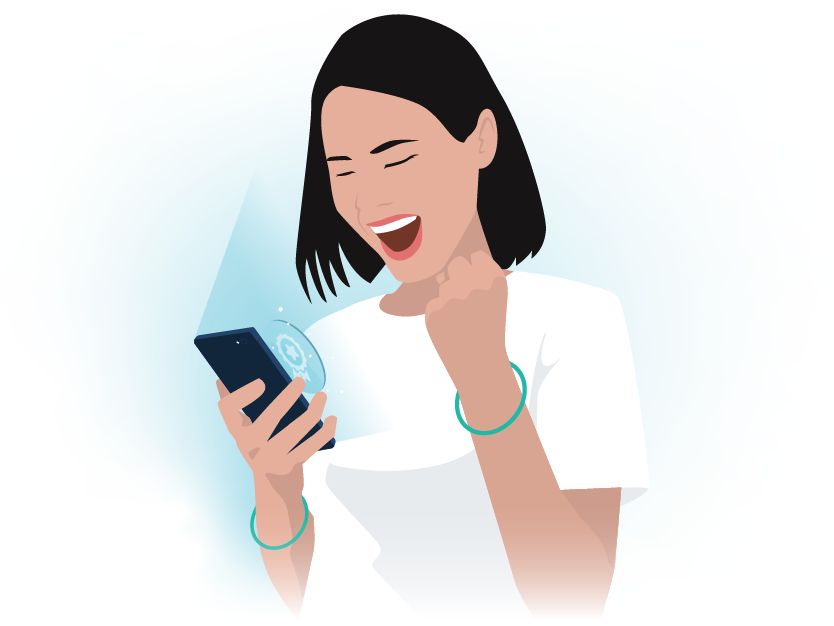 3. Increase Accessibility
The L&D industry is no exception when it comes to digitalisation. Many learning activities are now driven by technology, which helps to make learning more accessible.
Considering the number of smartphone users in the world, mobile learning is no longer a 'nice-to-have' but a crucial element of successful training initiatives. As such, make sure your training content is accessible on a mobile device.
This increased accessibility helps to ensure your employees can access their upskilling or reskilling initiatives with little to no effort. For example, Growth Engineering Learning App allows your learners to take ownership of their training and access useful content at the point of need.
And as we know, the more accessible your content is, the better chance there is that your employees will actually find it and explore it. With mobile learning approaches, all they need to do is use a tool that is already in their pockets and is a big part of their daily lives.
4. Personalised Learning 
The L&D industry has finally come to realise that one-size-fits-all training, in fact, does not fit all. Different individuals in the same role can still be at different stages of their learning journey.
That's why personalised learning has become an essential part of any training programme. Personalised content and learning experiences are tailored to your specific learner's needs, objectives and skill levels.
Personalising your learning initiatives helps you increase engagement and drive motivation and productivity. After all, your learners will only interact with content that targets their personal pain points. It meets each learner where they are and helps them get where they want or need to get to.
Similarly, personalised learning enables you to close skills gaps by strategically upskilling and reskilling your workforce. For instance, personalised learning pathways speak to your employees' specific upskilling or reskilling needs.
5. Engage Your Learners
Just like with any training intervention, your upskilling and reskilling activities should be as engaging as possible. After all, your training programme is only as effective as its engagement rate.
Luckily, gamification is proven to increase knowledge absorption and learner engagement. It helps your employees get excited about increasing, updating or expanding their skills. As such, gamification can, and should be, applied to both upskilling and reskilling initiatives.
But where does this effectiveness come from? Gamification features like Rewards and Experience Points (XP) allow you to drive engagement. In addition, these points systems, alongside Leaderboards and Levels, help you to measure learning progress.
Your learners can see visible markers of their progress and receive real-time feedback. And last, but not least, you can encourage healthy competition that is guaranteed to increase engagement and retention levels!
Final Words
If one thing is clear, it's that upskilling and reskilling are here to stay. And no wonder why! This kind of skills development is beneficial for both your organisation and your employees. 
In fact, it can be the key to keeping your employees motivated and satisfied in their roles. This is essential, as your intellectual capital has a direct link to your financial success.
Luckily, today's modern eLearning technology will help you deliver successful upskilling and reskilling training programmes. You can tackle even your workforce's biggest skills shortages in no time!