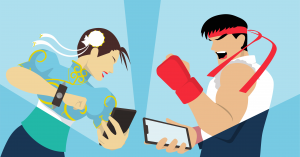 Would you read a Roald Dahl book called, 'The Ordinary Mr Fox'? Would you watch a Western called, 'The Standard Seven'? Could you listen to an R-Kelly song called, 'The World's Average'? Of course not, so don't subject your learners to training that isn't fantastic, magnificent and the greatest! If you fail to deploy an engagement strategy then your training programme is doomed to failure!
We're in the midst of an engagement crisis with only 13% of employees worldwide being engaged at work. Employee engagement strategies ensure that your learners keep coming back for more. Otherwise, you face the very real threat of a failed training programme, costing enormous amounts of time and money! Luckily for you, we're here to save the day with these engagement strategy tips that will help you assemble a team of learning superheroes in a flash!
1. Reach for the Stars with Gamification!
Research by the Aberdeen Group discovered organisations who deploy gamification improve engagement by 48% and turnover by 36%
We don't like gamification over here at Growth Engineering…WE LOVE GAMIFICATION!!! Using badges in a gamified LMS can take your learner engagement out of this world! The fact that 11 out the 12 people to have walked on the moon were Scouts means something must be working! Employee engagement strategies are all the better with a slice of gamification!
2. Personalisation Power!
A survey by Experian found that personalised emails have a 29% open rate, 41% higher click rates and generate 6x more revenue per email
61% of consumers feel more positively about a brand when the marketing messages are personalised
You know Gordon? No, not that Gordon, the other one. He always refers to you as Forename Surname. Gordon is just the worst. Don't be like Gordon. You won't engage your learners with the same lack of warmth!
Your engagement strategy should make the learner aware that you have considered them as an individual and not just a cog in the system. You could even give your learners personalised incentives! If you know that Gordon loves Monster Trucks, then upon acing his training, reward him with tickets to the next show! He might even remember your name the next time you meet!
3. Social Superstars!
87% of employees identify social knowledge sharing as essential. Only 37% feel the same way about formal company training.
You wouldn't read a boring textbook about birthday parties if you wanted to learn everything about them! According to psychology professor Louis Cozolino – "The brain is a social organ", meaning it's desperate to collaborate with others and share thoughts on the quality of birthday cake nestled into a party bag! A Harvard study has found that sharing triggers the reward centres in our brain and can even trigger the release of dopamine, encouraging engagement!
4. The Name is Games. Learning Based Games.
Imagine if James Bond foiled the villain's evil plan without coming up against any sort of challenge. You wouldn't be feeling shaken, stirred or engaged!
Send your learners on a fun adventure as they journey through your training content. They'll immerse themselves into the game and engagement with your content will be real new high score!
5. Variety is the Spice of Learning!
A study by Colorado University found that mixed study strategies yielded a 16.5% boost in course retention over the more traditional mass textbook studying.
I think we can all agree that 'Ice Ice Baby' by Vanilla Ice is the greatest song of all time. But if you put it on a loop then it soon becomes a torturously dull melody that will melt away that ice into learner tears. Mix up the content you throw at your learners, with a variety of videos, quizzes and may be even a comic strip! In return, you'll have a legion of engaged minds at your disposal…and you'll save money on tissues.
6. 50 Shades of Being Blown Away!
When people hear information, they're likely to remember only 10% of that information three days later. However, if a relevant image is paired with that same information, people retained 65% of the information three days later.
Don't subject your learners to boring grey content! And before you ask, we're not talking about the 50 shades variety either! Your training should be filled with colour and interesting imagery to engage learners! Mr Grey will NOT see you now!
7. Make your Training Magical!
The content you provide your learners should be less dull boring text book and more Harry Potter & the Chamber of Awesome Compliance Training! Be creative with the way your training programme is delivered and your learners will be desperate to engage with it!
8. Superheroes, mobilise!
Your learners no longer rock up to work in a horse & cart with the screams of dial up connection still ringing around their head! Last September, mobile usage overtook desktop for the first time! To stand the best chance of engaging with your learners then your training needs to meet them on a platform they are using. It's time to go mobile!
9. Humans Have a Big Attention Sp…OH LOOK A PUPPY ON YOUTUBE!
58% of employees say they'd use their company's learning software more if the content was broken up into shorter lessons
(Westfall, Brian. "The LMS Features That Drive Employee Engagement." Software Advice)
Two Goldfish are having a conversation in a fish tank when one of them suddenly forgets what he was saying, to which the other replies, "Oh Brian, you have the memory of a human". This isn't a joke. Humans now have an attention span of 8 seconds, worse than a goldfish! So if you wish to engage your learners then you need to provide them with short bursts of learning that will hold their attention!
10.

Bruce

Use a Banner!
Before the release of your favourite summer blockbuster, the excitement builds through numerous teaser and trailers. Come release day you're so hyped up and engaged that you've painted yourself green whilst declaring, "You won't like me when I'm angry!". Harness the power of hype and your learner will be itching to get started with your training programme! It doesn't have to break your bank either, a simple banner can be most effective! You WILL like them when they're engaged!
---
Do you want to stay on to top of your engagement strategy and keep your learners chomping at the bit to devour training content? Then check out our infographic and win the war on dull online learning!