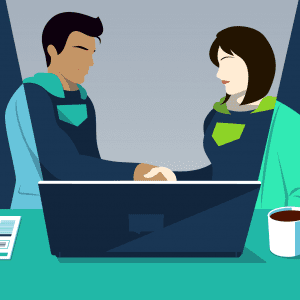 What is company culture? Or… organizational culture, corporate culture, organizational culture…
You hear the words frequently, but how do you define the culture of a business? How can you measure your culture and how can you improve it?
In this article, we explain what organizational culture is and why it is important to have a good company culture.
This survey by Deloitte found that 82 percent of respondents believe that culture is a potential competitive advantage, so we'll give you tips on how to to create a digital learning strategy that will do wonders for your organization!
Here we go…
What does 'organizational culture' mean?
Organizational culture is the personality of an organization. It relates to the behaviours of a set of employees within the same work environment:
how they act and engage with the organization,
the values they ascribe to these actions,
and how employees engage with each other at work.
It relates to how well the employees understand the company's mission, visions and goals, something we like to call the Epic Meaning. Every employee in the organization should know what the company wants to achieve, but these organizational goals should also align with their own individual goals.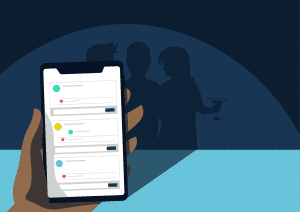 This is important, and it's a fact that's often overlooked. It's not enough for employees to do their tasks because "that's just my job" or "I need to make money somehow". The route to employee engagement is a two-way street and your employees need to believe that any organizational growth will result in personal growth and professional development.
Examples of Organizational Culture
Every company has a different culture. For example, some companies are more collaborative and have a team-based culture. This means that people within the organization work together to achieve their goals. Other businesses will have an approach in which everyone has their own goals and targets, and they work on their own to get them done.
Another example would be whether a company is more formal. Some companies will expect you to come into work in a power suit and stick to your set hours carefully. Other companies will have a different approach and let you wear whatever is comfortable and manage your time yourself.
Some more examples:
Some companies are in silos, others are highly inter-dependent.
Many businesses will be sales focused, others client-focused, others still employee focused.
Forward-thinking companies will have a knowledge-sharing culture, in which employees take responsibility for sharing their knowledge.
Businesses can have dramatically different approaches to technology. Some will be early adopters and innovators, others will be cautious.
These examples don't define the company culture entirely, but they feed into it and help shape it. It's not necessarily the case that one culture is better than another, simply that every organisation has its own unique culture.
Why is a good company culture important?
A strong company culture helps even large organizations work like a well-oiled machine, where every employee acts in-line with the company values. It's much easier for Human Resources to engage employees in companies with a good work culture because they all know what needs to be done, why and how, and they work together to achieve it. When everyone from senior management down are rewarding behaviours that contribute positively to the culture, it becomes deeply embedded in the company. Organizational culture is a long term investment, but it pays off.
Environment is Improved
An organization with a clearly defined culture is a more pleasant place to work. The company culture will give everyone shared assumptions that help everyone know what's expected of them, this makes for a more enjoyable social and psychological environment. When everyone knows how to behave, it makes it easier for everyone to get along nicely and reduces the friction within the workplace. Similarly, when everyone knows what's expected of them, it removes any uncertainty or ambiguity from their role. This is important for the mental wellbeing of your wonderful employees!
Quality of work is improved
When the culture isn't as strong, the alignment to company values isn't quite so clear. This means that more effort needs to be placed in controlling employees, monitoring their behaviour and keeping them working as efficiently as possible. The advantages of a good company culture are obvious. It means that less monitoring is required by managers and team leaders and that the work of the employees is of a higher value to the company. This means that company culture helps improve organizational performance!
Onboarding is more efficient
A company with a clear culture will be able to easily induct new employees into the company's set of beliefs and encourage ways of working that cohere to the company's goals and visions as a whole. Employees within a company with a good culture are also more engaged, motivated to succeed and display more loyalty, which can take the form of being less likely to leave the company and being more likely to become an advocate of your company.
Teamwork is encouraged
An increase in group cohesiveness is one of the most powerful by-products of a good organizational culture. Employees know where they stand within their teams and they trust everyone else to do a good job. They also feel valued and that their contribution is important to the success of the business.
Informal learning is enabled
With a greater focus on collaboration and teamwork, you also create opportunities for informal learning to occur. In any work environment, only 10% of what your employees learn comes from the formal training content – the rest they pick up on the job and by interacting with their colleagues. And of course, the more training your employees receive, the better they become at doing their jobs and the more successful the company will be.
This all combines to create a good team working environment and a community of engaged employees, where everyone can contribute for the good of the whole, like. Clearly a good culture is something to aspire to. Not only does it breed a good working environment, but it improves engagement between employees, teams, departments and the organization as a whole.
What's not to like!?
Want to know more about your culture, your learning and your brand, check out what Juliette has to say below:
How to improve corporate culture!
1. Listen to your Employees!
Provide your employees with an environment to let their opinion be heard. Internet giant, WordPress, regularly hold 'Town Hall' meetings where these ideas are exchanged between management and lower level employees.
75% of employees would stay longer at an organization that listens to and addresses their concerns (Ultimate Software)
65% of employees who don't feel they can approach their manager with any type of question are actively disengaged (Gallup)
2. Communication is key!
Effectively communicate your organization's mission, vision and values. The sense of having a shared goal, shifts your employee's mindset from cog in a machine to key part of the team!
Only 1 in 150 employees who say their organization does not have a set of values are fully engaged (Modern Survey)
Employees who say their organizational values are "known and understood" are 51 times more likely to be fully engaged than an employee who responds that their organization does not have values that are known and understood (Modern Survey)
25% of Millennials say their top career goal is to "Make a positive impact on my organization" (IBM)
3. Collaborate don't isolate!
Encourage collaboration between employees to reinforce the idea that you are a team. Your LMS should be equipped with a vibrant social feed where learners can offer support to each other and overcome challenges together!
86% of employees and executives cite lack of collaboration or ineffective communication for workplace failures (Clear Company)
4. Be Transparent!
Transparency with your employees is key way of building trust, leading to improved corporate culture. A weekly post on an LMS social feed about what's happening at a corporate level is a sure-fire way to inspire your team!
50% of employees say bosses sharing information and data has a significantly positive impact on productivity and motivation (HubSpot)
5. Follow the Leader!
Organizational culture needs to be nurtured and this begins at the very top of the ladder! Managers need to become leaders and visibly demonstrate that they buy into the organizations core beliefs.  This could be achieved with CEO's being at the forefront of your training programme with high impact video introductions at the start of a training unit.
89% of workers with leadership support are more likely to recommend company as a good place to work (American Psychological Association)
35% of Millennials say strong leadership defines a good work culture (Staples)
52% of HR pros cite management buy-in as the biggest barrier to strengthening culture (CultureIQ)
6. Provide Regular Feedback!
Employees need regular feedback if they are to align their performance with your organizational culture. A once a year meeting just isn't good enough! You should praise the behaviour that matches your values and develop areas that need improvement. Keep on top of things with regular reporting and you'll soon be working in tandem!
68% of employees who receive accurate and consistent feedback feel fulfilled in their jobs (Clutch)
7. Epic Meaning!
You should look to our awesome friend Epic Meaning if you want to see massive improvements to your organizational culture! Provide your learners with immersive training content and you'll soon have an army of superheroes on your hands all pulling in the same direction!
Highly engaged employees are more than three times as likely to do something good for the company that is not expected of them (Temkin Group)
8. Get Gamified!
Gamification will keep your learners coming back for more as they hunt down badges and XP to claim bragging rights over their
colleagues on the leaderboard! This provides the perfect environment to reinforce your organizational culture! But what do we know? We're only the #1 providers for a gamified LMS!
Research by the Aberdeen Group discovered organizations who deploy gamification improve engagement by 48%
9% of the responders said that they would be more productive if their university/institution or work was more game-like (Talent LMS)
9. Reward Your Employees!
Reward your employees for actions that best represent the organizational culture that you seek.  A recognition-rich culture will also reduce turnover, giving your organizational culture longevity. So what are you waiting for? Get rewarding your employees!
Companies that score in the top 20% for building a 'recognition-rich culture' have a 31% lower voluntary turnover rate.
10. Lay Down a Challenge!
Provide challenge and opportunity for development. This lets your employees know you are invested in them, in turn, they will be loyal to your organizational culture. Maybe start by giving them a mountain to climb…
76% of millennials think professional development opportunities are one of the most important elements of company culture (Execu-Search)
Employees who get the opportunity to continually develop are twice as likely to say they will spend their career with their company (Gallup)
These tips should point you in the right direction when it comes to improving the culture of your organization… But they're even better when brought together to form a social learning culture. "Is such a glorious thing possible?!", we hear you cry.
Well, with our insightful Social is Super Whitepaper – it is now! A thriving organisational culture is just a click away…