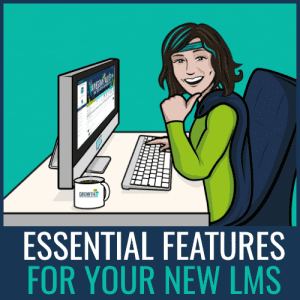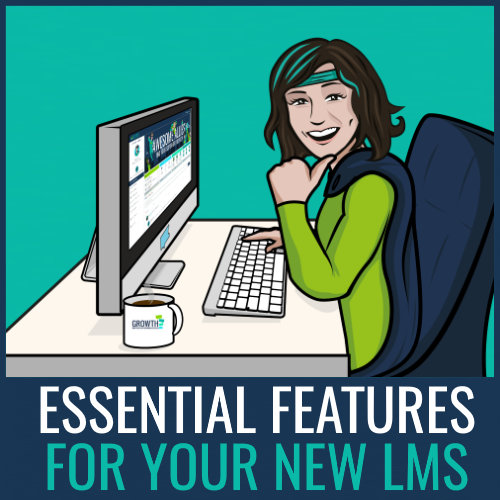 What are the essential features of an LMS you should be looking for?
You've no doubt come across lots of articles and advice telling you which features you should be looking for. You'll read about the importance of reporting tools and learner segmentation, but this won't necessarily prepare you for the demands of tomorrow's learners.
The world of work is changing at a rapid rate and learning technologies have been evolving to meet this challenge. Certain learning platform features are becoming much more important, and it's easy for these features to get lost amid lists of LMS must-haves.
In this article, we'll highlight the features that will make the difference between an engaging learning environment and a training platform that nobody visits.
The 8 Essential Features Every Learning Platform Needs
1: Learner Engagement
Learning platforms have traditionally been online portals where employees can find the training they need. Their development was largely driven by the needs of learning managers, to create content, manage teams of learners and analyse their progress.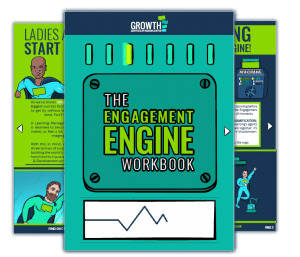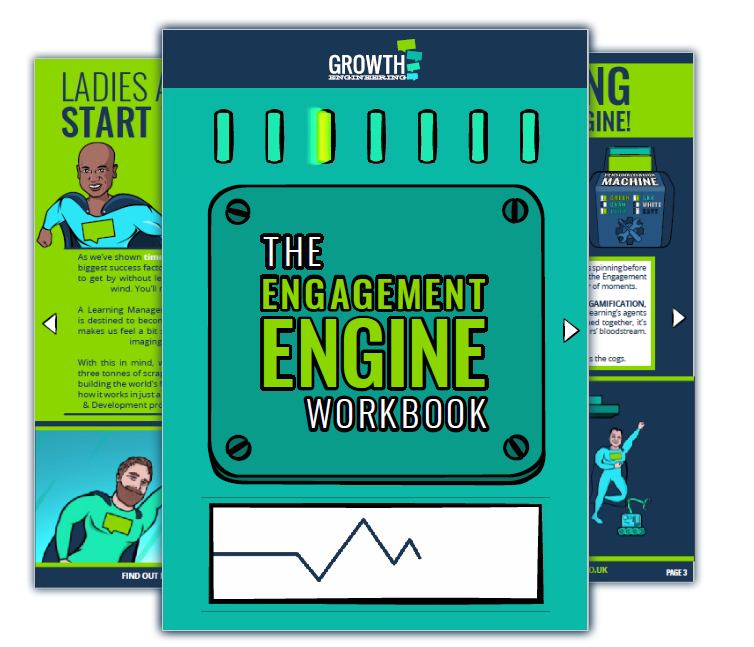 Learning managers were able to work more efficiently, but somehow, this didn't translate into better performance.
When learning technology companies started focussing instead on engaging the learners, it paved the way for something that transcended mere 'learning management systems'. Aside from improving the overall performance of the training programme, things like social features turned simple learning platforms into thriving online communities.
If you want your new LMS to have a real behavioural impact, make sure it has plenty of learner engagement features.
2: User Experience
Engaging learners with their training is a lot easier when your platform isn't riddled with User Experience faux pas. The occasional dead link or questionable formatting is to be expected with even the most popular applications. Too many of these nuisances will create unnecessary friction in the learning journey and it might even drive the user away altogether.
The only way to find out if a prospective LMS is frictionless is to try it out for yourself. Book a demo, or start a trial period and see how the platform feels before you make a decision. On a related note, make sure it has a facility for submitting support tickets and ask the provider how long it typically takes them to resolve UX issues.
3: Customisation / Theming Options
It's easy to fall into the trap of believing that employee training consists only of eLearning units, manuals and training videos. In reality, employees are learning all of the time. Every time they read an internal communication, the branding, the tone and the vision of your organisation should shine through.
As a learning manager, you should seize every opportunity to embed the values underpinning every learning object that you create. Without comprehensive customisation and branding options, you won't be able to create a learning environment that can effectively reinforce your key messages.
4: Responsive Design
Consumers are increasingly ditching their desktops in favour of more portable devices. In all likelihood, you're reading this article on your mobile while you wait for your train. This is a trend that will only become more prevalent, so it's essential that your learning platform is optimised for use on all devices. This way, your learners can improve their skills and further their careers whenever and wherever the notion strikes them.
5: Bitesize Learning
With the shift towards mobile devices, the nature of training is moving away from the 20-minute-long eLearning unit. It stands to reason – if your learners are accessing the LMS on the go, there's a good chance that they don't have a spare 20 minutes.
Make sure your future LMS has a facility for creating short assessments and pushing them to your learners. Features like mini-quizzes, learning challenges and head-to-head battles have also started appearing in engagement-focused learning platforms, so keep an eye out for these.
6: User-Generated Content
It's now easier than ever to create media. With the release of open-source editing applications, the cost barrier has disappeared and all it takes is dedication and time to learn how best to use them. Instructional designers and learning managers can easily produce high-quality training materials with short lead times. But even so, the demand for fresh content will only get higher.
Social learning functionalities open the discussion to the learners themselves and it gives them a chance to share their own experiences and observations. Having a discussion group on your LMS also provides a source for instructional designers when they're creating new learning materials.
7: Identify and Highlight SMEs
The age of the job-for-life is long gone and the employees of today change jobs every couple of years. With a fluid workforce, you can't allow your experts to hoard their knowledge and then take it with them when they go. The first step to counteracting this is to find out who these experts are.
Social functionalities can help here, particularly when they're paired with top contributor boards. Aside from showing you who the expert is in any particular discussion, the presence of a leaderboard encourages other learners to take part. Also, look out for a platform that lets other learners find experts when they need them and ask any questions they have.
8: Frequent Updates
This might not technically be an essential feature… But it is essential to future-proof by selecting a platform which is well maintained.
As progress marches on, the importance of L&D is becoming more evident. Without the work of learning managers, organisations can't efficiently communicate big changes to their employees. With the right tools, these learning managers stand a better chance of getting that message across.
Even so, today's ideal LMS won't serve tomorrow's learners if it doesn't evolve with their changing needs. Before investing in a learning platform, find out how often it's updated. Frequent updates don't always indicate that the LMS is getting better, but if the platform isn't updated on a regular basis, there is a danger that it will become obsolete.
With these key features, you can get better long-term value from your new learning management system, but like we say, the world of learning technologies is constantly changing.
Are you interested in what the future may hold for learning? Our report into the future of gamification talks about how future technologies will impact the way we train. Grab your copy here!