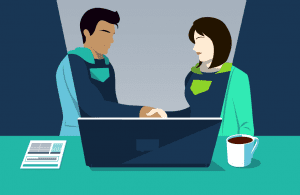 A 17th-century poet once said, 'no man is an island'. The same is true of today's businesses. To be successful is to operate as part of a complex network of customers, suppliers, resellers, partners and an almost endless list of other interconnected parties. This collective is known as an organisation's 'extended enterprise'. Throughout this article, we will look at the best way of training your extended enterprise, through a multi-tenant LMS solution.
As organisations have become more focused and specialised, forging a successful extended enterprise has become all the more important. Businesses, just like people, rely on each other to survive. Whilst the organisations within an extended enterprise may be independent, they do share goals and objectives. Indeed, the success of the group depends on the success of each individual member. There can be no weak links in the chain.
Why Train Your Extended Enterprise?
Most learning and development programmes focus on internal staff (i.e. those who sit on your payroll). But to win out over your competition, you'll need to expand your scope. You'll also need to educate your extended enterprise in the right way. After all, these external stakeholders exert considerable influence on your organisation. With that in mind, here's the case for training your extended enterprise:
1. Drive Revenue
More knowledgeable distributors and vendors mean more sales of your products or services. Likewise, the more your customers know about your offering and its benefits, the better your retention rate will be. You can also train your suppliers to help them understand and adapt to your internal processes. All of this has a major impact on your bottom line.
2. Create Advocates
Training your extended enterprise provides you with an opportunity to add value to your business network. In doing so, you will drive loyalty throughout your supply chain and create brand advocates outside of your organisation. This means good relationships with important suppliers, incentivised distributors and customers who have no interest in looking elsewhere for a new solution.
3. Reduced Costs
Supporting your extended enterprise can sometimes feel like a plate-spinning exercise. With multiple parties involved, providing proper support can be a costly and time-consuming business. Rolling out standardised training helps to ensure that your partners become more self-sufficient over time. This reduces your costs and frees you up to focus on other areas of your business.
What Is a Multi-Tenant LMS?
We've agreed that training your extended enterprise is a good thing. But what's the best way of doing this? To get started, you'll need a suitable learning platform. This platform should be capable of making your training resources available to both your internal staff and multiple groups of external users.
The platform should also take into account the different needs and branding requirements of each group. What's more, it should strive to provide a personalised experience for each learner, regardless of where they sit within the user hierarchy.
In other words, you'll need a multi-tenant learning management system. As you may have guessed, this is a platform that can support multiple tenants (or groups of users). A multi-tenant LMS supports these different groups through a single instance (with one underlying database).
The existence of multi-tenant learning solutions means you don't need to purchase multiple single-tenant solutions to meet the needs of your extended enterprise. Instead, you can rely on the customisation options and admin controls of your multi-tenant LMS to help you achieve your goals.

The Key Features of a Multi-Tenant LMS
A variety of different features are required to ensure that multiple tenants can operate harmoniously within a single learning platform. Here are the key features of a multi-tenant LMS, as we see them:
1. Hierarchies & User Groups
Organising users within an LMS can be a headache at the best of times. Adding external user groups complicates the matter further. Your multi-tenant solution should have a multi-tiered hierarchy alongside user groups and permission settings. This will allow you to exercise full control over who sees (and has access to) what on your platform.
2. Sub-branding Options
The organisations that make up your extended enterprise all have their own unique brand identity. Your learning solution should help each user group to feel at home by providing multi-tiered customisation options. Your corporate identity will act as the platform's parent brand. Underneath this, there should be sub-branding opportunities like team logos, divisional banners and more. These design assets should change based on where the user sits within the platform hierarchy.
3. Integration Options
Integrating with existing systems makes managing your LMS more efficient and effective. This is particularly important when you have multiple groups of users on a single platform. With so many moving parts involved, you should seek to streamline processes wherever possible. For instance, you could automate user provisioning via integration with your HR system. Removing this complexity allows you to focus on delivering engaging learning experiences.
4. Reporting Tools
Reporting is a central feature of any LMS. You'll want to report on every user across the platform. Your partners, on the other hand, will only want to focus on their learners. As such, you'll need a flexible reporting suite with comprehensive filtering options. This will ensure that data is only shared with the relevant stakeholders. The ability to schedule and automatically share reports is also beneficial.
5. Communication Tools
You should also use your LMS as a tool to communicate with your extended enterprise. Social streams within your learning platform will enable you to share details about new product launches or initiatives with your network. You can also use these areas to announce any changes to your business that may affect others. This provides individuals within your extended enterprise with an opportunity to ask questions, seek out more information and share their feedback.
Growth Engineering's Multi-Tenant LMS Solution
The Academy LMS is a multi-tenant learning platform with a proven track record of engagement. Our extended enterprise solution empowers you to customise the look and feel of every iteration of your platform. You can also delegate admin rights, tweak visibility levels and control access levels across your portal. This gives you and your different audiences an end-to-end brand experience with all the privacy that is required.
The Academy LMS uses a hierarchy structure to control who sees what. Groups are used to control access to content. You can also configure multiple login areas, custom domain names, sub-branding options and more.
As your extended enterprise includes clusters of external staff, you'll have to work even harder to keep them engaged with your training resources. That's why the Academy LMS is loaded with gamification features like Badges, XP, Leaderboards and Levels. These game mechanics can be used to incentivise the right behaviours and encourage learners to engage with your training programme. All of this takes place within a social context, complete with discussion groups, social streams, an experts area and more!
Final Word
Globalisation has led to organisations becoming more specialised. As a result, businesses have become more reliant than ever before on their extended enterprise. Without suppliers, distributors, resellers, customers and other partners, most businesses would cease to exist. That's why it's so important to engage with and educate your extended enterprise.
With the right multi-tenant platform you can provide personalised learning experiences for multiple groups of users within the same environment. This makes it perfect for training your extended enterprise. In turn, you'll create advocates within your supply chain, reduce support costs and drive further revenue through increased sales. That sounds like a win-win for everybody involved.
---
The Academy LMS is the world's most engaging learning management system. It's also perfectly crafted to meet your multi-tenant requirements. Sign up for a live demo now!