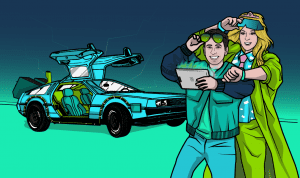 Learning alone is fine, but it gets much better when we do it together.
Thankfully, as our technology improves, so too does our ability to connect with one another. The future should see us enjoying more opportunities to learn alongside our peers!
We've put on our forward-thinking caps and considered a few of the things we might expect from the future of social learning.
It might be many years until we see some of these, but others might be closer than you think.
Firstly, What Is Social Learning?
Social learning bridges the gap between knowledge and behaviour change. It's what happens when we watch others in action or interact with them. David Attenborough often observes social learning in the animal kingdom, and it's much the same with us humanoids! Group learning benefits trainees in an abundance of ways, such as:
Developing new approaches to solving issues.
Team-building.
Pooling knowledge and skills.
Emulating peers.
Sharing diverse outlooks.
Virtual Environments
Virtual reality is (ironically) rapidly becoming something real. The technology has hit a point where it's starting to work properly, and the investment is flooding in.
VR
In the coming years, we can expect to be wearing VR headsets as we play games, explore art and architecture, and even as we learn. Of course, it's the implication on learning which excites us the most!
We're already able to create online learning communities, using an LMS for example. But with VR technology, we'll be able to create shared virtual environments, where learners can interact with one another using personalised avatars.
Imagine a VR game where colleagues are crew-members on a spaceship flying through the universe. The only way to zap oncoming meteorites or to defeat aliens is by correctly answering questions regarding the company. Now that's something learners would remember! This added level of immersion will help them embed the teamwork skills they develop in the game, and apply it back in the real world.
Expect to see VR coming into play more and more.
This will be a fantastic way to bring people together, particularly for big, global companies who have staff dotted around the globe. Being able to virtually 'meet' colleagues they wouldn't otherwise have contact with will offer them an unprecedented ability to share ideas and discover completely new ways to approach their training!
AR
Augmented Reality is near to being mastered. Google Translate has a camera feature which magically translates language on the screen in real-time. Other fantastic AR apps include Starchart. This is where you can look through the eyes of your phone to see detailed info regarding every star in the night sky.
AR has trickled into various industries over recent years such as manufacturing and healthcare. For example, the healthcare industry has developed AR glasses for medical students. Here, they can view a virtual human body in 3D.
Social Learning Games
It's no surprise that we've always got our eye on games and gamification! These continue to become more and more important in the world of learning, and we don't see this slowing down any time soon. (Check out our cracking report on the subject!)

As the use of games becomes more widespread, it's likely that it will overlap more and more with social learning.
So we can look forward to more collaborative games, where it's impossible to win without a concentrated team effort. Learners will have to share the information available to them in order to progress, encouraging a culture of knowledge sharing in your organisation.
Everyone's An Expert
Most organisations designate certain people as subject matter experts. These are the people who know more about their specialist topic than anyone else, and who should be your first point of call whenever you have a question.
Why not take this further? Approach anyone in an organisation and you'll find at least one thing they know better than anyone else. With all this expertise flying around, you simply have to tap into it as and when you need it.
As technology improves, so too will our ability to pair up experts with whoever needs their help. A learner will be able to broadcast their question to the whole organisation. The perfect people to answer will get notified that something is being asked, and they'll be able to swoop in and save the day!
The future of social learning is now! Our Academy LMS is packed full of social and gamification functionality to help engage your learners with their training. Sign up for a free demo by clicking the banner below: