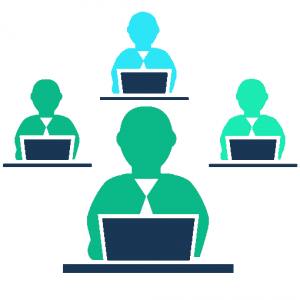 We know how important it is that learners are encouraged to interact on their Learning Management Systems. Social learning is one of the main ways in which we learn, after all – without social interactions, we skip an important aspect of knowledge acquisition and may end up not cementing the learning content sufficiently… and all our hard work will be for nothing!
Social learning on the Academy LMS can take a variety of formats, from instant chat to forum-style interactions. The main differences are whether interaction is encouraged synchronously, i.e. in real time, or asynchronously, not in real time. Research has shown that, generally speaking, synchronous tools are better at engaging learners and generating a culture of interactivity than asynchronous tools.
Synchronous tools
'Instant' tools such as chat and video conferencing fall under this umbrella. Due to their very nature, synchronous tools are inherently interactive – learners have to constantly react and respond to what is being said, keep focused on the conversation, and adapt to the topic as it flows and develops.
Synchronous learning is often seen as more participatory and 'active' than lecture-based learning, and can contribute to a higher level of understanding.
However, there are problems with synchronous learning:
In chat, not all learners will be experienced enough to keep up with the conversation. While they are typing the topic may move on, resulting in overlapping conversations which are hard to read, and disappointment that their points aren't being recognised.
Conversely, experienced users might find the conversation too slow!
The biggest problem with video conferencing is turn-taking. Learners might not be sure when they should speak up, which can lead to three or four learners taking centre stage and doing the majority of the talking. More reserved learners might not have the chance to join in, so they won't be able to get their point across or ask questions if they feel unsure.
Asynchronous tools
Unlike synchronous learning, asynchronous tools – like blogs and discussion forums – aren't used in 'real time'. Instead, learners can use them and then return at a later date to either add another update or see what other contributions have been made in that time.
Research has shown that asynchronous tools often receive luke-warm feedback from learners. Although learners like that these tools force them to slow down and reflect on their training, they are seen largely as a chore – something that must be done just to tick a box. As such, asynchronous tools don't always get learners motivated or engaged…
Blogs are useful for encouraging introspection, but if learners don't receive sufficient (or any!) feedback from peers or instructors they will soon become discouraged and demotivated.
Discussion forums are often deathly silent places where hopes go to die – except close to deadlines, where they suddenly become a buzzing hive of activity. However, if all learners end up writing on the same topic, interest will quickly wane…
How to make asynchronous tools interactive
As can be seen, it's hard to get learners interacting when they're not being asked to do so in 'real time'. They often see asynchronous tasks as chores that need to be completed alone – definitely not the level of interactivity and social engagement that L&D professionals aim for!
One of the reasons that social tools don't always reach the level of interactivity required is that learners either don't see the point in using them or know they can 'get away with' not using them. Making the use of these tools compulsory is one definitive way to make sure learners do use them. But, as we all know, making something compulsory doesn't necessarily make it engaging or motivating!
Adding gamification to social tools, on the other hand, can add this element of engagement.

Rewarding learners with gamification
Allocating points and badges to certain actions within the Learning Management System is a way to avoid having to make the use of social tools 'compulsory' in the traditional sense. Rather than stipulating that learners must use chat or insist they share links on a forum, learners are instead rewarded the more they use the tools and interact with others.
This helps to boost motivation because learners want to gain the most points and showcase the most badges in their badge cabinet – and they want to climb up the leaderboard to become the Top Contributor.
When gamification is added to social tools, motivation, engagement and interactivity increase – which will lead to better understanding and greater success.
Find out more about gamification and social learning by downloading our free white paper below!