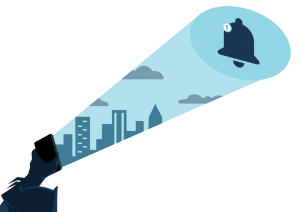 You have definitely received a push notification from an app today.
Maybe you've received a WhatsApp push notification for a new message? Or perhaps you received a notification from Instagram letting you know Judy has posted a photo of her dinner with an edgy filter?
Push notifications are a great source of keeping up-to-date with the latest happenings in the world, but did you know they can be used to turbocharge your online training?
Join us as we ping through the power of push notifications and go through how to use them effectively with your training!
Firstly, What Are Push Notifications?
A push notification is an automated message sent by an app provider. It usually acts as a reminder, or it promotes a service, or it nudges you to act. 
An example would be a breaking news notification from a news app or an upsell from a phone network. 
Examples of Apps that Use Push Notifications
The average US smartphone user receives 46 push notifications a day! That's a lot of pushing! Here's a list of contemporary apps and examples of the push notifications they are known for sending. You may have received a few yourself?
Amazon:
Amazon sends you tracking notifications of your parcels (although not always accurate!).
Waze:
Waze warns you of traffic updates on your route. If there's a diversion, they'll send you a notification, as well as informing you of better routes to take (although not always accurate!).
The Bump:
This app gives you some extra support during pregnancy. It sends you notifications regarding your baby's development. Example: 'Day 80: Your baby is now the size of a plumb!' 
H&M:
Like a flurry of retail brands, H&M send push notifications to upsell to their customers. Like most ads you see online, these are based around your recent purchases.
Sunshine:
Sunshine is a weather app unlike any other. By informing the app if you're feeling warm or cold, it develops a sense for your tolerance for temperature. Eventually, it will send personalised notifications informing you if you need to wrap up or not, according to that day's predicted weather. 
Buzzfeed News:
Buzzfeed News doesn't pull you in by simply sending you clickbait styled headlines, it gives you an interesting summary about the news story too. A great way to stay on top of the latest goings-on in the world. 
How to Inspire Learning with Push Notifications
Whether it's onboarding, upskilling, or general refresher training, learners can benefit from a wide range of push notification perks. Here are five top tips on when to use push notifications effectively:
1. Reminders to Complete Training
At a time where we can learn on-the-go via mobile learning, we can often be midway through a learning module when our commute rudely interrupts us, or we tire five minutes into a training video whilst on the treadmill.
As an admin on Growth Engineering Learning App, you can see if a unit has been completed or not. Does your pupil need prompting? Send a push notification and ensure your learners keep on track with your training programme.
2. Reminders of Up-Coming Classroom Events
Be it conventional classroom-style training or blended-learning, both require learners to be somewhere at a scheduled time. Push notifications work as an effective alarm warning learners about their upcoming engagement.
You may receive similar push notifications from your doctor's surgery regarding an approaching appointment. As an admin, you can set-up push notifications to be sent to your forthcoming class. This way, there's no excuses for missing it! 
3. Notifications of New Content
It doesn't matter if it's the greatest film ever made, if it has no advertising then no one will ever see it. The same can be said for new learning content.
It needs to be shouted from the rooftops to fight for attention from Twitter and Netflix! You can create push notifications to target different learners, teams, divisions or if the content is really awesome – the whole organisation!
4. Training Motivation
We all need a little push sometimes, right? Push notifications can be used as a personal trainer – appearing at the right time to give you a little boost!
Most workers get a post-lunch slump at around 2.55 pm. How about setting up a push notification to encourage your learners to grab a coffee and complete a training Battle?!
5. Virtual Rewards
Virtual rewards are a fantastic incentive to complete training, as they are to complete most games (those glorious coins in Mario, anyone?!).
Utilising these game mechanics is what we refer to as gamification. Create push notifications for learners to let them know when they have earned experience points and badges and streaks. You can also inform them of where they are on the leaderboard, and also if they have levelled-up. 
Final Words
Push notifications are the fastest way of getting information to your employees. Learners welcome push notifications as the benefits are tremendous. You can keep trainees in the loop with the latest content uploads, and you can remind them of scheduled lessons. Most importantly, push notifications help you to motivate and congratulate your learners! 
Want to find out more about the great features of Growth Engineering Learning App? Request a free demo here!
Unlimited Learner Engagement on
The Impact Suite
Tired of learning technology that doesn't make a difference? Fret no more! Our Impact Suite combines three multi-award-winning learning solutions with expertise from the Growth Engineering team.