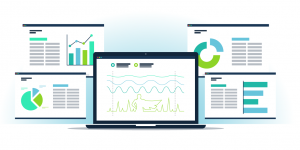 Reporting suites are important. Reporting is key to business growth. When it's done right, it highlights knowledge gaps, it analyses user behaviour and helps measure the ROI of your training.  
The central function of any great reporting suite should be to ensure data is consumable and engaging.
At the same time, it has to be robust and detailed. It can look shiny and colourful and chok-a-blok with funky graphics, but if the actual data is not thorough, then what's the point? Looking good with no real substance is like the film Suicide Squad, or… David Beckham! (We love you really David!).
Top 10 Reporting & Analytic Features on The Academy LMS
Growth Engineering LMS reporting suite is both robust and attractive. Here are ten reasons it is everything you need to measure the success of your training!
1. You Can Report Time Spent in Each Unit
Time tracking gives you a good indication of whether or not you've pitched the difficulty level right. For instance, if a module should take 3-5 minutes to complete, and most learners are taking 10-20 minutes, you may need to adjust the difficulty level. Alternatively, you can swap out text for a video.
Did you know that employees are 75% more likely to watch a video than read a document? Something to think about if you're in the mood to be kind! 
2. You Can Report On Completion Rates
The Reporting Suite lets you become the Santa Claus of eLearning as you can find out who's been naughty and who's been nice!
How? By tailoring your analytics to give you the completion rates of each learner. You can then send out push notifications to remind your learners to complete their content. Tut tut…
3. You Can Identify Any Knowledge Gaps
One of the main benefits of a robust reporting suite is uncovering knowledge gaps within your team.
The admin side of Growth Engineering LMS allows you to create Tests whereby you can discover the areas that employees need a knowledge refresher. This can be done for whole departments or individuals. 
4. It Saves You Time
Having access to such diverse analytics in one place will help cut down the hours you spend on reporting. Less powerful systems will ensure you use a thousand different programmes for each different report!
You can check out logins, test results, assessments, quest results, survey results, inactive users and much more. With all this spare time, you can finally learn French, or watch that boxset! 
5. It Integrates With Google Analytics
You may or may not have heard of a little company called Google? They're getting quite big these days! With Google Analytics, you'll get access to a massive dollop of extra insight by applying a simple tracking code.
Once installed, you'll have the power of Growth Engineering LMS reporting mixed with the data visualisation of Google Analytics. Google Analytics gives you insights such as age, gender, interests, device used and location of the user. If you get really savvy you can even use it to get detailed reports on your audience including things like interests! 
6. It Offers Ad-Hoc Reporting
Using The Academy LMS reports wizard, you can produce custom reports that can be filtered down, and we mean REALLY filtered down.
This extensive filtering includes aspects such as department, test scores, social posts and general LMS activity. Basically everything apart from shoe-size (though we're working on it!).
7. It Has Stunning Data Visualisation 
In this modern world of streaming services, mind-blowing computer games, and keeping up with social media influencers, who really has time for anything anymore?
Good job then that we have an 'At-A-Glance' section on our reporting home screen, directly underneath the Admin Dashboard. Here, you'll have quick access to graphs and charts showing you the recent activities of everyone in your organisation. 
8. It Offers Automatic Scheduled Reporting
Here's a feature that will gift you with even more free time to watch binge-able box-sets: automatic scheduled reporting! Once you've created a custom report with your own filters applied, then you can schedule updates to be sent to you daily, weekly or monthly depending on your preference. 
9. You Can Relate your Reporting to Business Impact
Business impact is the fundamental measure by which you can comprehend the success of your training campaign. The thorough reporting we provide allows you to dig into how your learning programme is skyrocketing your business into the stratosphere!
Metrics such as learner confidence, general errors and increased sales revenue can all be traced back to the reports. A great tool to keep in your armoury for one-to-ones, or for investment opportunities. 
10. It Offers Powerful Classroom Reporting
Living in the digital age, it can be hard to remember the importance of traditional classroom training. But there's still a huge demand to have that human interaction, and more specifically, a face-to-face teacher who you can fire a round of questions at. 
The reporting suite can pull up data on class attendance, overall costing, and resources used. Knowing this can help you optimise the blended learning experiences for future classes.  
Final Words
A lot of people forget that with any great learning programme, most of the work goes on behind the scenes. Part of being the best LMS provider in the world is having a sturdy and flexible reporting suite. As an admin, you can create custom reports that cover in-depth analysis of each learner. 
By running tests and analysing aspects such as the time it takes to consume content, you can easily identify knowledge gaps within your team. A robust reporting system saves you time and will most certainly give you great ROI. 
Want to know more about the amazing features on Growth Engineering LMS? Request a free demo here!