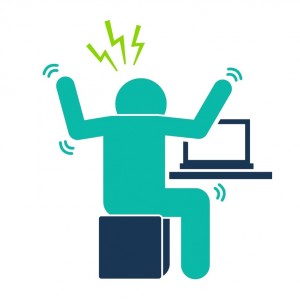 We've all been there: we'll be minding our own business, working away, when suddenly The Email will land in our inbox. We've been invited to take an eLearning unit in compliance.
Your heart sinks. Your hands get clammy. Your pupils dilate. If you don't catch it quickly enough you'll enter full 'panic mode' stage.
Sound familiar? Unfortunately, while compliance training is essential, it's not exactly riveting. But, rather more, fortunately, there's a lot that can be done to make compliance training fun and engaging. Here are just a few improvements that can be made to make compliance training fun:
Personalise eLearning
Create eLearning units with the functionality to remember and use people's names, roles and companies. It's much more engaging for a learner to have to learn and answer questions about their own company, rather than some faceless organisation they've never heard of before. Similarly, using a learner's name in the eLearning gets their attention and brings them more fully into the learning.
Allow data input
When we can apply learning content to our own experiences, we are able to learn far more. That's why it's so important that learners are able to input their own data (thoughts, experiences, suggestions and plans) into eLearning units. Rather than reading a scenario and answering the question, "What should Ryan do?" by selecting an option from a list, learners are much more involved. They should be asked: "What would you do in this situation?" and then given free rein to type their answers in a text box. It's so much more engaging!
Remember these answers
While it's incredibly useful for learners to be able to input their experiences into the eLearning, it's also important that they are able to take this information 'home' with them after completing the eLearning. That's why the Academy LMS allows learners to download their data sheets – they get to see all the thinking they'd done during the unit. When this is combined with questions that ask learners to plan how they might implement this newfound learning in their own workplace, it's clear to see that this allows learners to come away from the eLearning unit with an already-formed plan of attack. From there, it's simple to make the transition and actually use all the new information they've been given in their daily work lives.

Interactive questions
Compliance training relies on testing learners' knowledge to ensure they are familiar with all the procedures and policies in place. Questions within the eLearning unit are obvious ways to achieve this and gain confidence that employees know all they need to know – but, as with a lot of 'standard' eLearning, quiz questions can be incredibly boring and poorly executed! There are only so many multiple choice questions a learner can answer before they give up the will to live. On the other hand, drag and drop exercises are more involving and interesting; as are free text boxes (where the eLearning monitors for trigger words) and completing more game-based tests – quizzes can even be themed and set out in fun ways, like a snakes and ladders board!
Use gamification in eLearning
To round off everything here and make compliance training fun and engaging, it's a great idea to gamify the online learning process. So when learners input their data and answer questions correctly, award them badges and points. The more questions they get right, the more rewards they get; and once they reach a certain number of points, they can 'level up' and unlock new challenges. It's an easy way to make compliance training much more exciting!
Find out more about this last point – adding gamification to eLearning – by clicking the button below!
[hs_action id="6973″]