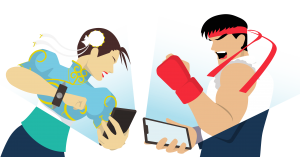 Sales training programs let you boost knowledge, skyrocket skills and secure sales. But sales training doesn't come without challenges. So, how do you choose the right sales training program?
Here's our handy guide to putting together an online sales training program that will engage your salespeople and help them smash targets!
Sales and eLearning: The Benefits…
Sales is like kayaking on a wild river. Sometimes it can be a smooth ride, and sometimes you can hit the rocks. One thing is constant, however; it's forever flowing and changing direction. For example, 4-10 reps have closed 2-5 deals thanks to social media, something that wasn't even used by most businesses 15 years ago. 
This is why online learning is essential to sales more than any other department. You can update your learning content as you go. This way, your sales department will be kept in the loop with essential industry information such as:
Potential leads
Sales processes
KPIs
Bonus structures
Market news
Industry changes
Selling techniques
New products
Company policies
New procedures
Online Sales Courses
If you want to improve salespeople's knowledge, you can enrol them in online sales courses. There are many different courses, units and topics to select from and the accredited courses offer recognised certification. Bodies like the ISMM offer sales training in many different subjects. Salespeople can start with basic, essential training in the laws and ethics of selling. They can then move onto specialised subjects like segmentation, targeting and positioning.
A whole range of accredited qualifications lets you choose the right sales training program for each member of your team. It also lets you tailor training to different departments specialising in various areas.
Online Sales Academy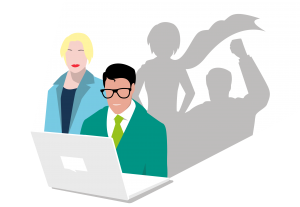 If your sales training needs can't be addressed by a single training course, an online learning platform is ideal. A sales academy lets you get your salespeople up to speed on your various products. It can reduce the length of the induction process and help you manage organisational change.
A Sales Academy is a Learning Management System that organisations can use to deliver training to staff and then report on progress. Businesses can deliver low-cost sales training programs with measurable ROI. Your sales talent can use the platform to access all their available training and plot their next steps.
Three Features of a Sales Academy
Sales academies let managers set their salespeople off on unique learning journeys. Got a new-starter? Just enrol them on the 'Induction' course and watch them progress from New Starter to Expert. If you're releasing a new product, just add the new training module to their to-do list and then monitor their progress.
Only 2% of sales occur on a first meeting. This low percentage is partly due to the fact sales is a long journey, and not a shut and cut process.
Sales training on the LMS might include training videos, assessments, eLearning and it can even be used to organise real-world training. Here are three benefits of having a Sales Academy:
1. Clubs
Clubs are virtual groups created by the admin and build to build a community of social learners. Each club can be personalised to represent a different part of sales, or a different part of the sales process. You can create a club for general sales tips, or create a club for sales onboarding.
2. Reporting Suite
Admins can run custom, down-reaching reports on individual learners using the extensive reporting suite on Growth Engineering LMS. This includes features such as an at-a-glance view of your user behaviour, automatic scheduled reporting and assessment/test reporting, so you can see where any knowledge gaps are.
3. Gamification
However much sales might change and adapt over the years, salespeople will always have one thing in common: they're all pretty competitive! The Academy LMS taps into this and harnesses it for our benefit! From XP (experience points) to leaderboards, to praise badges to levels – there's umpteen opportunity to get one ahead of your colleague!
Final Words
Growth Engineering's Sales Academy solution is specifically designed for sales teams. The gamified interface keeps salespeople returning and lets them challenge each other. Social functionality keeps everyone informed about the latest developments in the sales training program. On top of that, Sales Academies include accredited sales training courses from the Institute of Sales Management.
Want to get even more tips on implementing a new training programme? Take a look at our Resources!
Drive Unlimited Learner Engagement Create Serious Business Impact
Engage your learners and drive real behavior change. Deliver the most effective online learning solution and improve team performance by as much as 75% year-on-year.