Why is it important to use gamification in eLearning? Read on to find out!
There's a lot to think about when you're creating a training initiative. Sometimes you can get so swamped that you forget the most important detail of all – getting your learners to engage with it. Making sure that you keep your learners engaged, interested, motivated and happy to learn on their learning management system is tricky.
If only there was something that could help you drive the learners to your door. Imagine a dreamland where learners log in every day, eager to continue with their training. It might sound like a crazy fantasy, but that's exactly the environment you can have when you use gamification in eLearning.
At Growth Engineering, we put gamification into everything we do. All our eLearning is chock-full of badges, points and prizes. Our Academy LMS is built with game mechanics at its core. Naturally, when it comes to training our own GE Superheroes, we wouldn't use anything else. Here's how we used gamification in our eLearning and throughout our own LMS to supercharge engagement!
[us_separator type="default" icon="fas|star"]
GAMIFICATION ON THE LMS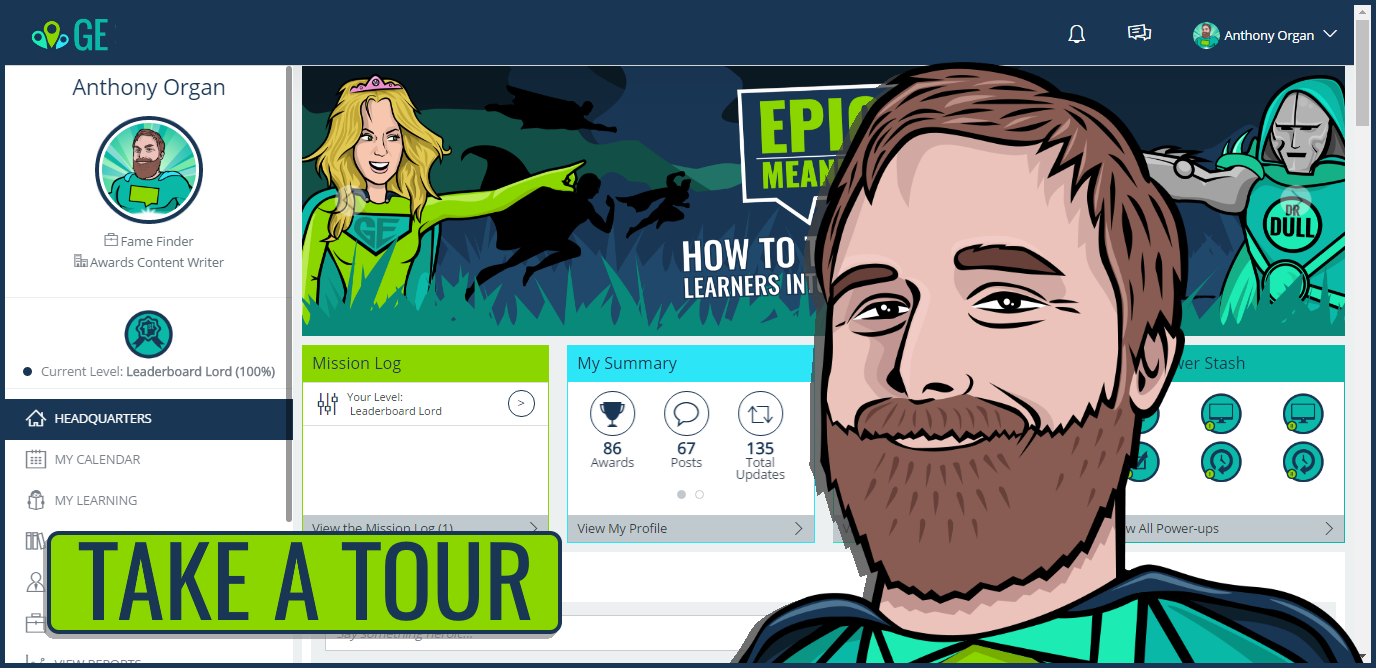 Let us introduce you to Ant. He's been using our in-house Academy for a while now and he's just loving it! Look at that face! Whenever he logs on, he can see four widgets on his dashboard. We've given them all super-heroic names to make people like Ant feel like they're part of an alliance battling against the forces of dullness.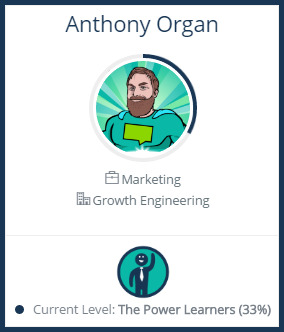 His Mission Log lets him know exactly what he needs to do to unlock his inner hero. At the top of his to-do list is the first game mechanic – his level. Now, we could have built all of the training into categories or folders, but there's nothing engaging about that. With levels, learners like Ant can see a progress bar that lets them know how close they are to leveling up.
The Summary widget has shortcuts to various areas on the platform. Ant can see at a glance how many awards he's earned, how many posts he's written in the social feed, how many experience points (XP) he has accumulated and how many times he's logged in.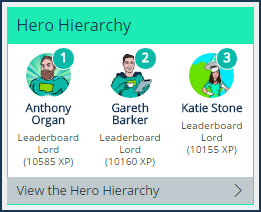 In the Next widget, we see the Hero Hierarchy – our own super-duper name for the Growth Engineering leaderboard. This shows a table of everyone in the company arranged by who has the most experience points. We all slug it out to get to the top and as you can see, Ant's been a busy learner! If Gareth wants to get to the top, he needs to earn more XP.
The only way to do that is to keep taking training content and engaging with the rest of the team on the social feed. This extra competitive element keeps everyone coming back and sharing knowledge with each other. It also brings us all closer as a team – even if we are essentially at war with each other on the Hero Hierarchy!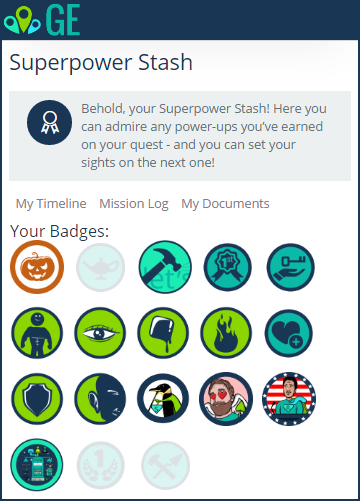 Finally, we have the Superhero Stash, or the Badge Cabinet. GE team members can earn badges for all kinds of activities, both on and off the platform. There are badges for completing content, for logging in before 7AM, for posting on the social feed – and there's a handy tool called the Praise Badge.
Managers can make their own praise badges for anything they like – whether it's for going that one step beyond, or showing exceptional improvement. At Growth Engineering, we've used them for all kinds of things, like our fabled Lego tower team-building activity or as an award for the best Halloween costume.
These gamification features work like a charm on our LMS, but what about the content itself? It would be a shame to have a fun and engaging LMS and load it with boring eLearning, so of course, we built all our own content with more game mechanics than the E3 Expo!
[us_separator type="default" icon="fas|star"]
GAMIFICATION IN ELEARNING
We use our own authoring tool, Genie, to create all our in-house training. It's designed to be as user-friendly as possible so that a relative novice can learn how to build eLearning within a couple of hours.
But it's not just any eLearning – with the click of a button, the training content is built into a learning game template! That means that whenever we get new starters, we don't subject them to some dull training video – we let them play games!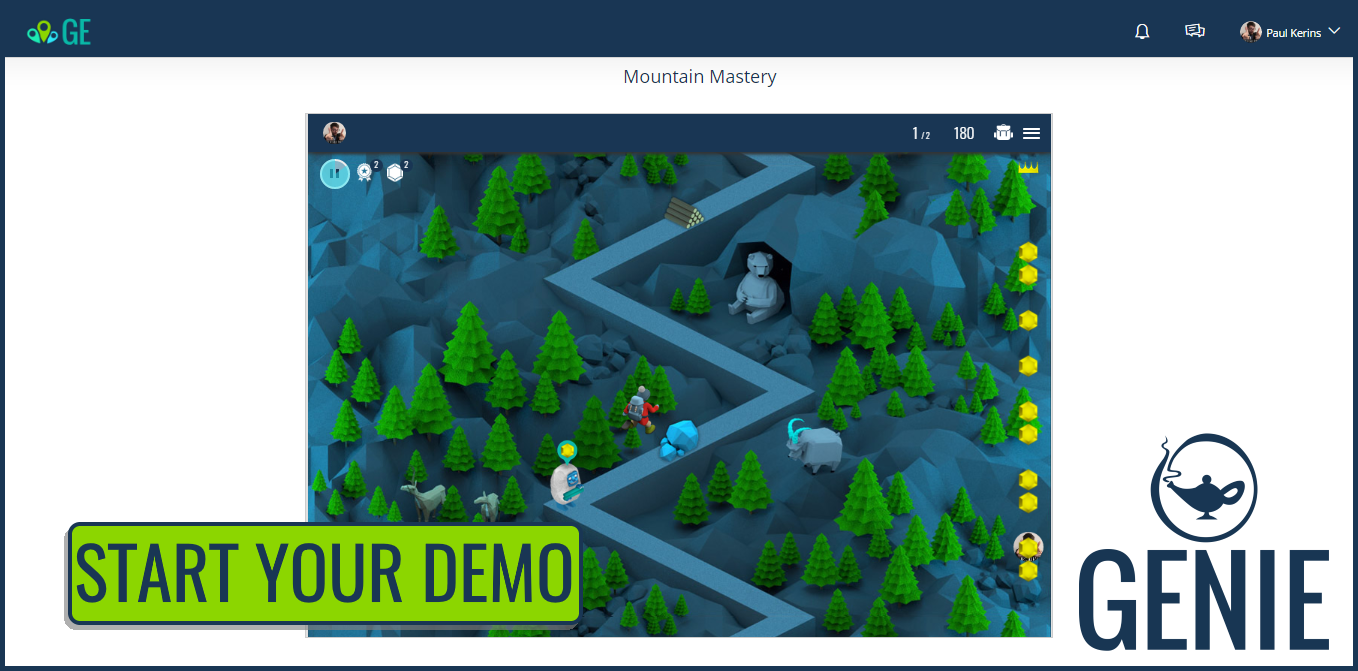 Genie's learning games pull information from the LMS, populating the game with the learner's name and profile picture. This makes the experience feel more game-like and it forges a stronger emotional connection.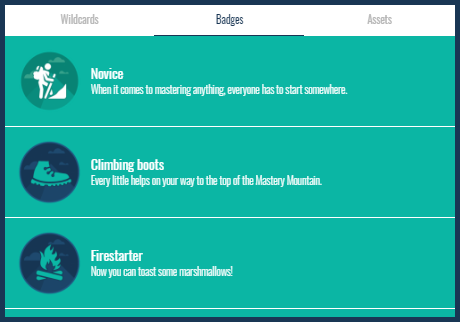 Just like the LMS, the learners can earn badges for completing milestones in the game. It's easy to tie the badges to actions and trigger them whenever you need to. Besides the badges, Genie also lets you award wildcards.
Wildcards are there to level the playing field for those with less experience. They can be used to remove options from a multiple-choice question, pause the clock if the learner needs more time to think or add helpful hints.
Of course, the learning games also have their own leaderboards built in! Each type of game will have different rules determining the points, but the fewer mistakes the learner makes, the better chance they have of beating everyone else.
It's also possible to incorporate open questions that make the learner examine their own experience. This approach adds an extra dimension of meaning and helps the knowledge stick. At the end of the unit, they can download all their work as a personalised PDF file.
Gamification in eLearning
How does it work?
As experts in learner engagement, we've designed the Academy LMS to keep learners motivated and learning for longer. We've done a ton of research into learning. When we created the Academy LMS, we added gamification and social features because we know they work to secure engagement.
Fogg's Behaviour Model
One of the theories that powers our progress is Fogg's Behaviour Model. It documents how you can determine and change certain behaviours.

According to Fogg's Behaviour Model, the three key elements involved are:
Motivation
Ability
Triggers
When you provide all three at the same time, you can determine targeted behaviours. Think of it this way: for a learner to finish one of their eLearning units, you need to motivate them, make sure they are capable and use a strong call-to-action.
Motivation


So, firstly, how do we motivate our learners? Well, as human beings the potential to satisfy certain basic needs is a strong motivator. The needs for reward, status, accomplishment, self-expression and competition provide plenty of motivational thrust.
Once learners know what's in it for them and what they can get out of their eLearning, they'll knuckle down and get it done.
Ability
Knowing a learner is capable of achieving the desired behaviour is also important. Problems arise if the you pitch the eLearning too high for the learner. It's also a problem if you make it too complicated, or if you deviate from the set syllabus. But really, no eLearning unit should be beyond the reach of the learner taking it. That's just bad form!
Triggers
People like rewards and encouragement for their endeavours. After all, we don't work for free and when we do a good job we expect something in return. Without praise or the potential for promotion, there's no motivation to continue performing the behaviours.
That's why it's so important to offer learners rewards for doing a great job. The Academy LMS takes this idea and runs with it! It offers rewards, badges and certificates (i.e. 'gamification') as you progress, and it even recognises the effort you put in: the harder you work, the bigger and better the reward.
Gamification in eLearning helps to foster a sense of meeting and overcoming challenges. It's not only satisfactory in and of itself, but it provides its own virtual rewards. These trinkets may seem insignificant at first, but they act as markers of your achievements. They have value because you worked to obtain them – you made it happen! Go you!
Feedback
One of the benefits that learning management systems have over traditional classroom training is the potential for immediate feedback. There's no waiting for your teacher to mark your work and return it to you. Instead, you get instant feedback on the correct answer. Using gamification in eLearning is a way of jumping on this sense of immediacy by offering the right reward at just the right moment to keep learners happy and repeating desired behaviours.
Status
Not only do the points, badges or awards that learners collect as they pass through eLearning motivate them, but they are also indicators of status. The thrust of any game with a leaderboard is to earn more points than everyone else.
We all want to be the best we can be, earn as many rewards as possible and bolster our status. Gamification is our chance to transcribe this basic human need onto the world of eLearning.
It's safe to say that gamification in eLearning is the way forward. To find out more about gamification and engagement in online learning, click the button below.
[hs_action id="4610″]