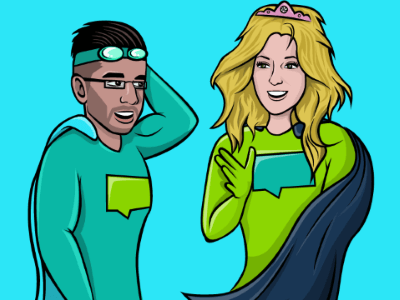 Mentoring is important to growth. But it can be hard for big businesses to cultivate a culture of mentoring.
'Will you be my mentor?' These five words can be about as angst-inducing as asking someone on a first date! So, is the search for your mentor worth the effort or will it end in heartache, and a lot of awkward emails? Let's turn to some real-world superheroes for the answer…
Business leaders, entrepreneurs and superheroes everywhere, from Facebook's Sheryl Sandberg to astronaut John Glenn, agree that finding your mentor is essential to achieving your potential! Oprah Winfrey said: "I don't think anybody makes it in the world without some form of mentorship."
Well, I'm not going to argue with Oprah. As a massive advocate for friendships at work, I wholeheartedly agree – mentors matter! Yet however much we want a successful mentorship, it doesn't make finding 'the One' (your ideal mentor, that is) any less daunting! Fortunately, a good mentorship program can help!
Company Mentorship Program
A corporate mentorship is a relationship between an experienced employee (mentor) and less experienced employee (mentee), that helps the mentee achieve their personal goals. So, in other words, mentors unleash our inner superheroes!
No wonder organisations worldwide are catching onto the business benefits of helping employees find their mentor. Whether through buddy systems or official mentoring schemes, mentorships are everywhere! In fact, 71% of Fortune 500 companies now offer an official employee mentorship program. So what's all the fuss about? What are the business benefits of a good mentorship program?
Business Benefits of a Mentorship Program
There are numerous benefits to a company mentorship program, for the business, the mentees and the mentors alike.
1. Supporting staff development
Taking part in a company mentorship program has clear career benefits for both mentee and mentor. For example, mentees are promoted 5 times more often than those who were not mentored. Better still, mentors were promoted 6 times more often than those who had not taken part in mentoring. These personal benefits matter to the modern workforce, with 65% ranking development and career opportunities as their top work motivators.
2. Informal Learning through Knowledge Sharing
Mentorships tap into the talent pool that already exists within your company. Through knowledge sharing, mentorship programs act as a type of informal learning – mentees learn through observing experienced employees and interacting with their mentor.
Knowledge sharing also benefits the mentor! The mentorship program gives experienced employees the chance to share their expertise and help others learn. So, mentorships are the perfect way to show that the company values employee experience and expertise.
3. Staff retention
A strong mentorship program creates a learning culture where employees feel their expertise and development is valued. Helping others, being appreciated and achieving our personal goals all feel awesome. So it's no surprise, that staff retention rates are higher for both mentees (72%) and mentors (69%) than for employees who do not participate in a mentorship program.
4. Increased Productivity
What about the benefits for the bottom line? Well, the good news is that boosting employee satisfaction also increases productivity because happy employees are 12% more productive. And of course, one of the main benefits of mentoring is to upskill staff. By investing in a good mentorship program you invest in staff happiness and development which improve employee productivity.
How to Find your Mentor?
Finding 'the One' is hard! Especially, if we don't know what we're looking for. The first step to a successful mentorship program is helping employees identify what they want from their mentorship. What are their goals and expectations? What can they offer? The answers will vary depending on each person's aspirations, skills and quirks.
I asked my very own superhero squad what they would look for in a mentor! The answers ranged from the profound to the wonderfully wacky, yet curiously inspiring.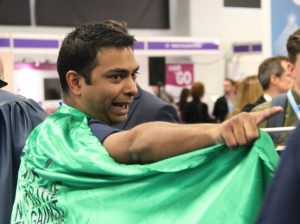 Customer Excellence Manager, Stephen
Dream Mentor: Batwoman – A good mentor is motivated not just by creating a better employee, but creating a better person!
Top Traits of Good Mentors: A good role model, strong rapport with their mentee, able to spot raw talent and wants to give something back.
Content Writer, Drew
Dream Mentor: Venus Williams, I too live in the shadow of my siblings. She inspires me to press on and be the best I can be without being caged by expectation.
Top Traits of Good Mentors: A good mentor always challenges the mentee to step out of their comfort zone, no matter how scary it might be.
Technical Writer, Kate
Dream Mentor: Tim Burton – I'd like to know how to get some of that sweet goth for myself.
Top Traits of Good Mentors: What I look for in a mentor, is a combination of ability and humility, both of which are indispensable in someone you look up to.
How Technology Helps Create A Successful Mentorship Program
Whoever our ideal mentor may be (and whatever cape they wear!) most of us need a little help from technology to find our perfect match. So, here are 5 ways learning technology can create a successful mentorship program!
1. Subject Matter Experts
Reward expertise and identify possible mentors, by awarding staff who have specialist knowledge expert status. These subject matter experts can become the designated go-to employees for any questions other employees have. With their experience and expertise, these identified specialists have some of the core qualities needed to become mentors. Let the knowledge sharing commence!
2. Learning From Each Other
Whether we're specialists or not, we can all help each other learn! Social learning features such as the LMS messageboards and live chat offer employees the perfect opportunities to act as mentors for each other. They can use these social learning tools to share knowledge, offer feedback, answer questions and celebrate each other's success! After all, sometimes all we need to achieve our goals is a simple word of wisdom or support.
3. Matchmaking Tools
You can help employees find their mentor by providing a matchmaking service within your LMS. Encourage employees to register their goals, interests and skills within their LMS profile. Once all this information is stored in the LRS, it can be used to pair-up possible matches, based on their shared interests and skills.
4. Recognition with Gamification
You can use gamification features to recognise employees' achievements with virtual badges and points. Why not incorporate this recognition tool into your mentorship program? Mentors could have the ability to award mentees with praise badges to celebrate everything from their first mentorship lunch to achieving a goal. Of course, make sure to award your mentors with an expert badge to acknowledge their special status!
5. Swap Points for Your Dream Mentor
Rewards, like praise badges, keep employees engaged and motivated. Yet, imagine how engaged staff would be if they could trade their accumulated rewards and badges for real-world mentorship benefits. For example, you could offer employees the chance to cash-in their LMS experience points for lunch with the CEO or a mentoring session with a company director of choice!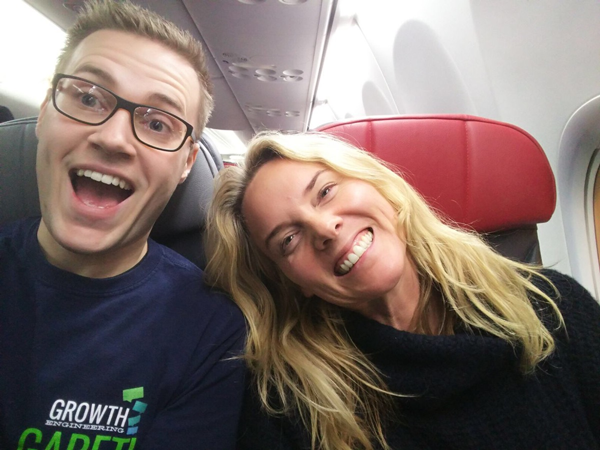 —————————————————————-
Finding your mentor is too important to leave to fate! Take action now to create a successful mentorship program that will transform your organisation and unleash superheroes!
Join our mailing list to keep up to date on all the juicy details about how you can unleash superheroes in your organisation.