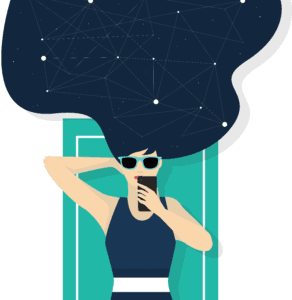 Nowadays, mobiles are an extension of ourselves. On average, we pick up our phones a whopping 58 times a day. As such, it's no surprise that mobile learning has become widespread and the first choice for many modern learners. In fact, did you know that 46% of learners even use mobile learning right before they go to sleep? 
It's also already a big part of traditional education. In a recent survey, 73% of teachers said that they and their students use smartphones for educational purposes in the classroom. And that number is only projected to keep growing. 
We are also big advocates of mobile learning here at Growth Engineering. It's convenient and well suited to our clients' needs. Their learning audiences are full of modern learners who are always on the go and need a convenient and flexible approach to accessing their training. As such, mobile learning is perfect for them. But we want to know: where is mobile learning heading in the future? 
Our forward-thinking caps came in handy when we made our predictions for social learning. So we've donned them again! We've also looked at the wealth of research out there and consulted with the experts.
If you're ready, let's take a look at the future of mobile learning!
What is Mobile Learning?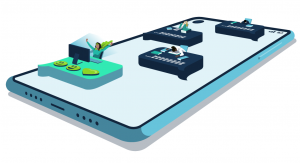 Let's not get too ahead of ourselves. First, let's talk about what mobile learning actually means and how it works in the L&D landscape today.
Mobile learning is simply any learning that takes place via a mobile device. This enables learners to learn on the go and at their convenience, as they are no longer chained to their desktops.
There are two different mobile learning options to consider. Learning via a responsive website, or learning through a mobile app. In a corporate context, that may mean accessing a responsive LMS through a mobile device, or downloading a custom app to explore your training materials.
By downloading apps like the Growth Engineering Learning App onto your smartphone, learning can take place anytime and anywhere. Mobile learning through a native app works by utilising your smartphone's operating system. Because of this, the app can make use of features like the camera, microphone and GPS.
Learning with mobile apps is rapidly becoming the platform of choice. Currently, around 67% of companies use mobile learning for their employee training programmes. And it's already proved to be incredibly effective:
Mobile learning is perfect for today's learners. Future generations of learners will benefit from this approach as well. According to a recent study, 67% of students already use mobile phones to complete their coursework. 
Ten years ago, less than half (44%) of the UK population had a smartphone. Now that number has more than doubled to 89%. As you can see, we are increasingly attached to our phones. It's only natural that learning has had to follow suit and become more mobile friendly.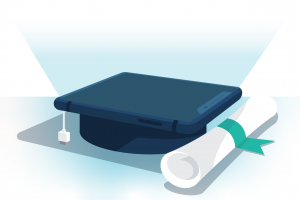 Key Features of Mobile Learning
Mobile learning utilises a wide-range of features to drive a bounty of benefits. These features typically seek to drive further convenience and flexibility for your learners. However, some of them aim to increase levels of learner engagement. 
All mobile learning solutions are different. Here are some examples of features that you may find on your next mLearning solution:
Microlearning Units:

Learning on a mobile device is different from learning on a desktop system.

70%

of mobile sessions last for less than two minutes. We don't use our mobile devices to complete long or arduous tasks. As such mobile learning approaches typically use microlearning units to drive results. This reframes training content into bite-sized nuggets of information and delivers them using spaced repetition to boost retention.

Social Features:

Mobile devices are typically social tools. They allow us to connect with others via phone calls, texts, emails, instant messaging, social media and so on. As such, it makes sense that social features have made their way into the world of mobile learning. You can expect social feeds, comment sections, team-based knowledge 'Battles' and more.

Game Mechanics:

Creating mobile learning engagement isn't always easy. Luckily, you can use game mechanics such as points, badges, levels and leaderboards to help you turn the tide. Then you can sit back and watch motivation levels multiply!

Online/Offline Sync:

Learners can select and download eLearning modules whilst they are within range of an internet connection. Then they can complete their learning whilst travelling and in places with poor internet connectivity. Their mobile learning solution then synchronises the results the next time they have an active connection.
It's clear that mobile learning isn't going anywhere. It will be a big part of the future of eLearning. Consequently, organisations are desperately trying to find ways to take their mobile learning strategies to the next level. 
Keep reading to find out more about the innovations we expect to dominate the future of mobile learning!
Virtual and Augmented Reality
Virtual Reality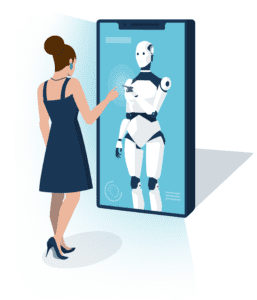 The market for mobile learning surpassed $20 billion in 2019 and is poised to reach $55 billion by 2026. This market growth is attributed to the increased availability of cost-effective mobile devices globally. 
As mobile learning increases in popularity, we will also see attempts to make mobile learning experiences more engaging and effective. This will lead to an increase in virtual and augmented reality applications.
Virtual reality (VR) is the use of computer technology to create a simulated environment. In the last two years, VR has made deep inroads in mobile learning and become a powerful tool for online learning. 
For example, Anatomyou VR is a mobile app that teaches you about human anatomy. It uses virtual immersive 3D navigation to display anatomical structures of various systems of the human body.
A recent study showed that VR learning experiences improve memory retention. In a quiz following the VR experience, learners scored an average of 94.5%. When they consumed the same information from text-based materials, average scores fell to 87%.
With 90% of learners saying they'd feel valued if their employers offered VR training, it's clear that this approach will grow in the future. However, the cost of VR apps could be a potential blocker to progress here. Currently, it can cost up to $200,000 to develop a fully immersive VR app! For wide scale adoption to occur, this cost will have to be reduced.
Augmented Reality
Augmented reality (AR) is similar to VR, but instead of creating new virtual worlds, it simulates effects in the real world. A good example of this is how Google Translate is able to translate text captured via your camera in real time.
AR learning experiences enable you to send your learners on quests, where they have to seek out certain items in the real world. This makes training more interactive and provides you with new opportunities to generate Epic Meaning. 
Studies show that the use of AR in mobile learning has a measurable and positive impact on student learning in the short and long term.
Imagine being able to add virtual tags to objects in your work environment that provide more information to the viewer. This would help to provide learners with information at the point of need. Benefits like this can shorten service resolution time by up to 40% and increase productivity by 30%!
Wearable Technology
Additionally, wearable technology has been growing in popularity and will continue to do so. Over time, expect to see new learning applications and increased adoption by corporate L&D teams. 
For example, Porsche uses AR glasses to project step-by-step bulletins and allow remote workers to see what the technician sees. The result is the perfect fusion of wearable technology and augmented reality. This allows the technician to provide real time feedback and creates colleague connections that transcend geographical boundaries. 
Frequent feedback and improved social connections has an amazing impact on organisational culture. In fact, 68% of employees say that consistent feedback makes them feel fulfilled at work.
Near Field Communication Accelerates Informal Learning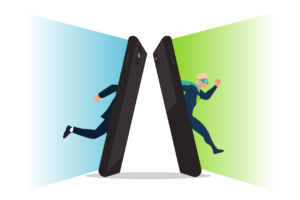 Near Field Communication (NFC) is the magic behind tap-and-go services like Apple Pay or Google Wallet. It's enabled by a small chip that allows wireless data transfer between two devices in close proximity. 
NFCs are becoming increasingly popular as they make our daily lives much easier. As such, it doesn't come as a surprise that its current market size has reached $25.5 billion! Aside from reducing queues at the checkout, people often use NFC to transfer files or directions between two mobile devices.
Although this might not form a critical part of the L&D initiatives of the future, it's very likely that companies will increasingly make use of NFC technology. Just as it's now second nature to hit the 'like' button on a social post, we'll soon naturally be tapping phones to share information. 
This behaviour will make it even easier for informal learning to blossom, and it'll help create a knowledge sharing culture. Effective informal training is known to come with vast benefits. It's thought that Fortune 500 companies could save at least $31.5 billion annually by encouraging knowledge sharing and preventing intellectual capital leaks.
Social Is Here to Stay
Social learning is a big part of mobile learning and it will stay that way in the future. We define social learning as the active process of learning from our observations and interactions with others. It has a bunch of benefits, like improved communication and collaboration. And with mobile apps, all of these benefits become easy to tap into.
For example, on the Growth Engineering Learning App, colleagues can easily communicate via Live Chat or social streams. This works to increase trust, which can improve productivity by 50% and engagement by 76%.
In the future, learners can expect to see features that tap into the true power of app integration. For instance, you'll be able to add classroom-based courses you've joined straight to your calendar apps and share posts from your learning environment across other social channels. 
You'll also be able to take better advantage of your device's native features. For example, our new 'Clubs Live' feature enables you to use your device's camera and microphone to live stream content to other learners.
Virtual Assistants
We're all familiar with Siri, Microsoft Cortana and other voice assistants. These virtual assistants help make our lives easier. With their assistance, mobile learning will become even more streamlined. 
For example, you could ask your virtual assistant to 'download the latest Health & Safety module' so it's easy for you to explore it offline. Alternatively, you could ask it to 'retrieve my test scores from the past month', so you can analyse your performance.
Currently, around 3.5 billion people worldwide use voice assistants. By 2024, there will be 8.4 billion voice assistant enabled devices — that's higher than the global population! 
With this in mind, we expect companies to make better use of this mobile feature in the future. While virtual assistants won't replace learning managers, they will reduce their workload. This allows them to focus their time on conjuring up new engagement strategies!
Microlearning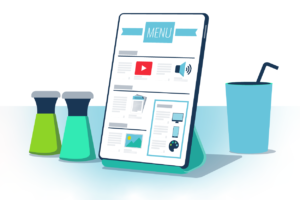 A mobile learning app is one of many apps vying for its owner's attention. There's social networking apps, video apps, messaging apps and many more! It can be difficult to cut through the noise. 
To help your mobile learning to fit in, it needs to provide microlearning experiences. This makes training experiences quicker and easier to produce and consume. It's a win-win for all parties.
The modern learner's attention span is short, and it has been worsened by the COVID-19 pandemic. Nowadays, instructional designers only have between 5 to 10 seconds to capture their learners' attention. 
As a result, microlearning will likely become the preferred choice for both formal learning and informal learning. It's simple, quick and very effective. In fact, learning in bite-size chunks improves learner focus and can increase memory retention by 80%.
Machine Learning
Machine learning (ML) is a type of artificial intelligence (AI). It allows software to become more accurate at predicting outcomes without being programmed by humans to do so. There are a wide-variety of potential machine learning applications within the learning landscape.
For instance, machine learning could help to recommend the right content for your mobile learners. Mobile apps that make use of ML will also be able to automatically pair up subject matter experts (SMEs) with whoever needs their help. Furthermore, with ML's help, learning tech will be able to detect those who score highest on tests in particular areas. It can then automatically designate them as SMEs. 
Automating this process helps to strengthen communication between colleagues. This can improve productivity by 25-35%!
With all these benefits in mind, we predict that machine learning will become a big part of mobile learning in the future.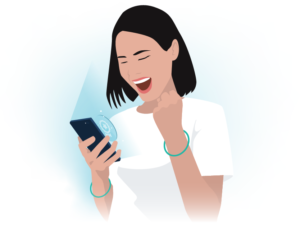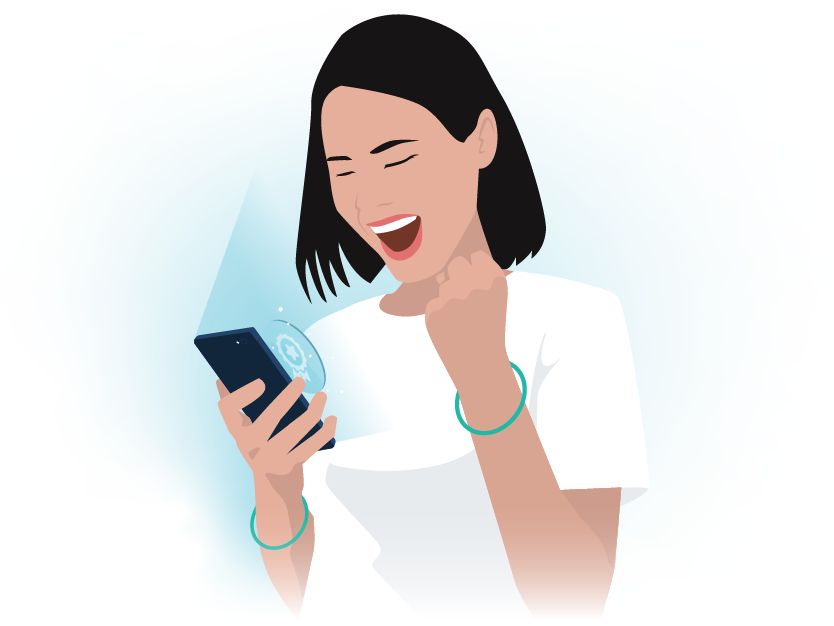 Gamification and Game-based Learning
At Growth Engineering, we like to keep an eye on what's happening in the world of gamification and game-based learning.
We use gamification throughout all of our solutions. An example of this is our famed knowledge 'Battles'. These allow learners to go head-to-head and demonstrate their mastery. Knowledge Battles are a form of microlearning as they are quick and easy to complete. This is knowledge reinforcement at its best!
In the future, we expect mobile learning games to make better use of VR and social features. These games will help to improve knowledge transfer and provide useful advice that can be applied to real life situations. These games are designed to improve knowledge and give advice that can be applied to real-life situations. For example, in educational games like InCell VR, players can improve their biology knowledge by exploring a world made of human cells. 
Some games are even multiplayer, so that you can learn and win alongside your colleagues. And with the expanded use of 5G, there's no need to worry about losing connectivity or contact with your team!
Final Words
Now we're back to the present. Mobile learning is already doing pretty well and is loved by many. As such, companies who see the benefits of mobile learning (like ours!) want to see it continue to develop and flourish into something even more amazing.
In the future, you can expect to see a massive increase in the use of AR and VR and more seamless communication through mobile technology. That's what appeals to the modern learners who have grown up alongside the development of these features. 
Advancements like these work to create new environments for learning and drive deeper training engagement. Engaged employees have the power to do wonders and you will soon see the positive impact they have on your organisation. 
Do you want to develop an amazing mobile learning strategy of your own? Sign up for a demo of Growth Engineering Learning App today!