How many times has someone told you the future of L&D is mobile?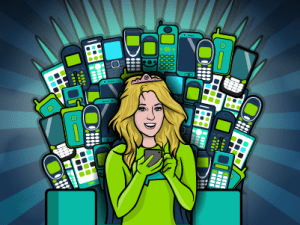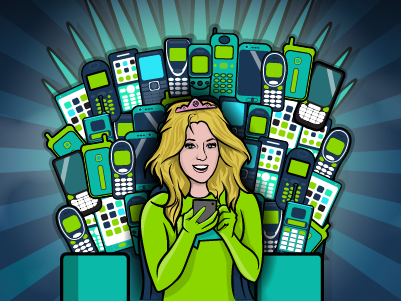 Well, they're wrong…
Ever since mobile usage surged ahead of desktop usage, mobile stopped being the future and became the present. A mobile strategy is no longer an optional add-on for L&D, it's crucial to the success of your online training.
Smartphones aren't just fancy gadgets. They've changed the way we interact with the world. Ray Kurzweil explains that 'Mobile phones are misnamed. They should be called gateways to human knowledge.'
Ray is right. Mobile Phones allow us to access the entire body of human knowledge. When you put it in those terms, it's no longer a question of whether you should include mobile in your L&D strategy, but how.
There are two options to consider
A responsive LMS

A mobile learning app
This isn't an either/or scenario. Each option has its pros and cons.
The most effective mobile strategies don't pick either a responsive LMS or a mobile learning app. Instead, they'll use both, letting each play to its strengths.
A responsive LMS is designed with desktop users in mind, whilst an app is designed with mobile users in mind. This means the user interface and user experience will be very different.
What is a Responsive LMS?
A responsive LMS is designed for desktop users but will look sleek and function well on any screen size. This means mobile smartphones, tablets, laptops and desktops all enjoy a seamless user experience.
What Does a Good Responsive LMS Look Like?
Simple Design
A clear design and easily navigable user interface is essential to any LMS. It's no good having all the functionality in the world if your learners can never find it.
This simply needs to shine through on all devices. A mobile interface should always be free of clutter, otherwise, your learners will waste their time pinching and zooming.
Optimisation
Images and fonts need to be optimised. This means they should grow and shrink depending on the screen.
Speed
An LMS that loads slowly on mobile will irritate learners. Google report that '40% of people abandon a website that takes more than 3 seconds to load.'
Logical
A responsive LMS should help learners understand exactly what you need them to do. There's no benefit to hiding important training behind a maze of folders and menus. It's much better to make it easy for learners to access important content with a logical design that signposts the route to it.
What are the Advantages and Disadvantages of a Responsive LMS?
Advantages
Affordable
If you are purchasing a responsive LMS, you won't pay separately for the desktop and mobile site. Why would you? They're the same product.
Compatible with all Devices
A well-designed responsive LMS will play well with any device, no matter the brand, screen size or operating system. This is important for L&D departments who need to deliver training to large audiences.
Less Required of Learners
With no need to download an app, a responsive LMS won't use up memory on your learners' smartphones.
The Disadvantages
Less Functionality
Smartphones offer the opportunity to deliver training in new and creative ways, but these can only be tapped into using an app. A responsive LMS only has access to the functionality offered on desktop.
Internet Connection Required
A responsive LMS requires an internet connection. If your learner is without one, they can't continue their training.
One of the biggest benefits of mobile learning is the freedom to learn anywhere. It's a shame to lose that because of an iffy internet connection.
People prefer using apps to browsers when using a smartphone. The same will be true with your training.
What is a Mobile Learning App?
Apps are tools you can access on your smartphone by tapping an icon on your home screen. They work on a smartphone's operating system and help you deliver training to your people.
As mobile learning apps run on specific operating systems they're able to make use of a smartphone's built-in features. This means your learning app could use features like video, GPS or cameras.
What Does a Good Mobile Learning App Look Like?
Simple
The very best apps do one thing well. A mobile learning app isn't meant to be a reconstruction of an LMS in app format. Instead, it should be a streamlined experience which engages learners with their training.  
Available on IOS and Android
A learner should never miss out on training because they have the wrong phone. If your app is available on both the Apple and Android stores, everyone will be able to learn and grow.
Reliable
Learners have come to expect a consumer-grade experience from every app they use. A clunky or slow experience will only put them off their training, whereas a reliable and speedy app will build learners' trust in your training.
What are the Advantages and Disadvantages of a Mobile Learning App?
Advantages
Faster
Apps are coded for specific devices, helping them run faster than a responsive LMS.
Superior User Experience
They're designed solely to be used on mobile. This means they'll be designed with the way people use smartphones in mind. The interface will make sense to people navigating on a smaller screen and using their fingers.
Make use of Built-in Functionality
Smartphones are packed with functionality. Apps are able to tap into all this potential and you can use it deliver training in new and creative ways.
Push Notifications
Sometimes all a learner needs is a timely reminder. Push notifications make this incredibly easy.
Online / Offline Sync
Perhaps the greatest advantage of mobile learning is the freedom it gives your learners. Being able to train without internet connection means your learners can train anywhere, any time.
Disadvantages
Manual Download Process
To use an app, you need to download it. This is an extra barrier between learners and training. It also means that learners without any storage space on their smartphones won't be able to download the app.
Extra Cost
As a mobile learning app is a distinct product of its own it will incur an additional cost.  
How do People Interact with Smartphones?
People don't use their smartphones for prolonged periods of time. They use them in short, sharp bursts. These short, sharp bursts add up to an average of four hours each day. This shows people are constantly using their smartphones.
This information overload is such a big part of modern life that it's commonly thought smartphones have frazzled our attention spans, leaving us more ill-focused than the absent minded goldfish! As it turns out, this is a debunked urban myth. But the fact this myth gained such widespread traction says a lot about the way we think about technology, particularly smartphones.
On average, people touch their phones 2,617 times a day. Smartphones aren't just a helpful tool, they're part of the way we interact with the world.
Simplicity
The average smartphone session is just five minutes. People use their smartphones for quick and simple tasks, like texting friends or finding answers to questions.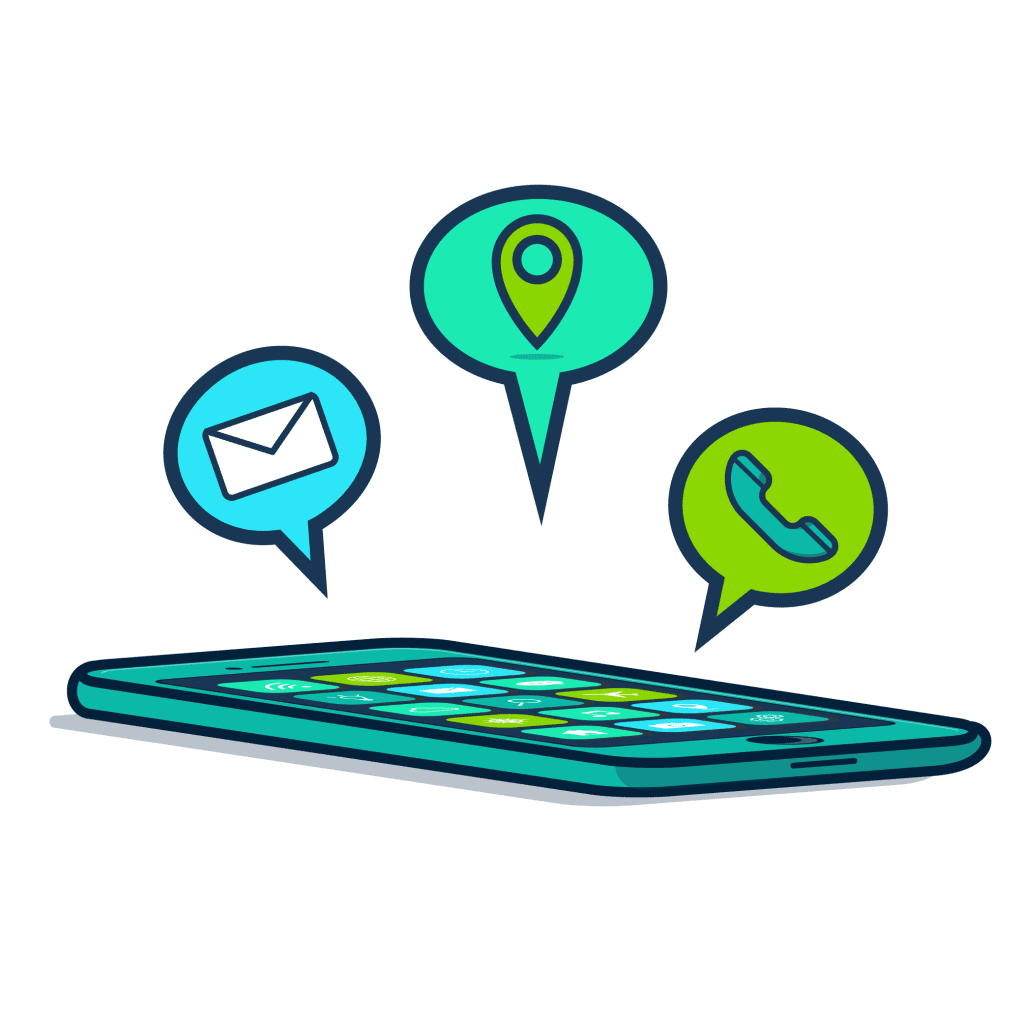 Recurring Tasks
Our phones are always in our pockets, this makes them the perfect tool to bring structure to our lives. Whether it's waking you up or reminding you to put the bins out, smartphones are always giving us reminders.
Social
Mobile phones were originally designed to communicate on the go. Smartphones have moved beyond the days of texting, calling and Snake, but they're still inherently social devices. People use them to connect with others.
How to Include a Responsive LMS in your L&D Strategy
Google reports that 'In moments of need, people turn to their phones and search'. When people have urgent questions they need speedy answers to, they turn to their mobile browser.  
Your people will do the same when they face problems in the workplace. If you make just-in-time training easy to access on your responsive LMS then you can rest easy in the knowledge it's delivering the information your staff need.
How to Include a Mobile Learning App in Your L&D Strategy
If your mobile learning app is going to engage your staff, it needs to reflect the way people use smartphones. Some top tips:
Focus on bitesize training interventions that take less than five minutes. Learners won't sit through hour-long content on their smartphone.

Deliver training regularly and consistently. A short dose of knowledge reinforcement each day will get learners into the habit of daily training.

Make it social. Adding a social layer to your learning app will help foster a knowledge-sharing community. This encourages learners to apply their training to their work-life and gives them a reason to keep using the app.
Final Words
Want to find out more about how you can apply mobile learning in the workplace? Why not download our incredible guide: Behaviour Change in the Workplace Using a Microlearning App. The guide is packed full of actionable content you can begin using right away!
Click here to download your copy!