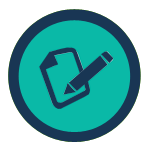 Assessments on Growth Engineering's Academy Platform LMS are super easy to set up and are a great way to check how much your users have learnt. You can even add gamification elements to the Assessments so you can ensure awesome engagement and make it fun, too. Win!
The first thing you do when you log in to make an Assessment in the Academy Admin section of our award-winning LMS is to set the title. Let's go with, "The Super Awesome Fun Assessment." We can then set the Sponsor, i.e. which section of the Library you want your Assessment to appear in – we chose Sample eLearning, but you could go with a department or the type of Assessment, like 'Product Training' or 'Technical Tips'. Then – here comes the gamification! – you can set which badge is awarded to users who complete the assessment. We think the Curiosity Award is a great choice! [Click the image for a closer look!]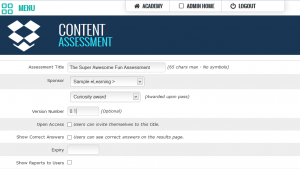 You can set whether or not the Assessment should be visible to all learners or whether they can only access it if you, as a manager, invite them. You can also set whether or not users can see the correct answer on the results page – this can be handy if you want the user to find out what the answer is straight away, but turning it off means they have to delve back into the eLearning to discover the answer themselves – a lot of our clients prefer this, as it motivates the user to pay attention the first time round!
Experience points can be awarded on completion of the Assessment.

These points get added to the learner's total, taking them up the leaderboard and moving them along their 'Level', from 'Growth Engineering Newbie' to 'Growth Engineering Genius'! You can even set a pass percentage, so you are in total control of stipulating the pass requirements of your Assessments.
What more can you want from Assessments?! You can edit and set your own requirements, award badges and experience points and stipulate whether or not the Assessment contributes to a learner's ongoing development. You can set different kinds of questions, from multiple choice to text-based answers, and you can even set it up that more learning content is pushed automatically to learners that don't pass. It makes your job as a manager much easier! All these fantastic features come together to make truly awesome Assessments on the world's best gamified LMS!
Want to find out more about the best Learning Management System with gamification features in the world? Click the button below and sign up to a guided tour!
[hs_action id="5176″]