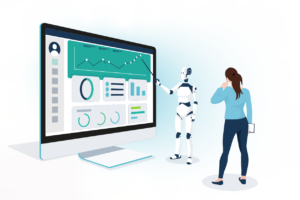 By 2030, there will be a number of exciting new careers to choose from. Robot Psychiatrists? Perhaps. Organ Creators? Most definitely. Learning and Development have therefore got to move with the times and cater for these new professions. 
Training experts will have to carve out programmes that will consider new learning pathways, as well as new learning methods.
So how can we ensure future training is a success amidst all these changes?
Join us as we cover the top five tips on how to train your learners for the future work environment.
How is the Work Environment Changing?
More than any other time in history, the workplace is evolving at a rapid pace. A lot of this change is due to constant advances in technology. One change can have a domino effect on everything else. For instance, the first iPhone was released in 2007… 
The iPhone revolution heralded the widespread use of apps. Previously, apps were used for simple tasks such as address books, calculators, calendars and email. Now, the worker could use apps to stay constantly connected with colleagues (WhatsApp, Messenger). They could use apps to video conference (Skype, Zoom), and management could use apps to monitor how remote workers were using their time (Time Doctor, Roadmap). 
Robust equipment and software has seen improved cost management, a better employee experience and even heightened security on entering an office (fingerprint activation/face recognition). 
How else is the work environment changing? As the world is becoming more aware of climate change and carbon footprints, companies are keen to be more sustainable to reflect this. For example, Google has constructed the world's most energy efficient data centres. They've also funded and built green energy products such as windmills. Recently, Microsoft has also joined in. In fact, they've pledged to remove as much carbon as it has ever put into the atmosphere by 2050.
How Will Professions Change in the Future?
Talking more specifically, how will professions develop over the next decade? Future work environment looks very different! Let's take a look…
What Professions Will Disappear in the Next 10 Years? 
In Victorian times, a Knocker-Upper was kind of like a human alarm-clock. Instead of the torturous sounds of Ed Sheeran to wake you from your slumber, Knocker Uppers simply shot a pea at your window via their trusty pea-shooter.
Technology rendered this most noble occupation useless. What other jobs is it hungry to purge before 2030? According to Careers Addict, here's just a few supposed casualties: 
With so many online booking sites, the need for high-street holiday bookers has dwindled.
Self-service checkouts have proved to be the choice of the consumer.
Amazon killed the librarian star.
Again, Amazon has a lot to answer for!
With Video Assistant Referees (VAR) and goal line technology coming into play, could it be a red card for the ref?
What Professions Will Appear in the Next 10 Years?
That's the bad news out of the way. The good news is that according to LinkedIn, we can look forward to these new jobs appearing in the workplace over the coming decade:
The lack of transplantable organs and the advancements in stem-cell research means we could start creating our own organs very soon.
Augmented Reality Journey Builder
Be it sitting on the throne in Buckingham Palace, or sitting upon a mountain on Venus; who doesn't want their own virtual world tailored just for them?! 
Self-Driving Car Mechanic 
Mechanics will need to get to grips with the new self-driving vehicles. 
Don't know your Bitcoin from your Ripple? Then you need a Digital Currency Advisor! 
A hundred years ago forecasting the weather seemed impossible. Some say the same about earthquakes now. But could we have earthquake forecasters 10 years from now?
Top 5 Tips to Train Your Learners for the Future Work Environment
So the working environment is set to change dramatically over the next 10 years. How then are Learning and Development supposed to keep up when it comes to training?
Here are 5 tips to help with the ever-evolving working landscape: 
1. Get Onboard with AR/VR
The acronyms on the lips of every trendy L&D expert, AR and VR have officially landed! Augmented Reality is where digital objects are superimposed onto real-world surroundings. Virtual Reality is where the whole environment is digitalised. 
Growth Engineering are currently putting our final touches to our first official AR releases… just you wait and see! 
How to Implement in Training:
Companies have already cottoned on to using and AR and VR in corporate training. 
Retail companies are using VR headsets to train staff on how to react during store robberies, as well as dealing with irate customers. Technicians are being trained on how to inspect planes before take-off.
Surgeons can immerse themselves in treatments and procedures without endangering the lives of patients. Studies have shown that learning through experience improves learning retention by 75%-90%. By 2022, the projected spending of VR and AR headsets for training is set to hit $2.3 billion. 
2. Keep it Mobile
Get ready for a shocking statistic… on average, we spend 35 days per year on our phones! We're therefore missing over a month a year. Not completely missing though, as this is a month a year that L&D can capitalize on! 
How to Implement in Training:
Our award-winning mobile solution, Growth Engineering Learning App, has a feast of features that encourage phone usage. By using powerful engagement tools such as gamification, social learning and personalisation, The Knowledge Arcade is proven to generate nine times more engagement than any other comparable solution.  
3. Keep it Micro
Microlearning is fizzing with benefits. It gives better ROI, it supports just-in-time learning, and it improves knowledge retention. It also helps in the fight against The Forgetting Curve, as its compact nature boosts knowledge reinforcement. 
How to Implement in Training:
Admins on our solutions can create a variation of micro-sized units for learners to consume. This can include learning games such as Battles. Battles are a hugely competitive learning asset exclusive to Growth Engineering. Through quickfire multiple-choice questions, learners are pitched against each other one-on-one to see who comes out on top of the knowledge pile! 
4. Promote Remote Training
Advances in technology and communications downgraded remote working from a luxury to a normatility. The Office of National Statistics claims that 50% of workers will be working remotely as from this year. Wowzers! 30% of staff say they are more productive when working from home. 
How to Implement in Training:
Can you learn remotely? Of course you can! Admins on our learning solutions can use analytics to uncover any knowledge gaps, then use push and pull learning accordingly. The great thing is, you don't even have to see each other's faces!
5. Use Video
Learning videos accumulate over a billion views every day on YouTube! That's pretty popular! Forrester Research estimates that a 1 minute training video is worth 1.8 million words. Suffice to say it saves time, and, as it can be used again and again, it ultimately saves on training costs too. 
How to Implement in Training:
Video training can come in many forms. Why not create a webinar for all of your employees to attend? An added bonus of a training webinar is that no matter where your employees are in the world, they can tune in and get interactive with the lesson (even if it is 4am!). Why you're here, feel free to check out our YouTube channel!
Final Words
From training via virtual reality headsets, to training a classroom of remote workers; the next 10 years will see a multitude of changes within Learning and Development. In fact, our work environment is changing and the future looks vastly different than today. The important thing is to keep on top of your learners needs.
Want some more tips on the future in learning? Download our free guide 'The Future of Gamification'.