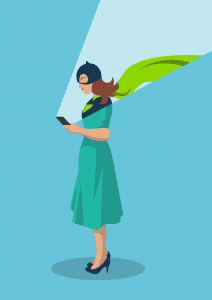 Are training apps set to dominate the future of learning technology? Today our mobile apps can do just about everything for us – from adjusting our home thermostat and monitoring our sleep, to providing that emergency moustache…perfect for any superhero in disguise! No wonder apps are so popular. In fact, there will be a whopping 269 billion app downloads in 2017 alone. That's 33 for every living, breathing person on the planet. Need to know how to breathe better? There's even an app for that!
So, what about when it comes to learning campaigns? Enter, The Knowledge Arcade! It's the personalised training app to take your learners from newbie to ninja, with a few swift swipes of their screens. Whether it's onboarding, 30/60/90 day plans, learning campaigns or a dose of #MondayMotivation – whatever learners need, there's a personalised training app for that!
Build your own Training App!
The Knowledge Arcade is the power in your pocket! With its game templates, bite-size learning campaigns, learner battles and more… it can be tailored to meet learners' needs at every stage of the employee life cycle. Here are just some of the possibilities…
1. Swipe Right for Like
The Knowledge Arcade is the perfect matchmaking app! Don't worry, we're not suggesting you play Cupid with your colleagues. Instead, harness the addictive swiping powers, that made Tinder such a hit, to engage your learners.
For example, you can you use The Knowledge Arcade to gauge learners' interest in course content, gather feedback or match staff skills, wants and needs with training and projects. Hit 'Like' if you're interested in learning to code…Hit 'No Way' if you don't want to take on the Via Ferrata for your next team away day (Hint: it's super high and super scary!).
2. Question a Day
Here's a twist on the swiping system….If you are eager for some learner feedback, want to generate ideas or reinforce learning content, The Knowledge Arcade's 'Question A Day' feature is ideal. It allows you to deliver quiz style questions in a variety of forms, straight to your learners' phones!
You could use it to reinforce learning by following the training up with a quickfire quiz or send out a 'Question a Day' to keep the content fresh in people's minds. Learners can even compete on quiz leaderboards to become the top know-it-all! All this healthy competition keeps engagement levels soaring and ensures learners avoid the dreaded Forgetting Curve.
3. Power to the People
Why not raise the communication stakes even higher (plus get some employer Brownie points)? Empower staff to vote via their training app!
Want to know what staff liked or disliked about your latest training? Hold a vote. Need people's feedback on the team meeting? Hold a vote. Office fancy dress competition? Vote on the winner. Ordering the Tuesday Team Take-Away? Vote on it.
The real magic happens when you put the poll results into action. So, if the vote revealed staff want more sales training – make it happen. If your team voted for a strange peanut butter and jelly pizza concoction – make it happen! Remember, only ask the question if you're ready for the answer! This empowers staff, boosts morale and shows that your employees' opinions are valued.
4. Bite-size Learning Campaigns
Learning apps provide the perfect platform to deliver bite-sized learning campaigns straight to learners, wherever they are. Bite-size content is all about condensing longer more in-depth eLearning into smaller, more digestible chunks of engaging goodness. The content can be built around The Knowledge Arcade's game templates to bring it to life.
By drip feeding training, rather than delivering it all in one overwhelming hit, learners will stay engaged with the content and are more likely to remember it. Plus, this delivery method taps into our modern-day instinct to systematically check our phones for the latest notification, update…and now bite-sized learning unit!
5. Messageboards
Company messageboards are a great way to get people talking, sharing and celebrating each other's success. The Knowledge Arcade app means the power of social can be brought to your learners wherever and whenever they need it.
It's perfect for those 12am light-bulb moments – instead of forgetting your brilliant idea, stick it in the Chat! Enjoyed an online learning course you've just aced? Tell the world on the messageboard! Need some tips on how to complete an eLearning level? Use 'Ask the Expert' to get tips from your colleagues!
The app message boards can be personalised towards certain teams, positions or subjects. Why not get an Ideas Hub, Newbies Hangout or project-specific chat going? All this taps into your company's talent pool and encourages collaboration. This is exactly what many staff want, with 49% of millennials supporting the use of social tools at work to increase collaboration.
6. Challenge a Day
Eleanor Roosevelt said 'Do one thing that scares you every day.' Of course, we're not suggesting you turn your learning app into fright fest! Instead, The Knowledge Arcade's 'Challenge A Day' encourages learners to step out of their comfort zone. After all, that's where all the magic really happens because when we challenge ourselves we learn.
Here are just a few challenge ideas to inspire:
"Find out something new about a colleague,"

''Share a photo of awesome visual merchandising,"

"Show us how you live the company values!"

"Find Out What Raspberry Pi Means," or

"Complete a section of your Appraisal form."
The app can become whatever you need it to be. The challenges could be targeted towards different teams, company values, specific roles or stages of the employee lifecycle.
Remember to use gamification to throw a little competition and reward into the mix! Don't just ask your learners to rise to a challenge – get them to share their results on the app message boards or compete for the leaderboard top spot!
7. Learner vs Learner Battles
With all that healthy competition brewing, your learners will soon be eager for more! Tap into their competitive spirit with The Knowledge Arcade's Learner vs Learner Battles. These battles are a chance for people to pit their wits against each other and reach the coveted leaderboard pole position.
It's simple – learners challenge each other to a battle. Challenge accepted? Next, they both progress through quiz questions, racking up learner points for every correct answer. Think The Chase… except all your super learners get to be the Chaser and assert their brainiac superiority!
The quizzes can be 100% tailored towards the company and learner goals to pack the battles full of Epic Meaning. What's more, this nifty feature is perfect for a lunchtime lull, the daily commute or that spare five-minute coffee break. These addictive, engaging battles will soon have staff turning to their learning app rather than their Facebook feed.
8. Onboarding
Let's end where it all begins… Onboarding! Now you can use all the brilliant features of The Knowledge Arcade to create awesome app packages for specific purposes, such as onboarding.  This matters because research shows successful onboarding leads to higher productivity and lower staff turnover, with 69% of employees more likely to stay with a company if they experience great onboarding.
The Knowledge Arcade can be your new recruits' constant companion on their journey from newbie to ninja! The app will help them settle into their new role, find out where they fit in, learn all the need-to-know knowledge, navigate the building, meet everyone and remember their names! For example, the app's Challenge A Day could encourage new starters to seek out key company facts, get to know their colleagues through 'staff Bingo', receive hints on which learning content to complete and tips on where the best lunch spots are.
The Knowledge Arcade means there's no need to wait until your new recruits' first day on the job! Why not prepare new starters for the journey ahead, even before it's begun? They could create a profile, chat with other newbies online, read all the essential details about their role, start planning their first 30 days of the job and more – all before they set foot in their new workplace!
With The Knowledge Arcade at their disposal, new starters will feel at home in no time!
There you have it – Just a few of the ways The Knowledge Arcade can benefit learners, create organisational change and make life a little easier – and a whole lot more fun!
If you're eager for more on how this super personalised learning app can create lasting behavioural change in your company, Click here to find out what else the Knowledge Arcade can do!