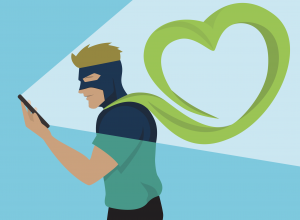 Creating truly great eLearning content isn't easy. It requires bright minds coming together, executing a project plan and following a defined process. Unless you've created online learning courses in the past, it can be difficult to know where to start. But don't despair. We've mapped out our unique eLearning production process below, so you can see how we approach this challenge.
This model has never steered us wrong. It's allowed us to create super-engaging online learning content for a wide variety of global clients. It's also helped us to remain fleet-footed whilst maintaining the quality of our work. But before we share our eLearning production process, let's start with a definition. We'll then seek to understand why following a production process is so important.
What is an eLearning Production Process?
Sadly, good eLearning units don't grow on trees and they certainly don't appear out of thin air. Creating high-quality online courses requires a clear and replicable production process. This process contains all the steps and actions you need to achieve your learning goal and develop your online courses. It also gives your approach structure so that you know exactly where you are in the production journey at all stages. In other words, it provides you with a foundation for true learning greatness. How does that sound?
Why Is It Important to Have an eLearning Production Process?
There is no clearly defined path to eLearning production success. Whilst most modern eLearning production models are a variant of ADDIE, they all tend to have their unique quirks. Because each project contains so many variables, it's often necessary to alter your approach. You will often find yourself working alongside different personnel, using new tools and creating content for a variety of audiences. With so many moving parts to keep track of, having a process to follow and fixed rules can feel limiting.
But processes drive efficiency. Every time you work through a process loop you become more effective. You apply what you learned from the previous loop to your current experience. Soon enough, you learn to reuse tools and templates to your advantage. You'll also come to see the value that clear goals and milestones offer. Finally, you learn to communicate meaningfully with team members and stakeholders. Together, you start to develop a common language.
We're about to explore the ten-step model that we use to create engaging online learning content here at Growth Engineering. This approach has served us very well in the past. We recommend using it as a template for your approach and adapting it as necessary to suit your needs. We'll start by exploring the different steps involved before comparing it to the ADDIE framework.
Step 1. Build a Project Plan
First things first, you'll need a battle plan. Before embarking on any real work, you should create a clear Project Plan. This can be done as a customisable document, or by using project management software. Your project plan should include the following details.
Project scope and goals
Key roles and responsibilities
Major milestones and deliverables
Work breakdown structure
Associated budget
Communications plan
Risk management plan
You may need to make slight variations to this structure, based on who is involved in the project. For instance, if you are the lead and have final sign-off on the content, then you may be able to scale back your communications plan section significantly.
Your Project Plan is the backbone of the process. With this in place, everybody involved in the project will know what to expect and when to expect it. This will ease any anxiety and make it easier for stakeholders to arrange time to review, amend and sign off your eLearning content.
Step 2. Conduct Training Needs Analysis
Once you've nailed your Project Plan it's time to set a goal. At this stage, you should conduct a full training needs analysis. As the name suggests, this process will help you to determine the training and development needs of your audience. It will enable you to understand what skills and behaviours they will need to advance.
It will also give you clear visibility of their current capability. With this big picture understanding, you'll be able to focus your efforts in the right way to save time, money and effort. Ultimately, it will help you to funnel investment into areas that will deliver the best possible return. By the end of the needs analysis, you should be able to clearly articulate the learning objective(s) you will be focusing on during this intervention.
There are several ways to collect data for your training needs analysis. You may opt to observe your audience at work. Another option would be to conduct interviews or send out a survey. Alternatively, you could review previous tests or assessments. You could also combine these approaches to obtain more data points. The approach you take will depend on the objective you are trying to achieve.
Step 3: Create a Specification Document
Now that you know where you need to go and how quickly you need to get there, it's time to create a blueprint for success. Your goal at this stage should be to create a 'Specification Document' that will act as a design plan for your online course. It should contain the following details:
Instructional strategy: What techniques will you embrace to achieve your learning objectives? How will you present information to your learners? Where will you focus your efforts? Will you utilise any game mechanics?
Design strategy: What will your content look like? Will it follow a set of clear brand guidelines? If possible, you should create a mock-up so all parties involved have a clear vision of what's to come.
Hardware & software requirements: Consider how your learners will access your content. Ensure it is developed in such a way that it will allow the content to run smoothly on their devices and prevent technical issues.
Localisation options: Establish whether your content will need to be translated into multiple languages. Determine your process for doing this.
Course tracking: Ensure you are clear on how you will report on the success of your course. How will you gather feedback? Will you have access to all the data you need?
If you are creating this course alongside other stakeholders, make sure they are given an opportunity to review, provide feedback and sign-off your Specification Document. This document sets the tone for everything that is to come, so it's important that you get it right. If you put in the work at this stage, everything else should be smooth sailing.
Step 4: Create a Content Outline
It's time to get your creative hat on and flex your instructional muscles. At this stage, you'll be creating a 'Content Outline' document. This document will list all the different stages that learners will go through as they complete your online learning content. In turn, it helps all parties involved to understand how your courses will be structured, what assets will be required and how learning objectives will be met. Your Content Outline should include a breakdown of the following:
Titles of slides
Purpose of slides
Format of slides (text & image, video, quiz, etc.)
Duration of slides
Game mechanics incorporated
Total number of slides
Total duration
Once you've created this document, ensure any relevant stakeholders have had an opportunity to review it. This will help you to identify any critical omissions and ensure you are on the right track.

Step 5: Build a Prototype
At this stage in the eLearning production process, we recommend that you give all parties involved a feel for what your final course will look like. Fire up your authoring tool and create a short demonstration unit that contains a few prototype screens. Try and create at least one example slide for every different slide type you will use in your course.
This prototype unit should be created in line with your Specification Document. Any variations should be documented and explained as necessary. Your prototype is important because it gives everybody an opportunity to provide actionable feedback early on in the production process. This can save you a significant amount of time and effort in the review stages later on.
Step 6: Storyboard Your Content
Now it's time for you to roll your sleeves up and demonstrate your content mastery. The Storyboard stage is the most time-consuming step in the eLearning production process. At this stage, you will need to map out every single element of your course in painstaking detail. This document will outline all visuals, text, audio, video and interactions that will be included within your course.
Once it has been approved it will act as the blueprint for any designers or developers who will be supporting you in building the course. You should ensure other parties are given ample time to review your storyboard. This will prevent issues later in the process. After all, it's significantly easier to change a video script than it is to update or amend a completed video.
Step 7: Create the Alpha Build
You now have everything you need to start creating your content. This is where the fun really begins. Load up your authoring tool and start building. Use your Storyboard and Specification documents to guide your work. Add your text, drop in any required assets and layer in game mechanics to drive engagement. Give your course a thorough review before handing it over to any other parties involved to seek further feedback. The Alpha Build of your course is now complete.
Step 8: Create the Beta Build
There's nothing too complicated about this stage. Simply take the feedback you received from the Alpha Build and make any necessary amendments to your content. When you've finished, your Beta Build will be ready. You should give it another review and then reissue this to any stakeholders involved in the process. This will be their last opportunity to provide you with actionable feedback.
Step 9: Create the Gold Build
Collect any feedback you receive from sharing the Beta Build of your course and make any further necessary changes to your content. Generally speaking, you should not be making major revisions at this stage. This is simply an opportunity to check that the amendments made to create the Beta Build were satisfactory. If there are no further changes necessary, then your final eLearning package is ready. This is called the 'Gold Build'.
Step 10: User Acceptance Testing & Signoff
You're approaching the finishing line now. You should upload your course into your learning environment and check that it works as expected. If it performs well, then we would recommend that you conduct a User Acceptance Test (UAT). In this process, you will select a small group of users to run through the content and confirm that it works as described in your Specification Document. You can also use this opportunity to collect detailed feedback about your course. This feedback could be used to inform future projects.
If your test users are happy, then you're ready to push your content out to the rest of your audience. Congratulations, you've done it! Your online course is ready to rock. Now you just need to prepare yourself for a flood of positive feedback!
Similarities to ADDIE:
The eLearning production process outlined above is an adapted version of ADDIE. This popular instructional design framework has helped instructors to produce effective learning experiences for decades. It was first formulated by the US army in the 1970s and remains popular to this day within the corporate learning space. Each letter within ADDIE signifies one of the steps in the overall process. We've detailed each step below and how it links to our production approach.
Analysis: During the first stage of ADDIE, you analyse the training needs of your audience and pull together your learning objectives. This is very similar to our production process, except it skips over the all-important project planning stage.
Design: During this second stage, you start to design a workable learning solution. In our production process, this is where you would create all the supporting documentation. This includes the Specification Document, Content Outline and Storyboard.
Development: During the third stage of ADDIE, you roll your sleeves up and start building your learning experience. In our production process, this is where you would produce the Beta, Alpha and Gold Builds of your online learning course.
Implementation: During stage four, you share your content with your chosen audience. In our process, this is where you would upload the course to your learning environment and provide access to your end-users.
Evaluation: The final step of ADDIE involves gathering feedback relating to your learning experience. This is also the final stage of Growth Engineering's production process, where User Acceptance Testing is conducted.
Embracing Iterative Prototyping:
Some have argued that ADDIE is too rigid and time-consuming to work within a modern learning and development context. They suggest that this approach prevents rapid content production from taking place. But this is only true if you don't adapt ADDIE and add in opportunities for iteration and optimisation. This is how we came to create our own production process model.
There are multiple opportunities for stakeholders to review and provide feedback throughout our eLearning production process. Over time, these tasks become second nature and you're able to start using existing documents as templates for future documents. That's when things really begin to speed up!
As a result, every element of the course is iterated and optimised until it achieves the targeted learning objective in the most effective manner.
Final Word
Creating truly effective online learning content is a science, not an art form. Exercising your creativity can have amazing benefits. But, the secret to success lies in following a clearly defined process. Once established, you'll soon find that your production process helps you to be both more efficient and more effective. The end result is online learning content that's high impact and drives real business impact.
Our eLearning production process is a variant of the popular ADDIE framework that provides plenty of opportunities for iteration and optimisation throughout. It incorporates traditional training needs analysis, key planning documents, three different build stages, implementation and evaluation. It's clear and easy to follow, with numerous stages where we can seek feedback to optimise our approach. By following the process we have outlines, we can bet you will fall in love with your eLearning.
Why not try it for yourself and see how effective it is?
---
With the process nailed, it's time to start building! Try our 21-day free trial of the Genie authoring tool now to see how easy it is to create super-engaging online learning courses.