Creating online learning from scratch can seem like a mammoth task, even for the most experienced instructional designers. Where do you start? What do your learners need? How can you hit those core learning objectives? Fortunately, you have a secret weapon to guide your way to eLearning glory. Meet ADDIE!
ADDIE is an Instructional System Design (ISD) framework and stands for the 5 phases of the learning design process:
– Analysis
– Design
– Development
– Implementation
– Evaluation
ADDIE is a handy design tool to have in your eLearning arsenal. In fact, ADDIE led the way for most ISD models you see today!
Back in the 1970s, when pogo sticks roamed the earth and Post-Its first got stuck, ADDIE was born. The US Army invented ADDIE to guide their own specific learning programmes (top secret stuff, so we'll move swiftly on!). Today the modern ADDIE framework, and many other ISD models (such as KEMP), are based on this original model.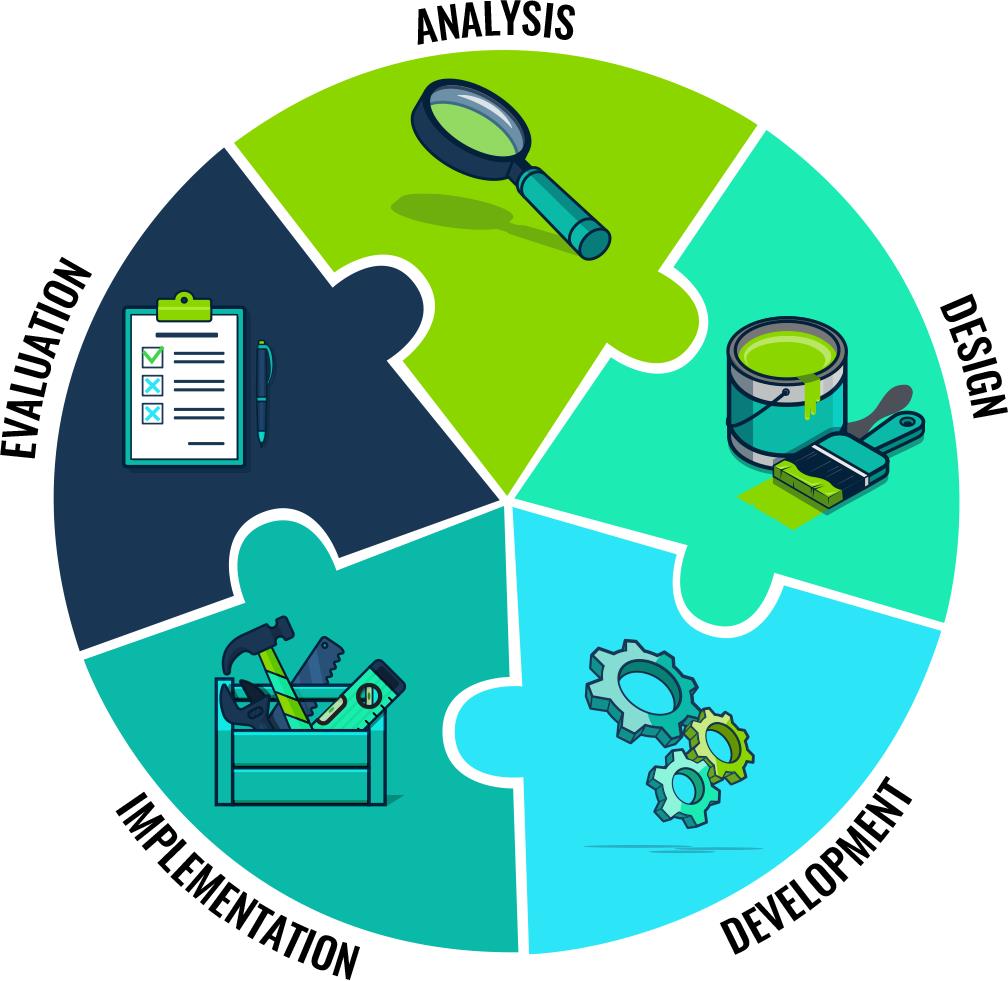 Harness ADDIE's superpowers now, to create powerful online learning that keeps zombie learners at bay. Let's get acquainted with each phase!
1: ANALYSIS
All journeys must start somewhere, and ANALYSIS is a useful place to begin your eLearning creation (although each ADDIE phase can be done simultaneously). During the ANALYSIS, clarify the core project components required and map out the instructional design process. Areas for key consideration include: the learning objectives; potential problems; and the learners' existing skills. Questions you should tackle during this phase include:
Who is your audience and what are their training needs?
What are your delivery options e.g. mobile, VR, audio?
What is the timeline for completion?
2: DESIGN
Use your ANALYSIS to create an eLearning masterpiece that's brilliant by design! Whatever you are seeking to achieve, ensure your eLearning addresses the key areas pinpointed in your ANALYSIS. Think 'Who, What, Why?' Who is your audience and how will your creation meet their needs? What ideas are you trying to communicate? Why should learners be interested in your eLearning and what will hold their interest to the end? Throughout the design process keep the learning objectives in mind, remember who your audience is and add a little creative magic to bring your creation to life! With a strong initial design you will forge your way to eLearning triumph.
3: DEVELOPMENT
Now put your plan into action! Gather your plans and assets (that's all the juicy content for your course). If you haven't already created your content, now is the time to storyboard text and create any other assets you need (e.g. video, audio) to support learning delivery. Then it's time to get building! This used to be a tricky, time consuming stage. However, today's authoring tools, such as Genie, allow you to build your own eLearning completely in-house. During the DEVELOPMENT, remember to stick to the plan you mapped out in the ANALYSIS and DESIGN!
4: IMPLEMENTATION
This is the good part where you can see all your ideas come to life. It's time for your eLearning to go live! You will deliver it to your learners on whatever delivery platform you have chosen, most likely sending it straight to learners' LMS using tools such as SCORM. Remember to produce any accompanying documents (e.g. instructions, procedures) to ensure your learners or trainers get the most from the eLearning. With solid planning the IMPLEMENTATION should run smoothly. However, be ready for the unexpected; TEST, TEST, TEST to fix any bothersome bugs before the course goes live. Once your eLearning is ready, send it out into your eLearning world!
5: EVALUATION
Congratulations! You got this far, but before you reach for a high five, make sure you cover phase 5. EVALUATE! Use these 2 methods to gather feedback:
Formative – Use informal and formal assessment methods, such as qualitative interviews, throughout the ADDIE process to find out what works and what could be improved about your creation.
Summative – Once you're eLearning creation is live, use this method to gather learners' feedback. Use the results to feed into future eLearning designs.
Ready to get started? Are you looking for a powerful eLearning authoring tool to put ADDIE into action? Then check out GENIE and try our free demo now. Keep an eye out for plenty more entries into our Online Learning Glossary over the coming weeks!