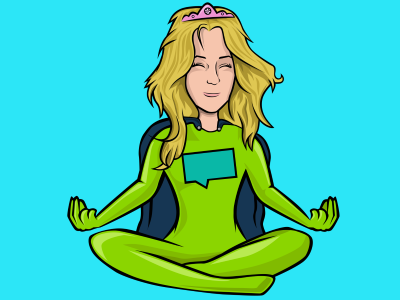 Happiness at work is the key to creating engaged, productive teams! So join me, as we find out how to unlock that all-important wellbeing at work.
Happiness comes in many forms – your favourite Ben & Jerry's ice cream, that all-time high score on Candy Crush, quality time with your favourite canine buddy… and of course lots of learning! We all love to feel good. The awesome thing is, in the modern world of work, wellbeing doesn't have to be left at home with your smile! Many modern corporations are catching on to the benefits of a happy workforce and some even have a designated 'Happiness Officer'.
---
Is Happiness at Work Important?
So, are all the wellbeing initiatives working? Is happiness at work worth the investment and effort?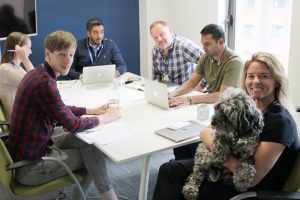 Yes! I've seen the commercial benefits of a happy workforce first hand! Happy staff are more creative, energised and successful at work. What's more, happiness is infectious, so satisfied employees create satisfied clients! Research agrees, showing happy employees are 12% more productive. However, happiness is about more than one-off feel-good moments. It's about cultivating a positive mindset.
So, how do we bottle that good feeling to create a positive workplace culture and happiness at work? Here are my top tips.
---
Top Tips for Happiness at Work
1. Commit to Wellbeing
To achieve anything in life we first need to make a commitment to the goal. So, if you want a happy workforce, commit to making wellbeing a part of the company culture. Make it clear to yourself, the directors and anyone who will listen why happiness at work and employee wellbeing matter. You could take the commitment a step further and do as Physician Health Partners do – make 'joy' a core company value!
2. Value Staff Development
Learning feels good! In fact, the modern worker's driving motivators are personal development and purposeful work. So, keep your employees motivated and engaged at work by creating opportunities for their growth and career progression. Answer learners' desire to know 'What's In It For Me.' Engage learners further by making training meaningful and tailored to learners' goals. All this helps create Epic Meaning by helping people understand the wider purpose of their personal development.
3. Encourage Ownership
Wellbeing works best when we take responsibility for our own happiness. In the same way, you can empower staff to take ownership of their own skills development. For example, invite staff to create their own user-generated content! You could encourage staff to share their favourite work-related YouTube videos or inspiring Ted Talks on the LMS messageboard. Alternatively, why not challenge staff to share examples of good practice in action? All this encourages employees to learn from each other through informal learning.
4. Recognise, Reward and Praise
75% of employees who receive at least monthly recognition report satisfaction with their job. So, use gamification to recognise and reward employees' efforts! You could engage learners by awarding virtual points and badges for their progression through online training.
Why stop with rewards for training? You can also award praise badges for everything from simply taking part, smashing sales targets or going above and beyond the call of duty! Whether staff have buckled down to solve a crisis or simply made the office a happier place to be – make sure the praise badges are meaningful. All that recognition will keep employees' reward receptors buzzing!
5. Real World Rewards
Give staff the chance to cash badges in for real-life goodies! Through LMS features like The Reward Centre, employees can transform virtual rewards into real-world benefits. Benefits on offer could be anything from a free massage at the local spa to simple pleasures like a real-life round of applause! Whatever gets your staff excited, the Rewards Centre offers a personalised benefits package that is linked to recognition and rewards.
6. Status Alert
Everyone likes to feel important! So, why not take the power of recognition a step further? Turn your staff into bona fide experts! You can award Expert status to employees within the LMS. Make each 'Expert' the go-to person to answer other staff questions on specialist topics. By encouraging staff to share their knowledge with each other you successfully tap into the talent pool within your company. This is a brilliant way to celebrate staff expertise and encourage collaboration.
7. Make Room for Downtime and Fun Time
Workplace stress leads to lower productivity levels. However, happy workers are less stressed and better rested. No surprises there. So, how can you help your staff lead a more carefree life? A good place to start is by ensuring staff have enough time and space to reflect on their work, achievements and goals. This is important, as quality reflection time has been shown to help us learn and boost performance. After all, we all need a little me time to count our amounting badges in our virtual trophy cabinets!
8. Friendly Competition
Boost employee engagement with a healthy dose of competition. You can do this by encouraging employees to compete for points on the LMS and reach the top of the learner leaderboard. This will tap into their competitive streak, act as another reward mechanism and motivate staff to engage with online learning. A little friendly competition is another great way to create fun at work!
9. Collaboration and Connection
When we're squirrelling away at our work, knee-deep in spreadsheets or engrossed in the latest training – work can feel pretty lonely and isolating. So, give employees opportunities to connect and build strong work relationships wherever they are. Friendships at work matter because they can boost our happiness level by up to 50%! Help build those supportive networks by encouraging everyone to get involved on the LMS message boards with online icebreakers, work chat and brainstorming.
Good communication also leads to collaboration which is a useful tool for sharing our skills and spreading best practices throughout the organisation. So, whatever the talking point, make the LMS social features a place where people can get to know each other, make new friends, share ideas and collaborate!
10. Something to Look Forward To
Whether it's a party, Friday pizza or a night in with our favourite box set – we all like to have something to look forward to. Creating pre-planned feel-good moments can also act as a strong staff motivator. It could be anything from a staff social, lunchtime takeaway, free pamper session or office quiz. It's worth it as fun lowers stress levels and boosts productivity!
Whatever you do, create opportunities for staff to socialise and relax away from their desks. Make sure you add the events to their LMS calendar, so everyone knows how many 'sleeps' until the fun times commence!
11. Listen! Listen! Listen!
To best satisfy employees' needs and goals we first need to listen. Create an inclusive, open work environment where everyone feels their opinion is valued. More importantly, make sure staff feel able to voice their views. You can create opportunities for people to give feedback through LMS surveys, messageboard conversations or voting. Provide options for anonymity to find out what people really think! Remember to put all that valuable feedback into action to show staff their voice really does make a difference!
12. Personalisation Power
Whether someone is onboarding or celebrating their 10 year company anniversary, make the employee experience personal! Infuse each stage of the employee life cycle with Epic Meaning. This way staff will understand the personal value of their development. On top of this make sure each employee understands their purpose within the wider company and how their contribution makes a difference. This is important because, as we discovered earlier, purposeful work makes people happy. So, help staff see how their day job benefits the company. Better still, use every opportunity to show staff how what they do can change the world!
---
So there you have it – My tips to transform your workplace into a haven of happy, engaged staff. Remember, we don't have to leave happiness at home because we can create wellbeing right here, at work!
Join our mailing list to keep up to date on all the juicy details about how you can unleash superheroes in your organisation.