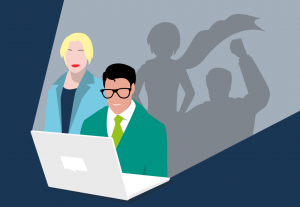 Are you happy at work? Whatever our personal goals are, most of us simply want to make a difference and want to know how to feel happy at work. And we want the same for our teams! But how do we achieve this? How do we infuse every day with a sense of enjoyment? How do we create happy, fulfilled and productive teams at work?
Enlightening research from the Gallup World Poll may just have the answer! To discover what it can tell us about creating happy teams, and how to be work happy, let's take a closer look…
The Study of Feeling Happy at Work
The Gallup World Poll monitors and analyses key global trends on subjects including leadership, performance, employment and wellbeing. The world-renowned research has polled thousands of people from 140 nations, representing a whopping 98% of the world's population!
Analysis of the poll results reveals the factors needed for happiness at work, which include:
Learning something new
Counting on others for support
When these two conditions are met, people experience higher levels of wellbeing and positive emotions. Therefore, continuous learning and strong support networks are essential to creating healthy, happy workplaces!
We're going to give you the two best ways to feel happy at work. Firstly, did you know that being generous can make you feel happy? On that note, as a gift from us to you, here are two ways to be happier in general:
Two Ways to Boost Happiness in General
Endorphins are one of the brain's most fundamental 'happy' chemical's. These neurotransmitters are released in the pituitary gland and help to ease pain. They also give us pleasure and composure. Here's two of the easiest ways to ensure the release of these go-getters:
Cardiovascular exercise is one of the best ways to guarantee the release of endorphins. Have you heard of the term 'Runner's-high?' This is when runners get a natural high due to the release of happy chemicals, which contain a flurry of endorphins. Cardiovascular exercise includes: walking, running, cycling, swimming and rowing. Off you go!
According to Dr Neil Todd, endorphins are released when you listen to vibrations with a  low-frequency. There are tons of these videos on YouTube. If you can't find one, then may we suggest early 1980s era Van Halen?!
Two Simple Ways to Feel Happy at Work
1. Learning Something New Every Day
Why does learning something new every day feel so good? Quite simply, learning feels good because it boosts our confidence in our own abilities. According to the Self Determination Theory, developing new skills creates a sense of competence and autonomy that increases self-assurance and self-efficacy. This empowers us to take on life's challenges, overcome obstacles and have fun while we're at it!
This is why continuous learning and development is the key to creating engaged, confident and productive teams. It's vital to give your team access to daily training and development tools to ensure their skill set is up to date and they feel empowered to do their best work!
2. Counting on Others for Support
However capable we feel, work can still be a lonely place. This is especially true if you're facing the pressure of looming deadlines all by yourself. Being able to count on others for support makes all the difference! 
Our learning technologies are a great way to sustain and increase communication at work. Knowing you can send instant messages, ask experts or post on your company's social feed helps make work a little less stressful and a lot more fun!
In fact, Gallup research shows six hours a day spent communicating and interacting with others at home or work reduces stress. Whether we communicate in person, online or on the phone – the benefits are the same! What's more, having just one close connection at work can make us 50% happier!
Make happiness at work a priority, encourage your team to interact, learn about each other, share knowledge and have fun together.
Our Challenge to You!
With Gallup's World Poll results in mind, we have a challenge (or two!) for you. We challenge you to learn something new in the next year. Set yourself one learning goal over the next 365 days. It could be that subject you've always been curious about, that skill you've always wanted to master or that dream that's been on the backburner. 
Be it January, March, July or December; make the next 12 months a learning triumph! 
Remember to reflect on what you learn every day. Why not keep a daily journal documenting the small steps you take towards developing your new skill?
Reflecting on daily progress feels good, reinforces learning and acts as a strong motivational tool to keep you focused on your goals.
Pass it On!
Invite everyone in your team or organisation to learn something new over the course of the next 12 months and share their learning goals on the LMS message-boards. You could set up discussion groups to encourage knowledge sharing. This way, your entire team can learn together and support each other's development. It's a chance to share skills, hobbies and discover new talents. You may even learn something new about the people you work with!
This is the perfect way to learn something new every day and count on each other for support. Work together, and create a supportive learning environment that encourages everyone to feel confident, happy and fulfilled at work. 
Final Word:
Happiness at work is a lot to do with feeling valuable and self-assured in your role. It's also to do with how your team interacts, otherwise known as organisational culture. Our learning tools enable team communication via a collection of fantastic social tools. This includes live chat, experts areas, social feeds, and clubs.