Below I explore the two factors needed to make 2020 your best year yet!
It's time to pack away the tinsel, drain the last of the eggnog and set some kick-ass New Year's resolutions. So my big question for you is: What do you want from 2018? Perhaps you want to get fit and you've got the new gym membership to prove it! Maybe you're seeking to achieve a bigger training budget this year? Or perhaps you simply want to feel happy at work!
Whatever our personal goals are, most of us simply want to make a difference and feel good. And we want the same for our teams! But how do we achieve this? How do we infuse every day with a sense of enjoyment. How do we create happy, fulfilled and productive teams at work?
Enlightening research from the Gallup World Poll may just have the answer! Let's take a closer look, to discover what it can tell us about creating happy teams.
---
The Study
The Gallup World Poll monitors and analyses key global trends on subjects including leadership, performance, employment and wellbeing. The world-renowned research has polled thousands of people from 140 nations, representing a whopping 98% of the world's population!
Analysis of the poll results reveals the factors needed for happiness at work, which include:
Learned something new yesterday
Can count on others for support
When these two conditions are met people experience higher levels of wellbeing and positive emotions. Therefore, continuous learning and strong support networks are essential to creating healthy, happy workplaces!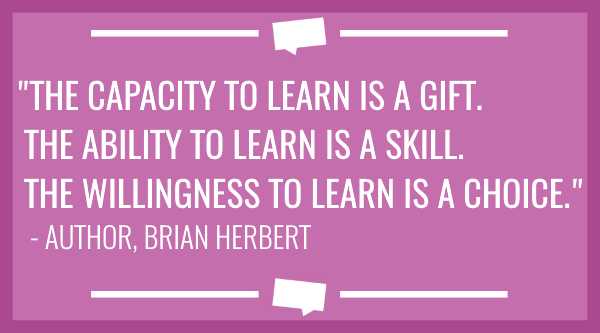 1. Learning Something New Every Day
So why does learning something new every day feel good? Quite simply, learning feels good because it boosts our confidence in our own abilities. According to Self Determination Theory, developing new skills creates a sense of competence and autonomy that increases self-assurance and self-efficacy. This empowers us to take on life's challenges, overcome obstacles and have fun while we're at it!
This is why continuous learning and development is the key to creating engaged, confident and productive teams. It's vital to give your team access to daily training and development tools to ensure their skill set is up to date and they feel empowered to do their best work!
2. Counting on Others for Support
However capable we feel, work can still be a lonely place. This is especially true if you're facing the pressure of looming deadlines all by yourself. Being able to count on others for support makes all the difference! Knowing you can phone a friend, ask for a colleague's advice or simply share a laugh with teammates helps make work a little less stressful and a lot more fun!
In fact, Gallup research shows six hours a day spent communicating and interacting with others at home or work reduces stress. Whether we communicate in person, online or on the phone – the benefits are the same! What's more, having just one close connection at work can make us 50% happier!
Make happiness at work a priority for 2018! Encourage your team to interact, learn about each other, share knowledge and have fun together.
My Challenge to You
With Gallup's World Poll results in mind, I have a challenge (or two!) for you. I challenge you to learn something new this year. Set yourself one learning goal for 2018. It could be that subject you've always been curious about, that skill you've always wanted to master or that dream that's been on the backburner. 2018 is the year to make it happen!
Remember to reflect on what you learn every day. Why not keep a daily journal documenting the small steps you take towards developing your new skill. Reflecting on daily progress feels good, reinforces learning and acts as a strong motivational tool to keep you focused on your goals.
Pass it On!
Finally, pass the challenge on! Invite everyone in your team or organisation to learn something new this year and share their learning goals on the LMS messageboards. You could set up discussion groups to encourage knowledge sharing. This way your entire team can learn together and support each other's development. It's a chance to share skills, hobbies and discover new talents. You may even learn something new about the people you work with!
This is the perfect way to learn something new every day and count on each other for support. Work together, and create a supportive learning environment that encourages everyone to feel confident, happy and fulfilled at work in 2018!
---
Of course, I couldn't challenge you to set a learning goal this year without telling you mine. So here goes!
I believe curiosity and lifelong learning keeps us young, alive and kicking! So in 2020 I've set myself a very literal kick-ass resolution. I'm learning kickboxing! It's something I've always been curious about and I'm eager to get started. For my second learning goal, I plan to research a new subject every day and share my discoveries in my blog.
You can follow my learning journey on Twitter and share your own. Let's support each other to make 2020 the best year yet! Happy New Year everyone!
– Juliette
Sign up to our blog below to stay up to date on all the juicy details from Growth Engineering and discover how to unleash superheroes in your organisation.