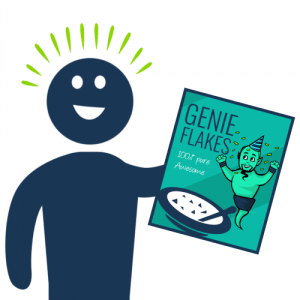 When you're taking on the forces of dull online learning, you've got a massive challenge in front of you. You need to create an awesome piece of eLearning that engages the learners, teaches them what they need to know, and more often than not, you need to do it by next week on a shoestring budget.
If only you had a secret weapon.
Well it turns out that there is a source of power that all companies worth their salt should have. Your bank has it, your favourite coffee shop has it; – it's even a key ingredient (figuratively speaking) of that chocolate bar that you're quite partial to.
That's right – that powerful tool lurking in your arsenal is your brand!
Your brand is more than just colours, fonts and logos. It tells the world who your company is and what your values are. If you mention your company's name to a random passer-by, your brand will be the first thing that pops into their mind (unless they've never heard of you, in which case they'll just think you need to lie down).
But how does that help you create eLearning?
Consistency
Consistency is important if you want to deliver any kind of message and it's no different for learning content. Inconsistencies, at the very least, will distract your learners from the task at hand. At their most destructive, they can derail the whole learning objective.
You don't want that, do you?
Luckily, you've got a fully-formed brand at your disposal, which effectively means that you've got a framework to hang the eLearning from. The brand guidelines document (if you're lucky enough to have one) is filled with rules that you need to follow, but it also defines the values and principles that guide your company.
Try to tie your learning objectives to these core values– not only will this make it easier for your learners to identify with your message, it'll also clarify the learning objective. That means that it'll be easier for you to create!
Reinforce company values
There's another sneaky little side-effect of using your brand to guide your eLearning production. By putting your values at the centre of the learning message, you are subliminally teaching your learners how your values inform everything that they do.
If you decide to ignore your brand, you can probably create a good piece of content, but that's all it'll ever be. On the other hand, if you stay conscious of your brand, you'll give the learners the tools they need to succeed within your company.
Make your learners feel at home
Your company's mission statement is a powerful tool when it comes to training your people – but let's not underestimate the practicalities of your brand. If you want to make the learning journey as stress-free as possible, you need to give your learners an environment that feels familiar.
Refer to your brand guidelines when you're creating the project and make sure that your piece of content looks like your piece of content. By doing this, you won't shock people with unfamiliar colours and fonts, and you'll also keep your brand guardians happy!
So, the next time you've got to deliver really effective eLearning – try putting your brand at the centre of the production. You won't just be matching the colours to your stationery – you'll be helping to match your people with your company.
Does your authoring tool give you the freedom you need to promote your company's values? Does it let you upload custom branded images and assets, and arrange them into tidy libraries?
No?
Well, maybe Genie can help you out. This game-based authoring tool lets you collaborate with your whole team, meaning that you can invite your brand guardians to join in the eLearning production and make sure you don't make any brand faux-pas.
Give it a go for yourself by *rubbing the lamp below!
*or you could just click it