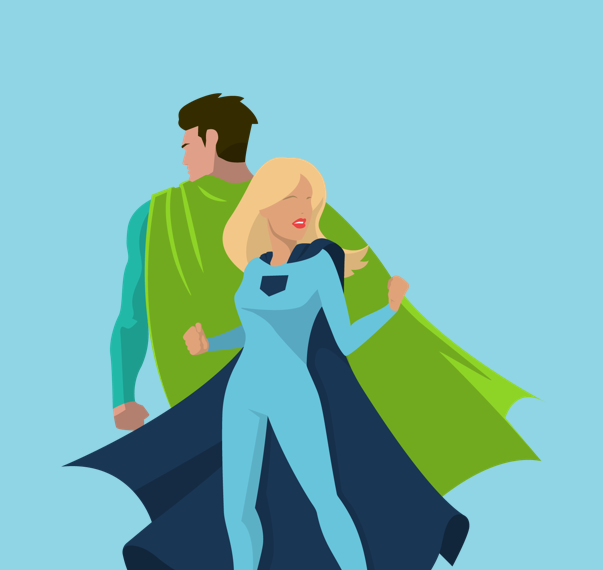 'What counts as a key worker?' It may not have been a common question pre COVID-19, but it seems that the whole world has since woken up to the importance of these unsung heroes. In this article, we're going to cover the true definition of a key worker, some surprising key worker statistics. Finally, we'll be looking at the best ways to provide training and support for key workers.
From public health to transport, key workers cover a range of trades and skills. A week without them, and we'd all likely revert back to being feral animals.
Firstly, Who is a Key Worker?
Before we jump into training your key workers, we should start with a definition. No, a key worker is not another name for a locksmith. It is anyone (as determined by the government) who provides an essential service within the public and private sectors.
In the fight against pandemics such as coronavirus, their roles are considered crucial. In no particular order, here is a list of just some of the jobs that are considered to be 'key':
Healthcare staff
Police officers
Firefighters
Prison and probation officers
Supermarket staff
The Army and the Ministry of Defense
Religious staff
Schools and nursery staff
Transport workers
Journalists
Court staff
Social care workers / Educational psychologists
Delivery workers
Workers in infrastructure
Some financial service staff
Environmental health officers
Telecommunication workers
Key Worker Statistics
For all you numbers crunchers out there, here are some key worker statistics that may surprise you.
What's the Best Way To Train a Key Worker?
Many of the jobs that count as key workers include frontline staff. This means being an ambassador for your brand, as a lot of the time you're mingling with the public. With this in mind, key workers have to portray an abundance of soft skills. This may include communication skills, interpersonal skills and creative problem-solving. 
Taking this into account, here are three of the best ways to provide training for your key workers:
Three Ways to Train Key Workers:
1. Use Scenario-Based Training
From paramedics to supermarket staff, to social care – key workers spend a lot of time assessing risky situations. Some require the ability to deal with difficult customers and some need to be able to handle sensitive information in the correct manner.
Put simply, no one day is the same as the next. By utilizing scenario-based training, you'll be able to train your key workers on a wide range of topics. 
There are so many benefits to scenario-based training. For a start, you're giving your learners a safe place to fail. They can cause some serious damage without any repercussions! Additionally, research shows that we are 20x times more likely to remember learning content if it's told in a narrative style. 
An example of a multiple-choice scenario-based question for a supermarket worker may include a health and safety dilemma, such as the following:
You're on the shop floor and you notice a spillage in aisle seven. Do you:
Stand by and call for assistance
Leave it to get a wet floor sign
Walk away, as it's not your responsibility 
We're no experts, but we'd put our money on 'A'.
2. Make it Fun!
Given some of the tasks involved, a key worker no doubt suffers a massive amount of stress on a daily basis. As noted earlier, stress contributes to 30% of all sickness absence in NHS staff per year, costing the service £300-£400 million. 
So why not try to relieve some of this job-related tension by providing fun and engaging training? At Growth Engineering, we're big advocates of gamification; the application of gaming elements to non-gaming environments. Research shows that students score on average 14% higher on skills-based knowledge assessments after learning from a gamified eLearning experience. 
With our gamified eLearning solutions, you can collect experience points by consuming training content, which then allows you to move up to different levels within the learning environment. Collect enough XP and Badges and who knows, maybe you'll even top the leaderboard. 
As well as adding a bit of healthy competition to your training, why not introduce learning games? Our game-based authoring tool, Growth Engineering Authoring Tool, comes with a variety of game templates designed to help drive behaviour change. Why not take our brand new learning game, 'Chill Art' for a spin?
3. Make it Mobile
Something else that most key workers share in common is that they're always on the go. When you consider healthcare staff, the army, delivery drivers and transport workers, these professionals are hardly ever in the same place for long.
Therefore, it's important to ensure you either have a responsive LMS, or a mobile learning app to accommodate the lifestyle of a key worker. On average, people use their phones for four hours each day. Add to this that 46% of Americans confessed to checking their phones before getting out of bed in the morning and it's easy to see why creating mobile content for your training is so essential. 
We only spend around 2-5 minutes per session on our mobile phones and your content should reflect that. Microlearning is the process of creating content in short, sharp bursts. If your content is micro and mobile, then you'll be providing customised training to suit the busy lives of your key workers. 
Final Words
A quick look at our list of key workers and it's easy to see how the world simply wouldn't turn without them. They look after our health, they put our fires (both literally and metaphorically) and they make sure our food is on the shelves.
It's only fair then, that we ensure their lives are as comfortable as possible. By making their training mobile responsive and micro, scenario-based and fun and engaging, we hope that's one extra stress they don't need to worry about. 
Want to know about how you can successfully implement a learning app? Download our guide: 'Appetite for Instruction'