2020 was a colourful year, to say the least. We saw bushfires in Australia, drama in the British royal family, the impeachment of the previous U.S. President and the Black Lives Matter movement, to name a few. But perhaps the most impactful thing that happened in 2020 was the outbreak of COVID-19.
The virus continues to influence countries, economies, industries and individuals alike. The learning and development space has not been immune to the influence of the virus.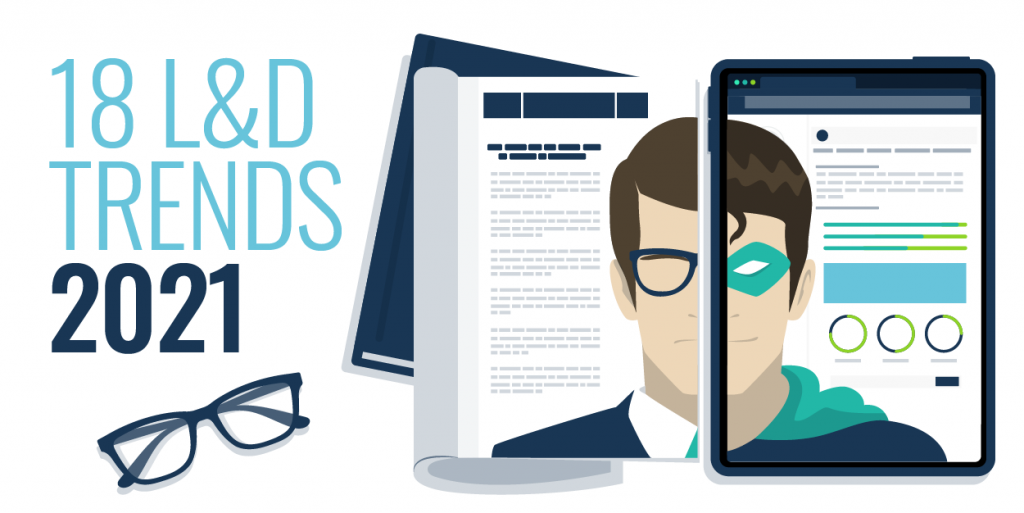 In fact, the changes in our work environments and limitations on in-person interactions are behind the rise of most current learning and development (L&D) trends. While we are used to some trends changing rapidly in the learning and development space, there are some surprises on this list!
While we have focused on the current L&D trends before, we think this year deserves its own article! After reflecting upon the past year, we have collected 18 L&D trends. These are the issues, movements and focus points that will affect our industry this year. Let's dig in!
1. The Upskilling and Reskilling Revolution
Just 12 months ago, learning leaders were preparing for skills gaps in advance. Now, the pandemic has removed the luxury of preplanning. Even before the global pandemic struck, reskilling and upskilling were a priority for many organisations who had identified current or expected skills gaps. In fact, 90% of surveyed executives reported currently experiencing a skills gap or anticipating one in the near future.

Recent changes in our working environments have accelerated that need. As a result, many businesses have had to adopt a more agile approach to adapt to the changes. For many, the transition to a virtual work environment has meant doing the same job remotely, but with new tools and new skill requirements. As such, reskilling and upskilling became an essential business requirement.
The year has changed, but the need to adapt remains. L&D teams must continue to create learning opportunities that support their organisations in increasingly dynamic business conditions. 
By providing equitable, personalised and adaptive learning modules to all employees, companies can react to increasing upskilling and reskilling needs. Solutions, such as Growth Engineering LMS, can fuel company growth as skills gaps can be recognised (and resolved) in real-time.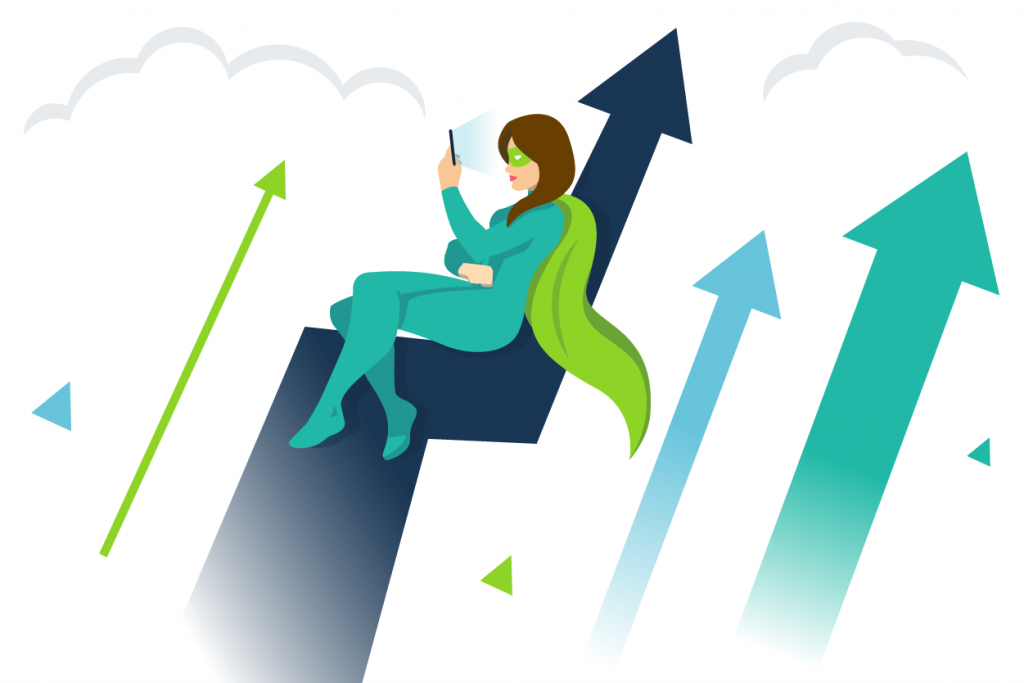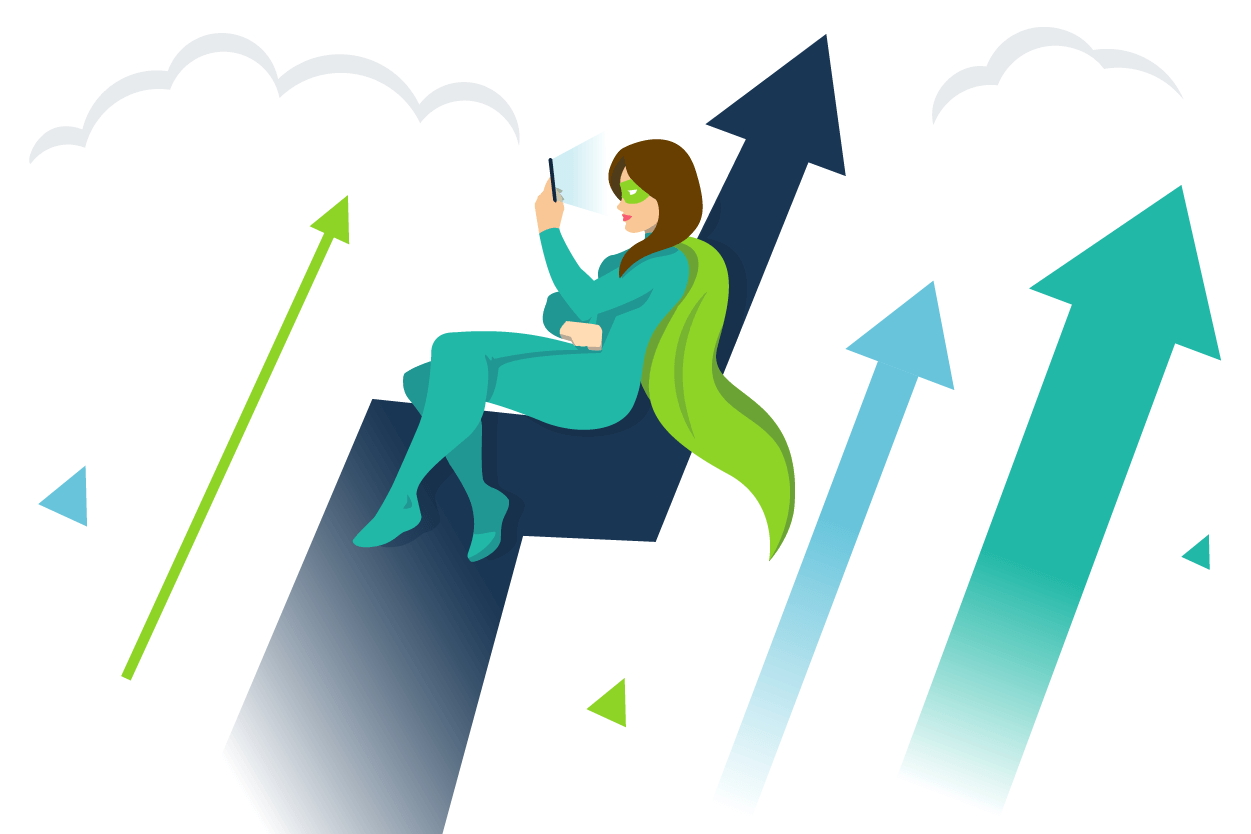 2. Stimulating Social Learning
Humans are social animals. Perhaps unsurprisingly, they prefer studying in social environments. If you believe the 70:20:10 model, then only 10% of our learning happens in a formal learning environment. Now that this has become common knowledge, organisations are finding new ways to support informal training. 
Social learning has strong links with increases in learner engagement. This is handy, as organisations have become increasingly cognizant of dwindling engagement levels in recent years. As such, social learning has gained popularity as both a training approach and a means to engage your workforce. 
Social learning is one of the L&D trends that has accelerated as a result of the COVID-19 pandemic. Donald H Taylor's research on rising trends revealed the importance of social learning in 2021. In recent months, we have been living in a world where human interaction happens through screens. As a result, social learning has become a vital part of the eLearning industry.
Social learning is most effective when packed with innovative and engaging social elements. Our learning technologies use pioneering social features to encourage informal learning and interaction and engagement between your learners. 
Learners can help each other, test their knowledge, share their expertise and take ownership of their training. This allows you to create a culture of constant self-improvement, promote knowledge sharing and prevent intellectual capital from leaking out of your organisation.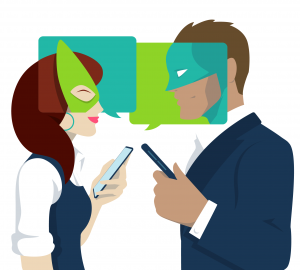 3. Clear Communication & Collaboration
Organisational communication and collaboration are often taken for granted, but COVID-19 challenged our old habits. The workforce has become more dispersed, and the need for community, belonging, and information is greater than ever. Now that in-person communication is limited, communication and collaboration have become key talking points.

More and more teams are now meeting in virtual and digital spaces. As a result, there is a high demand for improved communication and collaboration skills. Including communication and collaboration into our L&D trends list is perhaps unsurprising, as these skills are now considered essential for organisations to thrive in the new marketplace.
These skills are especially important within cross-department and cross-team projects. After all, team members are not necessarily accustomed to each others' working styles and paces.
At the beginning of 2021, we have seen learning leaders coupling learning with communication to help their teams feel connected. We, too, have noticed the high demand for innovative communication features. These features help learners share their knowledge, ask for help, organise team activities and join clubs to discuss topics with like-minded people. And what would be better than finding someone equally as excited about cat videos!
4. Gamification Glory
Gamification has been making waves in the L&D space for a while. COVID-19 sped up the growth, as more organisations sought ways to keep their employees engaged while working remotely. But global pandemic or not, we predict that this trend is here to stay!

In 2020, the change to virtual working happened rapidly. L&D teams were rushing to get learning material online. So, in 2021 learning leaders need to ensure the newly converted learning content is compelling and engaging for learners. One way to do this, is to gamify your content, or the learning environment itself.
Our learning technologies are filled with innovative gamified elements to guarantee learning experiences that make a difference! By fostering a competitive spirit, gamification encourages employees to perform better and do more to 'win'. And as a cherry on the top, gamification can also make it faster to take in new information. 
5. Mastering Mobile Learning
The nature of learning has changed now that mobile phones have become an essential part of our lives. Traditionally long and unengaging seminars and training days are a thing of the past. Instead, learning happens at the point of accessibility. As a result, there has been a significant rise in prominence for mobile learning. The prevailing pandemic has emphasised the need for mobile learning, as in-person training is no longer feasible. 
After being forced to shift to remote working, many employees now wish to continue flexible working. In fact, 90% of employees would prefer to continue working from home in at least some capacity. As a result, there is a great demand for more flexible workplace training. 
Mobile delivery of learning content allows us to incorporate training into our daily routines. It empowers learning and development departments to provide learning interventions at the point of need for their audience.
That's why our learning technologies have been developed with a mobile-first design philosophy. Our products enable effortless on-the-go learning. And we predict that prioritising mobile delivery will be one of the biggest online learning trends this year. 
6. Microlearning Magic
Modern learners are short on attention spans and even shorter on time. On average, employees can devote just 4.8 minutes to professional development per day. So, it's no surprise that microlearning has become a popular, and even essential, learning tool. Microlearning is one of the L&D trends that has made its way for years, and we only see it growing!

Microlearning delivers learning material in bite-sized pieces. In fact, these microlearning units typically take under 10 minutes to complete. Learners can practice while commuting to work, queueing at a coffee shop or waiting for their next meeting to start. As such, learners can complete training at their own pace, at any time and anywhere. Microlearning has also been shown to increase information retention by 20%. As such, it could be the key to maximising training time and effectiveness. 
Even though the future is unclear, we know that most people will stay remote in 2021. Microlearning, combined with mobile delivery, creates a fully integrated support tool. 
Our learning solutions use microlearning to deliver engaging training experiences. And the results we have seen are impressive! On average, users on our mobile app solution (Growth Engineering Learning App) completed four training units per week and logged in 7 times per day. 
7. Bigger, Better Data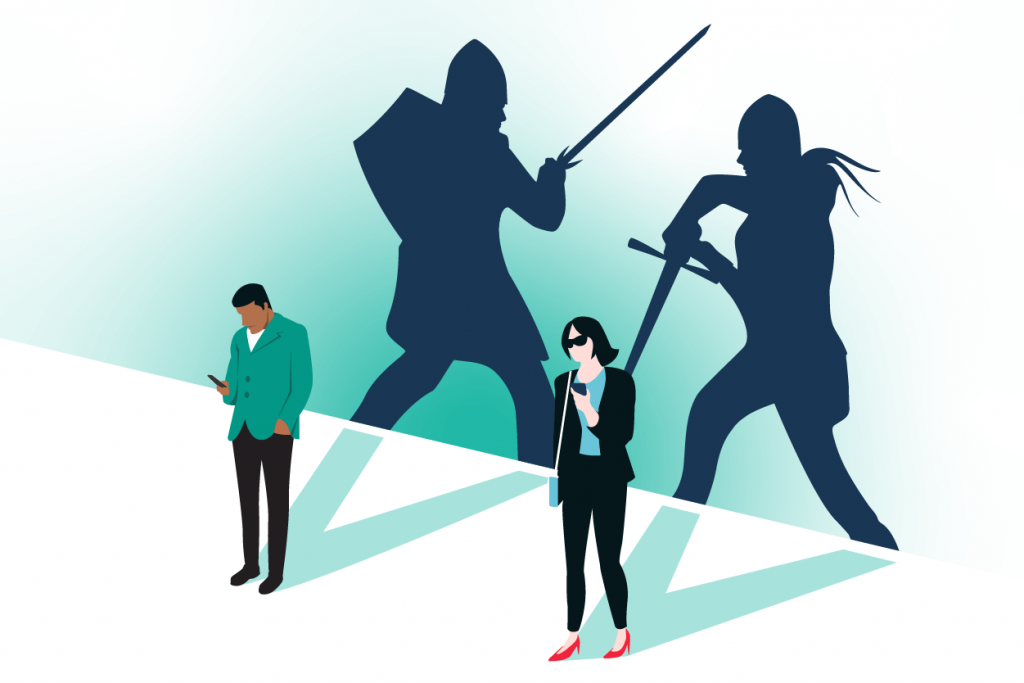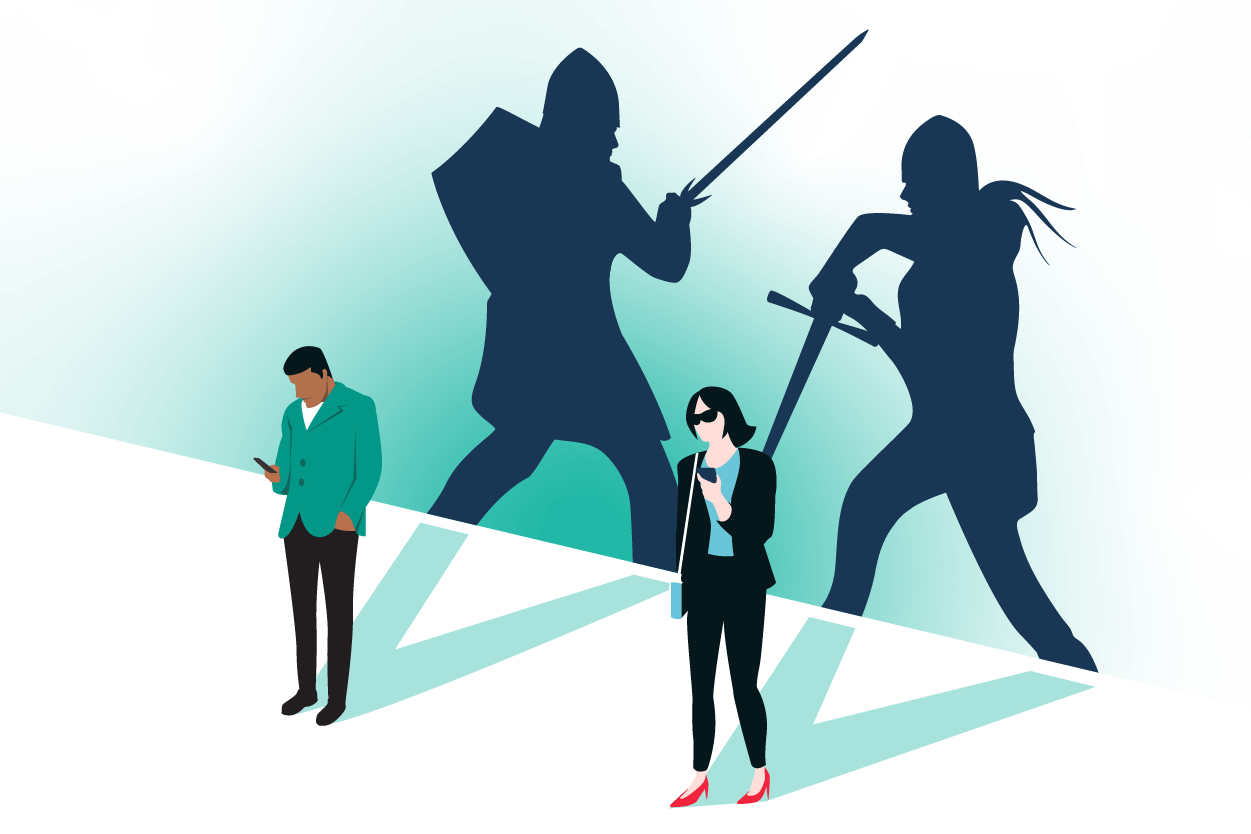 Data is one of the L&D trends we have seen take dominance in 2021. More and more organisations have started to use data to design more effective training materials. Increasingly, learning analytics are being used to review behaviour and improve training. We are big supporters of this data-backed, research-driven approach.
Using data to design learning material helps companies to increase their training ROI. By tracking data, learning leaders can ask the right questions at the right time. This helps them to build learning solutions that keep both learner and organisational outcomes in mind. We predict that in 2021, L&D teams will make understanding learner behaviour a key part of their strategies. 
Our learning management system, Growth Engineering LMS, does all the hard work for you. It gathers data in one place and presents a clear picture of your learners' training process. Tracking each student individually allows you to identify areas where they are successful or may need more support. You can then adjust the learning material accordingly. 
8. Prioritising Personalised Learning
Personalised and adaptive learning has been one of the biggest L&D trends in the 21st century. Personalisation has a big role in allowing new information to reach the right areas of the brain. Consequently, a learning system should adapt to individual learner's needs, not the other way around. 
Customising and adapting training content to suit each learner individually improves employee engagement. Precious resources won't be wasted on unnecessary efforts as learners only complete the learning material most beneficial for them. In addition, individuals are welcome to complete the learning material at their own pace. 
Here at Growth Engineering, we love customisation! All our products can be personalised to your learners' needs, whilst still reflecting your brand, your mission and your values.
Our modified learning paths and personalised content save time and effort for learners. They will also have a similar impact on your organisation. Therefore, customised training will be a key focus for many ROI-centred L&D teams in the upcoming years. 
9. Uncovering User-Generated Content 
Personalised learning has increased the demand for user-generated content. We see this as a major L&D trend in 2021. User-generated content, or UGC, is content created by first-hand users. UGC adds a social component to the learning experience, and thus, may feel more personal than traditional content. In fact, it has been researched that we trust our peers more than information coming from people in higher positions. 
Content created by users is a cost-effective resource and requires almost no capital investment. Organisations can review and moderate user generated content and add the best pieces to their formal training library. With increasing training demands being placed on learning and development departments, this content can help to cut costs and fill knowledge gaps.
The shift to user-generated content is the direct result of technological advancements in the L&D and business marketplace. With our game-based Growth Engineering Authoring Tool, you too can become a trendsetter! It empowers you to create fully customised and engaging content that meets your training needs.
10. Driving Diversity & Inclusion
The year 2020 was not only the year of the global pandemic. The Black Lives Matter movement and countless global protests were a call to action in addressing inequality. The movement continues to enlighten the diversity issues present in our everyday lives, including the workplace. 
L&D teams must identify the best ways to deliver Diversity & Inclusion (D&I) training effectively in light of these recent advances. However, eliminating racial bias and discrimination in the workplace is much larger than a training issue. Inclusion starts at the top. Leaders need to demonstrate that they are committed to empowering all employees – not just those who 'fit'. 
Companies need to examine their values, hiring practices, decision-making processes, leadership demographics and opportunities for career development. Consequently, they should make necessary changes to ensure D&I. 
In 2021, we are expecting exactly this: more organisations to drive diversity and inclusion by re-evaluating their company culture. But we also hope that D&I doesn't just remain as one of the L&D trends in 2021 but becomes an integral part of business operations. After all, diverse teams have more innovative ideas and better impact on the bottom line. In fact, increasing diversity within an organisation has been shown to also drive an increase in revenue (by as much as 19%!).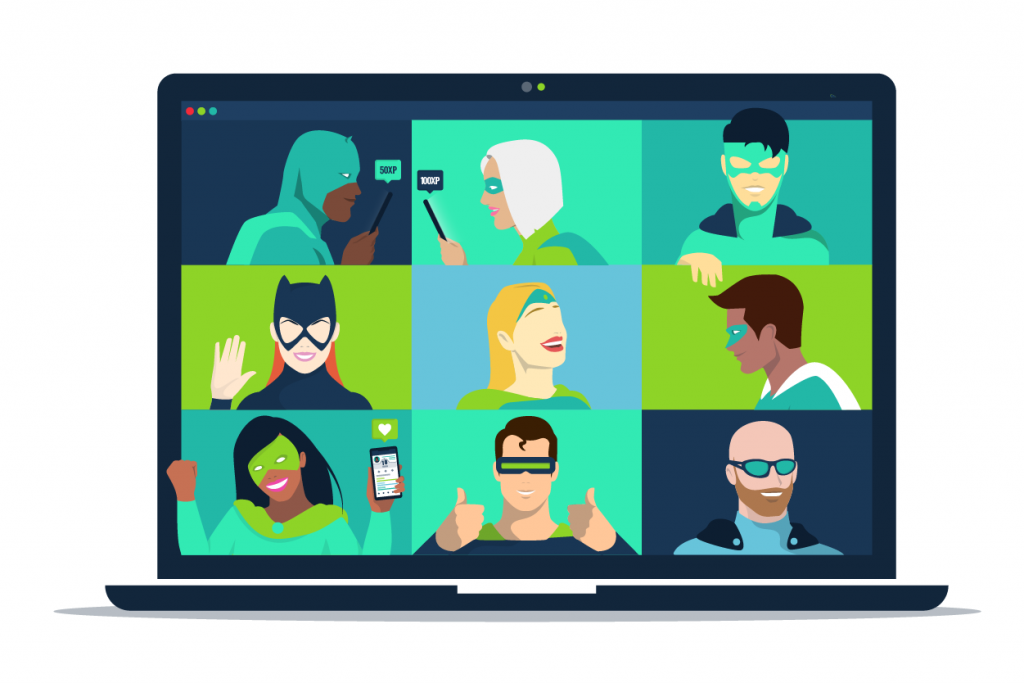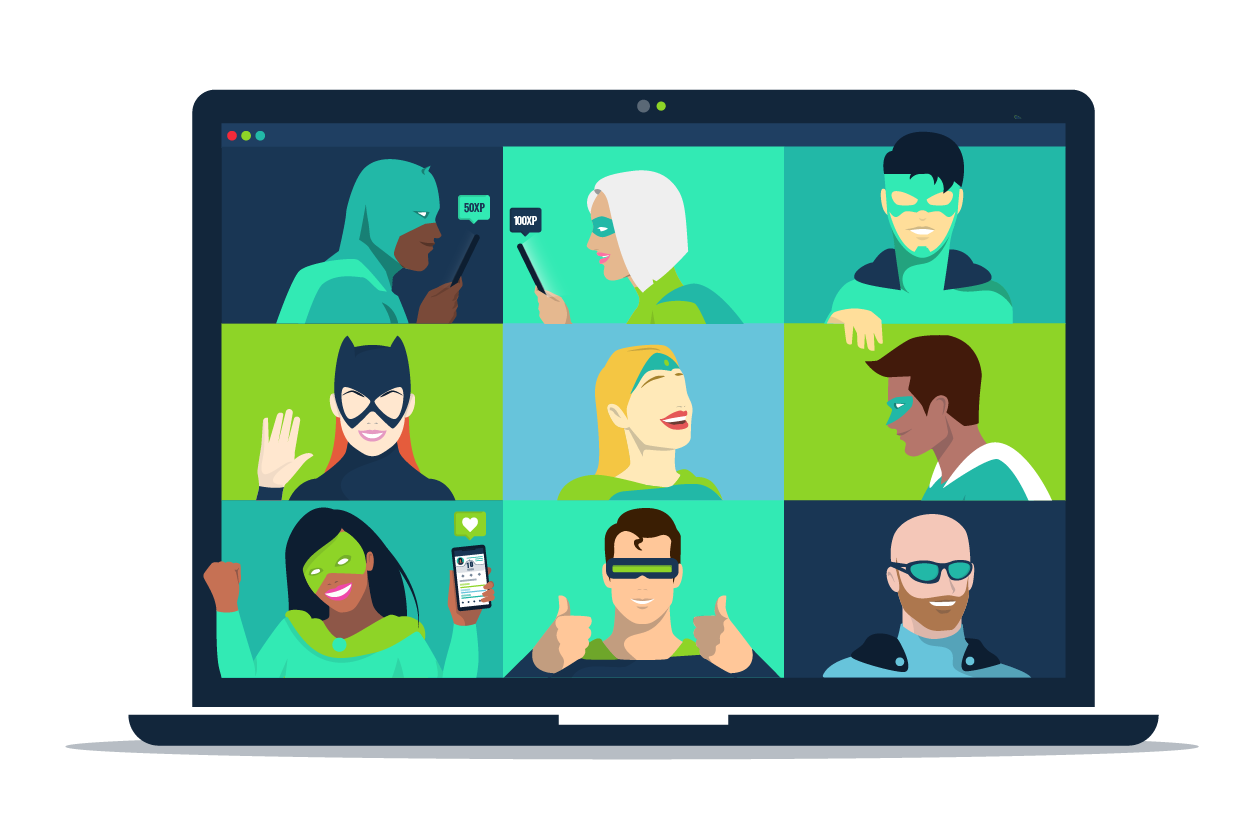 11. Robust Real-Time Feedback
Current remote working environments have also changed employee and manager relationships. Managers used to traditional office settings must now manage their team at a distance. This, in turn, requires new skills, new tools and new approaches to leadership. 
The continuously evolving work environment we currently live in requires more frequent, robust performance data. Employees are no longer satisfied with annual reviews. A survey demonstrated how 83% of employees would prefer timely recognition to financial rewards or gifts.

Real-time feedback helps organisational productivity as employees adapt to new circumstances better, feel connected and stay more engaged. And like we all know, engaged workers get better results for the organisation!
Growth Engineering's learning technology solutions offer robust reporting and feedback features. Managers can award badges for good work, track their employees' learning progress and identify areas where their employees need extra support. Noticing issues in real-time will help leaders to address them straight away. 
Unlimited Engagement on Growth Engineering's LMS
Improve your team's performance by as much as 75% year-on-year, with Growth Engineering's LMS. Use the power of engagement, behavioural science and learning best practice to drive real results.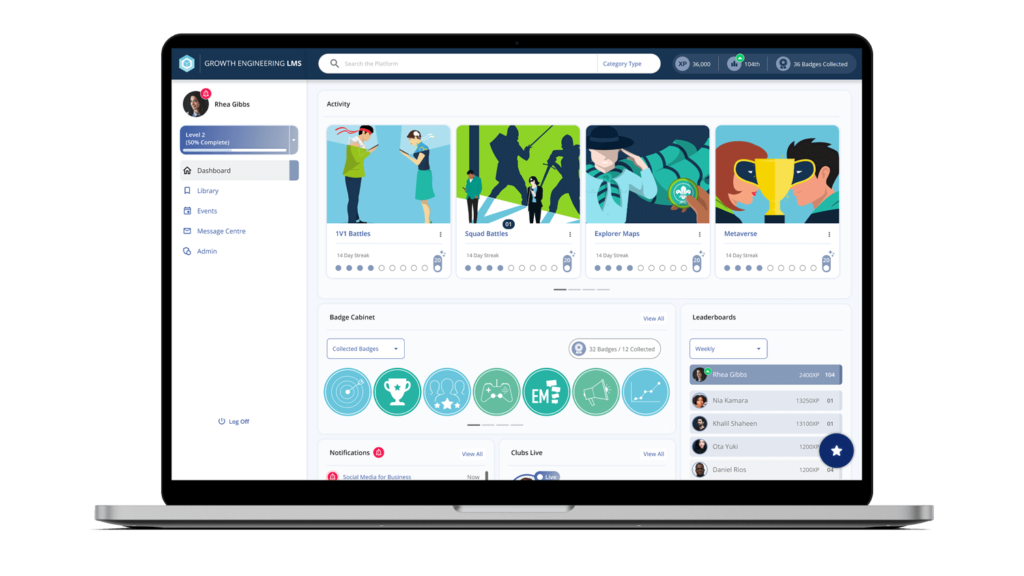 12. Soft Skills for Success
One L&D trend we predict to be a focal point of 2021 is soft skills. The soft skills gap is not a new phenomenon. However, the pandemic has made it more important than ever to close those gaps. Individuals must exhibit higher levels of soft skills than ever before to support and communicate with their teams. 
Research conducted with Fortune 500 CEOs found that 75% of long-term job success depends on people skills. In contrast, only 25% depends on technical knowledge. The rising awareness of soft skills and their role in organisational success has led many companies to focus on improving them.
Soft skills are often considered to be harder to learn. Luckily, eLearning is a great way to improve leadership, problem-solving, communication, teamwork, adaptability and much more. Focusing your learning content on a single concept and delivering it as a microlearning unit also helps to improve knowledge retention.
13. Workplace Wellbeing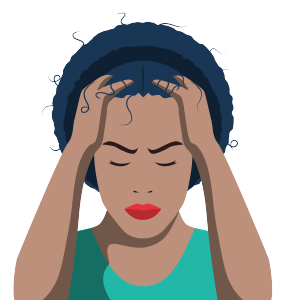 The Coronavirus pandemic has highlighted globally deteriorating mental health and wellbeing. In fact, 64% of AXA's survey respondents expressed that their stress levels had increased after the pandemic started. 
The average person spends 90,000 hours of their life working. As such, it's critical to ensure that workplaces are not a reason for wellbeing issues. However, the problems can be more difficult to identify now that most employees are working remotely. As such, it is increasingly essential to provide needed support, instead of adapting 'out of sight, out of mind' approach.
Employee wellbeing should embed into the organisational culture, leadership and management. Luckily, learning technologies can help you to do that! You can share knowledge and provide wellbeing courses for your employees, and the platform fosters safe discussions about wellbeing problems. You can create supportive groups, or encourage individual chats. 
We have built complimentary mental health and wellbeing microunits you can download to your learning management system. Providing tools for effective stress management is critical to sustaining productivity and agility while supporting wellbeing and mental health. 
14. Advancing AI
The world of learning and development is getting techier. It might not be surprising to any of you that AI is included in our L&D trends list. For the past few years, artificial intelligence (AI) has been a hot topic.
Key responsibilities can now be supplemented or automated by artificial intelligence. Learning platforms have also experienced increased demand for modern and automated approaches. AI is nearing the capability of being able to train and assess learners effectively. Therefore, we are expecting to see more automated content flows and learner pathways with automated learning interventions. 
The use of artificial intelligence or machine learning in learning management systems has already grown considerably. Personalised content recommendations, data analytics, content authoring, video/audio transcription are among the reasons behind the popularity. 
15. Ensuring Customer Education 
Advances in technology have been a great enabler for L&D teams to train their employees more effectively. But why stop there? 
Learning leaders are increasingly extending technology-led learning to external customers. In fact, 42% of customer educators use learning technologies. Technology allows flexibility and agility to adapt to quickly changing customer needs.
2020 disrupted the traditional marketplace heavily. As a result, customers are buying differently. Similarly, expectations about the quality and availability of customer education have changed. 
Many organisations now understand how they had relied too heavily on in-person activities for customer onboarding. As products are currently harder to view and test in person, organisations are investing more in customer education. 
Customer education holds significant value to businesses. It is a key to retention and revenue health, customer satisfaction and overall business success. As such, customer education is not just a benefit but integral to wealthy organisations.
16. Cherishing Change Management
As we have gathered, 2020 was the year of change. And to keep up with the changes, organisations have had to shift business operations on the go. Business success relies on the successful navigation of disruptions.
Learning and change go hand in hand. We cannot change without knowing how to do so. As such, L&D professionals' role is to effectively prepare the workforce for upcoming changes and challenges by offering change management. Effective change management helps businesses overcome setbacks and keep the organisation moving forward. 
People don't like change. It is often uncomfortable and messy. But businesses often focus on the business changes, forgetting how they will affect their employees (aka their most important asset). When your employees are prepared and skilled for a change, they are more likely to be dedicated and perform better.
17. Cybersecurity Urgency
Since the pandemic began, organisations have endured concerns about the health of their teams and financial wellbeing of their company. But that's not all they have to worry about. Hackers have used this new environment to their advantage, generating an increase in cybercrime. After shifting to remote work, cybersecurity has taken a new urgency.

Compliance training needs to reflect these changes in our working environments. Employees need to be trained on how to protect their data at home. As such, L&D teams will have an increasingly important role in creating a resilient and cyber aware workforce. 
For years, compliance training has been perceived as boring and unengaging. Thus, the new challenge is to get the employees engaged to learn. Luckily, online learning solutions can be a powerful way to do exactly that. And that's why we think improved cybersecurity is one of the most important L&D trends in 2021. 
Our Growth Engineering Authoring Tool allows you to create bespoke content in a fun way by using gamified elements. What could be a better way to learn about cyberattacks than playing Bubble Blaster?
18. Navigating Neuroscience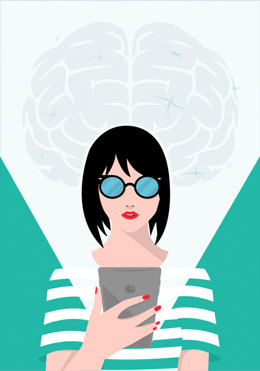 Last but not least, let's talk about brain science! The more we research and understand how brains work, the more we can understand and improve learning. Learning is what happens when your brain creates new neural pathways. These pathways help information to travel easily from one region of the brain to another. 
We have explored different L&D trends and all of them link to our brain. It is hardly a surprise that microlearning is a great tool for retaining information as spacing learning helps the brain recapture the learner's attention. Similarly, generating content can activate the hippocampus. This happens, for instance, when you share knowledge with other people through social learning activities.
We have seen what cutting-edge neuroscience and cognitive research have to say about driving behaviour change. That's why our solutions focus on incentivising the right activities, inspiring curiosity and creating learning communities. 
Behaviour change is essential if you want your training to deliver good results. And the key to learning is the brain. So, it only makes sense to design your online learning with brain functioning in mind! 
Final Words
Some of these L&D trends have been making their way into discussions for years, while some are a result of the current pandemic. Nevertheless, it's clear that the learning and development landscape is changing. We predict that the future is more fun, engaging, techy and gamified than ever before. 
Aspects like social learning, Big Data, real-time feedback and diversity and inclusion, will take learning experiences to a whole new level. 
We are excited to see how the year 2021 shapes the L&D world, and which of these trends are here to stay. Here at Growth Engineering, we believe that learning and development has never been more important than right now. So, we are working hard to provide the best possible learning experiences with our innovative learning technologies. 
Growth Engineering LMS is the world's most engaging learning management system. Sign up for a free demo now!