We love earning points and badges while we're learning. But do you know what we love even more? Earning real, tangible prizes!
That's why we've built our brand new Reward Centre! This is a place for learners to get rewarded for all of their hard work and win themselves some awesome presents.
This new area is built directly into our gamified, social Academy LMS. So now, alongside earning experience points and badges, levelling up and climbing leaderboards, there's a whole extra level of gamification!
If you want to see how it works, then we've got the perfect video for you! Find out how the Reward Centre transforms Reggie into a true learning superhero:
How does the Reward Centre work?
All of those badges look great in each learner's cabinet, but why should they just sit there gathering dust? Now they can be put to use as currency in the Reward Centre!
But what are the prizes on offer? Well that's up to the administrators running the LMS. They can set any rewards they want, and also choose how many experience points and badges to charge for them.
For example, you might set a lower cost for a modest £10 lunch voucher, and a higher cost for a cheeky extra day's holiday.
It might be the case that you have a limited number of rewards on offer. Say, for example, that you got your hands on 30 tickets to the hottest gig of the year.
Well, thankfully you can set a number of stock for rewards, meaning that only 30 tickets would be claimed. This ensures that no-one claims a reward only to be told later on that there aren't any left to give to them!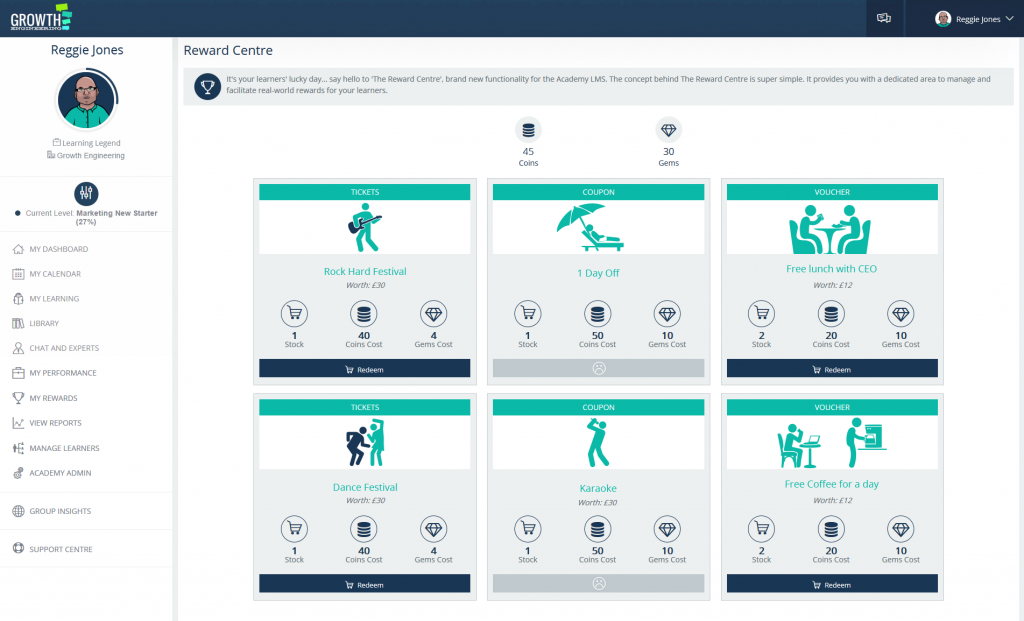 When a learner visits the Reward Centre, they'll see their current balance of experience points and badges, and all of the available rewards. 'Redeem' buttons only appear for the rewards they can currently afford, so they can see at a glance which offers are currently out of their price range.
Then comes an agonising decision… Cash-out now on one of the smaller prizes, or jump back into some more learning until they can afford the really good stuff? This gives learners a whole new incentive to get engaged with your learning programme, and to keep seeking out more content to consume!
Once a learner chooses to redeem a reward, the administrators are notified so that they can get everything ready for them.
And if you're worried that this sounds like it could get expensive, there are actually plenty of prizes which won't cost you a penny!  Here are 13 ideas to get your started, ranging from a free hug to a month with a primo-parking spot.