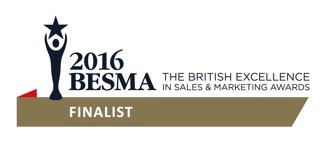 After finding out on Monday that we've made the finals of the Learning Awards, we mentioned that the Awards fire had been rekindled. Well it seems we were right because we've now found out that we've also made the finals of BESMA 2016 for the 'Training Centre of the Year' category!
We're almost at celebration overload here in the office! But what exactly is BESMA?
It actually stands for British Excellence in Sales and Marketing Awards, and they're organised by another acronym – the ISMM (that's the Institute of Sales and Marketing Management).
The idea behind the awards is to reward the efforts of the individuals and teams that drive company performance and to recognise the roles sales professionals play in driving the UK economy forward.
So why did we get shortlisted? It's thanks to our library of fully online ISMM-accredited sales and marketing training content. We developed it to meet the ISMM's strict standards, and of course we deliver it all through our gamified, social Academy LMS! We even used our unique Discovery Method to build the content to be as engaging as possible!
We license this sales training to our Academy LMS clients. But we want to share it with the whole world, so we offer it to everyone through our beloved sister site – Sales Superstars.
More than 1,000 salespeople have now engaged with our sales training, including 250 on the other side of the planet, in Australia!
If you fancy finding out about the incredible ROI it's helping our clients to deliver, why not check out our case studies of Aggregate Industries, Holcim Australia or Tech Data Corporation?
Our Managing Director, Juliette Denny, is absolutely chuffed: "Hearing this news was an absolute joy! We've provided one of the biggest ever roll-outs of quality ISMM-accredited sales training thanks to our 100% online approach, so it's fantastic to get some recognition. Now we just have to prove to the judges that we deserve to win!"
Our next step will be telling the judges just how good we are, then on March 9 we'll be off for a delightful awards ceremony at Grosvenor House Hotel in London!
[us_separator type="default" icon="fas|star"]
Want to know why we just can't stop winning awards? Take a free tour of our Academy LMS today!
[hs_action id="7083″]