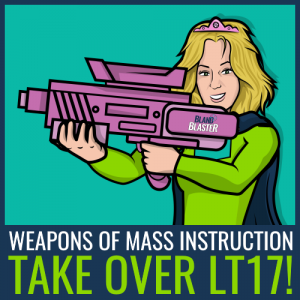 When Superheroes assemble, you can bet your Batmobile they're making a stand against the forces of evil and Learning Technologies 2017 was no exception! The Growth Engineering stand was brimming with awesomeness and zombie learners were quaking in their boredom boots over at the Olympia Exhibition Hall in Kensington on 1-2 February 2017. The Growth Engineering Superheroes were out in full force shooting Bland Blasters at zombie learners – and giving everyone a serious case of cape envy! The war on dull online learning was waged at Europe's biggest L&D event and everyone had a SUPER time!
---
A Hero's Journey…Say Cheese!
Heroic origin stories were beginning throughout LT17 as people were greeted with our awesome capes and Weapons of Mass Instruction. As with all our gamified learning technology solutions the journey from zero to hero took a matter of moments. Future superheroes posed for photos with our 'Captivation Cannon' and 'Learning Laser', taking home polaroids of power for the tube ride home. They could also experience our engaging gamified learning content by playing '
Mountain Master
' and '
Bubble Blaster
' on a giant tablet. Superheroes in the making eLoved it!
L&D Nirvana
The exhibition is a sea of creative brilliance and ingenuity, as the Growth Engineering Superheroes found out during their travels around the expo hall. Our Guidance Guru, Stephen, took a VR trip around Wembley Stadium thanks to the brilliant folk at HiUp. They've recently been working with the NFL team Miami Dolphins to perfect plays without the risk of injury. Super stuff!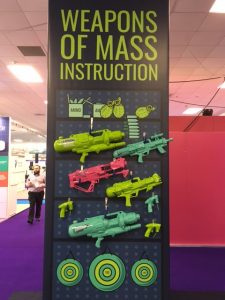 Seminar Sensation
There were some awesome free seminars at LT17 on topics ranging from 'Finding the Holy Grail of L&D' to 'What eLearning can learn from Pokémon Go'. Our Ideologist-in-Chief, Juliette Denny, still wearing the crown of most appealing seminar at last year's Learning Technologies, gave us a glimpse of the future in her scintillating seminar, 'Traditional eLearning is Dead'. Heroic hints from her packed-out talk included:
Entertainment not education!
Social learning is the bridge to behaviour change!
Humans now have a lower attention span than goldfish!
The future of learning has arrived in the form of our brand-new mobile app, 'The Knowledge Arcade'
If you would like a copy of Juliette's awesome presentation, then shine a Growth Engineering Signal into the night's sky and we'll get it across to you (or if the bulb's out then press the button below).
Poll Power
We had super awesome, bland blasting time at Learning Technologies 2017! It was a thrill to meet so many wannabe Superheroes that shared our passion for ridding the world of zombie learners. It was Superhero Soda all round when we topped the LT exit polls! Growth Engineering finished in the Top 3 in four of the most contested categories:
Most Visually Pleasing Stand (1st)
Material Most Likely to be read on the Tube (1st)
Most Memorable Brochure (1st)
Most Engaging Conversation (3rd)
Thank you to Learning Technologies for such a brilliant event and we're already getting our capes tailored in anticipation for next year! Subscribe to our blog on the top right of the page to keep to to date with all Growth Engineering developments, it promises to be another epic year!
Michelle and Becky loved unleashing their inner superhero at the @growthengineer stand at the @LT17uk exhibition last week! #LT17uk pic.twitter.com/SdSGczX1yJ

— FGS Recruitment (@FGSRecruitment) February 7, 2017