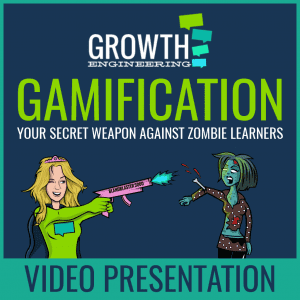 Cast your mind back one month to the Learning Technologies exhibition. We were proudly donning our capes of course, and while we were there, our managing director Juliette Denny was offered a speaking slot.
She took full advantage of the opportunity and delivered a seminar titled 'Gamification: Your Secret Weapon Against Zombie Learners'.
This session proved so engaging that delegates voted it as the most appealing seminar of the whole exhibition!
That's why it was such a stroke of luck that the event organisers were filming the session. The video is now available, so you can find the full 17-minute recording below.
[us_separator type="default" icon="fas|star"]
What will I learn?
This presentation breaks down everything you need to know about how to use gamification to engage your learners. This includes:
What gamification is and why it's becoming so influential
How to use gamification effectively
The kind of results that can be produced with a dedicated gamification strategy
So if you've got 17 minutes to spare, you could do a lot worse than tune into Juliette's talk!
And if you're looking to grab hold of the full presentation, then you're in luck! Simply head here to download it.