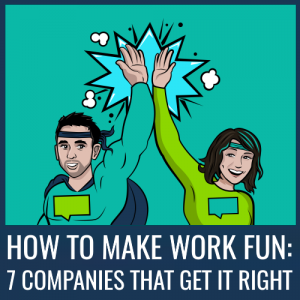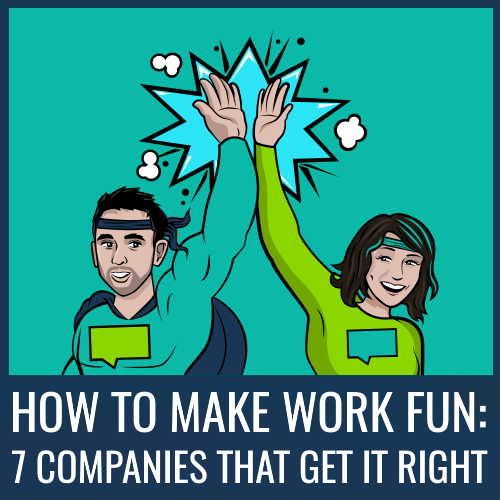 Now, more than ever, employers need to make work fun. Did you know that the average work week is around 40 hours long? This means that you spend around 4000 hours at work over two years – roughly the same amount of time it would take for you to travel to mars. Considering your team members could be inter-planetary astronauts if they so choose, you best make sure that you go out of your way to keep them on board!
Research shows that having fun at work increases productivity and reduces employee turnover. Think of your own career, do you make more of an effort when work is fun, or when it's as bland as a pair of beige socks? If like us, you prefer it when work is fun – then take a moment to read through some inspiration. We have put together seven case studies of different companies who all do something a little different which makes work even more enjoyable!
1: Hubspot – Rooftop Meetings
Hubspot started out as a small company in their CEO's house. He had a small rooftop terrace where the team often gathered for beers after work, and this tradition continues today. Brian, the CEO, believes that these meetings led to the company's success. They bonded the team together and made work a more sociable place to be. Any office can replicate this –  you don't need a fancy terrace – just having a place for the team to relax and kick back will make for a close-knit company culture.
How to involve your LMS: The best LMS' integrate a social platform. Make sure to utilise this as an informal place for team members to communicate.
2: LinkedIn – Walk & Talk
LinkedIn introduced walk & talks where team members can take a stroll to catch up or have meetings. It's a great way to introduce some exercise into the work day and it release a whole load of fun-inducing endorphins, (ahem, fundorphins anyone?). These endorphins reduce stress, improve health and make people happier!
How to involve your LMS: You can pair team members for walk and talk sessions, and then use the calendar functionality on your LMS to schedule them.
3: The BBC – Personalise your Work Space
The BBC offers its employees £250 to personalise their workspace with anything from a potted peace lily to a collection of mint-in-box Star Wars figurines. Of course, you don't need to offer team members money, just give them free rein to decorate their space as they choose. This helps employees feel more at ease, besides, who knows where it might lead?
How to involve your LMS: Make sure that team members make use of their LMS' personalisation features. Add some photos and spruce things up!
4: Google – Free Food
Google gets people, and people like food. Especially when it's free! So, Google provides food aplenty for its team – which leads to a great company culture. Not many companies can pay three meals per day for each employee – but the odd lunch here and there is a small gesture that speaks volumes. It makes employees feel valued, besides, you can always rely on food for a fantastic time.
How to involve your LMS: Our swanky LMS has a Rewards Centre which is an extra way to add incentive to professional development and reward employees.
5: Apple – United by a Common Goal
At Apple, people understand what they are doing. They also understand how they contribute to the company. In short – the place is oozing with epic meaning. People all want to be involved with something bigger than themselves – and Apple make sure that their team understands why they are doing what they do.
How to involve your LMS: When new team members first join your company, make sure that they complete an eLearning unit on your company's mission values. Also, if you have a fully customisable LMS be sure to embed your brand throughout everything to help reinforce the deeper meaning behind what you do.
6: Intuit – Work Life Balance
This software company doesn't expect employees to arrive before nine, or stay after five-thirty. This helps maintain a healthy work life balance, and makes the time spent at work more enjoyable. Perhaps surprisingly, research suggests that companies who go out of their way to encourage a healthy work-life balance benefit from increased profits and productivity!
How to Involve your LMS: A lot of companies have similar expectations to Intuit, but their employees don't know that. So, if this is the case, make sure that you use your LMS to let them know.
7: Growth Engineering – Monthly Challenges
Here at GE we craft our own ways to make work more fun. One of our favourite things is the GE monthly challenge. Our idea is simple, we set a new challenge at the beginning of each month. These challenges can be anything, be it a bake-off or a one-legged race. If you do this, keep a record of the scores and watch the tournament blossom.
How to involve your LMS: If you have a top-notch gamified LMS then you can award badges to team members who achieve legendary scores in the tournament. When the challenge requires ratings from other team members, make sure to use your LMS' survey function for fair results.
Having fun at work does matter and it makes a big difference to the company culture. So, think about your company, what are you doing to make work more fun? If you don't do anything, perhaps this is something worth considering.
These seven companies all take a different approach, because every business is different. So, use this as inspiration and concoct something completely unique to amaze your team members. Make sure that you use your LMS to its full potential, because if you do want to make work more fun, then your LMS is your best friend. So, download the Engagement Engine workbook for even more insight and inspiration.