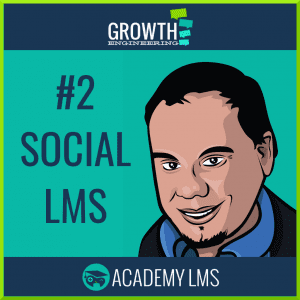 The celebrations just keep going here at GE HQ! Not only is our beloved Academy LMS the world's #1 Next Generation LMS, and the world's #1 LMS for Retail clients, it's also the world's #2 Social LMS!
eLearning analyst Craig Weiss ranked us as such in the 2016 edition of his Top 50 LMSs Report. This report sees him take a good hard look at more than 690 learning management systems throughout the year, so reaching such a high spot is a real honour!
And since Craig was recently named as the world's most influential person in corporate eLearning, you know you can trust his judgement.
Our Managing Director Juliette Denny is leading the celebrations at our office. Here's what she had to say: "Getting social is one of the most effective ways to engage your learners with their training, which is why we've gone all out to equip our Academy LMS with enough features to rival any social network!
"Reaching such a high spot on this list is such a great accomplishment, and we've got big plans to ramp up our social offerings even further in 2016!"
[us_separator type="default" icon="fas|star"]
Social LMS
So what makes the Academy LMS so great for social learning? Well it's packed full of functionality across the platform, including:
The 'What's Happening?' feed – This social newsfeed lets learners share ideas, materials and links with each other. They'll get notifications when someone likes or comments on their posts, so they can keep their conversations going.
Insight Groups – If the 'What's Happening?' feed is too general, these groups let you focus discussions around particular topics. Learners earn contribution points for posting in the groups, giving them an incentive to get involved.
Live chat – Sometimes you can't wait for someone to come online and see your post. With live chat, you can start a real-time instant message discussion with an individual or group from anywhere on the platform.
Experts and FAQs – This area lets you harness the power of your subject matter experts. Learners can ask them questions, and they can save the responses as FAQs, building up a library of wisdom that everyone can benefit from.
Content – There's even social functionality for every piece of content in your library! Learners can rate each piece of content and leave comments underneath, meaning the discussions continue long after the content itself ends.
[us_separator type="default" icon="fas|star"]
GAME Case Study
A perfect example of the Academy LMS's social functionality in action is how it's being used by GAME, the UK's leading specialist retailer of video games.
They used our Academy LMS to build GAME Learning Zone, a platform delivering training to all of their UK retail staff.
Of course, GAME's learners use the platform to access their training content, but the real magic is in how they're using the social features. For them, GAME Learning Zone is their own social network!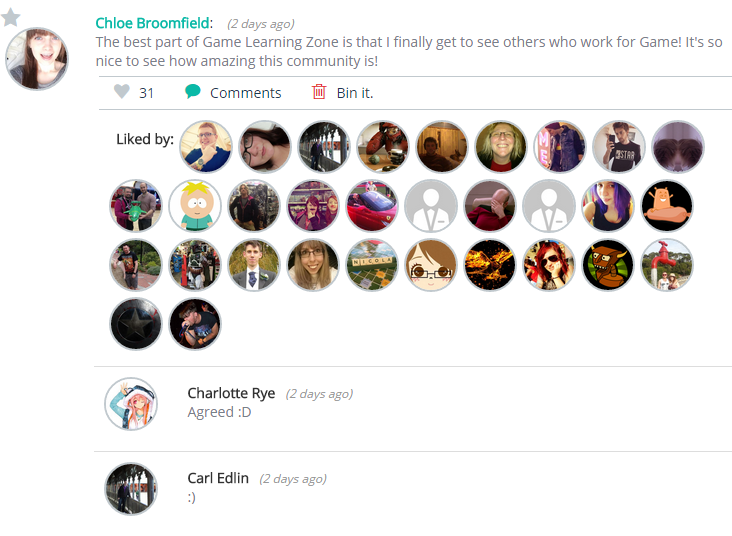 They keep coming back to the platform on a regular basis to share photos of themes and displays for their stores, whether that's Star Wars or Tomb Raider. They also have intense discussions about all of the hotly anticipated game releases, giving GAME's learning team a sense of which games to prioritise when creating content.
Their 4,000 learners are so engaged with the platform that they make an average of 12,000 logins per month. The social features play a large part in bringing them back regularly, and collectively they've completed more than 90,000 pieces of learning content!
And even though GAME Learning Zone has only been live for nine months, it's already won two industry awards. It won Gold for Best Use of Learning and or Talent Technologies at the Brandon Hall Excellence Awards, and Gold for Best LMS Implementation at the e-Learning Awards.
Craig Mills, Learning Manager at GAME, has some nice things to say: "With the astounding LMS provided by Growth Engineering I was able to realise my gamified learning goals and provide an experience for our learners that is as rewarding as it is addictive.
"I'm excited to see what the future of GAME Learning Zone will look like through the partnership and shared passion of Growth Engineering and GAME."
If you're keen to find out more, you can download GAME's full case study here.
[us_separator type="default" icon="fas|star"]
To discover why our Academy LMS is winning so many awards, why not take a free tour? Sign up for one by clicking the banner: