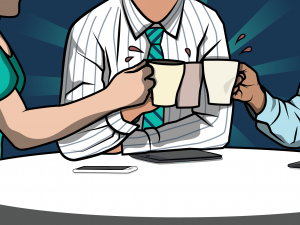 Classroom training is a pillar of corporate training.
Even with the unstoppable rise of online learning solutions, classroom-based learning is here to stay.
Its interactive format helps deliver information to your staff, provides a forum for discussion and contextualisation and it can even boost oxytocin levels (a 'happy chemical' that gets released in the brain).
It allows us to bond with others, reduces stress, and makes us feel relaxed and supported.
It's not all good news, however…
When you think of classroom learning, it may conjure up thoughts of endless text and cluttered PowerPoint slides and dreary handouts that nobody ends up reading.
Thank goodness for blended learning then, which combines traditional classroom teaching with online learning…
Learning Apps and Mobile Learning
Fast forward to today and we have something even more engaging and interactive: mobile learning!
By stirring mobile learning in with blended learning, we have the ultimate way to learn. The conventions of classroom training, mixed with the benefits of a mobile learning app!
The combination of them both across your learning strategy is what gives you the blend. Incorporating mobile learning into your classroom training isn't just blended learning – it's a full-on learning smoothie! (It's good for you!)
The Superb Value of Mobile Learning!
Mobile learning is an incredibly important asset in your training arsenal. Here are a few reasons why:
It's predicted that by 2020, 4.78 billion people will own a mobile phone. This means that mobile learning is convenient and accessible. With that many mobile devices out there, it's the perfect time to start delivering a mobile learning strategy.
People naturally associate their phones with communication – making it the ideal way to build a knowledge-sharing culture.
Mobile apps and gamification go hand-in-hand. This is the ideal way to keep your learners coming back for more knowledge!
They can deliver training in different rich media formats (i.e. video, audio, images).
---
How You Can Use Mobile Phones BEFORE A Classroom Training Session?
Throw a mobile device into your training mix and suddenly your classroom session doesn't have to be a one-off intervention.
Priming Your Learners for Learning
Admins can share preparation materials before the training session. This gives learners the chance to get clued-up on the topic beforehand so they can make the most of the training.
Start Building a Social Community
Having a social wall where learners can discuss upcoming subjects will give everyone a head-start before entering the session. Do you have any concerns about the subject? Post them here! Do you have any prior knowledge of the subject? Then be a team player and share it with your teammates!
---
How You Can Use Mobile Learning DURING A Classroom Training Session
Set Challenges
Admins can set a relevant task for employees to complete to ensure they have understood what's been taught. This can then be made public to all learners who are able to comment and vote.
Create Tasks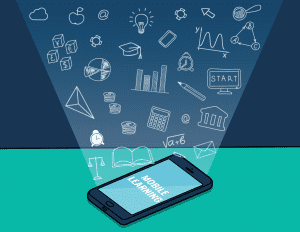 If a training session runs over the course of a few days, then the learning app can be used mid-session to reinforce the training.
This can be achieved by setting challenges or having learners compete in learning Battles.
---
How You Can Use Mobile Learning AFTER A Classroom Training Session
Use Battles To Reinforces Your Training
Battles are a revolutionary way to deliver knowledge to your learners and they'll love every single second! Battles are learner vs learner built from a question pool created by your learning administrator or your classroom trainer. You can create battles after each class session and then run a report to analyse the scores.
Another great aspect of Battles is its ability to help reinforce the training – even once the classroom session is over. As Ebbinghaus' Forgetting Curve tells us; we forget 90% of what we learn within a month. Battles help learners to reinforce what they've learned, making it sticky and thereby helping to transform their behaviour (and ultimately improve their performance).
Use Clubs To Create Social Communities
A Club is a digital community where learners can socialise and master certain topics. You can set up a Club to discuss each training session. Just like Battles, this will reinforce the learning and answer any questions the learner may have. It also means your learners will share their knowledge with each other – helping establish a knowledge-sharing culture.
---
Final Word
Learning apps have the potential to transform classroom training. With them, your learners can come to training fully-prepped and ready to learn. Whilst you're training them you can set challenges and increase engagement. Once the training session has finished you can keep the learning going by reinforcing what you taught and by building social learning communities.
All of this will help ensure your training translates into behaviour change, and in turn, helps ensure your business achieves its goals. In short – mobile learning apps such as The Knowledge Arcade could help you ensure that your training has a meaningful business impact.
Just think: what would you do with a mobile learning app? How would you transform your training sessions?
Want to find out more about the potential of mobile learning? Why not download our Game of Phones whitepaper? It will help you understand more about the value of mobile learning and give you practical tips you can apply today!