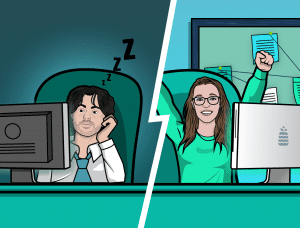 Nowadays, people have come to expect a flawless user experience (UX).
Consumer products, from Facebook and Google through to Amazon and Netflix all make it incredibly easy to do what they're designed for.
They've been meticulously crafted to make sense, from the very first time you log in, you should know exactly how to use them.
This should be just as true of software used by businesses, but all too often corporate software is troubled by slow loading and confusing designs.
Traditionally, learning management systems have been the worst culprits. With content hidden behind a maze of clicks and fury-fueling bugs hidden throughout the system.
This is no way to learn and it's not fair to expect your learners to try. They have a long list of training – no point adding your content delivery system to that list! Instead, deliver your training on a swanky nextgen LMS that has a UX designed to make it easy for your people to learn.
But before we delve into what great UX looks like, let's first clarify what the ever-mysterious user experience actually is…
What is User Experience?
Unfortunately, when it comes to UX, there is no agreed-upon definition. This means that no explanation is 100% spot-on. However, a very basic definition is this:
'User Experience is the experience a user has whilst interacting with your product'.
Disclaimer: As the definition is still evolving, this might be completely wrong in a year's time!
The role of a UX Designer is crafting the user journey and making it as simple as possible. The goal is to ensure the product flows logically from one step to the next.
Why is UX so important on an LMS?
88% of online users are less likely to return to a website after a bad user experience. The same can be said for a Learning Management System. A bad UX will leave a learner feeling disengaged, overwhelmed, and frustrated.
This could undermine all your hard work. What's the value of engaging content if your learners won't even open the platform it's hosted on? Suffice to say, your content will not be absorbed by the learner!
What Makes A Great UX on an LMS?
When considering great UX on an LMS, ask yourself these questions:
Is it intuitive?
Is it easy to use?
Is it clearly laid out?
Is it joyful to use?
The Usability
Consider the design of a pop-up toaster, for example. It's obvious that bread goes in and toast comes out. You have to push the handle down. Job done! Your LMS design should be as simple as toast!
If your learners can use the LMS without feeling frustrated, then you are doing the right thing! The learner should not have to think about the purpose of certain features on your LMS. The design should make it simple enough.
If the usability is simple, then it gifts the learner with the freedom to explore the site by themselves. Watch out good friend Karl Kapp explain the importance of learner exploration:
A good example of self-explanatory UX is the home-screen button. It puts your learners in control. They're able to explore your platform and play with its features, but they can easily return to the home page if they need to.
A home button is self-explanatory. Users know to expect one. That's the art of UX design – understanding people's instincts and reflecting that in design.
Final Word
The Academy LMS has been carefully designed so that your learners can navigate it with ease.
It might be hard to precisely define UX. But when it's good, you know. On The Academy LMS you just understand how it works, everything intuitively makes sense.