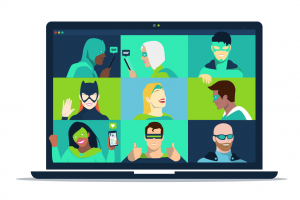 Here are three amazing facts about the number 10,000:
In film, 10,000 is the number of balloons that Carl Fredricksen attaches to his house in the Disney-Pixar film 'Up.' 
In music, '10,000 Promises' is a song by popular US boy-band The Backstreet Boys.
In business, 10,000 is the number of employees a business has to employ before it's considered an enterprise business. 
Today, we are going to focus on the last point: enterprise business. And more importantly, we are going to delve into the world of enterprise learning. We will discover what kind of training suits a large scale organisation and how you can deliver it effectively. 
But first, let's uncover a little more about the mechanics of an enterprise business… 
What is an Enterprise Business and How Do They Train? 
There's more to being an enterprise business than simply employing 10,000 people. An enterprise business is a for-profit organisation who are keen to create, develop and invest in new business opportunities 
You may have heard of that little-known businessman, Richard Branson? He founded the global superbrand Virgin. They currently employee 71,000 thousand people worldwide. In their entrepreneurial spirit, they have successfully spread out into many ventures, including:
Travel (Virgin Atlantic) 
Retail (Virgin Megastores)
Health (Virgin Active) 
Entertainment (Virgin Radio) 
Communications (Virgin Mobile)
Space tourism (Virgin Galactic) 
Virgin is the definitive model of what an enterprise business is. But how the heck can they train a business on this scale without getting in an instant muddle?! 
In order to run a business on this scale, the Virgin training platform will provide oodles of flexibility for their workforce. Their structure also demands flexible training as they'll no doubt be delivering content to sub-brands or a channel sales team. Additionally, Virgin have learners in every country across the globe speaking every major language under the sun!
Even if you're not Richard Branson, if you're an enterprise business, your platform will need a training solution that can be flexible enough to meet these factors. This is where we come in… 
3 Ways To Implement Enterprise Learning
Sometimes it's hard to manage a household, let alone an enterprise business. Similarly, enterprise learning is not always easy to execute effectively.
Lucky you, here are three ways in which you can guarantee your team keep on track with their training, even if they're not all under one roof!
1. Make it Mobile Friendly
The first thing to do is to optimise your content for mobile devices. According to Psychology Today, 66% of adults suffer from Nomophobia: the fear of being without your phone. Add to this that 89% of smartphone users download apps, 50% of which are educational, and you can see why mobile learning is pretty popular! 
71% of Millennials say they connect better with mobile learning than other L&D activities. This is only set to grow as more of Generation Z flock into the workplace. 
Mobiles are also great for sending out prompts in the form of push notifications. These are vital for reminding employees of upcoming events, meetings, or to simply congratulate employees for their achievements. 
Our mobile solution, Growth Engineering Learning App, is the ideal mobile learning solution. You can share a variety of learning formats, you can turbocharge the engagement of your learners with gamification, and you can drive behaviour change with streaks and scorecards.
2. Release on all Mediums
When training a large organisation, it's important to keep in mind that not one size fits all. Put simply, not everyone suits the same learning style. 
The good thing is, with modern learning solutions, it's never been easier to share different types of content. You can upload an assortment of content types, such as:
Whitepapers
Podcasts
Quizzes
Infographics
Webinars
Narrative-led training
Case Studies
Demonstrations
3. Use Social Features
Nowadays, it's hard to think of a world without social media, but in business communications, it's still relatively new. By replicating social media elements, you can give your learners a platform in which their voices can be heard, no matter how big the company.
For instance, as an admin, you can use a social wall to share the latest company updates, industry news or social events that may be happening. You may also want to use it to share training videos and other essential learning materials. 
Our solutions also boast Clubs. You can create a club for almost anything, and employees from all over the world can join in with the discussions. As a result, be it sales, industry news, social events or an onboarding group, the possibilities are endless. 
Final Words
An enterprise business might be vast in scope, but luckily, a next-gen learning platform creates a community spirit which is vital to any successful business.
With a modern training platform such as ours, you can zone in your content for division, region, branch or team. By implementing social features such as Clubs and a social feed, you'll be able to upload the latest learning content, as well as answer any questions your team may have. 
Want to know more about mobile learning? Check out our fantastic guide: Mobile Learning and The Future of L&D.