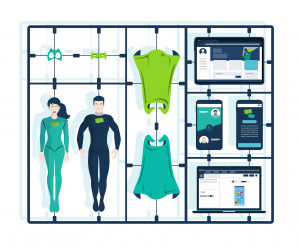 Sales Training is essential. Nearly 13% of all jobs in the U.S are full-time sales positions. That's 1 in 8 jobs!
It's stats like this that make you realise how important it is to get your sales training 100% right. 
Sales training is not just an onboarding process, it's a constant journey. Your sales team should know your product inside out.
They should also be able to negotiate, present, close deals and so much more too. On top of this, they have to master soft skills such as empathy, active listening, optimism, emotional intelligence and confidence (not usually a problem for salespeople!).
In other words, they have to be superhuman to be successful!  Mixing constant training developments in with the need to smash sales targets can be tough. Especially as a lot of sales staff spend their time out of office. It makes you wonder how sales executives have anytime to actually sell.
The great news is, we have the training solutions, tools and techniques to turn the most meekest of pups into The Wolf of Wall Street! (Obviously without all the bad stuff!) 
Introduce an Academy for Sales Training 
A Sales Academy is a great way to balance vigorous sales training programme with the everyday tasks of a sales employee. How? It does so by condensing all of your training into one slick platform.
No more clicking between hundreds of tabs to find the next module. No more having to remember thousands of logins. Most importantly, no more lugging dusty books around!
A Sales Academy is a learning management system that organisations can use to deliver training to staff and then report on progress. Businesses can deliver low-cost sales training programs with measurable ROI.
Your sales talent can use the platform to access all their available training and plot their next steps. Sales training on the LMS might include training videos, assessments, eLearning and it can even be used to organise real-world training.
Sales academies let managers set their salespeople off on unique learning journeys. Got a new-starter? Just enrol them on your sales induction course and watch them progress from new starter to expert. If you're releasing a new product, just add the new training module to their to-do list and then monitor their progress.
Training And Selling: Getting the Balance Right
The world of sales can be fast-paced, cut-throat and constantly progressive. In order to get the balance right between work and training, you'll need some help! 
As you don't get a lot of freebies in sales, it's our pleasure to gift you with three tips on how to successfully tread the sales training tightrope:
1. Keep it Micro
24 hour television, the Internet, and something called mobile phones means that we now absorb five times more information than we did in 1986. This influx of large-scale consumption has made it difficult to concentrate on menial matters such as training. 
This is why microlearning has become such a big deal. It slices up the inflated ghost of training's past to serve up organised and effective training in small segments. 
The rise of microlearning has allowed us to squeeze in training around our schedules, rather than being at the mercy of 8 hour long training modules.
How Does Microlearning Help Sales? 
The time microlearning takes is not set in stone, but on average, microunits tend to last between 2 and 5 minutes. It has therefore enabled executives with the opportunity to fit learning around daily tasks such as outbound calls, pitch follow-ups and achieving their sales targets. This is what we refer to as Just In Time Learning. It's the ability to train on-demand. 
As it's economical and time-saving, microlearning also benefits the admins and the business as a whole. It's a win-win!
2. Keep it Mobile
Did you know, 66% of adults suffer from nomophobia; the fear of being without your phone? It's fair to say that mobiles have become extensions of ourselves. Mobile learning was therefore always going to be the next evolutionary step in Learning and Development. 
How Does Mobile Learning Help Sales?
As David Brent highlighted in Life on the Road, a Sales Executive spends a lot of time travelling. Be it in planes, trains or cars; smartphones have now empowered us to learn when we're out of the office environment. 
Adaptability is among the number of things a Sales Executive has to be skilled in. For example, let's say your top Sales Executive has a meeting abroad, and you've managed to bolt on a very exciting pitch with only a few hours for them to prepare! In the 1980s, this would have caused a near meltdown with an angry boss shouting obscenities at a fax machine whilst puffing on a big cigar. 
Luckily, with a modern mobile learning app such as Growth Engineering Learning App, it just takes a few simple clicks in order to upload a condensed info-pack of everything you could want to know about the potential new buyer. 
With Sales having to juggle so much, an admin can also create push notifications to remind their team of an engagement, or a piece of sales training that needs to be completed. 
3. Keep It Engaging
It's not always the case, but those in Sales tend to be larger-than-life, excitable, energetic and can talk the leg of a chair. Some might say that keeping a salesperson engaged is like trying to eat soup with a fork: it's impossible. 
How Does Engagement Help Sales?
Whatever department you're in, engagement is the key to staff completing training modules like they were going out of fashion. Unfortunately, 85% of employees are not engaged in the workplace.
So how can we ensure a Sales employee is excited, enthused and eager about their training? Luckily Growth Engineering are experts when it comes to engagement. Here are a couple of mini tips to tame that wild salesperson and get their attention:
Mix Up The Training Format
In a world where we have skiing squirrels, why can't we have a multitude of training formats? Here are just a few you could include:
Gamification is the process of applying game mechanics to non-gaming environments. You can do this in the form of tool such as experience points, virtual badges, leaderboards and adding in levels. As you might know from experience, if there's one thing that salespeople are, it's competitive! Let the games begin! 
On that note, please find a clip below from our very own Juliette discussing how to apply game mechanics to your technology solutions:
Final Words
The world of sales can be pretty bloodthirsty, so we need to do all we can to make their training journey as comfortable as possible. This is where we step in! Introducing a Sales Academy where they can find all their training in one place is a good start.
Ensuring it's mobile-friendly is essential, which you can do with Growth Engineering Learning App mobile learning app. Making it engaging with revolutionary approaches such as gamification is a bonus. A sales bonus, if you like!
Check out what else we have to say about the power of gamification with our free download: The Future of Gamification!