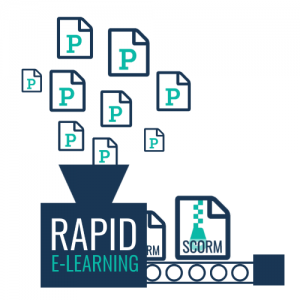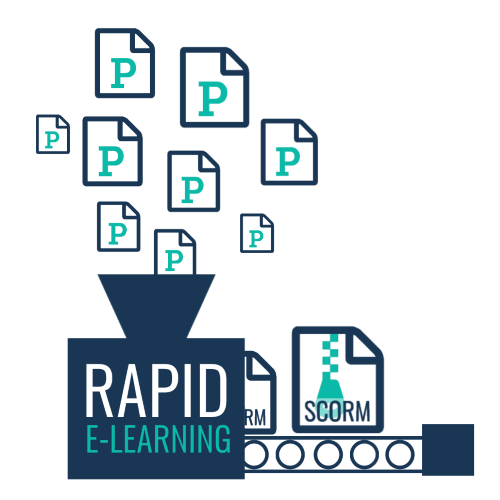 Rapid eLearning is getting increasingly important. As the pace of industry change accelerates, so does the pace at which content needs to be produced.
We all love a good eLearning unit (unless you happen to be a heartless, unfeeling monster). But here's the issue – it takes time (and buckets full of effort) to produce high quality online learning content. Instructional Designers are often driven mad by the sheer complexity, intricacy and difficulty of the projects they embark on.
Awesomely effective, super-engaging eLearning doesn't happen by itself – it takes a team of eLearning superheroes to make dreams a reality.
But what if you don't have a huge team? What if you've got a ton of eLearning units to produce for a new product launch in a month's time? What are you going to do!?
Well, I'm willing to bet that you're going to Google something like "make eLearning quickly" and when you do that, you'll probably find out about Rapid eLearning.
'What is Rapid eLearning?'…
…is likely to be the next thing you Google. And if you're expecting a definite answer to this, you'll be a little bit disappointed. There are several definitions of Rapid eLearning out there, but they usually tick the following boxes:
Rapid eLearning is usually created within 2-3 weeks
Rapid eLearning projects are usually handled by subject matter experts (SME)
The process usually involves converting slideshows into SCORM-compliant eLearning
Sounds like a dream-come-true, doesn't it, but is Rapid eLearning a Holy Grail or a poisoned chalice? We've done a taste test for you, so let's find out:
THE PROS
So, firstly let's look at the advantages of Rapid eLearning.
It's rapid (duh)!
Sometimes you just need the content. You could make it really pretty if you had… no – I just need it now. But with a little extra resource, you could… I don't have time for that! That's sometimes the reality of Learning and Development – sometimes you need to ditch the frills and just get some reportable content in front of the learners.
In these cases, a Rapid eLearning solution lets you create a functioning eLearning unit out of your existing assets (Like a PowerPoint presentation, for example).
It's newbie-friendly!
What good is a rapid authoring tool that takes a month to figure out how to use? Rapid eLearning should let you cut corners at every turn and the last thing you need is a steep learning curve appearing out of nowhere.
The beauty of Rapid eLearning is that anybody can jump in and create a reasonably useful eLearning unit, without any coding background at all.
It's cost-effective!
You're saving time on eLearning production, and you no longer need to pay a team of eLearning developers – result! There's no doubt about it – Rapid eLearning is cheap, cheap, cheap!
If savings were the be-all and end-all of learning and development, then Rapid eLearning would be the only choice. Unfortunately, Rapid eLearning is not without its weaknesses…
THE CONS
Slideshow in – Slideshow out
You can save yourself a lot of time by converting a presentation document into an eLearning unit using a rapid authoring tool. The only problem with this (and it's a pretty big one) is that your eLearning will now be about as engaging as this month's P&L report.
Generally speaking, the functionalities of Rapid eLearning are limited to basic interactions. Of course, in the beginning, your learners will think they've got an interesting new eLearning unit, but after the first half-dozen "Click here to continue" buttons, the novelty will have worn off.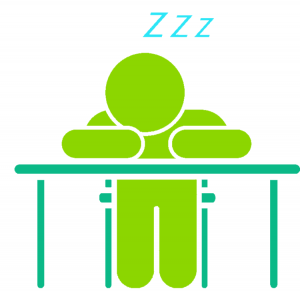 Worst case scenario, your learners will rise up in outrage and start a riot, but in all likelihood, they'll just disengage their brains and click through to the end. That'll leave your reports with 100% completion and 0% retention – in short, a waste of time.
SMEs aren't instructional designers
It takes a really special breed of learning-nerd to figure out how to hack people's brains for maximum retention. Your product gurus might be the number 1 authority on your latest range of Wi-Fi –enabled shaving mirrors, but do they know the first thing about effective learning methodologies?
It's not super-likely, is it?
The beauty of collaborative eLearning production is that it lets both IDs and SMEs use their respective talents to create something that's greater than the sum of its parts. Without this kind of collaboration, you'll have your eLearning in no time at all, but it might not be as effective as you'd hoped.
SMEs aren't graphic designers
Last week, Juliette, our MD, wrote this article on the importance of beauty in eLearning. She discovered that 45% of consumers will judge your content based on the aesthetics alone, and they'll do this in just over 3 seconds.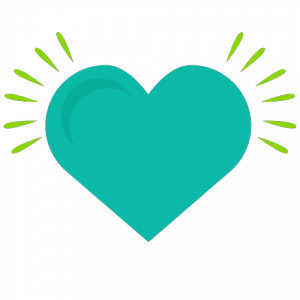 With enough time and resources, an eLearning team can produce learning assets that are as beautiful as they are effective. If you're using a Rapid eLearning solution, however, the chances are you don't have the luxury of time at your fingertips. Furthermore, if your SMEs don't have the requisite eye for UI, you could find yourself with some informative, yet woefully ugly eLearning content.
It would be a real shame to lose learner engagement on the grounds of something so shallow, but sadly, that's the world we live in!
Final Word
So there it is – Rapid eLearning is indeed a useful tool when you're up against it, but it's not without its drawbacks. What you really need is something that lets you create eLearning units quickly, without being ugly or dull. You need some level of collaboration so that everyone can lend their own unique skills. And most of all, you need something that's actually going to engage your learners.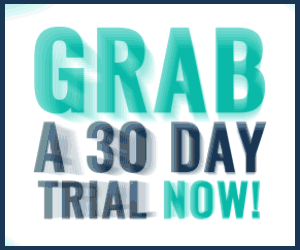 We've developed Genie, a content authoring tool that lets you produce engaging, game-based eLearning content quickly and without the need of a whole team of eLearning developers. You're not just rattling out a bunch of slideshows-in-disguise – instead you're crafting learning journeys that your learners won't forget!
Don't just take our word for it though – take Genie on a test-drive today and bask in the wonder of game-based eLearning for yourself!