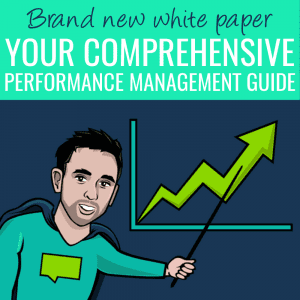 Do you want to transform your employees into plucky performance powerhouses? Of course you do! Do you want your workforce to reach its potential, and to obliterate any targets thrown it's way? I think we know the answer to that!
Well, you're in luck! Because our brand new white paper will help make your dreams come true!
Your Comprehensive Performance Management Guide covers all aspects of online performance management, and even delves into why you should be integrating learning and performance management together.
You can download the full white paper (for free!) by clicking here.
What will I learn?
The white paper breaks performance management down into five areas:
Objectives and KPIs
Competencies
Values and Principles
Reviews
Personal Development Plans
Each section is explained fully and backed up by academic research. We've even gone the extra mile to spoil you with a wealth of general tips and advice peppered throughout the paper!
You'll find out how to get your employees working smarter, how company culture feeds into performance, and how to engage your entire organisation!
The round-up at the end of the document explains how to pull each area of performance management together into an effective programme. It also explores how you can integrate it with your learning management programme.
So to download your comprehensive performance management guide and supercharge your workforce, download the free white paper here.
And if you want to find out more about our online Performance Centre, which fully integrates with our Academy LMS, you can book a free demo here: