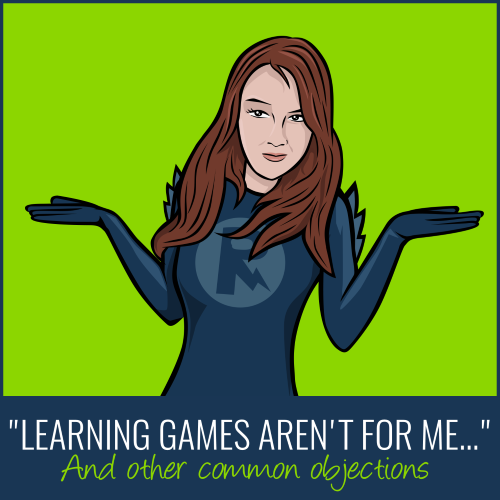 Learning Games Aren't For Me (and Other Common Objections)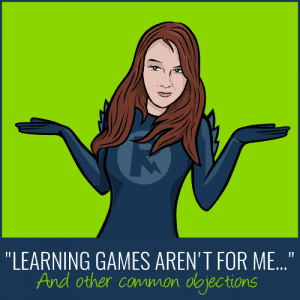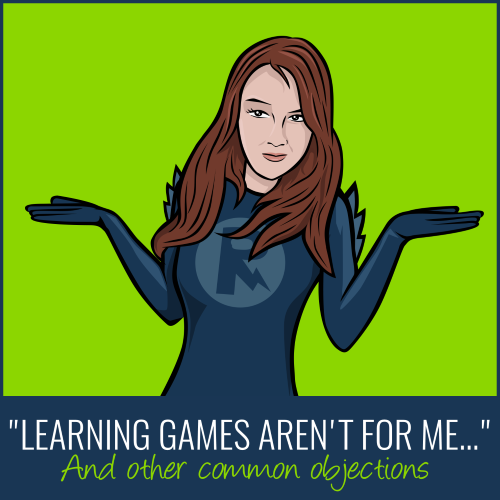 Game-based online learning is taking the training world by storm and changing the way L&D professionals approach their training programmes. Learners around the world are finding a brave new world, free of the dullness of traditional online learning. Everything is getting better, looking up and moving forward.
Despite this quantum leap in learning technology, there's still a hardcore of learning professionals who are reluctant to take the plunge and discover the possibilities that game-based learning offers. Every step into the unknown comes with a degree of risk, but one shouldn't confuse risk with failure.
If you're someone who's still on the fence about learning games, you probably have a few concerns. In this article, we'll answer the most popular challenges and by the end, you'll see that game-based learning isn't as terrifying as your thought it was.
I don't know how to make games
As a learning manager, you probably don't have a background in game development, so it's understandable that this area feels like uncharted territory. On the contrary though, the worlds of game development and instructional design are fundamentally similar.
In both cases, the structure is essentially the same. A game will usually involve a goal at the end and a series of obstacles to overcome on the journey. A good eLearning unit is much the same. To generate any kind of engagement or meaningful change in the learner, the learning content needs to challenge them.
If you're an instructional designer, this won't come as a huge revelation. You might however be surprised to learn that the exact same principle is the driving force behind the most successful games. The bottom line here is that anyone who can create a meaningful learning asset can also adapt their approach to create an awesome learning game!
Games are for kids
One of the most persistent myths about games (video games in particular) is that they appeal chiefly to teenage boys and children. This might have been true in the 80s and early 90s, but the world has come a long way since the days of Sonic and Mario.
It might then come as a shock to some people that the average game player is 35 years old and that 27% of gamers are over 50 years old – a larger percentage than those under the age of 18 (26%).* The main reason that video games have overtaken all other forms of entertainment is that they are more interactive and more engaging.
If you want to boost engagement in your learning programmes, you can't afford to ignore this trend.
*The Entertainment Software Association 2015
Normal eLearning works fine for me
It never ceases to amaze us when we hear that some learning managers aren't interested in engagement within their online learning. Instead, they focus on creating functional content and delivering it on a very basic learning platform.
Their confidence in their current methods masks their fear of the unknown and unwillingness to change. The fact of the matter is that learning programmes that focus on engaging learners have more success than those that don't . Clients using our gamified LMS have seen engaged learners outperform disengaged learners by 75% in terms of sales.
If you don't at least try something new, you'll never know if it works or not.
I don't want my employees wasting time on games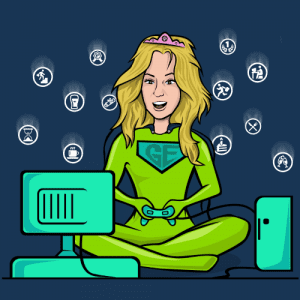 When you're paying employees for their time, you naturally want to get the best return possible. Many managers (and even learners) see time spent on training as time that isn't spent making that return. It's understandable that they might want to reduce training time as much as possible.
For these people, the idea that employees might be so engaged with their training that they can't tear themselves away from it seems counter-productive. However, focusing on the short term denies the possibility of the real, long term gains that can come from an engaging training programme.
Learning games are, by their nature, even more engaging than traditional training methods and employees are likely to spend more time learning what they need. This isn't a bad thing – since learners are more engaged, the rate of retention is much higher and the training is more effective. Better trained employees are more capable of doing their jobs and helping the business thrive.
So don't be scared of change. Embrace these new technologies and find out for yourself how they can change your learners' lives! Luckily, it's easier than you might think to kick off game-based learning. If you want to take it for a spin, visit unleashthegenie.com now and sign up for a free 30-day demo of Genie, our content authoring tool, and create some learning games of your own!